Just in time for Eclipse Season, Valerie Oula brings the healing power of flowers to a tapping ritual for grounding… Artwork: Karolina Daria Flora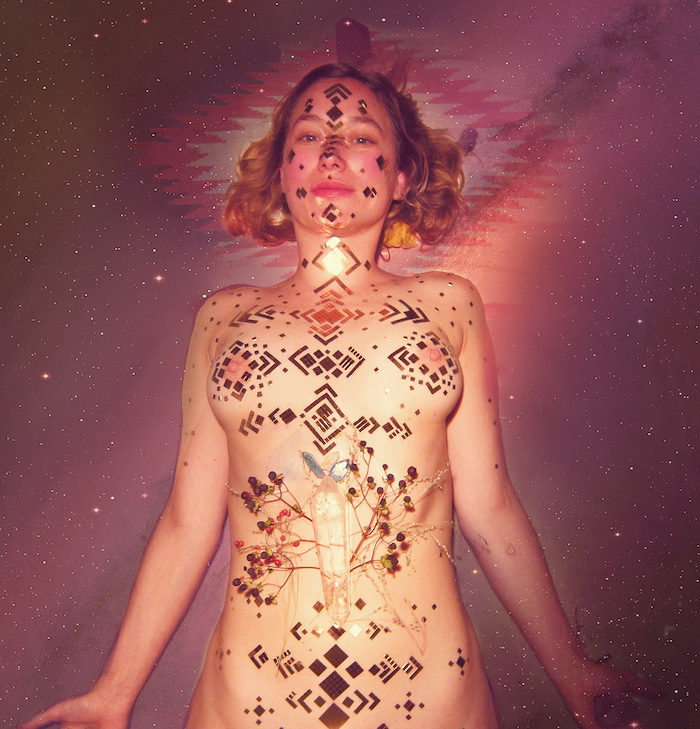 There's a new kid on the holistic healing scene: floral tapping.
During sadhana a few months back, I received the "download" to work with flower essences topically. It's not often that I get such clear cut, specific instructions from The Universe. And so when this happens, despite any resistance, it feels like I'd better follow through at some point.
And so I've been using the flowers in both my private sessions and workshops, and while people aren't quite sure what's happening, what they do know is that they feel different. A shift is happening.
Flower essences are the energetic imprint of the flower/tree captured in water. Subtle energy medicine. They do not have a scent and are mixed with grain alcohol or brandy as a preservative. The essences are vibrational remedies that work on the emotional energy body. When we use flower essences, we get attuned to the healing frequency of the flowers – which is essentially about raising our own vibration.
Since this is subtle energy work, it can take some time to recognize the shift that is taking place. It's not like popping a pill for instant relief – although in this Aquarian age, as more and more of us are waking up and tuning in through energy work and practices like Kundalini Yoga, we may feel the effects faster.
As for floral tapping? It's a technique that combines these vibrational essences with various tapping (Emotional Freedom Technique) modalities. In fact, think of it as EFT – super-charged. By delivering the vibrational essences along several acupuncture points around the ear as we tap, we are loading up on energetic goodness.
And with the swirling energy of Eclipse Season on the way, here's a grounding floral tapping ritual for extra vibrational support.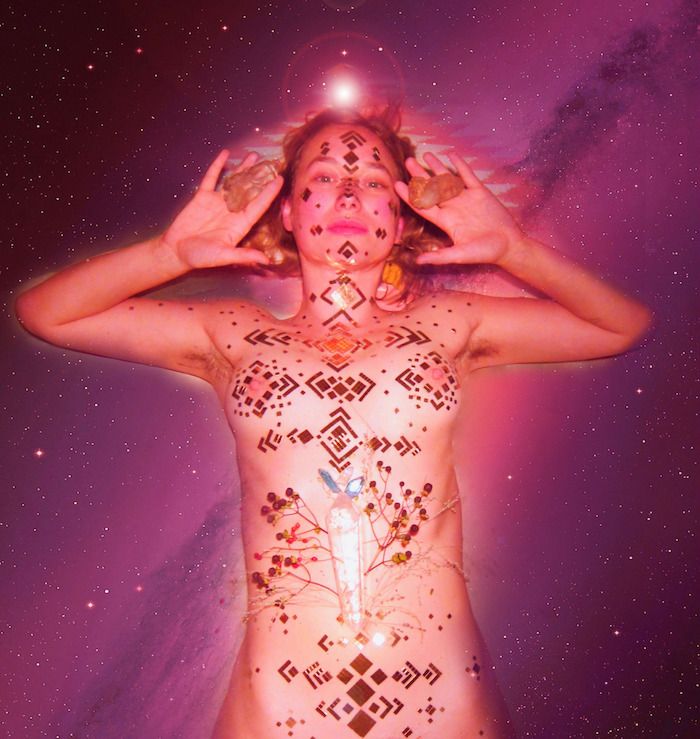 What You'll Need
A grounding flower essence such as Walnut – which is excellent for grounding and protection, to help with change and transition. Also to be used as a shield during an epic sample sale, or the subway at rush hour. Bach flower essences are available in most health food stores as well as at Whole Foods.
A small cup/bowl of spring water or filtered tap water. To prepare, hold the bottle and tap the bottom into the palm of your opposite hand eight times to activate, holding your intention for your ritual in your mind. Add two drops of the essence to water.
Floral Tapping :: The Flower Power Tap – Right Side Only
Prepare a short, simple grounding affirmation expressed in the positive. Some examples you might use: "I am grounded and calm" / "I am grounded and sovereign of my energy / "I embody my truth" / "Sat Nam" (which means "truth is my identity")
Now bring the fingertips of the right hand together, bunched loosely. Dip your fingers in the activated flower essence water.
Begin solidly tapping with the fingers, starting at the right temple by the opening of the ear. Continue to tap, circling the right ear, while saying the affirmation. Take a deep breath in and out. Tune into the rooted, grounding energy.
Do this three-five rounds at least five times a day, and at least 30 minutes apart.
In the midst of our busy lives in our glorious urban jungles, tap into the essence of the flowers to ground you back to earth. Vibrational medicine works to support us, to allow us to live our life in the full technicolor sensory system of our very human being.