In need of some serious cosmic schooling this February? Numi astro babes Sandra Sitron, Jennifer Racioppi, and Bess Matassa dish on this month's key eclipse season lessons. Main Image: Eugenia Loli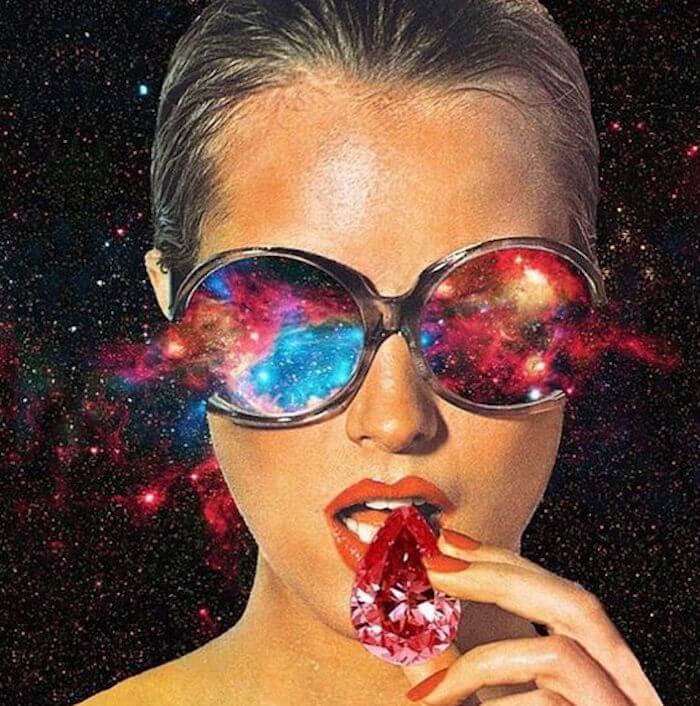 Friday, February 10th :: Full Moon Penumbral Lunar Eclipse :: 22 Degrees of Leo                                                                           
Sunday, February 26th :: New Moon Annular Solar Eclipse :: 8 Degrees of Pisces 
###
Sandra Sitron, a.k.a. Strong Eye Astrology 
"Shine bright, the world needs your light. Now is the time to show up!" purrs the Leo Lunar Eclipse.
As the start of a two-year series in the signs of Leo and Aquarius, the February 2017 lunar eclipse season lessons are about stepping into our personal creative power (Leo), and connecting with our community in new ways (Aquarius).
With all this fiery, high energy, there can be a tendency to spin into burn-out mode. Instead, reset your level of receptivity. We need to give ourselves space, and lots of gentle love. What feels like the most easy and pleasing thing to make right now? What feels like the nicest way to connect to your tribe? Find ways to pack in joy and community. Tune into your intuition before you take an action or make a decision.
The Pisces Solar Eclipse is blinking out the message in celestial morse code: "Love is the answer, love is the answer…" As a two-year series of eclipses in Pisces and Virgo comes to a close, we're asked to finish a cycle of connecting with hope, compassion, and intuition (Pisces), and learning how to take care of ourselves and others in practical ways (Virgo).
Want more wisdom? Book a reading with Sandra here or follow her on Instagram.
### 
Jennifer Racioppi
Be brave, be you, and accept change with grace! 
Without a lot of Earth energy in the sky, February's eclipse season lessons focus on pacing ourselves and staying grounded in the midst of unexpected change.
The February 10 Full Moon Eclipse in Leo may find us feeling especially excited, even ballsy, as we make decisions that push us into the limelight. Eclipses always connote change and surprises, and this active full moon suggests that this is a change for the better. However, with the lack of earth emphasis, remember to also tread cautiously.
As we begin this new cycle of five regal Leo eclipses (the last on January 21, 2019), tune in closely to see how this first one is impacting your life—it will likely resonate with an aspect of your spiritual assignment for the next two years!
The February 26th New Moon Eclipse in Pisces happens in close contact with Neptune, Pisces' ruler, making it an excellent moment to set intentions on behalf of your dreams and desires. Bring on the moon circles, crystals, and incense! All eclipses lack predictability, but especially this one. Allow Neptune to help keep you focused on the artistic and the spiritual, and cultivate grounded discipline through exercise, nutrition, and meditation.
As the fifth and final eclipse in a Pisces cycle that began March 20 2015, consider how you've revolutionized your relationship with your spirituality and intuition over the last two years. Honor the gifts you've cultivated within and step forward into oneness with others. 
** PRO TIP from Jennifer: The February 10 and 26 eclipses are part of Saros Series 114 and 140. The last time we had lunar and solar eclipses in these series was in 1999! We live our life forward to understand it backward—consider how the choices you made then are coming into full culmination in your life now.
For more Moon wisdom or to book a coaching session with Jennifer visit Jenniferracioppi.com
###
Bess Matassa 
What does a Leo/Pisces party look like? Think of this first phase of Eclipse Season 2017 as the zodiac's Studio 54 … 
You show up completely sequined and ready to shine in all your glorious distinction, but then you hit the floor and start to move in rhythm with all the pulsating bodies. You lose yourself amidst the strobe lights and find that you've really got nothing to lose at all; there's nothing to prove and nothing more to become than the self you already are. You are pleasurably permeable—both letting yourself drink down every last sensation and generously flooding the world with a no-strings-attached love beam in return. You discover you can glow no matter what, even in the dark.
This February 2017 eclipse season lessons are all about the boundaries between self-expression and selflessness, grappling with fears about our own capacity to contribute, and learning to fully trust in our singular creative force, while also allowing the world to tenderize us.
Eclipse mantra: "I glow in the dark"
Theme song: Men at Work's "Down Under"
Style: The Little Mermaid at the club—subtly sparkling highlighters and bronzers, glossy light pink lips, turquoise sequins, and waterproof plastic jellies for riding the emotional tide.
Flavors: Aquatically playful—Swedish fish, Clams Casino, salt-rimmed cocktails, and foams and whipped creams that dissolve in your mouth.
Want more juicy cosmic insights and sensory explorations? Arrange an astrology reading or private event with Bess here or follow her on Instagram.