Yes, really! Your Saturn Return is a GIFT, says Sandra Sitron. Here's how to work with this cosmic rite of passage …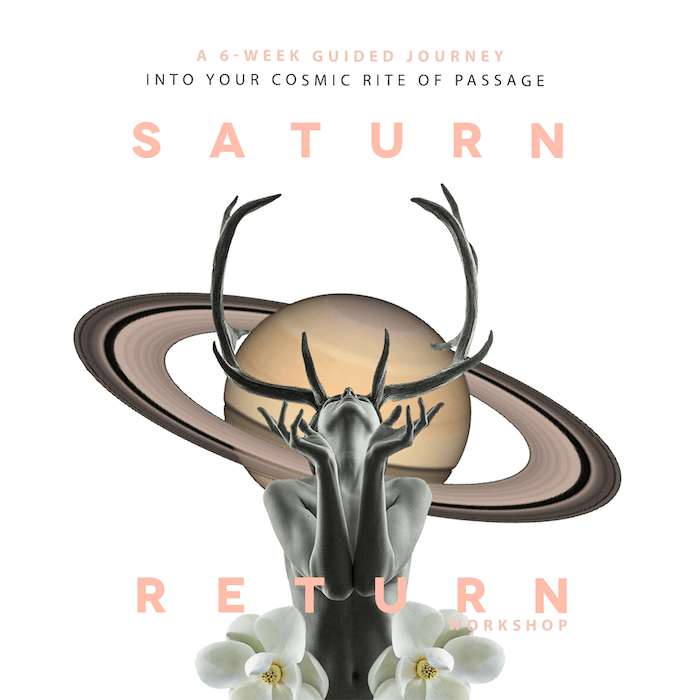 Yikes, the dreaded Saturn Return. The moment in our lives when Saturn, the karmic task-master, returns to the same place it shows up in our birth chart—often bringing with it an epicccccc cosmic wake-up call.
Like an SAT test from the Universe, we experience a Saturn Return at ages 27—29, and ages 54—58—a.k.a. your classic quarter and mid-life crisis years! Depending how aligned we are with our true path, and where saturn is in our birth chart, this can a period of deep, dark existential self-enquiry—often accompanied by game-changing life events.
But the good news is our Saturn Return ALWAYS brings huge opportunity for personal growth—particularly when it comes to getting us back on track with our SOUL PURPOSE.
Which is why our resident astrologer Sandra Sitron has teamed up with transformational coach Dana Bilicki to create the SATURN RETURN WORKSHOP! A 7-week digital deep-dive designed to help you understand and work with the unique gifts of your Saturn Return, this is a MUST—whether you're in the thick of it, have a Saturn Return around the corner, or want to make sense of your Saturn Return as the lessons have played out over the years.
To give you a taster,  Sandra has 10 Reasons to Celebrate Your Saturn Return (below) … She'll also be hosting a FREE live webinar on how to navigate your "cosmic rite of passage" on 4/11 at 2pm EST. Click HERE to register!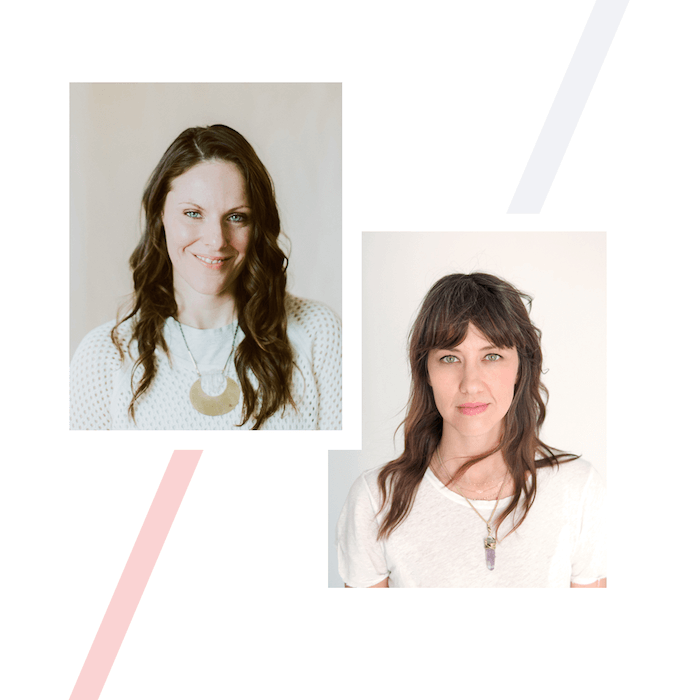 You learn not to care (as much) about what other people think.
Everyone says that after the age of 30 you just don't care as much what other people think, and astrologers often attribute this to your Saturn Return. The changes that happen during this time help you stand up a little bit straighter and feel a little more confident (btw, Saturn rules the spine). The growth that happens during this phase teaches you that your worth comes from within and it doesn't matter what other people think. All that matters is your own self-respect.
You learn not to compare yourself to others.
Saturn teaches us that everyone has their own timeframe and their own unique goals. Events may happen at the Saturn Return that are unexpected and cause you to reassess. Things start to look less black and white. This offers an amazing chance to switch into a new paradigm and take yourself out of the old habit of comparing yourself to your classmates at school. Surprisingly Saturn, the stern, authoritative teacher, can help you become more gentle with yourself, by reminding you that life is complicated and everything is not as it seems. There's no reason for comparison.
You start to think about time differently.
Instead of feeling like you have to have it all sorted out by age 30, you discover that there's actually way more time. Some people report feeling way younger after their Saturn Return than they did when they were 29. Saturn encourages you to age gracefully and enjoy your golden years. Once you pass your first Saturn Return, you realize you've got more time than you thought to experiment, goof-off and explore.
You become more aware of your thought patterns (a.k.a. self-limiting beliefs).
We rely a variety of "false" beliefs when we're kids, because we just don't have all the facts yet. For example a kid whose parents got divorced may think she caused the split, so as a result she may decide "I'm not good / lovable enough." Of course, from an adult perspective, that's not what happened at all. But the child can subconsciously hold onto that "false" belief for years. Luckily, the Saturn Return brings an extra dose of logic and maturity, helping you become more aware of these kinds of harmful thought patterns. The transit is the perfect time to upgrade to a healthier way of thinking.
You become more aware of your coping mechanisms.
In the same way Saturn helps reveal the honest truth of how you are thinking about things, Saturn also shows you what habits keep you from feeling all your feelings. Most of us have got something we reach for when the going gets tough: food, alcohol, drugs, sex, work, shopping, video games, etc … Sometimes, these compulsive actions are so effective we don't even realize we're using them to shield us from our true emotions. But at the Saturn Return, coping mechanisms either stop being as effective, or they become more uncomfortable. And this is definitely something to celebrate, because now you get a chance to ask yourself: "am I sad? am I lonely? am I angry?" And begin to work out why. It might be difficult to feel those tough emotions initially, but with practice honoring your emotions will free up a ton of energy!
You get to be the boss.
At your Saturn Return, you start to see yourself as more of an authority. Maybe you become more of an expert in your field, a manager at work, or a parent at home. But even if you don't actually become an authority in the most obvious sense, you certainly start to feel more of a sense of authority come from within. You start to trust yourself more.
It's your cosmic rite of passage.
And as such, for many people, the Saturn Return can bring in big life events that help you grow up real fast. Some people solidify a relationship (marriage, moving in together.) Some get their first solo, grown-up apartment. Some have a kid or take a step up the ladder at work. Saturn teaches about progress, so it definitely makes sense that you could reach a new milestone at this time.
You learn the value of hard work.
Saturn, that scrupulous cosmic teacher, is pushing you to buckle down and get to work. So you do. You dig in. In some area of your life you push yourself. And if you do the work, rest assured, it WILL pay off. Saturn rewards effort. Sometimes during the Saturn Return it feels like you're banging your head against the wall. But that's a mirage. Eventually, this effort pays off. You may also notice that you start showing up on time more at your Saturn Return. You might find that you volunteer for a leadership or management role. This is definitely the primo moment for the Universe to give you more responsibility, and this will undoubtedly result in a sense of pride and accomplishment. Definitely worth celebrating!
You end up with more energy.
One of the best thing to celebrate about your Saturn Return! All of the changes during this transit are designed to help you clear out the parts of your life that are no longer efficient. Unnecessary beliefs, behaviors, patterns, relationships, commitments—anything that's taking up too much energy has got to go! Freeing you to  come out the other side with more energy to live your purpose.
Goals, goals, goals …
The confidence that you're building at your Saturn Return helps you think about your trajectory in a more clear-cut way than you may have before. You may become even more directed and better at planning than you were before. This is definitely a benefit that usually rides the tail of your Saturn Return. Your return is meant to help you steady yourself, trust yourself and know yourself better. When it's over it's that much easier to set workable goals for the ideal future that you desire.
Got questions about your Saturn Return? Don't forget to join Sandra and Dana for their FREE LIVE webinar Wednesday April 11 at 2pm EST! Click HERE to register!