This lunar cycle, you might feel unstoppable. Master your energies during this Aquarius New Moon to set your intentions for the months ahead, says Hannah Ariel.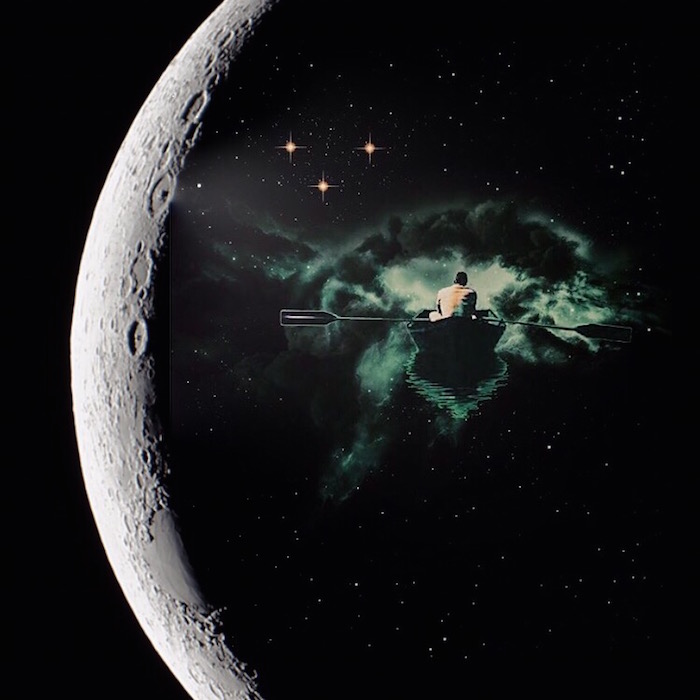 This is the New Moon that may have you feeling it's now or never – and, it may as well be! The nature of an Aquarius New Moon is idiosyncratic – how it speaks to you will be different from how it speaks to another, and yet one message is clear: something has to change. Aquarius is revolutionary – this energy waits for no one, trusting its own clarity of mind to distinguish what needs to happen next for the future's sake. Once a year the timing is just right to set intentions that you want to see have a ripple effect – the boundaries of time reach far into the future. Something's gotta give and the time is NOW.
Sometimes, events set off by an Aquarius New Moon may appear to occur "out of the blue" – really, these events occur as an expression of the Sun being in Aquarius, energizing you with a liberating energy that allows you to recognize your right to experience your own personal freedom – to detach you from all that is keeping you from awakening to the truth that, at any given time, if something needs to be innovated, released, said, done, or acted upon IT CAN. It's like the moment you restart your computer or refresh your browser; it doesn't necessarily matter what you were up to just moments before because, in an instant, it's going to be about how you use your energy, the technology, now. That's how progressive this moon will be.
With a revitalizing boost from two major planetary forces, this Aquarius New Moon can make you unstoppable. You will be energized to make resolute shifts in both your perceptions and actions at once. Uranus in Aries urges; innovate NOW, open your mind to the prospect of what is possible for you personally. And Saturn in Sagittarius reminds; the dharma of these days is to create structures that will support your future's expansion. With these two in trine with one another, and in a working sextile with the moon on February 8th, there is nothing and nobody standing in your way but potentially your own indifference. Otherwise, it is GO time.
In the background, Venus, Mercury and Pluto are all going direct in Capricorn, offering us profound realizations regarding our attachments and whether or not they are serving or detracting from the Plutonian soul-path we're on. Since Capricorn does come before Aquarius think of this time as a "cleaning of the closet" – an opportunity to mentally get on board with the transformations you may be experiencing in relationships, as well as other Venus related matters. Venus in Capricorn speaks to your financial security and your ability to attract what you need by acknowledging your own authority and accountability.
Know that accountability, self-mastery, self-trust and inner resolve will indeed be major themes now, as this lunar cycle is also being driven by a square from Mars in Scorpio. Give deliberate attention to the Scorpio area of your personal chart as lessons here will have EXTENSIVE influence on how your intentions play out over the next few months, as Mars will be journeying in and out of Scorpio for quite some time.
To delve further, if you recall from 2012-2015, when Saturn cut through the constellation of Scorpio, we were taught some serious lessons around how we merge our energy with other people, places, resources, ideologies; you name it. These were transformative years where we learned the energetic power of boundaries. Life forced us to get real and see where we may have unconsciously been giving our power away, undermining our deeper desires and truths out of fear of losing control altogether; over these years, we were cracked open in order to understand what gives us LIFE.
Well, these lessons will come up again now, but this time, with Mars in the driving seat, we have an amazing opportunity to liberate and take conscious action to create more a more sophisticated intimacy with our vitality. We will be compelled to give these inner lessons shape in our external world. With Mars square the Aquarius New Moon there is an enormous amount of energy available now, before Mars goes retrograde in April, to choose what stays and what must go once and for all – may it be a lover, a destructive habit, an unhealthy belief about yourself – you can let it go now. It's done. Refresh the page. Get something else going that will strengthen your will more than ever before.
The future is all that matters now. And not to forget, the most sincere and beautiful quality of Aquarian energy is that it is concerned with creating a future that is being created for the beneficial good of all. It is pure good will. So, whatever you begin, end, or claim in this lunar cycle will be most empowered if it contributes to the prosperity of the collective in the long run. Have a wild idea about where you belong? What to launch next? How you can help someone? Who you have the power to be? How your own story can inspire others? Give it a go. Free yourself, master your energies and you may, in a very Aquarian fashion, be shocked to find how much others needed you to do so.
For a personal reading with Hannah Ariel email: [email protected]