Channeling the Divine through the decadently bejeweled, artist and mystic Joy Smith is raising the mystical-material vibration ever higher with her transformational talismans.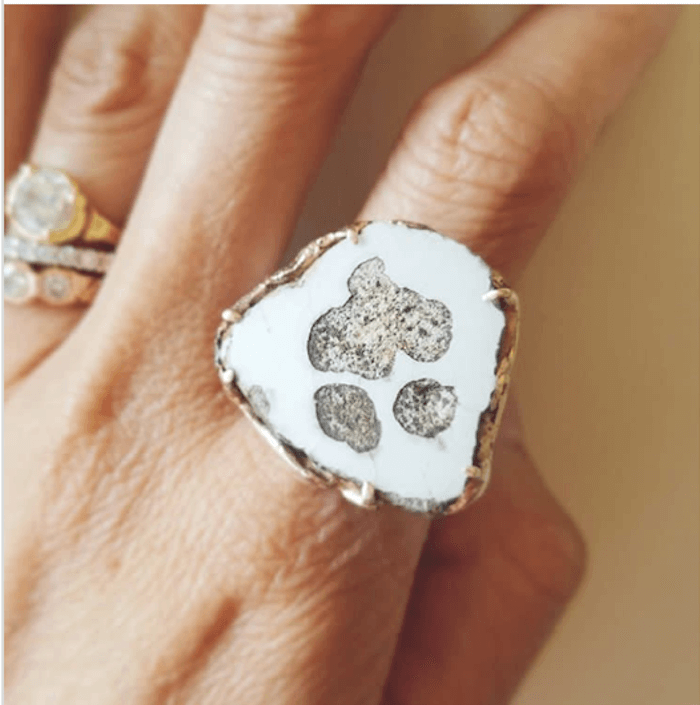 Sculptress and seer Joy Smith believes that adornment is an intimate conversation—between the creator, the wearer, and the Divine.
Inspired by nature's potent mysteries, and the light of Divine beauty that resides in every being, the artist's ethically sourced, recycled gold pieces spark an emotional exchange between the the universe and each of us.
For Smith, connection to the Divine is always available, and through our talismans we can bring our personal conversation with the heavens all the way down to Earth.
With her newly-launched Light Sessions, Smith is raising the material-mystical vibration even higher. During these custom experiences, she uses song, meditative chants, and Reiki to channel a one-of-a-kind talisman that supports your distinctive transformation and growth.
Spirit is absolutely everywhere. Why not dress her in radiant gold?
(Hint: Start decking out your Divine with some inspo from Joy's jewel-drenched Instagram feed!)
>>>
Ruby Warrington: What are your own personal talismans?
Joy Smith: I wear pieces according to what I need—so I can beam my light out everywhere. I have different pieces that embody different feelings for me.
For example, I have a custom piece I made for myself that's super special. In Milan, on a retreat with Deborah Hanekamp, we hiked to a pagan ritual place, where I found what looked like a piece of a ceramic vessel glinting in the grass. I could feel that it was infused with a spirit that wanted to help me with my healing work, and so I set it into a ring, which I wear when I'm creating pieces, and during my Light Sessions.
Even talking about it takes me back to that place. In the future, I'd like to go on pilgrimages to sacred sites to source similar pieces as part of my work.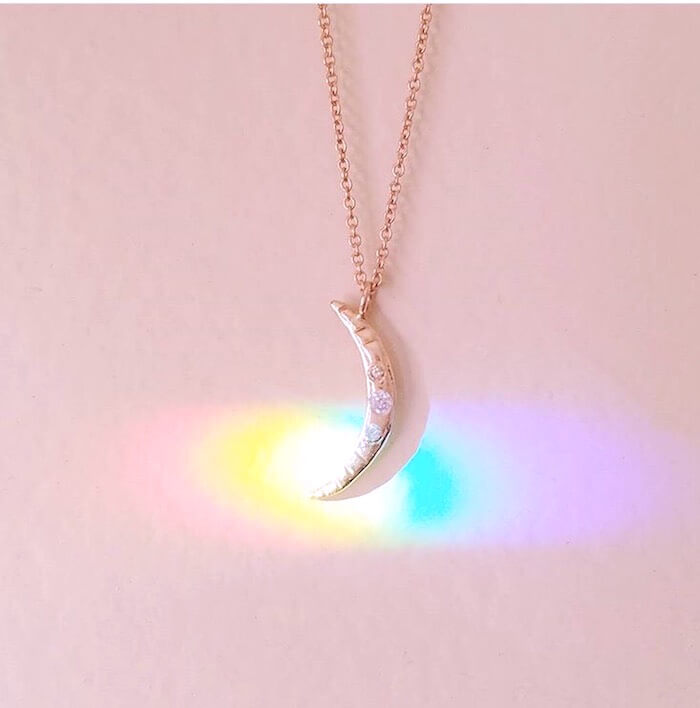 RW: Your pieces have a strong spiritual essence. What's your relationship to organized religion?
JS: The dogma of different religions can get messy, but the essence of spirit is what's precious to me. I connect to the idea of the Holy Spirit, which I think of as our connection to the Divine—the spirit in us. My work is about activating that in others. I'm also super interested in world religions. I see the common thread and that's fascinating to me. All the stories are the same, just different characters.
Having grown up Catholic, I still connect deeply to the iconography. I see the etchings in my designs as radiating light, and my goal is to elicit the idea of "heaven," which I define simply as the place where great spirit lives … bliss.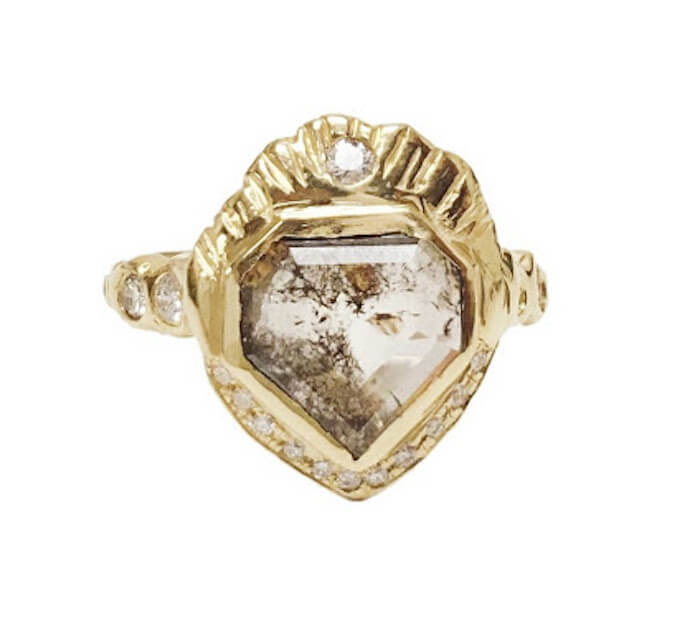 RW: What do you see as the intersection between spirituality, craftsmanship, and art?
JS: I never thought I'd make jewelry. I knew I loved art history, and wanted to be a painter. I also connected to artists, as I felt they were connected to something spiritual with their work. I wanted that connection to come through in my work, too. I also love fashion because I see the spirit of the designer in it. It's like art to me.
I fell into jewelry through the sculpture of making it. I initially wanted to be a fine painter, but didn't think I was good enough and I couldn't relay my message effectively at that time in that medium. Now, I express myself spiritually through my pieces as they relate to how I feel on the inside. I want them to be infused with feelings of beauty and light, and for this to be reflected in how I adorn myself on the outside.
I believe God, spirit, etc., created us as an expression of the beauty of the Divine. I make it a point to meditate and pray before I make my work. When we work in this way as creators, that's spirituality to me.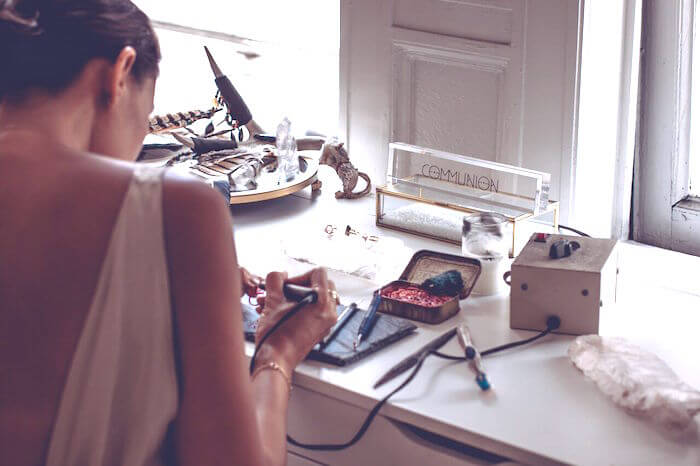 RW: What do the concepts of God and the Divine mean to you?  
JS: I believe God and the Divine are forms of the highest spirit, a spirit greater than ourselves that also lives within us and is part of us. That guides and protects us and loves us unconditionally. Neither are religious terms for me- I see them as a universal Spirit.
My own spiritual breakthrough came in my early twenties, when I had a very severe panic attack, and found myself debilitated by anxiety. My first teacher asked about my spiritual practice, and she gave me my first spiritual book, Marianne Williamson's A Return to Prayer. I still read it every day. It helped me remember how to pray—how to connect to God—in a spiritual way.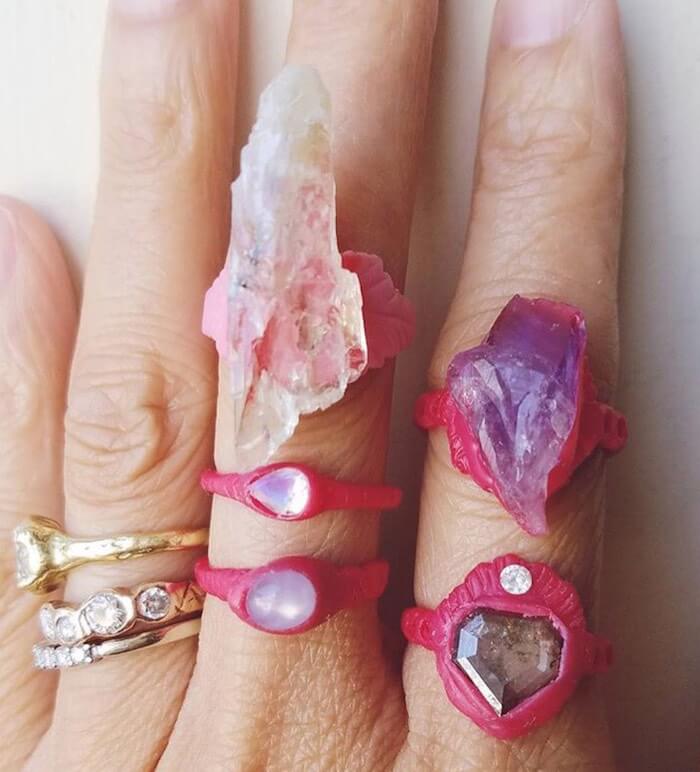 RW: "Light Language" is such a glorious phrase—tell us about learning to speak this language, and how clients experience it during your "Light Sessions."  
JS: "Light Language" is how I describe my conversation with the divine, something that comes out in channeled melodies, or prayer. The term came to me via my guides during an Akashic records reading—and this really is how I feel about my conversations with God. The Light Language also comes through as automatic writing, which I carve into my talismans and artwork.
I came up with the Light Sessions since my work can be very solitary and I knew I wanted to connect with people on a deeper level. And my Light Language becomes vocal, as if I'm speaking in tongues, during one-to-one with my clients. I see it as the language of love, as expressed in my creations.
The Light Sessions are about channeling creations for transformation. We talk about stones and the style of the piece, and then my clients give me their intention and lay on my table, and I'll either sing melodies of prayer or do Reiki and channel messages that come to me.
Afterwards, we create an intention candle together and they go home with their candle to pray / meditate with their intention in mind, and I go home and channel that energy while creating the piece for transformation. The plan is to also make this available to couples as a custom ring engagement ceremony.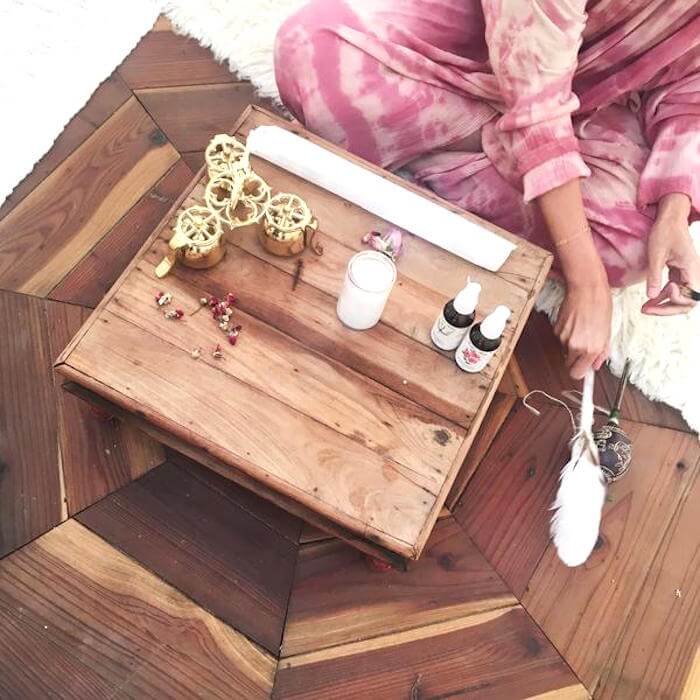 RW: Who is the "Communion Woman"? 
JS: Women who wear my jewelry have a strong sense of self. The common thread is that they have a connection to spirit, and that they're all powerful in their own right. A lot of my clients have often been through a lot emotionally.
Having experienced challenges in their lives, they have been led to work on themselves spiritually, in order to connect more deeply to themselves and to the Divine. They've already found this connection, and want to explore more deeply what it means for their lives. A lot of their work is in service of the greater good. They have that depth.
Discover more about Communion by Joy's sumptuously sacred jewels HERE, and book a custom Light Session with Smith in LA.