Lisa Lister is the British witch and all around goddess at the forefront of the period pride movement. Ruby Warrington hears all about her new book, Love Your Lady Landscape… Artwork: Merakilabbe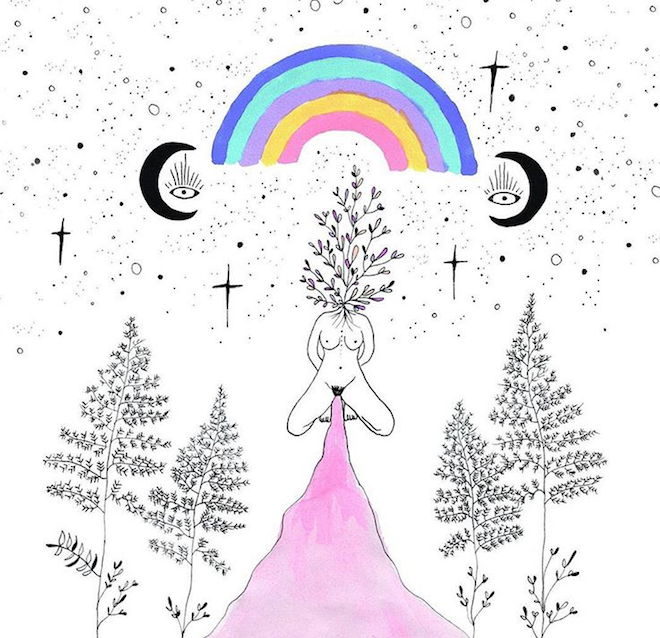 The Numinous: Love Your Lady Landscape is a call to action for Now Age women. Tell us about it…
Lisa Lister: Well there was a time, roughly 5000 years ago, when the space between a woman's thighs was considered a power portal with a direct hook up to Source. But for over 2,000 years now, the potent powers of our wombs, our cyclic nature and our menstrual cycles have been disregarded, and we've lost our daily connection to mumma earth, to the Moon, to the seasons and their cycles.
As a result, we often ignore our deepest needs as women because we no longer trust ourselves and our own body wisdom. We apologize for our tears, suppress our anger, and self-medicate with whatever will numb the pain of not being heard or telling our truth.
Worst of all, we have an epidemic of 'down there' pain and dis-ease—PMT, polycystic ovaries, endometriosis, fibroids. Overwhelm, anxiety and infertility are at an all-time high and we manage our menstrual bleed with synthetic hormones, denying ourselves the experience of living fully in our power.
So, Love Your Lady Landscape is about exploring, navigating and loving your lady parts. It's about how to care for them, how to trust them and how to reclaim them.
TN: What is the number one thing a woman needs to understand about her period?
LL: That we are cyclic, not linear. Each month we try to maintain the same level of energy and productivity as our male counterparts throughout our whole cycle, so we can 'compete' and 'keep up.' But our energy, hormone levels and sex drive ebb and flow each month as we cycle through the four phases of the menstrual cycle—pre-ovulation, ovulation, pre-menstruation and menstruation.
Each of these phases hold super powers and hot spots and when we understand that we show up differently in each phase of our cycle, we are then able to use our menstrual cycle as a map to understanding ourselves better each and every month.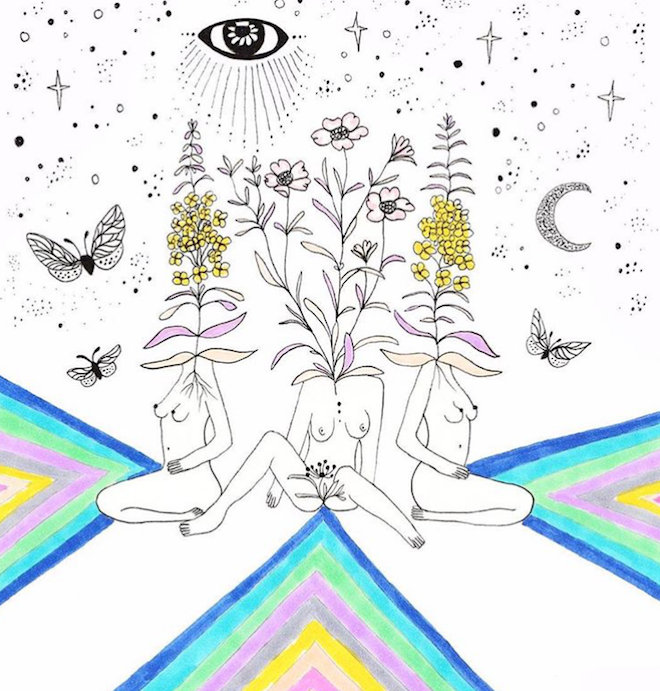 TN: Your previous book, Code Red was all about periods too. Why is this your pet subject?
LL: My entire 20's were ruled by my menstrual cycle. I bled more days than I didn't every cycle, I had to cancel social engagements ALL the time because I was too scared to bleed through my clothes, the pain was debilitating at times.
I also got myself a reputation as a total flake, because I was too embarrassed to say: 'I can't come out/to work/to the meeting because I'm bleeding through industrial super-size pads and my bed looks like a scene from the movie Carrie.'
So, when at 25 I was diagnosed with Endometriosis, there was a moment of relief. I had a name for it. Except in the very next breath the doctor said: 'Endometriosis means that babies are no longer an option, so it makes sense that we whip out your womb and ovaries so you can function normally again.'
What???
For a moment I considered it, but, and I didn't know the incredible power that we hold in our womb space at the time, this woke a fierce rage in me that meant I simply wasn't going to let this happen. Instead, I read about other women who have endometriosis – each case was different – and most importantly, discovered that it didn't necessarily mean I couldn't have children. I then got extra mad at modern medicine's quick fix 'whip it out' mentality, and for the last ten years I've been on an adventure to explore, navigate and most importantly, love my lady landscape.
And that work starts with the most powerful game-changer of all—knowing ourselves through our cycle.
TN: Why are periods a feminine 'super power'?
LL: Our blood is GOLD. The actual act of bleeding used to be considered sacred and it was honoured by both men and women, from the first day you bleed through to the day you stop bleeding, you are a witch, a sorceress, an all powerful woman. You are a lightening rod for the divine, your womb is an oracle.
And when we work WITH our cycle and not against it, we have access to a series of feminine super powers all month, all of which can be leveraged and used to create a bloody amazing business, relationship and life. A concept I go into in detail in Love Your Lady Landscape!
Book
TN: So many women have irregular cycles. Why do you think this is?
LL: Many reasons, but some of the top ones are:
– As I said previously, when we try to do life in a linear way, we work against our cyclic nature and we suffer for it. Sometimes that will manifest instantly in the form of PMS, irregular cycles, cramps, heavy bleeding (all of which are our body's way of trying to slow us down and pay attention) or over time in the form of anxiety, stress, depression and 'lady-parts' dis-eases like Endometriosis, PCOS, fibroids.
– We're not listening to the wisdom of our bodies and our monthly cycle because we're medicating her with synthetic hormones—the pill, implants, coils.
– We've not been taught what a 'regular' flow looks and feels like because menstruation is still seen as taboo subject. It's spoken about in hushed tones and advertising teaches us to 'stuff up' our bleed with tampons so we can 'carry on as usual' partying, riding on boats and rollerskating in white jeans – this is shown as 'normal' when it's anything but for most women.
TN: I love your term 'called girl' for a woman who's in touch with her cycle—can you give an example of how this looks from your life?
LL: The Called Girl experiences life moment-to-moment. She's in tune with the feminine cycles, rhythms and seasons that allow her to fully own her divine power. She works in, not out. She trusts herself and thoroughly enjoys inhabiting a female body.
A Called Girl doesn't hold on too tight to a defined and specific outcome. Instead she shows up, roots into mumma earth, listens to her pussy, trusts her gut, raises her heart and boobs to the sun and remains open to the infinite possibilities that occur when you collaborate with what I call SHE.
I trust my body's wisdom and the way that SHE (divine/source/goddess) uses my cycle to work through me. Each and every month in each and every phase, I unravel and unfold more and more understanding about the woman that I am.
This means I can grow strong and powerful roots in the truth of why I'm here, what I need to learn, who I'm here to serve and how I'm meant to do it—meaning I can fully rise as a woman who trusts herself and is fiercely in her SHE power. Rarrrr!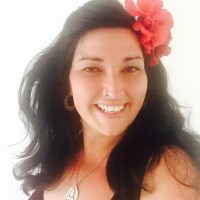 Crowned 'the defender of female awesomeness' by Cooler magazine, Lisa Lister is the author of Love Your Lady Landscape and Code Red. She's a menstrual, fertility and reproductive health practitioner and founder of the SHE Flow system; a personal invite to celebrate the fiercely feminine, sensual pleasure of being a woman through movement, massage, mysteries and magic. Discover more at www.thesassyshe.com