Will I ever be hardcore enough to be one of the kundalini crew, asks Ruby Warrington?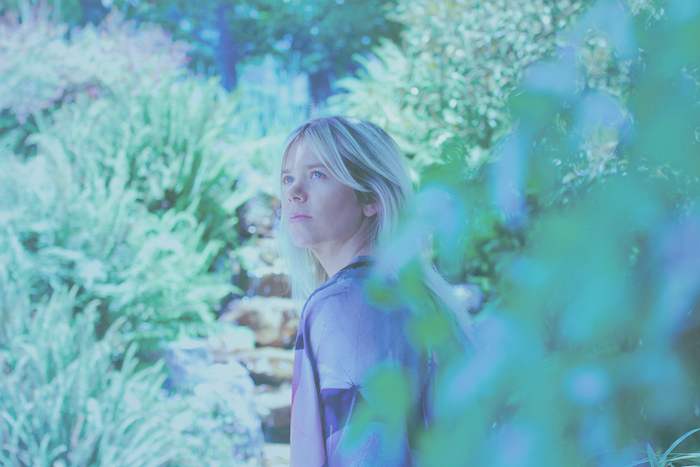 I HUNG WITH THE KUNDALINI HEAVYWEIGHTS. So kundalini yoga is generally one of those things I do because I don't want to. I figure anything that makes my ego flip-out the way this practice does has gotta be good for furthering my personal ascension goals – plus I've experienced some of my most profound life realizations on my sheepskin. Like full-on psychic visions about the best next steps to take in life. So when I learned that Guru Jagat (a.k.a. the woman spearheading the current kundalini global takeover bid) was hosting a retreat with her Rama Institute in Glastonbury last weekend, OF COURSE I extended my recent stay in the UK so I could go.
Here's a sampling of the kind of stuff that went down:
Daily 4am sadhana. Literal translation: "spiritual exertion towards an intended goal". My translation: "a battle of ego over sleep-deprived mind, and absolute evidence that kundalini yogis – who practise sadhana every morning – are the most hardcore of yogis."
My first 2.5 hour meditation. About 4.30am on Saturday morning, Guru Jagat announced she'd had a download that we were going to do the "Master's Touch" meditation that morning. Here's a video. We did this for 2.5 hours (but faster, without music, and with our hands held in the 'crossed fingers' position). TF for her caveat that anybody "new" to kundalini was welcome to nap if needed.
Shopping for Jupiter rings. One think I love about the kundalini community is that they're generally dripping with jewels – and the first opportunity we got we headed to Stone Age, a high-vibe crystal jewelry store in Glastonbury town. Wearing a ring on your Jupiter finger (the pointer finger) is said to symbolize power, leadership and authority…which is interesting since most women were saying they don't like wearing rings on that finger because it feels "ugly" and "clunky." Hmmm!
A trip to the top of the Tor. As in, the hill that presides over Glastonbury – and which is also the axis of the mythical Earth Zodiac (which, never fear, I will write about at length in another post!) Cut to bemused stares from the 'regular' tourists, as our 40-strong group moved from seated meditation in the grass (substituting sheepskins for black trash bags to protect our kundalini whites)…to insane selfie excitement in the natural wind machine created by the ruins of St Michael's castle (see below).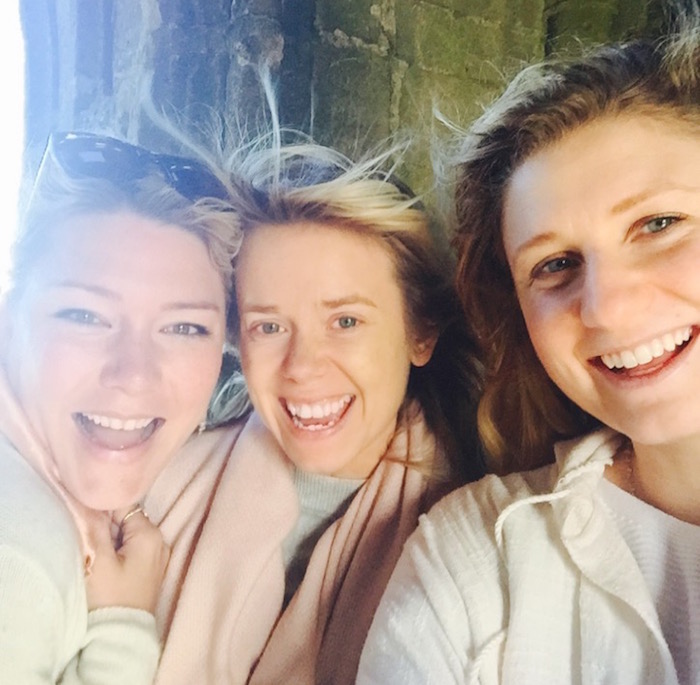 I BOWED TO THE POWER OF SAGE. I actually had to leave the retreat early (which means I missed seeing Merlin's Cave, the crop circle excursion, and the final 4am sadhana AT THE TOP OF THE TOR), because of an electrical issue that needed sorting in my London home. My shower had been giving off a *tingle* of electrical charge (eek), and the electrician had already been in twice to figure out what was causing it – to no avail. He needed to do a deep dive he said, and un/rewire my entire house to get the bottom of this one (see dollar signs stretching to infinity in my mind's / third eye).
I figured I might as well do my bit, so I picked up a GIANT bunch of sage at Star Child Original Medicinal Botanicals in Glasto and smudged my place the night before – paying extra attention to the bathroom. I mean it could easily be an energetic problem, right? Ghost of tenants past making a watery plea for freedom? And what do you know, 15 minutes into the job, my man Shane had found and fixed the problem! He was scratching is head over how he'd missed it before…while I smiled inside cos I figured I'd essentially smoked that mo-fo out.
I RECEIVED A BOX OF TREATS. One thing I miss about my "old life" in the mainstream media is the constant stream of free beauty products I used to get sent. In fact, there was a whole other lesson in ego eradication when the supply dried up once I left my old staff job. But when I returned back to NY, I was amazed to find a box of beauty goodies from Blue Mercury awaiting me – and even better, the majority of them were all natural!
Perhaps they were a gift from Jupiter, planet of abundance, who just moved signs into my house of health and wellbeing. Or from Venus, Goddess / planet of beauty, as a thank you for honoring her with our Temple of Venus art project this past month. I mean, these are the kind of questions a girl has to ask when goodies appear from out of no-where. And my fave product in the box? A chemical-free nail lacquer from Smith & Cult in a shade of poppy red called Kundalini Hussle – of course.