With Venus and Mercury shifting gears, and Halloween adding a heavy dose of magic, the 2018 Leo Waning Moon invites us to surrender to the mystery, and conjure connection with the invisible, says Jennifer Racioppi …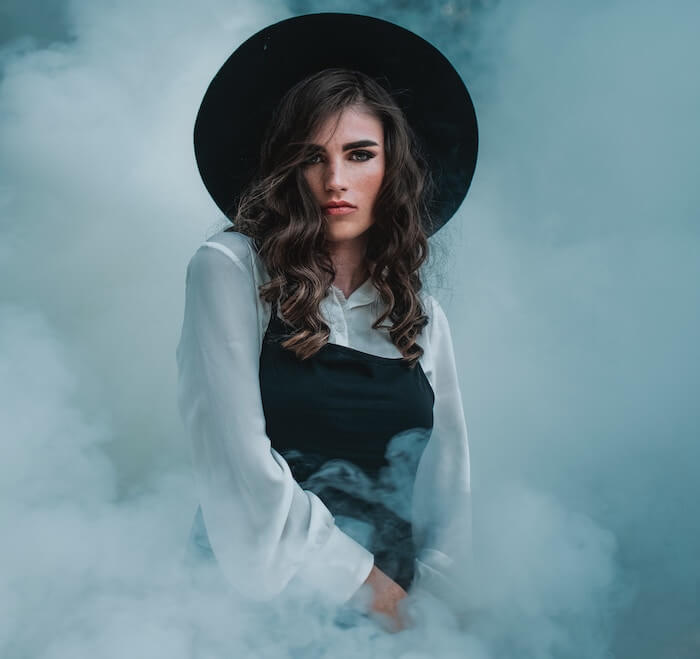 Waning Quarter Moon // October 31 2018 // 12.40pm ET // 8 degrees Leo
With the 2018 Leo Waning Moon happening on the day the veil between worlds is the thinnest, we can expect things to feel fun, with a heavy dose of spooky.
How apropos for the Scorpio Sun squaring playful Leo? Meanwhile, with Venus Retrograde still in full effect and simultaneously in direct opposition with Uranus, unleash your desire to change your identity (dress up anyone?) Enjoy the mysteriousness of the day … 
///
// The Cycle //
The 2018 Leo Waning Moon serves as the midpoint between the hunter Taurus Full Moon, and the upcoming Scorpio New Moon on November 7th. This critical turning point of the lunar cycle asks us to let go of what's no longer working while simultaneously bringing outcomes to seeds planted with the August 2, 2016, Leo New Moon.
Check-in; what's coming to fruition now that connects to dreams set in motion and actions taken then?
///
// The Transits //
With Venus retrograde moving into Libra, and Mercury moving into Sagittarius, our spiritual world may feel impacted. Especially with Venus opposing Uranus, an astrological configuration that often suggests a change in a relationship (perhaps even an ending).
Today's transits ask you to go with the flow and roll with any abrupt switches in direction. Additionally, given that it's Halloween, there's real opportunity to connect with the other side via ceremony and prayer (and your inner witch).
///
// The Square //
With the Sun in sultry Scorpio squaring the Moon in light Leo, we have a classic case of water (Scorpio) vs. fire (Leo). While we all know that water can extinguish fire, let's not forget that when the two combine we get steam, too.
My suggestion? Aim for steam. Lean into Leo's natural optimism and ability to magnetize joy. Even with abrupt changes afoot, allow yourself to feel lighter through the release of what's no longer relevant.
///
// The Opportunity //
Today offers the strong potential to conjure, create, and align, while paying homage to those who have passed away. Even with Venus opposing Uranus, a transit that connotes the need to release what's no longer working, you can sincerely connect with your spiritual self.
If something, or someone, exits your life today, let it go! And allow the depth of who you are to shine through. Then enjoy the night of play!
Discover more about astrologer and success coach Jennifer Racioppi and her work HERE and follow her on Instagram.