Enter the year of the Sheep, gentlest beast of the Chinese zodiac and harbinger of creativity, peace, and healing. Here's how to make the most of this Cosmic gear-change in the months to come…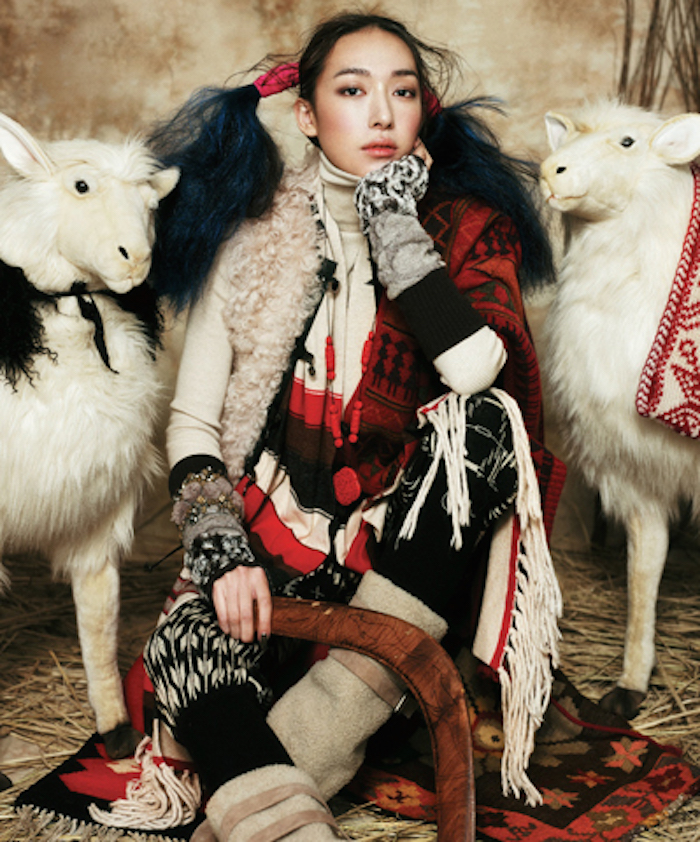 What's weird is that in China people traditionally avoid having babies in Sheep years, as these passive personality traits are perceived as a weakness. But actually, isn't more empathy for others, more nurturing, and more open-heartedness exactly what the world needs right now?
If last year's Horse energy was all about putting ourselves out there in the name of progress, then the Sheep ushers in a time of quiet reflection, and careful consideration about the impact our actions have had on the wider world. Our best work will be done behind the scenes, and in the moments we feel safe to settle into our creative flow.
Relating to the Western astrological sign of Cancer, home and family are where the heart is in 2015. But as the Sheep is the 8th sign of the Chinese zodiac, correlating with this being an Eight Year numerologically, there is also the opportunity to cash in on the bold initiatives we began under the entrepreneurial influence of the Horse.
Here are eight key Sheepy themes to work with in the months to come:
FORGIVENESS
The Sheep bears no grudges. Virtually every spiritual tradition teaches that forgiveness, of ourselves and others, is pretty much essential on the path to enlightenment, and here comes your opportunity to let bygones be bygones. Even if the bygone in question involves a cheating rat, or a backstabbing biatch. Remember; their actions could only be born of suffering (as, you know, the Buddha might put it).
HEALING
The licking of wounds, both physical and emotional, is actively encouraged this year. No more suffering in silence or simply soldiering on, Sheeple! It's time to embrace the idea that only once you are fully whole will you truly be free to thrive. Where to start? Your intuition knows where your deepest issues lie. From there, you might want to check out our Nu Review to find a Numi-approved practitioner near you.
GENEROSITY
When was the last time you truly sacrificed of your self for the benefit of others? And no, sharing your HBO Go password with everybody in your apartment block doesn't count. The Sheep is the humanitarian of the Chinese Zodiac, and since the dawning of the Sheep year coincided with the philanthropic Aquarius New Moon, the stage is set for us to rethink how "I" can benefit this year, to include the Universal "we".
SELF-NURTURING
This goes hand-in-hand with healing, and prioritising your self-care schedule this year is about tapping into a unique opportunity for regeneration. 2015 is the year of the Wood Sheep (each year also has a corresponding element), and since the Wood element is associated with all living things, there's a Spring-like theme of renewal in the air. Time to scrub yourself clean, inside and out, and detox step forth all shiny and new.
DIPLOMACY
Let's all play nice this year, yeah? And that goes for you too, politicians. The Sheep invites us all to strive for peaceful negotiations in 2015, to temper our own agendas and embrace the concept of compromise. This isn't about keeping your opinions to yourself, more an invitation to see each situation from all sides.
INTIMACY
Let your secret softie show! It's amazing how people warm to you when you show your vulnerabilities, and the Sheep year encourages wearing your heart like medallion of honor. Bye-bye bravado, hello real heart-to-heart connections. The kind new best friendships, authentic life partnerships, and life-altering family breakthroughs are made of.
CREATIVITY
An open heart also creates an aperture for you to connect to your inner muse. As the Wood Sheep heightens our sensitivity to the world and the people around us, artistic expression becomes catharsis, a way to channel our subconscious in service of making our world a more beautiful place. The soul speaks in mysterious ways; and our creativity is what gives it a voice in the material world.
ACCEPTANCE
Don't fight it. Make "I surrender" your mantra this year, and then just watch how much more fluidly life unfolds. This is not, we repeat NOT, about adopting a pushover stance and allowing yourself to be taken for a ride. Rather, it's a time for tapping into the Universal oneness energy, and trusting, simply, that whatever you're being asked to accept today is in the ultimate service of your highest good.
How will you be working with the Sheep energy this year? Connect with us and share your journey on Twitter, Instagram and Facebook.