Wishcraft by Shauna Cummins introduces a powerful practice for creating intentional change …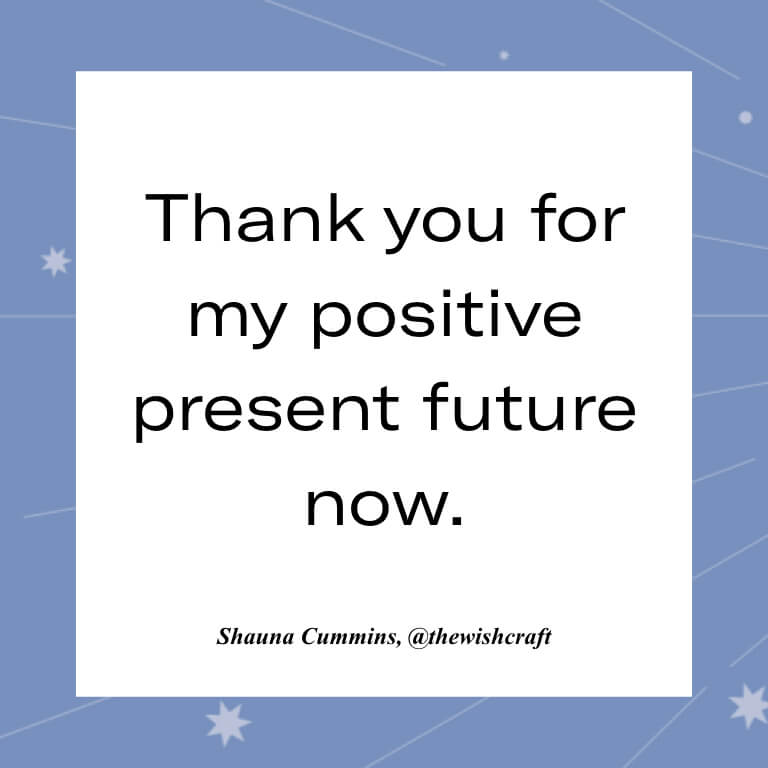 In her new book, Wishcraft, hypnotherapist Shauna Cummins explains that wishes should be said like prayers, affirmations, and blessings, all in one. Before you plant your wishes in your subconscious mind, read the below script out loud – either in a group, or to yourself – before entering into a wishing trance. Alternatively, you can record it and listen to it before you go to sleep or before you enter into the wishing trance or journey.
<< PAST PRESENT FUTURE NOW: WISHING SCRIPT >>
"Imagining myself in a peaceful place, I breathe in deep relaxation into my mind and into my body. Counting down from ten to one, breathing slowly and deeply. Ten, nine, eight, breathing, seven, six, five, deeper and deeper, four, three, two, one; allowing each and every breath to take me deeper into this intuitive inner space for relaxation and release, receiving even more of what I desire now. Breathing in relaxation and breathing out release. Breathing in deeper and deeper, into the intuitive inner space of the mind and body.Safe, secure and protected, just breathing. Remembering that, in my mind, I can give myself whatever resources I need: the ability to go deeper, to rise above and to give myself what I need, is my natural ability.
Now, in my mind, I find myself somewhere that brings me peace, a place in nature. I am experiencing this place with all of my senses. The colour of the sky, the sounds around me, the temperature of the air on my skin. Breathing in peacefulness and support. Drawing up courage and strength from the earth and into my body, into my mind, light and clarity from the sun and the sky moving into my mind, into my body. I experience those energies circulating throughout my body, empowering me to move forwards positively.
I now imagine myself from the perspective of my future self. I can feel or see my future self doing well, living, their wishes coming true. I step into my future self, moving around in their energy, feeling it now. I believe in myself; I trust in myself; I feel my whole mind and my whole body working with me now.
Through the eyes of my future self, I can see my present self and I notice what I admire about my present self now. I feel my present self, receiving that appreciation. I can feel those energies, from the future and the present, collaborating, working together and rising up and intuitively travelling over my life. I can look down as if I'm looking down from above, and I call out a few things I feel very proud of, things I accomplished or overcame throughout my life.
When I have those in mind, I drop down and travel to the past, to a time when I could have used more support. And I feel my future and present selves there with my past self as if I'm my own loved one or my own best friend. I give my past self whatever resources I needed, and I imagine my past self receiving those resources: protection, healing, safety. I look into the eyes of my past self and I remind them of, or share with them, what I admire about them. I share with them what they will go on to accomplish or overcome. I feel pathways of healing, releasing and receiving, flowing from the future into the present, into the past, and I can feel my past self now rising up out of that past, feeling an updated sense of love and support for who they are and who they are becoming; traveling through time and space with an updated sense of love and support for who they are and who they are becoming.
"I can feel myself in the present moment, moving forwards positively, and I can feel my future self here with me now, supporting me. Moving forwards, in my own way and in my own time, remembering how strong, resourceful and supported I really am, just being me. Enjoying myself and the process, in my own way and in my own time. I know that things take time and energy to accomplish, but I now feel an intuitive balance of focus and forgiveness, trusting in myself and the process. Each step forwards works with me, surrendering to the supportive forces within me and around me. Thank you for my positive present future now. My future dreams are a reality now."
///
Now you're ready to plant your wishes. Shauna has included wishes for healing, for giving, for receiving, and for different stages and phases in her book, as well as wishes for revolution. Use the below to wish for a better future for ourselves and for others.
<< WISHES FOR REVOLUTION >>
To be said like confessions, admitting to the wrongdoings of ourselves and others, in atonement or with the intention of coming into alignment with right action.
WISH FOR THE EARTH
May I awaken to recognize the Earth as a living organism. May I treat her like a divine mother and giver of life: the ocean's waters, the trees' air, the soil's growth. May I begin to live my life by right actions to sustain a living future.
WISH FOR CHANGE
May I stand with love and respect for all life. May I listen, learn and act with compassion. May I embody the humility to admit when I am wrong and make reparations for deep, lasting, systemic change towards equality on all levels. May I learn to see others and myself as one, with generosity and grace.
CLOSING WISH 
In all my wishing, may I have the patience to let go of what no longer serves my highest good, moving like a river flows, surrendering to the supportive slipstreams, moving forwards positively, just being me. Trusting in myself and the process of learning and growing and becoming stronger, and more open and receptive to making my future dreams a reality now.
///
Wishcraft by Shauna Cummins is published by Hardy Grant on Jan 26 2021. Pre-order your copy HERE.