WTF does "sober curious" mean anyway? Allow me to explain…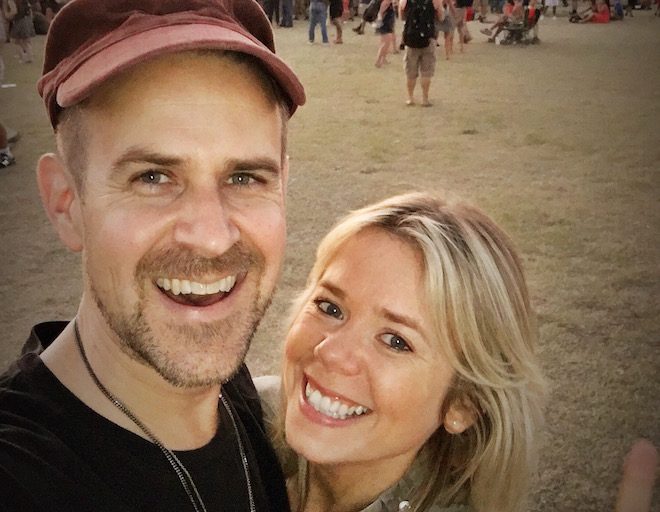 :: MONDAY :: (and basically on my mind all week)
So the Pisces and I have embarked on a fuck-off road trip for the majority of October (planned very last minute, but totally fitting for my Aries Tarotscope this month)—and we kicked things off seeing LCD Soundsystem at the Austin City Limits festival last night. Coincidentally our favorite band just happened to be playing in the first city and on the first night of our trip. Thank you, Universe!
Those who follow me on social media will also know that I had a couple of beers at the festival (three, to be precise), which in turn led to a couple of comments from people asking "erm, what happened to #highsobriety?" Comments that were quite justified, since having begun hosting my Club SÖDA NYC events this year I have been talking a lot about my journey leading a more sober life.
These comments also made me realize I can't then just randomly go drink a beer without properly explaining myself! As such, I have decided to share my sobriety story here this week—which I have done in person at my Club SÖDA NYC events (stands for Sober Or Debating Abstinence btw), but never in a post on this site. So here goes.
***
Having been a habitual binge drinker for the majority of my 20s and 30s, I have spent the past six years slowly but steadily unlearning the habit of reaching for a drink on autopilot in any and all social situations.
Why? Well firstly the hangovers had become pretty fucking unbearable as I entered my middle 30s, and never really worth the short-lived buzz of the night before. But on a more sinister note, I had also been able to pinpoint alcohol as, if not exactly the cause, then a major contributing factor to the daily anxiety and overall sense of doom that had begun to cloud my days.
I only made the connection recently, but this coincided with me first learning to meditate back in 2010—and subsequently having my first ideas about creating The Numinous. And stepping deeper onto my spiritual path over the following months and years, I began to question the nature of the "high" that I (we?) got from alcohol.
The more I worked on healing my emotional wounds (much of which is documented elsewhere on this site), and the deeper a connection I forged with what felt like my whole / true / spiritual self as a result, the more I began to feel naturally high a lot the time. The question became; why did I (we) even "need" alcohol, anyway?
But no way was this process proving to be a walk in the park. Booze was (is) everywhere, not to mention it being a highly addictive (in fact the most addictive) drug. They say the definition of madness is repeating the same behavior and expecting a different outcome—and considering I spent the next few years resolving not to drink, drinking anyway, then feeling like shit and hating myself for it, it could also be said that alcohol was beginning to drive me crazy.
So eventually, a little over a year ago, I asked a friend to bring me to a couple of AA meetings. By now I was only drinking maybe once or twice a month (versus what had been three or four times a week). But if I was still having a hard time saying "no" in certain situations—or else obsessing over the next time I would "allow" myself a drink—I must be in denial about a more serious drinking problem, right?
And while I could immediately see what an amazing source of support AA is to the people the program resonates with, sitting among these brave souls I felt like an imposter. When it came time to introduce myself with the classic: "hi, I'm Ruby and I'm an…" the word "alcoholic" stuck in my throat like a puke-inducing tequila slammer.
Some people might say I was (am?) simply in denial, but I had already made so much progress cutting back on my drinking by this point, it was hard to swallow the idea I was "powerless over alcohol" (the way they frame alcoholism in AA). I also knew from conversations I'd begun having with other friends that no way was I the only one who felt this way. And so I got a bunch of us together to talk about it over a pot-luck dinner at my apartment. Which was essentially the first Club SÖDA NYC meet-up.
We shared our stories, along with our conflicted feelings about booze (could be so much fun! but at such a high price…), and it felt good, and right, to shine a light on the shame and confusion most of us felt about this. Questions that came up were along the lines of: does continuing to drink even when life is generally better when you don't make you an alcoholic? If so, does this mean total abstinence is the only answer? Or is it possible to be mostly sober, and still drink in a high-vibe way from time-to-time?
***
These questions are at the heart of a conversation I've since been having a lot, not to mention a subject I've been doing more and more research on. And besides plenty of soul-searching and at times painfully honest self-inquiry, discussions at Club SÖDA NYC events and a few great books (listed at the end of this post) have led me to draw the following conclusions:
1. Our brain chemistry is designed to a) seek pleasure and b) avoid pain, causing us to repeatedly seek out anything that ticks these boxes. And so, since alcohol is a substance that a) provides pleasure by b) numbing pain, human beings are essentially pre-disposed to become addicted to alcohol.
2. Since we are old enough to understand that certain behaviors lead to certain outcomes, we are conditioned to believe(by society, media, and relentless marketing) that drinking alcohol a) provides pleasure and b) numbs pain. Also, that it is a necessary component to any and all social situations, celebrations, dance parties and first dates, and that it makes miserable days feel more okay.
I've billed subsequent Club SÖDA NYC events as being for the "sober curious," which basically sums up the way I feel about my journey with sobriety today—much of which has meant getting curious about the above findings, in both my thinking and my life choices.
It has meant questioning the nature of addiction, and the stigma we attach to alcohol addiction in particular. For example, you'd probably be happy telling people you're addicted to coffee…but alcohol, not so much. But if evolution (not to mention a lifetime's social conditioning) has pretty much set us up to believe alcohol is the answer to…let's see…the existential crisis known as "being human," then where's the shame in simply acknowledging this?
After all, as Brené Brown teaches in Daring Greatly, shame-breeds-secrecy-breeds-stigma-breeds-shame—and shining a light on that shit is the only way to end the cycle, as any AA advocate will also tell you. (Despite the whole "anonymous" part kind of playing into the secrecy-stigma-shame game in my opinion…which is also NOT to dismiss how invaluable the support provided by AA is for many millions of people! Jeez. This can be such a slippery conversation.)
Living sober curious has also meant facing a lot of sober firsts. If my journey thus far had got me comfortable with sober dinners and sober networking events, say, now it was time to attempt my first sober wedding, first sober vacation, first sober nightclub, first sober family visit. A.k.a. the drinking occasions I had held onto as sacred (read: not going to be much fun / even doable without a drink).
And turns out that some of these things are amazing—if not waaaay better—sober, and that some are not as much fun / even worth doing without alcohol. Which I basically see as my soul telling me to a) either not do those things, or b) accept that life is simply not endlessly entertaining / enjoyable!
Because last but by no means least, living sober curious has meant getting super comfortable with the fact that being human is not—and is not supposed to be—comfortable. We are designed to experience a whole range of feelings on a daily basis, some "good," some "bad," and all in service of keeping us in alignment with the choices that are in our highest good. Feels good? Do more of it. Feels bad? Either don't do it, or do something to make it feel better (like, maybe actually have that "difficult" conversation with your mom versus getting wasted on rosé next time you have to see her). Option three? Simply sit with it, feel it, and allow it to pass. (It will pass).
The way I see it, alcohol momentarily overrides the "feeling bad," thus providing a fake "feeling good." The problem being that we then never get around to addressing whatever it was that was making us feel like shit in the first place. And so another soul-destroying cycle is perpetuated.
And well, at this point on my sober curious journey, I can tell you that consistently choosing not to drink feels fucking GREAT. Feels confident, calm, safe, focussed, enthusiastic, engaged, and energized. And that it's also great when it feels awkward, sad, angry, lost, or lonely—because it turns out all these feelings are just part of my human experience, and so choosing not to numb them out feels like choosing to be fully ME.
***
So then why drink those beers at ACL? Why not show up fully "conscious," fully myself, to an experience I could pretty much guarantee would be awesome without alcohol?
The short answer is that dancing under the stars to my favorite music is still one of the very few (if not the only) drinking occasion I still hold sacred. Sacred as in…a way to connect to the undefinable, numinous, part of me that is pure sensation, pure experience. Yes, there are other (low and high-vibe) ways to attain this state—but as humans have known since the dawn of civilization, one other use for alcohol is to get there fast. Like, in the 90 minutes LCD Soundsystem are on stage. If (and it's still an "if") I choose to keep alcohol in my life at all going forward, it will be solely for…dancing under the stars to my favorite music. Like a Pagan.
Which is about where this becomes a tricky conversation again.
Because the sober stalwarts might say this is just my addiction talking…and to be fair, I might well agree with them. Is it fucked up that I'm also kind of okay with that? Yes…I guess…because they might also say that it's irresponsible of me to be preaching the joys of #highsobriety, and then go drink a beer (or three)! Even if it's only once or twice a year. And I take this on board whole-heartedly, since I know that my path to semi-sobriety is unique to me—and that, for many, alcohol poses more of a serious if not a deadly threat.
If this is you, then I bow to your sobriety, and to your spiritual resilience. You are an inspiration.
For now, this is who I am, and this where I'm at on my sober curious journey. I'd love to hear where any of you reading stand on the issues it's brought up—since the more sharing, and the less shame, secrecy and stigma about alcohol and the slippery, slippery subject of alcohol addiction, the better.
FURTHER READING – 
The Biology of Desire: Why Addiction Is Not a Disease
This Naked Mind: Control Alcohol: Find Freedom, Rediscover Happiness & Change Your Life (Volume 1)
The Sober Revolution: Women Calling Time on Wine O'Clock (Volume 1)
The next Club SÖDA NYC event will be on December 1 2016 in NYC. Sign up for our newsletter for more details as they are announced.