What if the way to enlightenment wasn't through your crown chakra…but your feet? Nadia Noir heads to the nearest dance party to find out.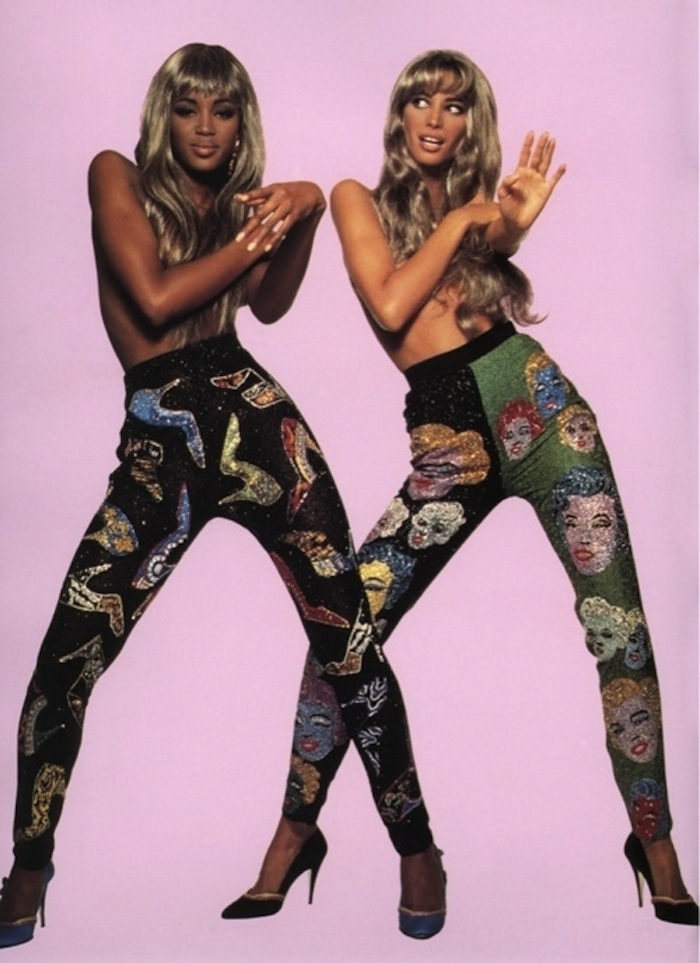 Prayer and meditation are awesome tools for channeling moments of introspective clarity. But as a spiritual species that spends an unfathomable amount of time psychoanalyzing ourselves through mantra apps, self-help books on Audible.com, and grounding ourselves through following our favorite guru via social media, channeling a primal version of Miley Cyrus while gyrating to Madonna's "Like A Prayer" can be a bridge into unbridled bliss. We live in our heads enough already. Enter the body-purifying sweat of a good old-fashioned, orgiastic dance sesh.
It wasn't just the ancient Greeks who encouraged the human iterations of their gods, goddesses and muses to get down and get God through song and dance. The Torah calls for dancing, not only as a celebration of God or as a way to worship, but as a way to create the frenzied, supercharged atoms between two lovers in Song of Solomon. In Hinduism, there are the Apsarases, 23 celestial gods that dance to "express the supreme truths in the magic of movement." Sufis twirled themselves into ecstasy and the Ancient Egyptians thought of everything they did in life as one eternal dance. They even danced at funerals, ready to dance their way through the darkness of death and into the afterlife.
If you're still perpetually feeling low-grade anxiety or self-abusing your ten pound weight gain, maybe that's because the answer isn't in your crown chakra. Sure you can keep seeking a connection to a higher power, but you might never understand what true liberation is until you strip away your sins at classes like Sheila Kelley's S Factor, talk up to yourself at Patricia Moreno's Intensati, bump-and-grind your way into a state of Bhakti at Yoga Booty Ballet, or the spiral-sensationalizing of Buti.
But about just hitting up a dance club and twerking shamelessly to a raunchy Nicki Minaj song, feeling the sensation of strength and pleasure crawling up your root chakra, through your core and into your heart. You could stomp it out to some metal like the world's sexiest Kali, destroying the earth below you and incinerating any doubts you have in yourself. Or, if that's too hardcore for you, if you're one of those supple, gentle souls that drowns in tears and whiskey, go sing some old country songs by Patsy Cline at your local karaoke dive bar. Studies even say that moderate drinking accompanied by karaoke is super good for your health.
And in case you're like, "When am I going to have the time to do any of this stuff? I'm a super woman trying to be a spiritual being having a human experience and those bills don't pay themselves," here are four easy steps to just sing when the spirit says sing and twerk when the spirit is like, "Work it girl."
GET OVER YOURSELF
That's right. Who cares if you're flabby or ungraceful or if you're hailing a cab on a busy street. The minute negativity starts creeping into your psyche, do a little dance on the sidewalk or belt out some Beyonce. The only person who is embarrassed by what you're doing is you. Maybe other people are jealous or hating, but a majority of people will feel inspired by your little performance. They might just join in. Spontaneous soul-healing flash mob? Sounds awesome.
PLAY ON, PLAYA
Keep a playlist on your iPhone for those times that you really need to really play. Songs you can dance to in the mirror while dripping wet from the shower or to encourage anyone around you to join you for a slow dance. If that sounds awkward, ABBA usually works.
RECORD YOUR POSTERIOR FOR POSTERITY
Have you ever looked back at pictures of yourself when you were in high school or college or some other time you were mired in angst and depression and went, "Damn. I looked hot. What was my problem?" It's always good to keep visual reminders to yourself that sometimes your pain can be blown out of proportion by your own psyche. There's no better way to document yourself than at the height of some fun time; dancing, singing, glowing. You might grimace, but guarantee you, when you're 70-years-old, you'll be thinking, "I was having the time of my life." Like me in this video singing Cyndi Lauper's "Time After Time." I kind of hate it, but in five years I'll love it. Don't shortchange your future with how you feel about yourself today.
GRAB YOUR PARTNER BY THE HAND
Mix things up in your relationships with some Sir Mix-a-lot and a mixed beverage of your choice. Or just let the wild nymph out to play and make up some songs in the middle of  a hike or something. Start a fake band. Create a fake dance. In fact, keep faking on it 'til you make it. Let your fake persona, the confident and sassy one, override your warped internal programming to bring out the "real" and really dope damsel and dimepiece that is you.
But you know, some things work for some people and other things work for other people – a really simple and trite statement, but it's true. If you hate something, you're not going to keep doing it. If meditating and mantra-repeating doesn't work for you, you're not broken. You're not spiritually unevolved. It's just up to you to find out what you vibrate with. And maybe, just maybe, what will really reshuffle your chakras and shake up your soul is a sultry striptease in front of one other living being who will never judge you—your cat.
Read more from Nadia Noir at Illuminadia.com