A lot has changed since the original publication of Material Girl, Mystical World in May 2017 … which was kind of the point.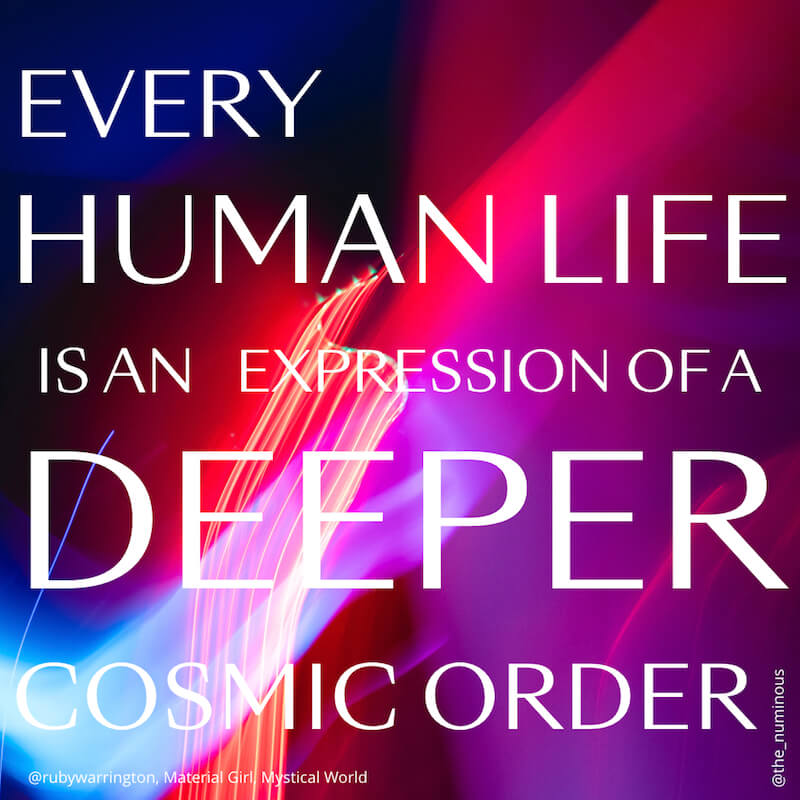 When I began writing Material Girl, Mystical World in early 2015, I didn't realize it would be a book about a personal transformation—a transformation that has been unfolding ever since. I was a different woman when it was commissioned, by the time I had finished writing it, and when it was finally published in May 2017. Once you stop resisting their tug, this is how transformations go, continually unfolding until life becomes unrecognizable.
When they told me the paperback would be published this fall, I questioned whether it still felt like my story (which of course it is, and always will be). I had continued to change and evolve, as the work I chronicled in the original manuscript continued to do its work on me. And world events were also reshaping the world around us in unprecedented ways—did any of us think, and act, and see anything the same these days?
Reflecting on these shifts, I asked my publisher if I could write a new conclusion for the paperback, and they agreed. The resulting essay is published below. I invite original readers to reflect on how they have continued to evolve as a result of awakening to a more numinous outlook, and for anybody new here to consider what this might mean for you.
///
New York City. November 11, 2016
Two days after the 2016 US presidential election I hosted a gathering titled "Thank Goddess." It was a launch event for fellow author Rebecca Campbell's new book, Rise Sister Rise. When we came up with the name, we, like liberal-leaning "feminists" everywhere, were pretty certain we would also be celebrating the election of the first female president of the United States.
I had envisioned us referencing this as yet more evidence of the rise of the Divine Feminine (the subject of Rebecca's book), as we high-fived a collective WIN for the sisterhood. Instead, forty women filed into the yoga studio on the Lower East Side with faces drained of color. A haunted silence hung over our circle. It felt important to be together, but, still barely able to process the news, nobody really knew what to say.
Rebecca and I were cohosting with our mutual friend, Madeline Giles, who ended the session with a signature Angelic Breathwork healing session. Along with the rest of the group, I lay down on my yoga mat and began to engage the stimulating three-part breath. But this time, when the tears came, there was no cathartic release. Instead, I sat up afterwards feeling disembodied and even more confused. Struggling to address the group to close, the lump in my throat was like a hot coal, my whole body reverberating with the static of our collective anxiety.
What the actual fuck was happening? And where on Earth did we go from here?
///
The hardcover edition of Material Girl, Mystical World was released six months later, and in the original conclusion I wrote about all the ways in which my life and my world were transforming as a result of the tools, philosophies, and practices I've covered in its pages. How my periods had regulated for the first time in my life, and how I'd healed my persistent IBS (having finally addressed the emotional issues that had been gnawing at my gut for years). I also shared how I viewed myself as a "recovering fashion industry victim," and now bought 90 percent of my clothes second hand—the ultimate "sustainable" fashion!
I also mentioned that these external changes were really just the fluff since I could see how adopting a more numinous outlook was also making me kinder, more compassionate, more giving, and less self-absorbed. How it had completely transformed my relationship with my mum. And how seeking to truly know, accept, and forgive myself—how to unconditionally love myself—meant I no longer felt the need to accumulate stuff to make me feel good—as what was beginning to feel really GREAT was the idea that, in some way, whatever I did with my days was contributing to the greater good.
And, almost three years on from that Thank Goddess event, it is clearly evident that my own healing path reflects a collective awakening of sorts. That my confronting my personal demons has been part of a larger unmasking of "evil" forces operating behind the scenes—from political corruption, to the roots of the institutionalized racism that remain embedded decades on from the civil rights movement, and the largely unchecked exploitation of the natural world. My friend, Sushma Sagar, a former Marketing Director for Kate Spade turned energy healer, once described her own healing as a process of "un-brainwashing" herself, meaning it entailed confronting whatever subconscious beliefs and associated behaviors had been keeping her locked in cycles of pain. Pain that she, like myself and so many of us, self-medicated with cocktails, fancy clothes, drama-filled relationships, and an endless quest for career status.
Would our world look any different today had we elected a female president in 2016? If anything, without the collective wake-up call/"un-brainwashing" that has accompanied the Trump presidency, it seems as though the aforementioned societal woes would have been left to fester in the darkness even longer. And, as painful and confronting as this process has proven for many, I believe it has also been part of an overall raising of consciousness that began with the new age movement of the 1960s and 1970s, and which has sped up and gone viral thanks to our twenty-first century technologies.
///
The term "new age" was coined with reference to the dawning of the Age of Aquarius, a 2000-year-plus astrological era we began transitioning into globally in the middle of the last century. Moving us out of the preceding Age of Pisces, an era in which religious fear-mongering and hierarchical power structures reigned supreme, this new age heralds the rise of "Aquarian" values such as humanitarian efforts, power to the individual, freedom of information, and rebellion against the status quo.
I coined the term Now Age because, well, this new Aquarian age is happening NOW! Which also means anybody born between the 1950s and the 2050s are what I call the generational "pattern breakers" karmically tasked with ushering in this new evolutionary paradigm. Yes, that likely means you. And yes, that means that part of your purpose here on Earth is to help birth a more open-minded, less dogmatic, and overall more equally opportunistic Aquarian era.
And you thought my book was going to tell you all about what crystals to buy, and where to get the best tarot readings. Sorry! I kinda tricked you there with the hot pink cover and all the talk about "high vibes." I have been known to refer to The Numinous as a "Trojan My Little Pony"—all rainbows and sparkles on the outside, concealing an army of freedom fighters within. As we witness the outdated systems of the Piscean Age begin to topple and fall, what will be your contribution to bringing the Now Age into being?
///
In Material Girl, Mystical World, I describe the shamanic view of humankind as "a giant people patchwork, with each and every one of us a vital stitch helping keep it all together." Well, this is when you get to weave your story into the mix. What this means is, I hope you will feel inspired by this book to begin, in earnest, the thorough and searching process of un-brainwashing yourself, and a simultaneous investigation into your truth and your path. Meaning the path of your ultimate freedom, fulfillment, and empowerment, and, as a result, the path of your dharma.
You can begin by getting to know your birth chart (using The Numinous Astro Deck if it speaks to you). Of all the tools mentioned in these pages, astrology remains my preferred method of recognizing my inherited and/or subconscious patterning, behaviors, and beliefs—all the better to rewrite the script! And of course, do the yoga, the meditation, and the green juice (yada yada), but THEN pay attention to the wider changes you will very likely find yourself feeling called to implement as a result.
I often describe the practices and healing modalities covered on The Numinous as "the missing piece in the wellness puzzle"—because, guess what? In my experience, when you clean up your diet and begin to take better care of the physical, you will automatically be asked (by the Universe, Source, your higher Self, etc.) to pay more attention to your mental, emotional, and spiritual well-being, and to make any necessary adjustments to your priorities accordingly. And I guarantee that any discomfort you experience initially will be offset by a level of fulfillment, a depth of intimacy in your relationships, and a sense of meaning and purpose for your life that you may never have known.
///
Eddie Stern, my philosopher friend whom I introduce in the chapter on yoga, wrote a piece for The Numinous about the Hindu concepts of sakala, the reality we experience "with form," and nishkala, the reality that is "without form." In other words, our outer, quantifiable world (body, possessions, money, social media, even the Universe) and our inner, unquantifiable realms (knowledge, love, compassion, dreams, hopes, and potential). The Material and the Mystical. The here and now and . . . the numinous. "In yoga," he wrote, "knowing who we are is the solution to all misery. For when we don't know who we are, we are limited by the external things we measure ourselves against (sakala). We measure, we compare, and we are miserable in doing so, because we always come up short. Yoga teaches that when we truly know who we are, we are immeasurable, pure consciousness (nishkala)."
In other words, it is in seeking to know the unknowable, to connect to the truth of our numinous nature, where our unlimited potential— and our true freedom—lies. And if I could wish anything for you, me, and (why not?) for all humanity, it is for us to be free.
The paperback edition of Material Girl, Mystical World is out now with HarperOne books.