Our #TuneInPeaceOut initiative is an invitation to choose peace, every day and in every way…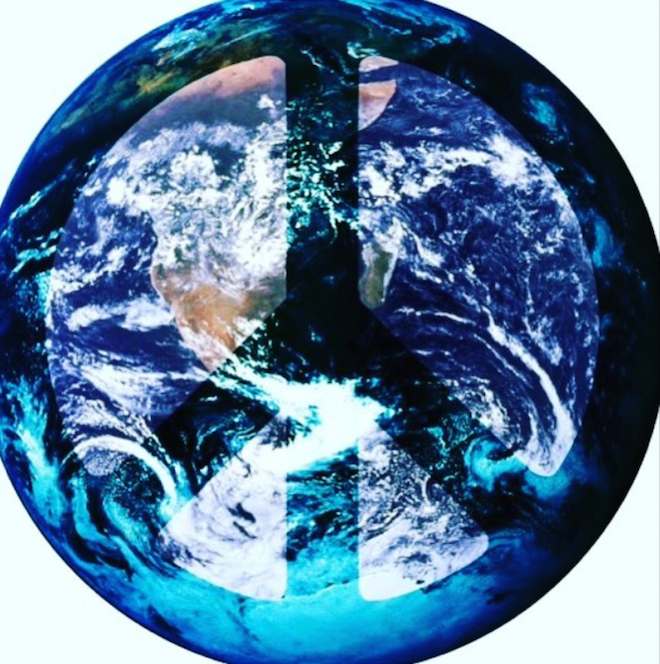 :: MONDAY ::
Got to see Deepak "the don" Chopra speak live for the first time, at the launch of his Radical Beauty
book with nutritionist Kimberly Snyder. TOTALLY get why he is who he is. The charisma! The effortless way with a deeply spiritual insight! A fave takeaway were his quotes about our relationship to our bodies: "Your body is an activity, not a thing. It's not a sculpture it's a river." And how, since our cells are in a continual process of rejuvenation: "I've had this jacket longer than the body I'm wearing today."
:: TUESDAY ::
Another day, another book about feeding our body right with Nicole Centeno's Soup Cleanse Cookbook. Nicole is the founder of Splendid Spoon, one of our sponsors at Club SÖDA NYC, and she's all about the healing power of soup. As Nicole tells it, souping changed her life (a low-calorie way to stay fuller for longer, the mindfulness of making soup, AND a totally practical way to cook and eat big batches of seasonal veg). All I really need to know is, my body just sort of gives me a big, cozy hug from the inside just looking at some of her recipes—which feels like an intuitive "yes" to a lot more souping this fall to me.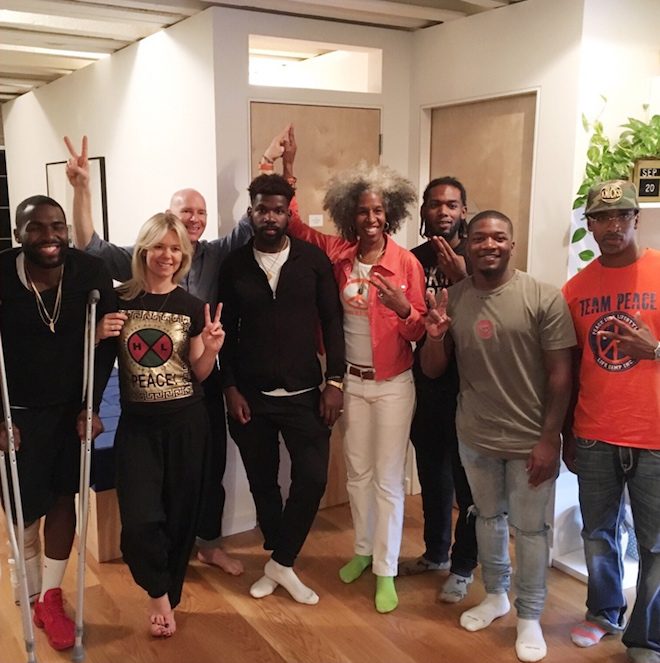 :: WEDNESDAY :: (Lots to say here, you might want to go make a cup of tea first…)
So roughly three weeks ago, I had the idea for #TuneInPeaceOut—an initiative to celebrate the UN's International Day of Peace. This following some work I did with my coach Cherie Healey, when I was thinking about the big, underlying message of The Numinous. "If I gave you the loudest megaphone in the world, and put you on top of the highest mountain, what would you say to the world?" she asked. The words came immediately: "Can everybody just stop fighting. We're all human. We all have the same needs, and the same fears. Please can we remember that we're here to help each other work it out?"
Because essentially (besides me just being a massive pacifist), all the practices, philosophies, and ways of healing that we cover on The Numinous are about forging a deeper connection to our true nature—and therefore a deeper sense of connection to ourselves, and to each other. Two things I believe are fundamental to any conversation about creating more peace in our (inner and outer) world. This since a) connection to self is what fosters the resilience needed to respond to life's trials in a calm, non-reactive way; and b) it becomes pretty much impossible to want to harm somebody once you recognize that we are all part of one big human family!
And then "Summer 2016" happened. Week after week we were slammed with reminders of the rampant divisiveness, hatred and violence in our world right now, and often stemming from a place of separation, of "us" v. "them." Which is not exactly anything new. Bombings, shootings, rape, hate crimes, and other acts of terrorism are happening all over the world, every day. But what struck me was the emotional charge in the way we responded to the events of this summer. How personally we all took each heart-wrenching episode of violence and injustice.
I think this is because we've reached a tipping point in how we consume our news. It used to be that we first heard of such inhumane acts as mass shootings and racist police brutality from people in suits, reading from scripts, in newsrooms far away. Now, this information first reaches us via our social media feeds—the same place we connect with our family and friends, and share our own lives with those we love. As a result, it has become impossible not to empathize with the people being violated against as we would our own brothers and sisters, parents, friends, and colleagues. The veil of separation dissolves…and we are reminded that we are all part of one big human family.
And with this, comes the remembrance that it is all of our responsibility to look out for one another. To speak up. Literally. Like, "WTF, that's not how we do things in THIS family!!" No matter how scary, or how uncomfortable this might feel. And to take whatever (non-violent!) action we can to change up the status quo.
The above is pretty much how I introduced my event in NYC for #TuneInPeaceOut, which ended up being one of 20 or so IRL gatherings held by the Numinous tribe globally. Earlier in the day I also hosted a live webinar with Bri Luna from The Hoodwitch and my dear friend and collaborator Alexandra Roxo (you can listen to the recording here), in which we spelled out what this initiative is really all about—empowering all of us to use our voice and take action to choose peace, and help create more peaceful communities from the ground up.
After all, as a friend in the UK pointed out on one of my posts about #TuneInPeaceOut, since it was inaugurated in 1981, it would not appear that the UN's International Day of Peace has actually done much to end—or even lessen—violence. Since September 21 was subsequently declared a day of of ceasefire and non-violence in 2001, US military spending has increased dramatically—rising from under $400 billion to almost $800 billion in 2011 (there has been a slight drop during Obama's presidency, but spending is projected to increase again in 2017). I see this as yet another reminder that it is actually on YOU AND ME to demand a different way of resolving conflict. That the power, truly, must be claimed by the people.
This message is why I partnered with the amazing Urban Yogis for my event tonight, since here are some people who are walking the freaking talk. Based in Jamaica, Queens, a neighborhood where violent street crime fueled by prejudice and lack of opportunity is a way of life, the courageous and progressive human beings behind this initiative are bringing the tools of yoga and meditation into their local community. The results? Less reactivity. Less violence. More listening. Increased feelings of self-worth, leading to more empowered and empowering lifestyle choices.
And, most importantly, the slow chipping away of stereotypes (about the "kind of people" who do yoga, for example—or who perpetrate violent crimes) that are the sick, Monsanto seed of so much separation, fear, and hate.
"Real change needs all year round effort, not just a day," my friend noted. And I could not agree more. Which is why it is my sincere hope that the conversations sparked by #TuneInPeaceOut will continue today, tomorrow, and every day going forward. That we will continue to choose peace every step of the way. On our webinar, we asked people to share what this looked like in their lives, and what they do to bring more peace to their communities, so we could all be inspired by each others efforts. I've created a post with the transcript from our chat. Check it out here—and add your feedback in the comments, so we can keep the conversation alive.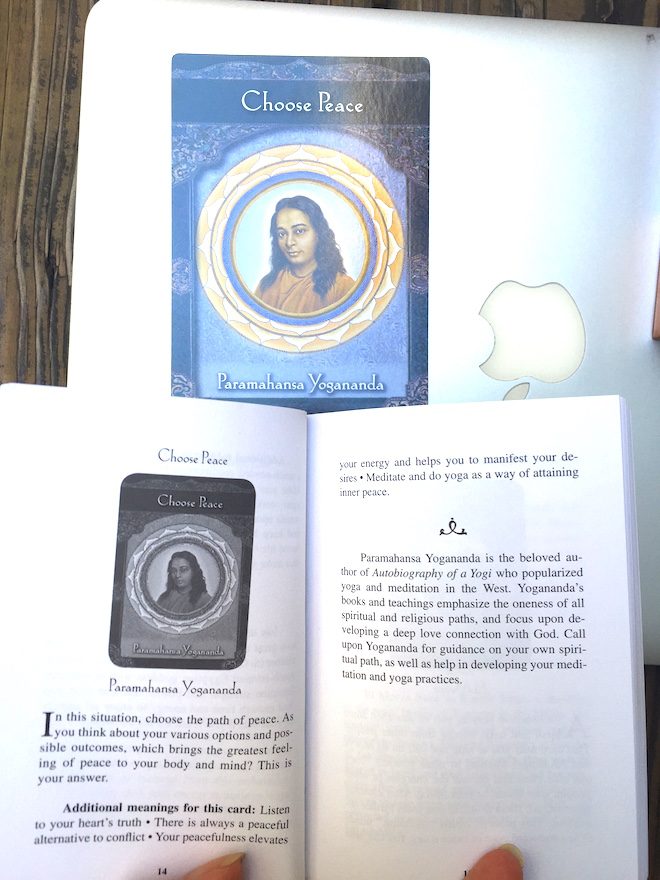 :: THURSDAY ::
Pulled the above card in a mini meeting oracle deck reading with my girl Lisa Barner. Thanks for listening, angels.
:: FRIDAY ::
And all that said, with the Moon in Cancer today, sign of nurture and self-care, I shall be mainly tuning in…and peace'ing out.