Dive into this month's medicine for your sign with our Numinous Tarotscopes July 2018, cast by Melinda Lee Holm using the Starchild Tarot …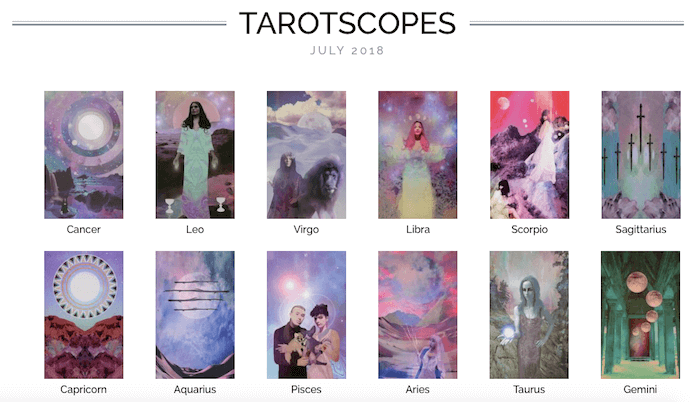 CANCER // CANCER RISING
The Star 
Happy Solar Return, dear Cancer! And what a divine birthday gift, especially after last month's major soul purging. The Star is traditionally considered an omen of hope and that is a great place to start with this energy. Daring to open our hearts to hope is one of the very bravest things we humans can do. It is a radical act of leadership and of love. This month, you (we!) are being invited to be hopeful again, to place oursleves in a line of descended Divinity brought down from the beginning of time and lift our faces to the sky. If that sounds a bit grandiose, it's because it is! The Star carries down the symbolism of Divinity from the very earliest humans who chose to use a symbol to represent the Mother Goddess. And now she is here for us!
All through July, find the little (and big) places left empty and dark for too long by heaviness and despair. Dig around in your psyche and find the rooms shut tight by time and disappointment and force them open to be flooded with the light of hope. Our planet is another carrier of Divine Feminine power, The Moon – call on her for a boost if you have trouble drawing down this energy. We have our New Moon on the 12th. If you've been wanting to up your witch game, this would be a GREAT time to light a white candle to usher in a new glorious era free of the doubts and binds of the past.
Your stone for July: Lemurian Seed Quartz Crystal
>>>
LEO // LEO RISING
Temperance  
Alright, Leo! You got your emotional workout regime fine tuned last month and now you are ready to expand and morph into the new you. While June was all about you leading the way in your personal realignment, July asks you to open and allow for the multi-dimensional shifts that Temperance brings. This should prove fairly painless, as this energy generally skews toward gentle/subtle/loving, but be on the lookout for any ego flare-ups. With any major shifts coming to us and not from us, there is always a risk they will bump up against parts of ourselves we are not ready to confront or let go of. If this happens, simply notice it and move on. Direct confrontation with ego is a losing game.
The universal balance sought by Temperance is quiet, but STRONG, and it seeks to make us stronger as well. All throughout July, the more you can allow the alchemy of the Universe to seep into every corner of your being, the more you will benefit from the breaking down and building up of minute fibers of your being. In practical terms, this will likely be barely perceptible except perhaps as a nagging feeling that the world isnt the same as it was yesterday even though it looks identical. Give yourself plenty of time to slow down and take in your surroudings so you can take in the new world forming inside you. Refrain from overindulging or extremes of any sort. Temperance works most effectively in a stable environment.
Your stone for July: Green Calcite
>>>
VIRGO // VIRGO RISING
 Strength 
Virgo, the story of your journey from June to July has me absolutely swooning. The acceptance of and participation in loving collaboration with others into the fully integrated embrace of co-creation as the ultimate show of strength – it's just beautiful. And your Elemental Earth nature will revel in the opportunity to engage fully with the world around you. Your best friends have always been the trees, the birds in the sky, the flowers and the bees, all the little specks of stardust working together to make this planet habitable, and now you can step forward to truly become one with them. What will you use this newly found strength to create, to nourish, to shield yourself and others from, to fight for and defend?
Take time this month to play with this power. Having difficulty getting through a project? Try working on it while sitting at the base of a tree. Can't leave your office? Bring yourself some flowers – better yet, bring your dog to work! Team up with other humans, groups and individuals, and remind yourself constantly that you do not have to do this alone. Yes, you are extremely capable, Virgo, to the point that people make a joke of your exceptional skill in organizing. But now it's time to find power in numbers. This is a chance for you see how far you can go when you open that sacred temple of yours to the skills and talents of others, professionally and personally, emotionally and spiritually.
Your stone for July: Vanadinite
>>>
LIBRA // LIBRA RISING
The Empress 
After your manifestation station last month, it's time to shift gears and settle into a little season of nurturing and luxuriating. While none of the Major Arcana cards have a particular affiliation with any one Element, The Empress' strong association with Venus gives her a decidedly heart-centered approach to life and the world and makes her a very natural and comfortable fit for you. Your appreciation for beauty will be heightened this month as will your ability to draw it into your sphere. Be careful what you wish for this month – you may very find yourself on the receiving end of a beautiful disaster if you do not take care to ensure that what you set your sights on is in alignment with your full heart.
It can be difficult to switch gears from manifesting to receiving. The impulses are near perfect opposites, making the receiving feel like an excruciatingly slow or empty experience. There can be a rising panic that you cannot receive what you don't yourself create. If these feelings come up for you, be patient with yourself, love yourself – Empress yourself! And remember that you still have plenty to do. You are going to need to spend a lot of energy on shooting out your love in the specific direction of what you want to grow and draw in. This means first fine tuning your heart's compass and allowing it to guide you, then beaming out the most beautiful, unconditional love you can, giving to receive.
Your stone for July: Rose Opal
>>>
SCORPIO // SCORPIO RISING
Six of Crystals 
Well, something worked with that Earth mastery energy last month, Scorpio, because here we are back in Earth, in the level of achievement. There is a sense of balancing or role reversal that comes through in the sixes in some decks, and I find that accurate for my take on the numerology. What better badge of achievement in the realm of Earth is there than the ability to give back, to balance out the scales, to lift up another as you have been lifted – or to accept a helping hand and be pulled up? Achievement in Earth is that first glimpse of wisdom that there is enough for everyone if we actively look to see where we can provide and accept balance, and after last month, my eye is on a little of both for you.
Now that you've done some work around refining goals, this month your task is to assess where you need help and, I am sorry to tell you, who would be best to ask for it. I know asking for help is not something that comes easily to you, but if you frame it as providing opportunity for others to participate in your vision, that should ease the burden considerably. Plus, it's true! When we offer up creative and material partnership, we create community, foster relationships, and promote an environment of collaboration and participation. In our society, we tend to praise giving while shaming receiving as "taking." Tap into your inherent rebellious nature and change the narrative from within.
Your stone for July: Tiger Eye
>>>
SAGITTARIUS // SAGITTARIUS RISING
Seven of Swords 
You are tasked with a further mastering of the lessons of last month, Sagittarius, and I am absolutely THRILLED about it. It lights my heart on fire when I get to present a perfect follow up to a lesson. The Knight of Swords last month brought up a lot of challenges around urgency in communication. This month, you get to resolve any doubts around how you chose to manage those challenges, fine tune your tactics, and solidify your methods moving forward. Think of it like a master class – you already have the information, now it is time to refine it and personalize it, to reflect on how it applies directly to your own life and work. And in order to do this, you need to be willing to doubt yourself a little.
Our usual experience of doubt involves a heavy dose of anxiety, but that's not what I am encouraging here. There is a version of doubt that is more akin to an intellectual curiosty, a willingness to question and examine, to take nothing for granted. Your fiery drive to move forward may be frustrated by this seeming break in the action, but your ruling planet of Jupiter will be cheering like crazy for the expanded view of yourself and your relationship with the world around you that you achieve. Give yourself room to reflect and to accept any feedback or constructive criticism on your communicaton style – and be ready to dole some out to yourself! You have the greatest seat to judge whether your methods are at peak effectiveness. Score them carefully.
Your stone for July: White Onyx
>>>
CAPRICORN // CAPRICORN RISING
The Sun 
Happy half-birthday, Capricorn! Usually I don't celebrate, but being blessed by The Sun hot on the heels of the Summer Solstice pratically begs for it. And if I know you, you'll celebrate by using the burst of insight to get some sort of work done in these long summer days. I support it. While The Sun lends clarity to situations and issues previously shrouded in mystery, it also provides the energy and nourishment needed for serious growth. You're cooking up something this month, Capricorn, something big. You've been preparing for it for a few months now, digging around in the dirt, forming your vision. Now is the time to bring your creation out into the open, parade it in the streets, shout it from the rooftops!
Because you now have a view into places you haven't before, you're likely going to see some flaws, some issues that give you pause. Make adjustments and move on. Do not get caught up in unnecessary details. This is big picture time. Besides, as anything grows, slight modifications need to be made, we always need to stay flexible. Just keep your eye on the prize even when you need to get back down in the dirt. You are the captain of this Earthly ship, you are the one with The Sun shining down on your head. Soak it in. This is a special time. Think back to anything significant that came up for you last month around the Solstice. The Universe often sends us clues we can't interpret until a later date.
Your stone for July: Sunstone
>>>
AQUARIUS // AQUARIUS RISING
Four of Wands 
Get ready to manifest some solid ground under your feet this month, Aquarius, as the stabalizing influence of Elemental Fire makes its way to your door. It's always an interesting mental game, thinking about exactly how this incessantly dancing, beautiful and dangerous element can possibly bring the calm promised by the Fours, but you're always up for a fun mental game anyway. I'll start by positing that Fours tend to promise more stability than they actually offer anyway, that the desire to hold onto life everlasting pushes us humans to place undue important on permanance, that what comes between three and five is more like coming around a corner to find an incredible view of a possible future than it is a landing place for a homestead.
So, try to find comfort in discomfort this month. Seek out the calm within chaos. Look for the places within yourself that the world judges most as inherently unstable and spend some time in the eye of the storm. Trust your intuition and let it lead you to places and people and situations that feel like home. Accept that nothing is permanent and in that moment of acceptance feel the rush of love and appreciation for all you have right in this moment, in this place in space and time. That stillness, that love, that harmony and peace with yourself and the world, that is the true stability of Fire. And it is yours for the taking this month. Don't pass it up.
Your stone for July: Rutilated Quartz
>>>
PISCES // PISCES RISING
The Lovers 
Here we are again, Pisces! The Lovers visited you in March, highlighting ways to make relationships healthier. You then entered a three-month journey of acceptance, release, and reining in chaotic thinking. And now we are back. This month is your chance to re-do something around your relationship to relationships using all of the wonderful wisdom you have gathered through these lessons of the spring months. Think back to March. What came up for you at that time? Were there any conflicts or triumphs in your relationships? Any revelations of patterns within yourself or with others? Did any people in your life play an unusually significant role that month? Now is the time to go back and reset what was put into play.
The Lovers asks us to look deeply within to find where we are placing our identity in the hands of others, where we are valuing ourselves based on how others perceive our accomplishments, not our accomplishments themselves. It demands that we stand apart from our partners and become strong alone so we can best be of service in our partnerships. It can be a tough pill to swallow, but after all the work you've done, I really think this month is going to more of a celebration than a chore. You're graduating, Pisces! This time when you look within, find how far you've come. Make slight adjustments if necessary and commit to staying the course moving forward, but the heavy lifting is done. Reflect and rejoice.
Your stone for July: Rainbow Moonstone
>>>
ARIES // ARIES RISING
Five of Wands
You're set to experience some chaos in your native element of Fire this month, Aries, but don't despair! Now that you know it's coming, you can avoid the considerable frustration of feeling the urgency to act only to run into wall after wall after wall.  A bit harder to avoid is the frustration of jumbled messages coming through intuitive pathways. The Fire of Wands rules both action and intuition after all, and the chaos the Fives bring neutralizes the ability to use either effectively. Sometimes I think this is simply an invitation to give that part of ourselves a rest, but following your deep inward journey last month, I am getting the vibe that this is more like a fine tuning of whatever you discovered about your nature in June.
So, what exactly did you get up to last month, anyway? Are you certain that what was on the surface was the true narrative? Could it be possible, even probable, that the messages you received were encoded and that this chaos is the key to cracking open the truth? I'm leaning yes. And since any attempts to intuit more information or take more steps to correct course will almost certainly end in disappointment and confusion, best to take this time as a little extension of that "you time" I promised you last month. But this time it's going to be focused. Feel all the feelings, think all the thoughts, and build away in the material world. All other elements are your friends and here to help you untangle this confusion of Fire.
Your stone for July: Turquoise
>>>
TAURUS // TAURUS RISING
The Hierophant
Oh, Taurus, this is lovely. The Hierophant is your card and you've done so much metaphysical housekeeping this year that you are well-prepped to settle into the role. You don't get a reputation for being particularly mystical, but your dedication to comfort and beauty betray the soul of someone absolutely committed to making their surroudings their temple. And with ONLY Earth (Crystals) and Major Arcana cards ALL YEAR LONG, surely your temple is positively gleaming by now! If not, step it up at the top of the month and get it done. Tidying is tedious, but it's not difficult. You have bigger work to do. The Hierophant is the great spiritual teacher of the Tarot and you are being asked to accept the call. Make sure you are well-prepared to do so.
Be ready to assume the roll of student, teacher, or both. The Hierophant is interested in pulling us into our highest spiritual calling. What is it that you have been preparing for your whole life, what do people come to you for advice on? What have you been building the foundation for (perhaps literally)? What answer do you need in order to clarify your soul's purpose? Be open to the Big Stuff this month, Taurus, and to give and receive wisdom in the unlikeliest of places with the unlikeliest of people. We may have dressed up The Hierophant in fancy robes and renamed him The Pope, but long before the Vatican holy people existed to pass Divine wisdom down through the generations. It's your turn to make sure it continues.
Your stone for July: Clear Apophyllite
>>>
GEMINI // GEMINI RISING
Five of Crystals
Well, Gemini, it couldn't be your birthday forever. But the Five of Crystals doesnt have to be as bad as we often see it! Look, you JUST had this great lesson in staying active while being grounded. Now you've got a little dip into the chaos of the material world. Your method for managing the energies remains the same – keep on dancing. Stay with me here. Chaos in Earth most often manifests as fear of lack in the material world. Plainly put, fear of being broke, losing a job, having unstable housing, that sort of thing. And what do we do when these pieces of Earth feel like they may crumble beneath our feet? We keep moving, we jump around, we avoid putting too much stress on any one point – we add a little Fire, jump from foot to foot, and dance it out.
But we dont feel like we're dancing. That's where my guidance comes in. I am inviting you to manage this energy in the exact way you would expect someone to responsibly manage a fear of lack, just change up the way you manage the other elemental energies in your life to balance out the impact. Keep your thoughts, feelings, and actions in check. Do what you need to do to feel loved and safe, give your mind plenty to do, and keep your action uplifting and your intuition grounded in reality. If you can master this this month, it will serve you the rest of your life. The Fives come around again and again. How we deal with them makes or breaks our experience.
Your stone for July: Aventurine