Numinous founder Ruby Warrington introduces a very special Moon Magic Retreat with her and Alexandra Roxo—a weekend deep dive to get aligned with your soul purpose (for real!)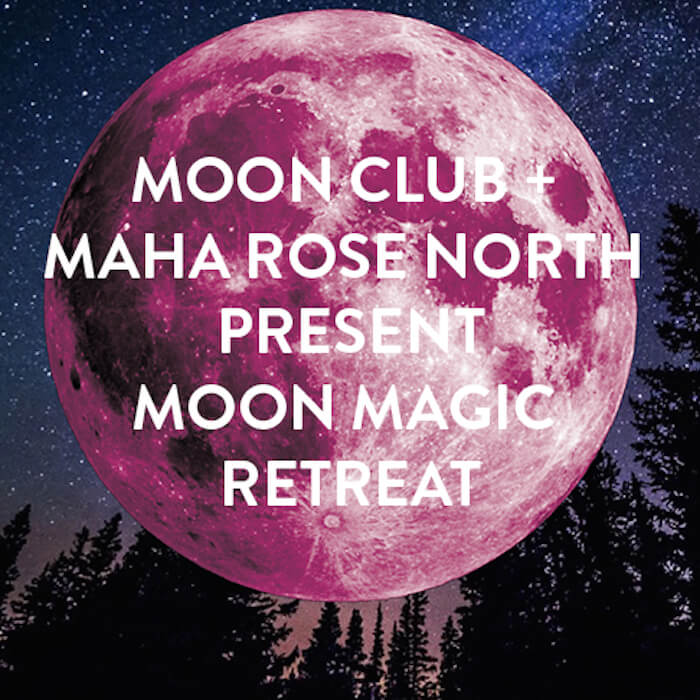 Last year, Alexandra Roxo, Elyssa Jakim and I teamed up with Maha Rose North to host our very first Numinous retreat—a weekend deep dive into our love stories, and a celebration of sacred sisterhood. This year, Alexandra and I are back July 21—23 with a very special MOON MAGIC RETREAT: A DEEP DIVE TO DISCOVER YOUR SOUL PURPOSE.
To say last year's weekend upstate was life-changing is an understatement, as that weekend kicked off a year of the most profound growth for me. In the following months, I collaborated with Alexandra to create Moon Club; I have overcome my fear of public speaking; I published my first book (!); and I have got clearer than ever about my unique gifts and contribution to humanity.
Most recently (and most importantly, actually) I received an email from my mom telling me how she believes the work I'm doing with my life now is healing the "mother and woman" wounds for the females in my family lineage. This note came from out of the blue, and I know in my heart, soul, and bones, that it was our retreat that fully aligned me with this very personal mission. (You can read more about how and why I know this here.)
Never before have I experienced such spiritual alchemy. Sure, Alexandra, Elyssa and I were the anointed "leaders" of the experience, but the circle of love, support and growth we created with our retreat sisters affected me to my CORE. It also made me understand how any time a group comes together with the intention to truly create a shift, we are all equal participants in the process. We each have a unique and vital role to play.
And this year, Alexandra and I have set the stage for a weekend that takes this theme even DEEPER. The big important message of my book, is that the time has arrived in human history for us to become equal participants in healing the mother & woman wounds of our Mama Earth. And that this mission, should you choose to accept it, will bring you more purpose, more fulfillment, more abundance, and more ADVENTURE than in your wildest dreams!
So, are you with us?
The full itinerary for this year's retreat is below, with pricing options and details of a special FULL MOON DISCOUNT that's valid through midnight Friday June 16!
FRIDAY NIGHT—Opening Ceremony: FINDING YOUR SOUL PURPOSE.
Ritual with Alexandra and Ruby to open the container for a weekend spent deepening your relationship to your purpose and your mission with ritualized intention. Set your intention for the weekend and drill down into your Soul Purpose, with a group ritual and 1-2-1 coaching.
SATURDAY MORNING—MATERIAL GIRL, MYSTICAL WORLD: ASTRO 101 with Ruby
Learn how to open up astrology as a tool for aligning with your Soul Purpose, using your birth chart as a blueprint to tap your unique mission in this incarnation! Ruby will also share insights from her own journey of marrying of the material and mystical, and living a life of total alignment.
SATURDAY AFTERNOON—HUSTLE & FLOW WORKSHOP with Alexandra
How to do your Spiritual Hustle while keeping the Mystical Flow alive! Alexandra will share her medicine on helping you align with you Soul Purpose through partner work, writing work, and some deep investigation of your path. We'll finish with a Shamanic Journey that takes the work offline and majorly deep. Some things we will touch on: How to Run a Spiritual Business, How to Deal with "Haters," How to Keep it Mystical in a non-mystical workplace, and all kinds of other goodies!
SWIM BREAK!
SATURDAY EVENING—NEW MOON FEAST + FIRE RITUAL.
Ritualized plant-based feast to celebrate the Leo New Moon! We will break out into groups to do some deeper work on our Soul intentions, finishing with a Moon Fire Ritual to anchor in what energy has moved and what we need to release moving forward. After dinner we will do a potent releasing ritual with an outdoor fire.
SUNDAY MORNING—STORY MEDICINE: TIME FOR A NEW STORY.
Share your story. We want to hear from your heart. You blocks. Who you wanna be. Who you've been. Throughout the weekend you'll have found the story you want to share today. Could be letting go of an old one or calling in a new one. Ritualized, intentional story-telling is both a cathartic release and an opportunity to feel connected to others by our shared human experiences. Let's close our experience using the power of words as spells, to create the lives we want to live.
CLOSING BRUNCH.
A final festive feast to fill our cups and share about the weekend before we return home ready to shine bright like a DIAMOND.
>>>
:: EXCHANGE :: GET 20% WITH THE CODE "MOONMAGIC20" THROUGH MIDNIGHT FRIDAY JUNE 16th! Payment plans are also available. Contact [email protected] for details.
$750 for workshops + food + lodging. ($600 WITH DISCOUNT)
$650 for workshops + food + camping. ($520 WITH DISCOUNT)
Book Retreat + Lodging Options Online
$550 for workshops + food—book own accommodation offsite. ($440 WITH DISCOUNT)
See you there—we're so excited to be sharing in this journey with you!