With her Shamanic Beauty Sessions, Ceremonie founder Mimi Young is taking holistic skincare to a whole new level. Ruby Warrington journeys with her into the spirit realm…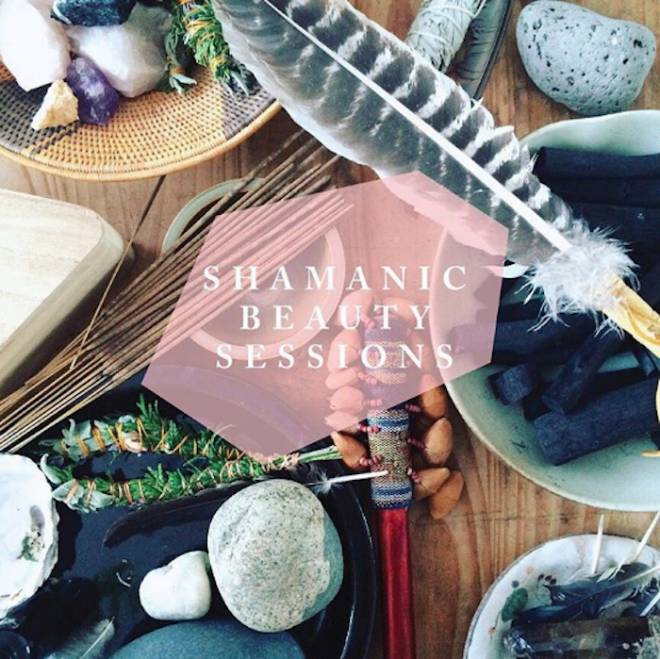 The arrival of the Spring Equinox is a time of rebirth, for making soul promises to be delivered through the subsequent seasons. For Vancouver-based shamanic practitioner and spiritual beauty queen, Mimi Young, it felt like the perfect time to re-introduce her shamanic skincare line, Ceremonie.
As she announces the addition of remote Shamanic consultations, a.k.a. what she calls The Shamanic Beauty Sessions, to her offerings, we sat down to chat skincare as ritual…and quickly got into plant spirit allies, power animals, and how joy is the best beauty ingredient out there. You know, all the good stuff! (Oh, and before we get started, you may want to check out Mimi's amazing Instagram feed!)
>>>
Ruby Warrington: Mimi! The last time we chatted, we focused more on your product offerings of skin and aura care. Can you remind us of the ethos of Ceremonie?
Mimi Young: Indeed! Last time I was featured on The Numinous, Ceremonie (then called Trimaran Botanicals) was more product-centric in her offerings. (Yes, the company is female). I felt it was important to honor both body and spirit in our daily beauty regimen, and created a line to bridge what is so often compartmentalized. In many ancient healing modalities, including traditional Chinese medicine and Ayurvedic medicine, wellness is linked to the understanding that we are spirit beings residing in physical bodies. Our skin, being the largest organ of the body, reveals much about our emotions, psychology, and beliefs.
RW: So it's kind of like our skin and external beauty is a hologram of our innermost world…
MY: Exactly. Ceremonie seeks to honor the internal self with products that care for both the inner and outer bodies, resulting in a more supported and holistic way to approach beauty.
RW: How is this reflected in the products you offer?
MY: I formulate with herbs, flowers, barks, and other plant matter known in Earth-based spirituality and shamanic circles as supportive of chakra balancing, clearing and shielding energy, creating sacred space, divination, and other forms of ritual work. The selection of various plant ingredients is rooted in Earth spirituality and modern science. I love how my work is both historically informed and futuristic, and merges the spiritual with that which is conventionally seen as not—physical beauty.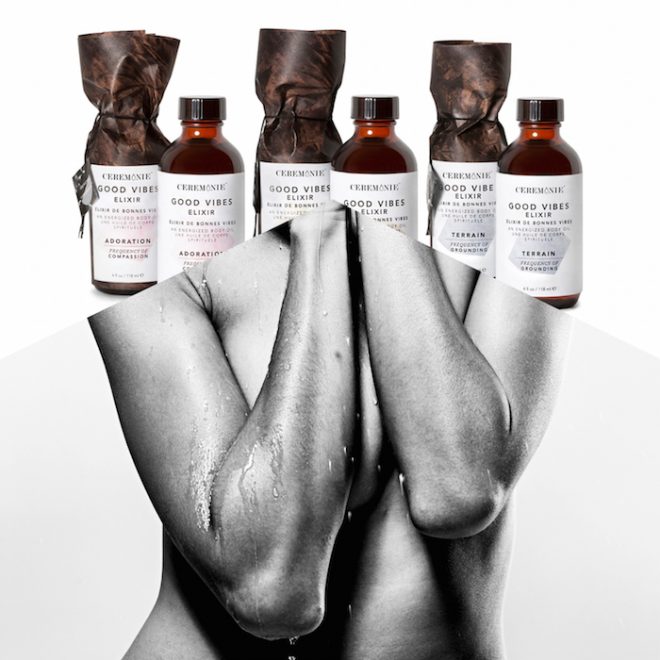 RW: How does your work as a shamanic practitioner inform the process?
MY: All Ceremonie products are hand made (without machines) and in shamanic ritual! I follow several shamanic and Earth-based spiritual practices of clearing energy, inviting spirit allies, noting special cycles/dates, and being open to their messages.
Whatever messages are being imprinted is private (between the spirit allies and the customer), and is special because it is so customized, meaning ALL products are made to order. I merely facilitate this very beautiful, uplifting, and healing process. The power animals / plant spirit allies of my customers sometimes share with me brief messages so I can add that piece of information when I send off the orders with an accompanying handwritten note.
RW: What do you mean when you say these messages are "imprinted" on the products?
MY: It means blessing and creating a vibrational frequency (quantum physics recognizes that everything holds a specific vibration— from matter, to sound, to even emotions) that is then passed onto the products themselves. Careful attention is paid to every aspect: from the mood I'm in when I am fulfilling orders (I don't work when I frustrated, drained, etc), to the music selected when working (solfeggio music is my favorite), and even how I ship (all parcels are anointed with sage oil and I send protective plant and animal spirits to accompany them).
This is essentially applying the discoveries made by Dr Emoto, who made breakthroughs in understanding how consciousness and intention can shape matter, to both my process and the products themselves.

RW: I find it so special that even the shipping process is honored this way. Can you speak a little to the concept of "intention" and how it relates to spirituality and even magic?
MY: Intention is everything in healing, magic, joy, and love. Consider this: we all know how to make soup. You take some onions, leeks, spices, and add some bones for flavor. Then you add beans, vegetables, and maybe even some olive oil for drizzle. These are standard ingredients. A restaurant can make it. You can buy it pre-made at the market. Or…you could have the soup that is lovingly made by your grandmother.
She makes it with the same ingredients as the restaurant or market, but why does hers taste better? This is what I mean by imprinting and intention. It may be invisible, but it is what makes Ceremonie products so loved by our customers. It's why many say they experience a heightened sense of self-acceptance, self-love, liberation, and an appreciation for their place in the world. Experiencing yourself this way will naturally bring a glow to your face that no amount of "scientifically proven" skincare ingredients can, because you now have the greatest beauty ingredient of all—joy.
RW: Goosebumps! And it sounds like this goes even deeper with the new Shamanic Beauty Sessions. How is this offered? Why would someone be drawn to this?
MY: I began offering Shamanic journeying to local clients. The word spread, and the demand grew organically to nearby communities and beyond. Shamanic journeying is a sacred ritual using a rattle and drum to enter an altered state of consciousness and travel between the unseen worlds. In a shamanic and hedgewitch hybrid tradition, I travel to those realms on the client's behalf, embarking on a sacred journey to meet plant spirit allies, power animals, mineral spirits and other benevolent spirits, ancestors, and even the elements.
I also provide a detailed written summary of my findings via email. At the time of booking the reading (before the journey), the client is welcome to present a question or concern, or I can simply intuitively explore and discover. The readings work best when the client is open to receive practical and sacred insights related to their skin or other areas of their life. An individual may feel called to receive a Shamanic reading if simply curious, or when experiencing an imbalance in physical, emotional, or etheric body. It's designed to help anybody seeking clarity, encouragement, wisdom, and self-compassion.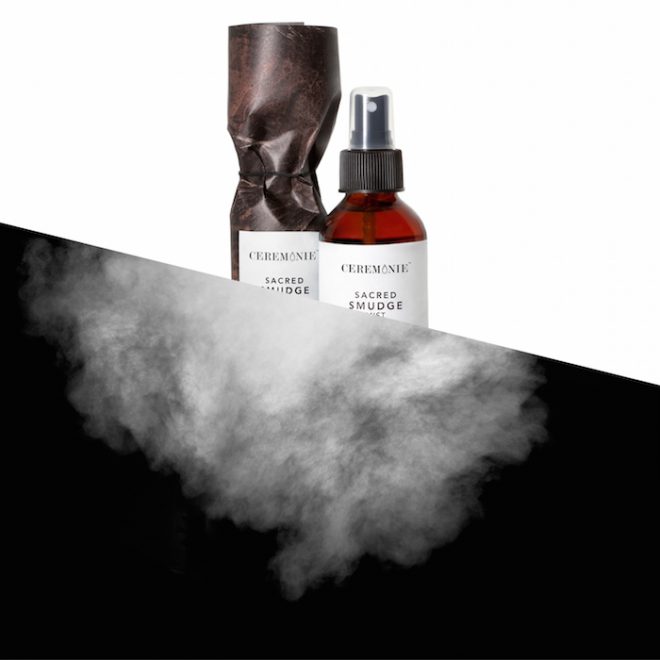 RW: Soul medicine that can also give you amazing skin; so Numinous! You mentioned that you "work in the shamanic and hedgewitch traditions." Can you elaborate?
MY: Let's back up a bit. I also use the term "Earth-based spirituality". When I use this term, it includes (but is not limited to): shamanism, paganism, Wicca, I Ching, Tarot, tea leaf divination, and many other practices from around the world. Practices that were originally designed to forecast weather, invite hunting and gathering, honor the seasons and cycles, and bring discovery, insight, and healing to individuals, tribes, and the Earth.
I work in the shamanic and hedgewitch traditions, which means I incorporate plants and spirit beings (plants, animals, mineral spirits) in my creative and work process. As a modern woman, I also stay current in quantum physics, which lends an updated language to what has been known in metaphysics and spirituality for centuries. I am also aromatherapy trained. Above all, I really enjoy this personalized process. Getting to know my clients and their needs, emotional and physical, better, has brought a new layer of meaning to my work.
Personalized Shamanic Beauty Sessions with Mimi Young and Ceremonie can cover a wide variety of services, including:
– Making contact with Guides and Spirits (power animals and other animal totems, plant spirit allies, and mineral allies (crystals and metals)
– Divination
– Soul development and life purpose work
– Past life healing
– Healing the ancestral line
Discover more online, and book directly via [email protected], including SHAMANIC READING in the subject line. Mimi offers a limited number of readings per month—so book ahead!