Elyssa Jakim's monthly Temple of Venus column returns…this time, ahead of Valentine's day, with a meditation to feel and call in the love of your twin flame.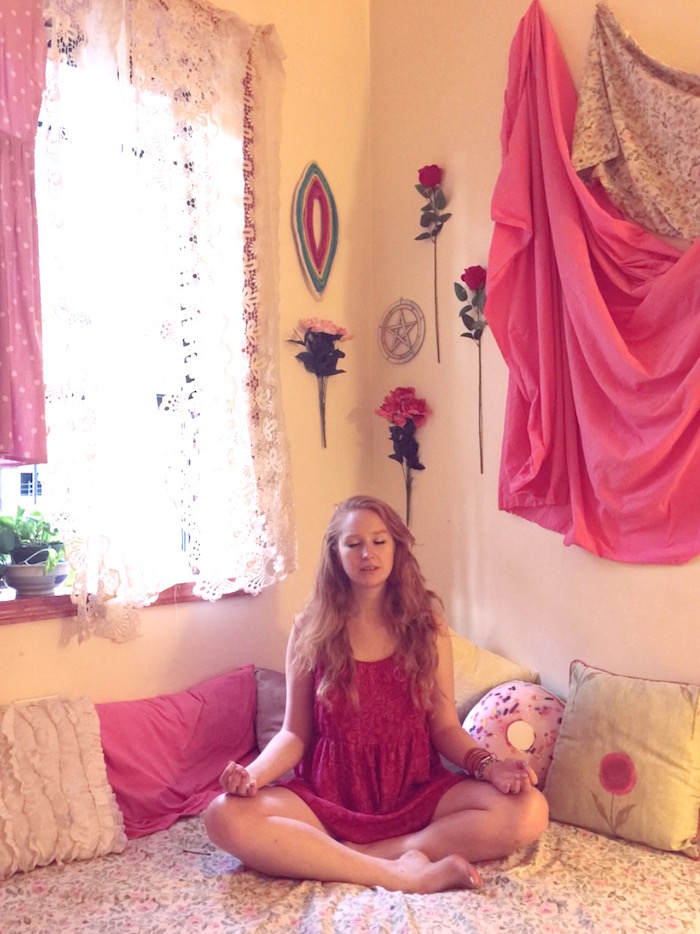 Hi, Venusian Friends! It's almost Valentine's Day, so let's talk about LOVE.
A couple of years ago, someone mentioned a book to me called Calling in "The One": 7 Weeks to Attract the Love of Your Life
. At the same time, I took a spontaneous three-day trip to Tulum, Mexico, with my roommate in order to escape office banality in favor of much needed tropical revivification. As I sat on the veranda, with my fruit plate and copy of Calling in the One, I met a woman who had an inexplicably magical air. She showed me a book she'd written and asked me to open it up any page, akin to pulling an oracle card. I opened the page to a section called "soul mate" and we laughed for some time (since I was reading a book about soul mates!) And when I read the chapter in Sandra's book, I found tears in my eyes.
Learning about the idea of soul mates in Tulum allowed for something to change in me. I had spent most of my twenties dating people who were distinctly not my soul mate or soul partner, people whom I thought were cool or aloof or better than I was. People who were unavailable, and who triggered deep insecurity in me, which made me hunt for affection and praise. I hid my intelligence from partners, thinking, strangely, that it made me less attractive. But I found myself opening up to the idea that the way to attract a partner, was to be simply be myself, and found myself considering that men too might be looking for this type of connection. This was revolutionary to me.
But the journey to letting this in took time. Essentially, it was a journey of claiming my worthiness and challenging my insecurities, as well as the programming of the jaded NYC dating scene. As well as a journey to claim something that I had always secretly believed in: true love. In the Now Age, phrases like "soul partner," "twin flame," "manifesting a partner" seem to be ubiquitous,  and the story always seems to be the same: love yourself first. Vibrate love and your person will come. In fact, we hear it so often it can sound hackneyed, unsatisfyingly vague, or too granola.
But we can choose to see it differently, with eyes of innocence, just like I chose to allow myself fall in love and be loved in Tulum. We can choose to believe that all of this talk of soul mates is, in fact, speaking to a growing phenomenon, a societal shift, a rallying against the bullshit of modern dating. The more people allow themselves to claim a desire for soul partnership and connection, the more the dating dirt is swept up and, well, the more love there is to go around.
While on my search for my inner confidence and true love, I developed an exercise that ultimately manifested my soul mate in real life. For Valentines Day, I would like to share this exercise with you. Of course use it as you like, and feel free to make any alterations you see fit.
:: A Meditation to Manifest Your Soul Partner ::
Set aside some time for yourself to do this and set your space up. Light candles, put roses or lilies on your bed, anoint your body with essential oil, play soothing music, smudge your room with palo santo or sweetgrass. It's particularly luxurious to do this before bed.
Whether you're sitting or lying down, feel the space that's surrounding you. Feel the surface that's underneath you and surrender your weight to it. Sigh out of your mouth a few times to release anything that you don't need. Now feel the energy of the earth in any way that speaks to you. You can imagine fire from the warm core of the earth, tree roots going deep into the ground, your favorite tree, or hold a crystal and breathe in the earth element. The earth symbolizes the mother, the feminine principle. Once grounded, open up to the stars, the sun, the sky, the divine, the cosmic, the heavens. This starry energy (the more outward expression of God) symbolizes the father. Feel the play between these forces in your body: heaven and earth, mother and father, foot and crown.
If you feel comfortable doing so, invite in your divine team in. (If not, skip this step.) Your divine team might include: ascended masters, angels, guides, spirit animals, fairies, mermaids, unicorns, and any other symbols that make you feel loved. Invite them by saying "I'm calling in Archangel Michael" (for example). Tell your team your hopes and fears. Say what you're looking for in your mate, how doing this makes you feel, and what you desire. You can also speak this to a stuffed animal or crystal if you like!
Ask to see your higher self. Does this bring forth a vision in your mind? A feeling? A sense of knowing? Stick with it. Now declare: "I would like to see the higher self of my soul partner." See what comes up. Imagine your deep love, your spiritual lover. Feel his or her energy and see what it reveals to you. Have a conversation with him or her. Get to know them. Feel the unconditional love he or she has for you. Imagine this person in front of you is holding you tightly, is kissing you, is making love to you, is laughing with you, is smiling at you—whatever comes up is perfect. Feel held in this energy for as long as you like. Feel held in the arms of your beloved.
When you're ready, thank your divine team for coming in and tell them they are released. Send up a prayer for yourself, for love, for the planet, for anything and everything that feels good. Rest in the energy of your beloved. Imagine your soul partner holding you as you fall asleep.
You can return to this place of soul-partner love whenever you like. Daydream about him/her, feel him, cultivate a fantasy relationship with them (yes, really! This is a sublimely fun game and it feels divine if you treat it as such). Let the dream world be playful and loving, let it fill your heart with hope and glee. Let him hold you every night as you go to sleep.
Connecting in this way made me so satisfied that by the time my bonafide flesh and blood person came in, I had already let go of the desire for a partner. That is because I already felt him right there next to me.
The most marvelous thing I discovered in pursuing this soul partnership is that the love is all the same. The love for a partner is the love for a child is the love for a beautiful flower or poem is the love for God is the love for creation is the love for a stranger who smiles at you on the street is the love for the sunset over Tulum's luscious ocean. So try it out, beloved! I can tell you it has transformed my life and I hope it does the same for you. Here's to true love.
I also recorded this meditation for you to listen to below.
In real life Venus hang time! : If you're in Los Angeles this V-Day, Holy F*ck genius Alexandra Roxo and I are teaming up to create a special ritual for self-love and partnership, culminating with a sharing of aphrodisiac chocolate and tea, custom card pulls and one-on-one love advice. Find out more here.
Need more Venus inspiration? Check out Elyssa's post from last month's Temple of Venus column.