Mastering the art of wombifestation is the real secret of the law of attraction, says Latham Thomas—PLUS Ruby Warrington shares 3 ways to start wombifesting today …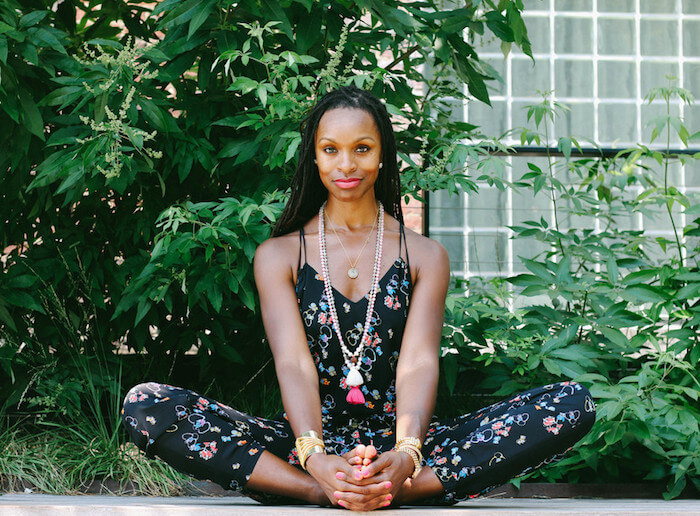 The womb is receptive, soft, and a container for cultivation. And the act of creating something from that place, of accessing our womb space and drawing to us that which we most desire, is called wombifestation.
It's the opposite of the manifesting power that so many modern spiritual leaders and thought-leaders talk about. Manifestation has become correlated with "making it happen," whereas wombifestation means simply "letting it happen." It's an act of fierce allowance, of saying "yes" to what you want and letting it come, whether it's a job, a romantic partner, a new car, a baby—simply envisioning, and holding space for it.
There is tremendous value in being a go-getter, getting things done, making shit happen. Both men and women can be very skilled in this arena. But there are qualities within us women that can be enhanced by also acknowledging the uniquely feminine force of receptivity. We have this other force working in our favor, and we should play to that. And I'd also like to note that you don't have to have been born with a uterus or currently have one to embrace this concept.
This feminine force is magic, and employing it is a powerful way to walk through life. It is the magic of owning your glow.
Now, I am not simply advocating that you pray for what you want, kick back and relax, and expect that you will get it. "The Universe will provide" philosophy has also been misapplied by many who believe that you can simply ask for what you want and it will be handed to you, with no work involved. My philosophy is much more dynamic than that.
You can't be lazy when you want something; being receptive is an active state of being. In nature, the spider makes weaving her web a meditation and focuses on creating a vortex of energy that draws the prey to her. She doesn't go out to hunt it. She dwells in the certainty that when she does her part, Mother Nature does the rest, and food will be provided.
Observe how flowers use their beauty and fragrant scent to seduce the pollinators. Flowers can't pull up their roots and go proliferate on their own. They depend on the insects and animals to help spread their pollen, so they use stillness to create an energy vacuum to draw the bees, birds, and butterflies.
Have you ever been so laser-focused on something, yet it seems to elude you? And then, once you forget about it and focus on something else, it seems to find its way back into your orbit? Do you think this is a coincidence?
Like most feminine processes, choosing to simply let things happen is powerful, and yet it can be seen as a form of weakness. In a culture obsessed with conquest and control, we've forgotten the very basics when it comes to the law of attraction. When you let it happen, you, my dear, are at the helm.
Instead of spending energy actively hustling and pursuing the desired outcome, you summon it, you invite it forth. You stir the pot, and you make the space for it—so that the vision blooms within you and becomes reality. Like a spider with her web, you create the very vacuum that invites the opportunity to occur.
>>>
3 WAYS TO GET WOMBIFESTING TODAY by Ruby Warrington
1// Clear your cal. Having my Google cal stacked back-to-back sometimes feels like a badge of honor to me. Like, "wow, look at how in demand I am," or "check out what a boss I'm being taking all these meetings." But I can also feel the way it makes my belly clench (yep, all the way down in my womb), as the quieter, softer voice of my inner knowing, asks, "but what about some time for me?" In the same way, if I look at the coming week and there are big empty stretches in my calendar, the sense of inner peace is palpable.
Cultivating more of this feeling of peaceful groundedness is what wombifestation is all about, and one way to do this is to simply block off time in your cal to give you some (deep belly) breathing room. Maybe even literally if you use this time to meditate, bringing your attention and focus back to the things that truly matter to you. You could also use it to nap, to play with your cat, to cook, or even to masturbate! Not activities we're generally taught are part of a "successful" life, but all of which are about stoking the fires of your feminine essence.
2// Ninja your to-do list. To help you work out what to remove from, write down all a list of all the actions connected to what you are currently manifesting. If it's a work thing, this might mean meeting with X amount of people, pitching Z, or going to Y networking events. In a romance scenario, it could be your commitment to going on how ever many dates per week. For each one, write down the actual progress you've seen as a result of each. Now write out the big "successes" you've had, and the actions (or not!) that had the most impact on them occurring.
This could help you get super clear about all the places you're leaking energy on activities that aren't actually in service of your desired outcomes. That just make it look like you're "trying." Lol—is it any coincidence that the word "trying" can also mean: "extremely annoying, difficult, or the like; straining one's patience andgoodwill to the limit" (from the Miriam Webster Dictionary)?! Wombifestation is about "trying" less and "trusting" more.
3// Embrace boredom. We live in a world that's basically designed so that we are never bored. I witness myself do it all the time—the minute there's no immediate action to be taken, conversation to be had, or piece of information to be processed, I reach for my phone and either hit up Instagram, start a text chat with somebody, or open a browser to start researching yet another new idea I had the other day.
Which can all make life feel very full and exciting and productive … not to mention shrink time to where it feels like there's never enough. When we're here, there, and everywhere, there is no time to recharge. No opportunity for our energy reserves to become replenished to the point of overflowing (out of us and into our wombifestations). It sounds counter-intuitive, but in the Now Age we have to actively make space for boredom. Time for our minds to wander and just be. This is the vortex. THIS is where the magic happens.
>>>
Intro excerpted from OWN YOUR GLOW: A Soulful Guide to Luminous Living and Crowning The Queen Within by Latham Thomas.