Lisa Luxx is the self-declared "preditor-in-chief" of new London counter culture 'zine, Prowl. In this interview she talks to Ruby Warrington about; why you need your ego to succeed, why anonymity will be the greatest luxury for generation Z, how to prep your face for an ayahuasca trip and how switching off from technology felt like an "everlasting climax." Among other, equally fascinating subjects…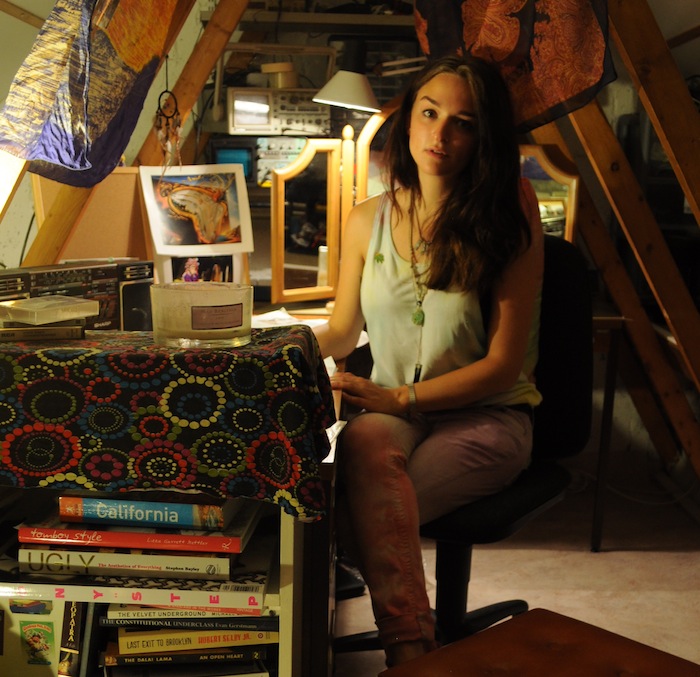 SO HOW DOES A GIRL MANIFEST A WHOLE MAGAZINE THESE DAYS?
Visualization. I very much believe that I can get what I want by thinking about it enough…and I couldn't take my mind's eye of this project for a long time, like a song on repeat. I believe it manifested itself through that energy.
DECLARING YOURSELF "PREDITOR-IN-CHIEF" SURE TAKES SOME BALLS, TOO…
Luckily I have pretty big ego and, as an Aries, heaps of pride, and I really believed that what we were doing with PROWL was going to have some worth among the underground creative scene. I also talked about it a lot in the beginning, and as soon as I announce that I'm going to do something I absolutely will!
THE MAGAZINE OPENS WITH A MISSION STATEMENT: "LOVE EVERYONE, PLEASE NO-ONE." WHERE DID YOU GET THIS AND WHY IS IT SUCH AN IMPORTANT AN IDEA?
Jacob Escott (the illustrator behind this and Art Director of PROWL) and I came up with this together, which seems to be the ethos of a whole generation of creatives making up this independent renaissance. The current DIY scene is very cooperative and collaborative, where love is the driving force behind success – perhaps because so many people understand the power of positive vibes nowadays. However, there is also a sense of revolt – we are writing, drawing and performing whatever we like because we have nothing to lose and no one to answer to.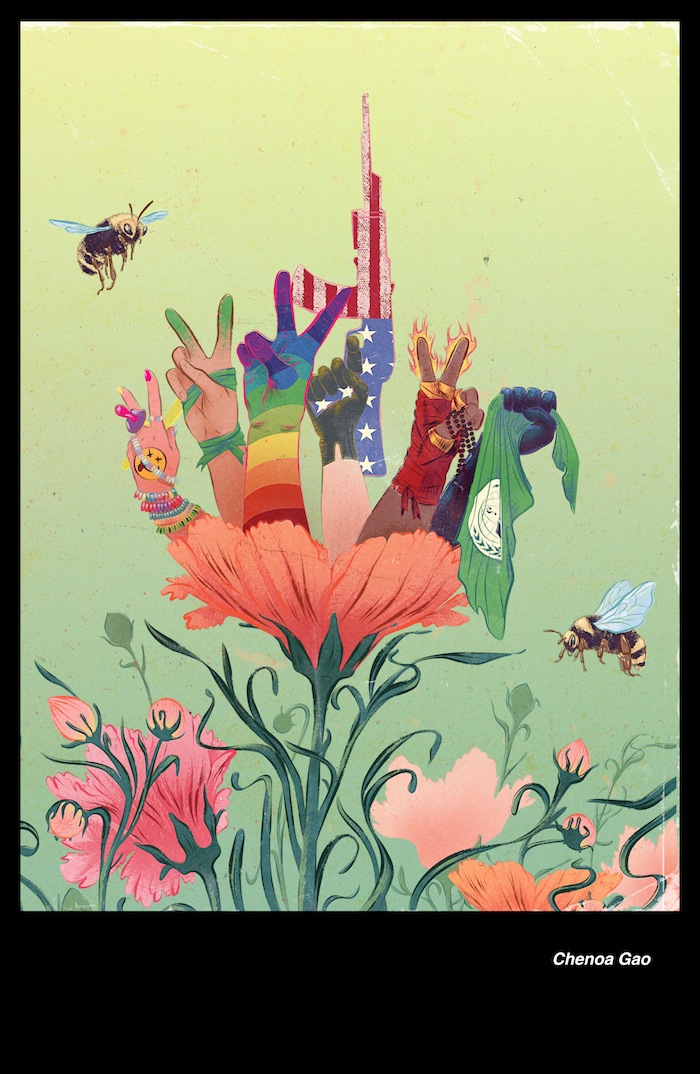 IS THIS WHY "COUNTER CULTURE ISN'T DEAD"?
As long as there are still people going against The Man, there will be a counter culture – and there has never been more to counter! Right now, humans still don't know how to live alongside the mechanisms we're putting into place in our everyday life. There's also is a vast awareness of our environmental issues, the backend of a grim recession plus an increasingly more right-wing government to contend with.
SO WHAT WILL COUNTER CULTURE LOOK LIKE FOR GENERATION Z?
Anonymity. I mean, do you ever get that feeling you're not being watched? People have started to react against our overexposure by hiding away. In fashion I expect to see a lot more facemasks, headpieces and full body outfits with less skin on show. Imagine space age Victorians. "Unseen" is already the trendiest thing to be now, think about all these hidden bars or the online Darknet, for example. As a result, the counterculture of Generation Z will be almost undetectable.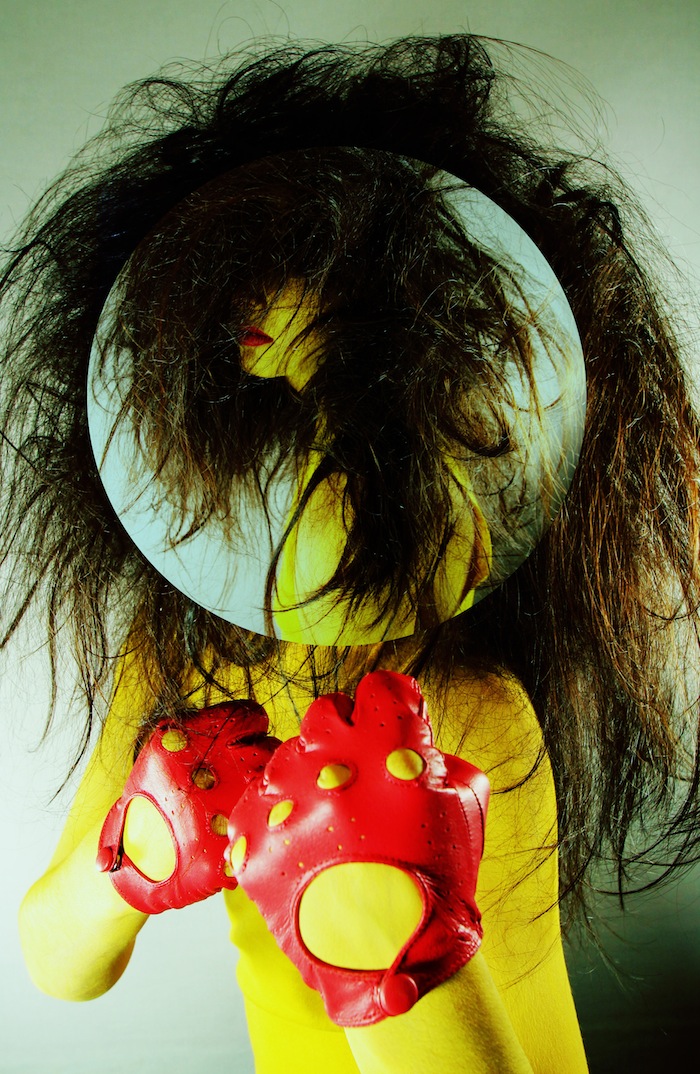 ONE OF MY FAVORITE STORIES IN THE MAG IS ON "BEAUTY TIPS FOR ACID HEADS" – HOW SHOULD ONE PREP ONE'S TOILETTE FOR AN AYAHUASCA CEREMONY?
Well, you're gonna be puking a lot on ayahuasca so the most important thing to do is tie your hair back in a loose bun. Give your face a good cleanse before you start and apply a tiny amount of non-oily moisturizer – like Neal's Yard Yarrow & Comfrey Moisturizer. It will see you through the long trip but won't get clammy. The white robes at an ayahuasca ceremony are also prone to washing out your complexion, so don't wear any black around your eyes that might look spooky when smudged. When you come out of this you'll want to look as good as you feel, so have a hit of blusher with you to bring yourself back to the land of the living zen.
AND WHAT WAS THE BIGGEST REVELATION YOU GAINED FROM RESEARCHING "THE ANTI-NET KID" (WHERE YOU WENT TWO MONTHS ON THE ROAD WITH NO PHONE OR EMAIL)?
When I reached Yosemite National Park, I found this open meadow and I let the wind lay me down in the long grass while the sun graciously bore itself upon me. As the gentle breeze passed through me I felt myself shift into a nook of harmony with my surroundings. My edges blew away and I existed as one with the universe – I could feel our energy coming together in the throes of one great everlasting climax. It was a real moment of enlightenment for me and the moment I wrote the poem that would become my first published piece.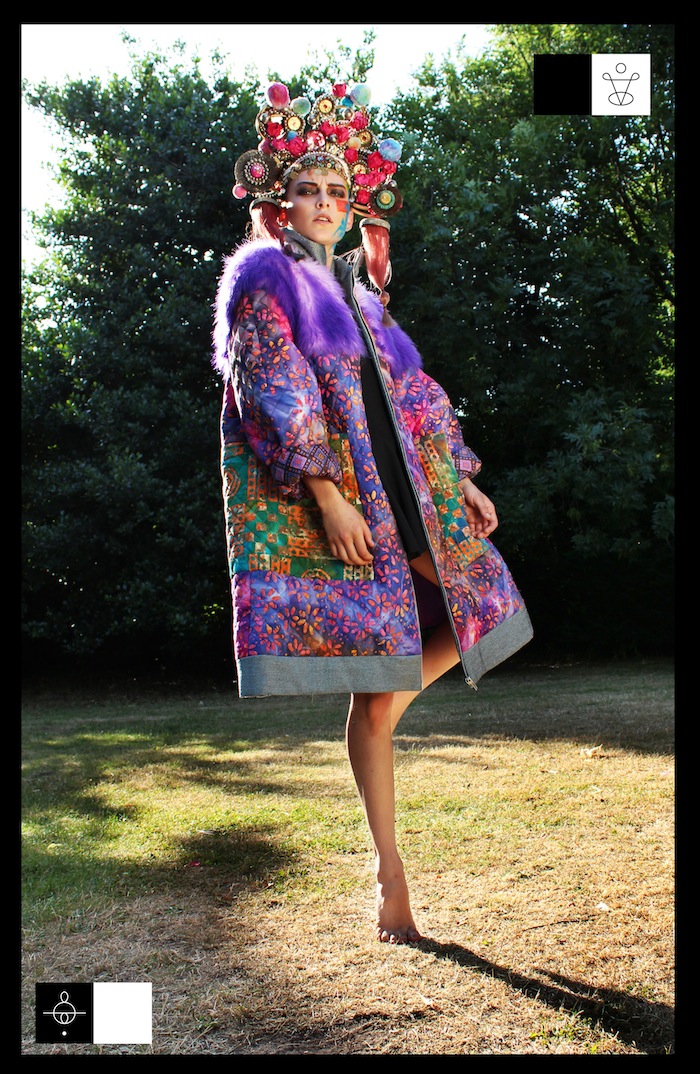 WOW. COULD WE ALL ACHIEVE THIS IF WE JUST SWITCHED OFF OUR iPHONES FOR A MINUTE?
This was the result of being without modern technology for two months and submerging myself in natural beauty. As a twenty-three year old I've never been in the moment. I grew up with mobile phones and the web always connecting me to times and places that didn't exist in my immediate surroundings, so I've spent a lifetime being tremendously longsighted – thinking it made me stronger to exist further afield, when really I wasn't existing anywhere wholly.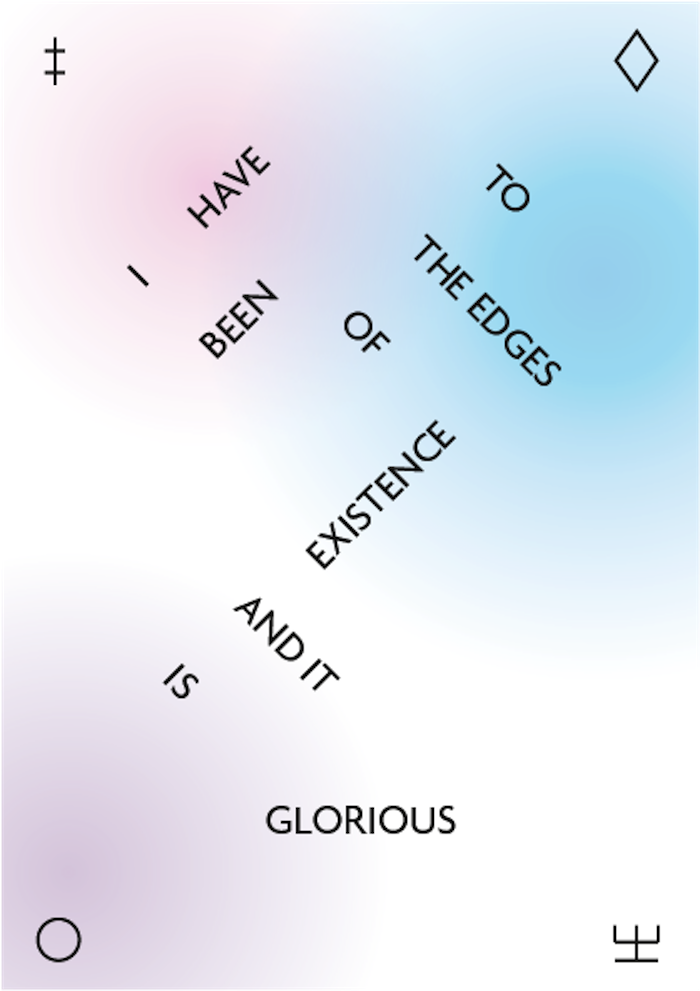 HOW HAS IT AFFECTED YOU IN THE LONG RUN?
Following that time in Yosemite, it became clear that if I continued to use technology the way I had become accustomed I would not be a fully fuctioning human being – unable to concentrate, meditate, explore or really touch things and mean it. I have since translated this lesson into conversations, work and sex – suddenly I was better at everything and enjoying it all at a much deeper level.
WHAT DOES THE NUMINOUS LOOK, SOUND AND FEEL LIKE TO YOU?
As an abstract and rather psychedelic reply to that, here are some notes I once wrote while lost in the beatific vibrations of a DMT trip…"The red and purple Amorphous Androgynous rain falls down on me but instead of wetting me it tickles. This is the summertime of consciousness. The cosmic vibrations of the universe and constantly in orgasm. It's glorious; let yourself go to the spectacle of lights and colors. I'm in meadows of joy and light, listening to trumpets of energy and serenity. There's a real language of cosmic love but words don't exist here. I've been to the edges of existence and it's glorious. I've been to the riverbanks of gentle being. I've watched the sun come up on the hazy valleys of our essential being. I've witnessed the willows weep as the seasons of peace pass on our insignificant magnificence."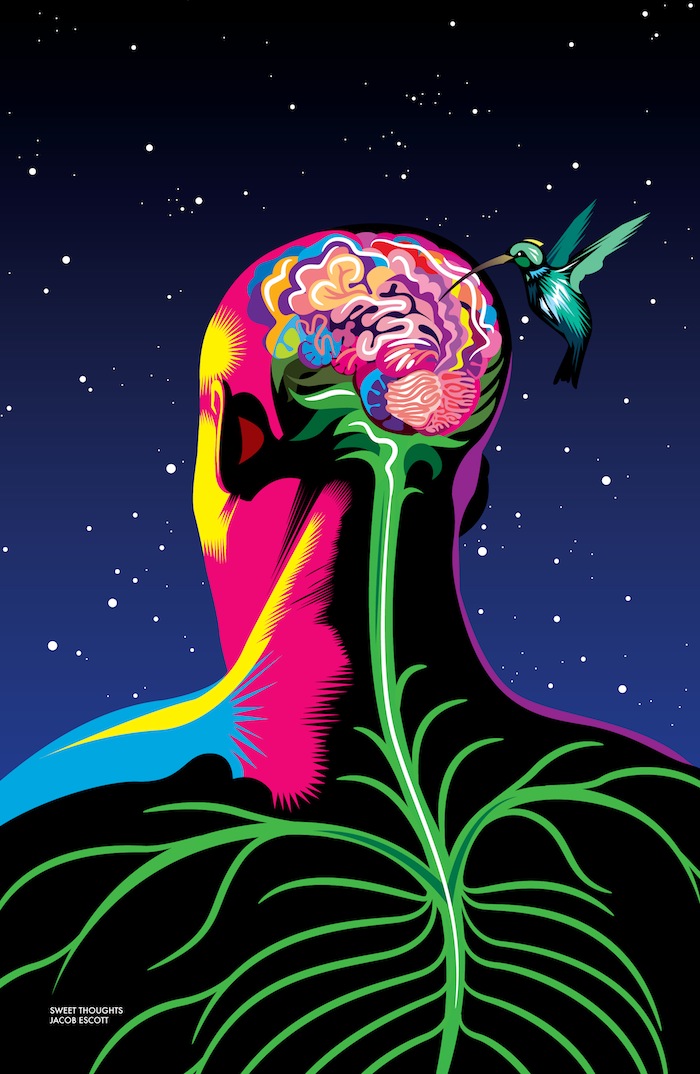 AND NOW I'VE READ PROWL, WHO SHOULD I GIVE MY COPY TO?
Pass your copy on to a real underground artist who could become one of the Predators or someone else who wants to join the party. PROWLHOUSE is about building a network of creatives and celebrating our worth, while marking the next big movements. Or give the copy to someone who might want to invest some cash into our next issue! Remember to write your name inside so as the copy gets passed on you will always exist with it and the next reader can look you up and make friends.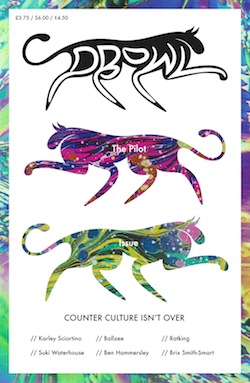 Issue one of Prowl magazine is available now. The editors encourage sharing. For information about events go to www.prowlhouse.info
 @ProwlHouse