"Women ourselves have bought into this idea of 'feminine' as meaning 'weaker'…" Jo Becker's Marianne Williamson interview speaks to what it means to be woman and a spiritual activist.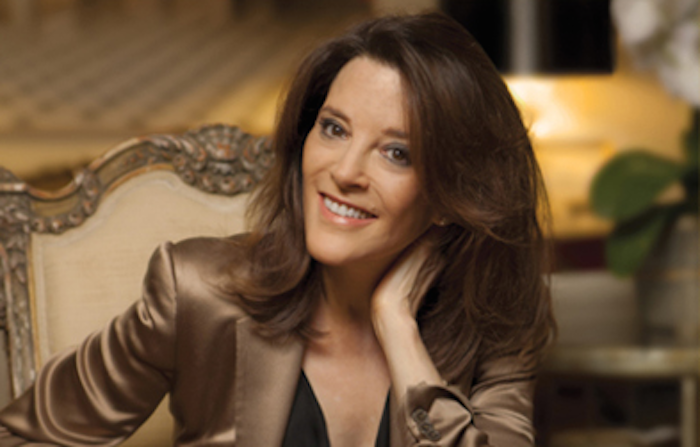 Marianne Williamson is a powerhouse. The fierce voice of modern spirituality shares her love-driven ideas on how to heal America far and wide: she's written four New York Times #1 bestsellers, chats with Oprah on the regular, and even ran for Congress in 2013. To me, she embodies the future of feminine leadership and spiritual activism.
I'm inspired by her eloquent commitment to heart-centered change. Years before I read her books, I heard her life-changing statement from A Return to Love, the quotation she is now famous for:
"Our deepest fear is not that we are inadequate. Our deepest fear is that we are powerful beyond measure. It is our light, not our darkness, that most frightens us. We ask ourselves, who am I to be brilliant, gorgeous, talented, fabulous? Actually, who are you not to be? You are a child of God. Your playing small doesn't serve the world. There's nothing enlightened about shrinking so that other people won't feel insecure around you. We are all meant to shine, as children do. We were born to make manifest the glory of God that is within us. It's not just in some of us; it's in everyone. And as we let our own light shine, we unconsciously give other people permission to do the same. As we're liberated from our own fear, our presence automatically liberates others."
I caught up with her at an Institute of Noetic Sciences conference. Astronaut Edgar Mitchell founded IONS back in 1973 after experiencing samadhi during the flight back to earth. Since then, IONS has been devoted to bringing together science and spirituality. I see Marianne Williamson as similarly groundbreaking in her work: she joyfully and relentlessly marries political activism with spiritual awareness.
The Dalai Lama said, "The world does not need more successful people. The world desperately needs more peacemakers, healers, restorers, storytellers, and lovers of all kinds." Personally, I think the world needs successful peacemakers, healers, and lovers; and numinous women like Marianne Williamson are shining examples.
A lot of people think that "spiritual activism" is a contradiction. What would you say to them?
Spiritual activism is a change in thinking: from a mental filter of fear to a mental filter of love. Given that thought is the causal level of all experience, active thought and change of thought is the most powerful force in the Universe.
Earlier today, a scientist was talking about how information, as in data, is only 10% of what causes people to actually change their behavior. And we have the data. We know what climate change is doing, we know how dangerous nuclear power is. We have the data on what violence on television and video games is doing to young people's brains, we have the data on the carcinogens that are in the air…So why is it that "knowing the data" isn't enough to make us change?
What makes us change comes from a deeper place, and that's what spiritual activism is. It's when something of the spirit, of the heart, becomes active in our thinking, and our thinking gets lit up. Because the mind itself can be used for purposes of love or purposes of fear, so spiritual activism is when we seek to do whatever it is we do from a place of love and with the intention of love.
And I'm talking about the love with which the mother lion protects her cubs. The love with which the adult female [and some males] of any species that survives and thrives exhibits fierce behavior when she senses that her cubs are threatened. So the marginalization of spirituality, the minimization of love as force, is just part of the ego mind's propaganda.
Do you resonate with what the Dalai Lama said: "the Western woman will save the world?"
Of course I resonate with it, but with all due respect to the Dalai Lama, I don't think we need any man's verification. I have a bit of a problem with the fact that we're quoting a man to affirm our own power. I have the same great respect and reverence for His Holiness as anyone, but come on girls! I think what's most important is that you say it. And I say it. Because we are affirming what we are doing: that this world is changing because we say so. Because we say so.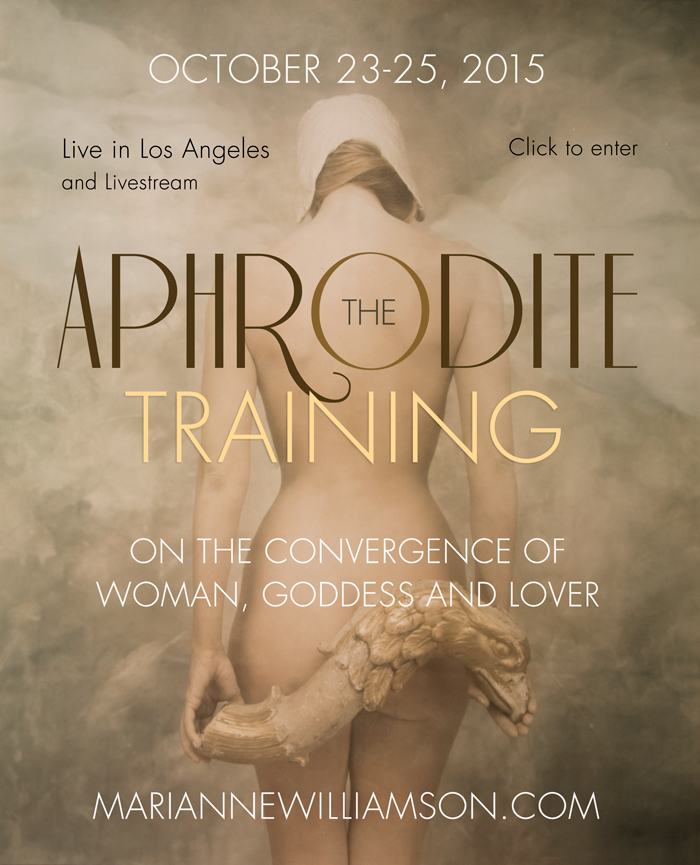 You're doing a lot of work right now with balancing masculine and feminine energies in women. Why is this important to you?
It's such a significant issue. I am a product of the 1970's wave of feminism—obviously the women's movement is a wonderful thing, obviously I consider myself a feminist. But there is what I think of as a flawed strain of feminism, through which we actually suppressed the feminine in the name of feminism. And we embodied in many cases the archetype of Athena. She goes out there, she goes into the world, she manifests, she makes things happen.
But we get to embody as many energies, i.e. goddesses, as we choose, and Aphrodite is important as well. She embodies romance and beauty and pleasure, and I think many women, myself included have had a lot of psychic scars from buying into the belief that cultivating the masculine side of ourselves was actually more important than cultivating the feminine side.
I also think a lot of women have come to a very confusing point in their lives, realizing 'I made this happen' or 'I made that happen.' 'I had these professional goals—some of which I've manifested, some of which I haven't.' But when are the other areas of my life, which are just as important to me, going to occur? Old wise women don't get pregnant.
I've seen a lot of young women particularly deeply saddened, even traumatized, by the fact that while they feel they're on some track professionally, their relationships, and child-bearing and deeper issues of cultivation of the family and romance have become…it's like women are standing there saying, 'How did I become clueless in this area?' And then not only 'How did I become clueless?' but 'What are the clues?' They've become lost.
Inviting in the Aphrodite energy of love, pleasure, beauty – what does that look like in a woman?
The integration of the Aphrodite and the Athena in my own life has been so important. I think obviously we're all masculine, we're all feminine, but women are here to major in feminine. It's part of honoring our incarnation not to sideline something so fundamental to our being. And women ourselves have bought into this idea of 'feminine' as meaning 'weaker' without knowing it. Not women as weaker, but feminine attributes as weaker. I think many of us are seeking to reclaim lost pieces of ourselves, scattered pieces of ourselves.
What advice do you have for young women?
I think my biggest advice to young women would be, 'enjoy it while you got it.'
And not try to be the 'wise woman' before your time?
The decades of life are like different rooms in the house. I have a daughter, early childhood, junior high, tween, high school college, now she's a woman on her own. None of those phases is more or less magnificent than any other. And being in your 20s is fantastic, so be in your 20s when you're in your 20s. Being in your 50s is fantastic; being in your 60s is fantastic. With every phase you lose something and you gain something. Be where you are when you're there.
Having said that, I think something good is happening among American women. We're starting to catch up, and we need to. We've not been the most mature group compared to women in other societies. And we've acted like we're clueless regarding the suffering of women around the world, particularly at the hands of our own government in too many cases. We decry the policies towards women of a place like Saudi Arabia and for good reason, but when we invade countries that didn't do anything to hurt us, a lot of the people who are dying in such invasion are women and their children.
So this is not a time for women of any age to be ditzy. This is a time to be deep. But I see many women of all ages seeking greater depth and it's inspiring.
How do you think we can start to wake up to the suffering of others without dismissing it as 'other people's karma'?
Oh please! What a brilliant ego device that is. It might be that person's karma to be starving, but it is my karma to give them food. Their karmic challenge might be that challenge; my karmic challenge is to help those who suffer that way. The ego is brilliant at coming up with excuses for not helping. There is no serious spiritual path, and there never has been, that gives any of us a pass at addressing the suffering of other sentient beings.
Now, get sucked in by it? Absolutely not. But there's a difference between denial and transcendence. If you don't even look at it, you're not in transcendence. You're in denial. But if you look at it and practice positive denial, which is: I deny the power of this phenomenon to continue. Why? Because I said so. Because I'm gonna do something about it. Because I know other people are gonna do something about it and we're gonna make sure this ends. That's positive denial.
Do you have a daily spiritual practice?
I am a student of A Course in Miracles. The course is 365 days of lessons; mine today is, 'I will be still an instant and go home.' Yesterday was, 'I trust my brothers who are one with me.' It's a specific curriculum for dismantling a thought system based on fear, and accepting instead a thought system based on love. So spiritual exercise becomes like physical exercise. You are rebuilding your body, but with spiritual exercise you are honing your attitudinal musculature, just like in yoga. You want the correct position in your attitude, just like in your body. With physical exercise, you are developing your physical muscles so you can be strong and run. In spiritual exercise you are developing your capacity to be still. Your capacity for impulse control.
What practical applications does this have? It means there is a greatly diminished probability that you will send the frickin' text that you will regret for six months. It diminishes the possibility you will say or do something or push the send button that will so sabotage a relationship or work situation or whatever. It diminishes the possibility that you will be so distracted by the meaningless chaos of the world that you will not be able to show up fully as a fully actualized human. We wake up in the morning and we take a shower because we want yesterday's dirt to be cleansed off our bodies, but if you don't meditate or pray, you might not be cleaning yesterday's dirt from your mind. So internal purification is as important as external purification.
Marianne Williamson's The Aphrodite Training began October 23 2015 and will continue to be available via live stream through October 25 2015. Get all the details and sign up here.