Looking for some inspiration for ways to celebrate the New Moon? Gabriela Herstik rounds up some unusual ways to work your New Moon magic… Images: Marco Imperatore via Behance.net
Keeping track of the moon is one of the easiest ways to align yourself with the Universal source energy, and the New Moon is the perfect time to harness this to help call in your desires! The energy during the New Moon and consequently the Waxing Moon (while it's becoming fuller again) is all about growth, abundance and manifestation – aka it really is a truly magickal time. Read on for 5 cool ways to celebrate the New Moon.
Perform a Love (Yourself) Ritual
If there's any time the moon cycle is all about summoning an extra dose of lovin', it's when it's dark and new. For once in a New Moon though, take a second and focus on loving yourself – i.e. spend some time loving on you and honoring your own spirit. Once your own soul and spirit are fresh and loved, shiny and new, everything else will come to you!
So treat yourself – prepare a meal of all your favorite foods, pour yourself a glass of expensive wine (or whiskey!) and listen to some music that makes you and your spirit dance and sing. Take a bath, adding some salt, crystals and fresh flowers, and relax. Think about how wonderful you are (seriously!) and why you deserve all the things you're manifesting in the coming month. Because no one deserves your love more than you do.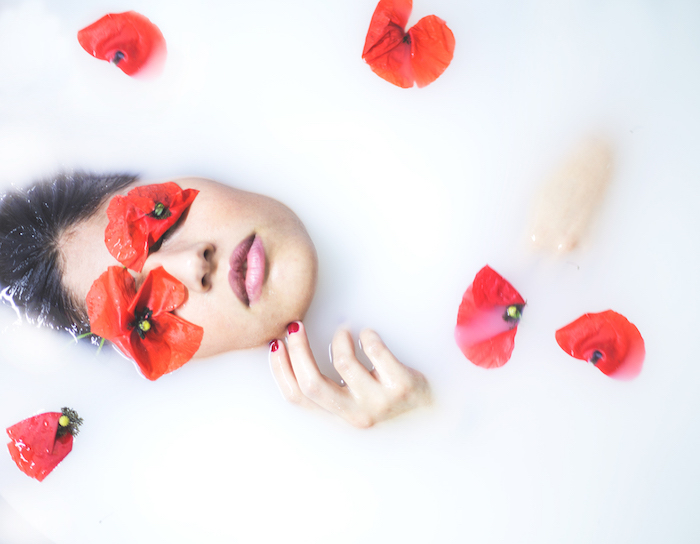 Align Your New Moon Yoga
Besides the fact that yoga is pretty much a godsend answer to any spiritual crisis, it is also an absolutely perfect way to summon some extra energy on the New Moon. Set an intention at the beginning of your practice – preferably focusing on something in the abundance and manifestation section of your wants and needs list – and get your asana moving!
Cater your practice to what you intend to bring into your life – if you want more love, why not add some heart openers? Need to bring more balance into your world? Think twists and balancing postures. Get creative and remember, your practice on your mat is a reflection of your life off the mat. Own it!
Plant Your Intention
Just to get really literal with the "planting seeds of intention" metaphor – plus the fact that plants are a sweet way to bring in some extra love into your home, and that caring for them is super relaxing and meditative. So hit up your local nursery, see what's in season and what speaks to you (you can also find out the spiritual meaning of different plants HERE) and prepare to bring home your new best friend!
Get a little planter and decorate it with symbols relating to all the things you're manifesting in this moon cycle – before long, you'll probably even find yourself talking to your plant about all the good stuff you're calling in. But mostly, be inspired to honor the spirit of the plant and grow in abundance with it.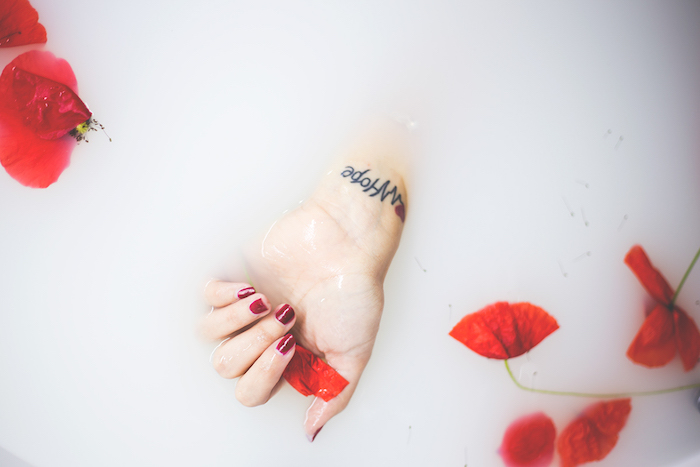 Make some new moon wishes
Writing down your wishes (aka intentions) for the coming two weeks is a really great way to visualizing what you want to manifest. So set aside some time in a sacred space, whether it's among best girlfriends, sitting under a favorite tree, or cozying up with your pet, and think about what it is you TRULY want. The trick then is to write out your wishes as if you already have them (i.e. "I am so thankful for my incredible job" etc).
Make this a ritual in itself – light some candles, burn some incense, grab a crystal or two, or take a bath. Get creative! Use some pretty stationary and put your wish or intention on an altar with some fresh flowers for an extra, supersonic, moon juice blast. Wait two weeks – at the time of the next Full Moon – to see the results of your wish, and wait two more weeks to finish what you started. (The wonderful ladies at Astrostyle.com have more on moon wishes HERE)
Create an Abundance Altar
This is the perfect exercise for all the spiritual hoarders out there (you know who you are). Sitting on an abundance of dried herbs and flowers, crystals, cards and glitter? Make an altar! Following the theme of intention and manifestation, pick a theme for your little sacred space and decorate accordingly. Find photos that resonate with or symbolize what you want. Your altar should be a visual representation of everything you want – and it should feel good to look at. But most of all, have fun with it, duh!
How do you like to celebrate the New Moon? Connect with us and share your rituals on Instagram, Facebook and Twitter!