A symbolic weekly reading for your sign, direct from the third eye of Sandra Sitron—a.k.a. Strong Eye Astrology…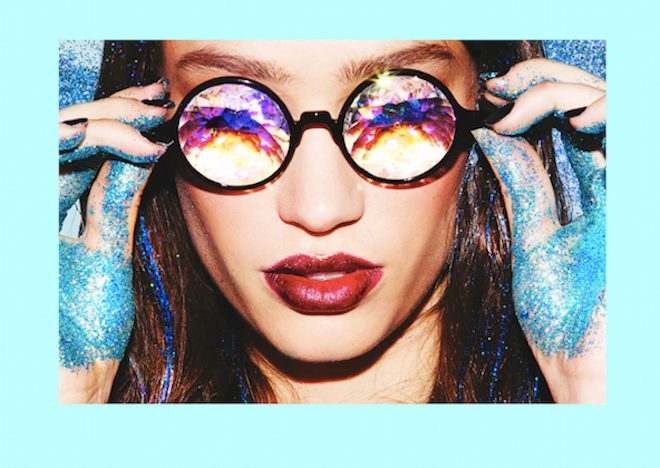 Scorpio :: Scorpio Rising
Going on a vision quest. You have been moving through trials. You have been pushing yourself, physically, mentally, emotionally. It may not have felt like a choice, but on some level it is. You are moving toward healing and awakening. This week, more layers of unnecessary baggage are stripped away. You may feel exhausted, because you've been pushing so hard. Trust that you have been making changes, even if it's not always obvious. Trust that you are supported.Keep opening up to new perspectives. Find greater meaning in the everyday. Through this new awareness, light up new creativity within yourself. You need to express all of the various emotions and inspirations that have been piling up unnoticed. Put in just a little bit more effort, stretch yourself to create. Let some expression of your creativity be a pathway to joy.
Want more wisdom? Book a reading with Sandra here or follow her on Instagram.
Sagittarius :: Sagittarius Rising
Pointing a finger toward the sky. Look up! You can be transcendent. You can move through any old childhood wounds and shift toward healing. You can transcend the pain and remember that you are not really just this body anyway. With a more elevated perspective, you can see that on other planes of existence all emotions come back to one emotion. The emotion that is maybe not an emotion at all, but is instead is a description of emotional security— love. Find little openings in yourself, little doorways and windows that you can move through toward peace of mind. Create peace and understanding within yourself so that you can remain clear in every situation. Like at that moment when you are driving and someone cuts you off, and instead of cursing, you breathe and smile lightly. That's the mental space that you are going for. The ability to remember that you are on track toward a higher purpose— whatever that means to you.
Want more wisdom? Book a reading with Sandra here or follow her on Instagram.
Capricorn :: Capricorn Rising
Elk gliding through the morning mist. Elk are known as Ghosts of the Forest. They are there. And then they are gone. Look for lightening bolts of inspiration that seem to come out of the blue. You are on a path of healing that can help you shift how you think. If you can face all of your old ghosts, that is. If you can look through the mist of your psyche and see what is still triggering you. Pay special attention to how you think this week. Old "ghost thoughts" will become extra apparent. These are the beliefs that are out-dated. They don't match who you are now. They need to go. Lean on your herd, your tribe, your support system. Let them help you think about issues in a new way. Let them push you. Consciously hang out around people who inspire you this week. It's important that you bust through into a new way of thinking and it's harder to do that if other people are trying to keep you locked in the comfort zone.
Want more wisdom? Book a reading with Sandra here or follow her on Instagram.
Aquarius :: Aquarius Rising
A crunchy apple. An apple is a symbol of wealth and fulfilled goals. You are determined. Keep driving yourself forward. Little feelings of insecurity or self-doubt may come up this week. Take note of them, but bulldoze through them. You are receiving some healing that says, "you are good enough. You can dream your dreams, and achieve them too. You don't have to be on the out-skirts. You can be in the game, making things happen and getting results." This is a good week to examine your relationship with money. Question the intersections in your mind between money and self-worth. This dialogue will bring you to new insight, which will in turn illuminate your career path. Allow a deep healing about your worth to take place, so that you can go out and shine on the public stage.
Want more wisdom? Book a reading with Sandra here or follow her on Instagram.
Pisces :: Pisces Rising
Burning embers. The embers are the potential within you. This is a conversation about your identity. You can build your spirit up into any kind of flame. This week you heal your sense of self. So that you can burn as bright and tall as you want. To achieve this healing, you need better belief-systems. Seek out new philosophies. Find a way of thinking that feeds your spirit and makes things make sense. This philosophical foundation can give you the ability to build up the shores of your identity. Resist the urge to move through this week without honoring your flame. Your individuality, your personality, your specialness. Celebrate yourself and set boundaries that help you maintain your own desires. You need to do you.
Want more wisdom? Book a reading with Sandra here or follow her on Instagram.
Aries :: Aries Rising
Looking across an open field. You are looking for the next path. You are trying to orient yourself. Orient yourself by trusting your emotions. What are they telling you? As you move across this field and into your next phase of evolution, you will need to leave certain things behind. Let your emotions guide you, let them tell you what is no longer serving you. If you interact with your emotions, by staying with them, by interviewing them, they will reveal your truth. This is the hard part. So often we try to skip past uncomfortable feelings. We try to reach for something, some distraction, that will mute them. Whether your emotions are easy or challenging, stick with them. Find out what they are trying to tell you. Let them direct you toward your truth. Your emotions are your navigational system.
Want more wisdom? Book a reading with Sandra here or follow her on Instagram.
Taurus :: Taurus Rising
Turrets of a castle. You have to keep climbing. You are engaging with some challenges and you are likely to succeed, as long as you don't shy away. These challenges may come in the form of a relationship. Be patient with yourself and others. But notice the feelings that are coming up around relationship. Is there an old fear of rejection? Is there an old fear of not being accepted by the group that is coloring your thoughts now? The time is very ripe to heal your relationships. You are enough. You are worthy. You are included. If things seem to be coming up really fast, remember that you always get to slow it down. Step back and contemplate your feelings. Be patient, trust, and keep climbing.
Want more wisdom? Book a reading with Sandra here or follow her on Instagram.
Gemini :: Gemini Rising
Eyelashes growing. The symbolism of long eyelashes is good health and fortune. You are moving toward both. This week, get efficient and detail-oriented. This is all about self-care. It is of immense importance now that you take care of your body. Improve your productivity so that you have more time to take care of yourself. Being efficient in small ways will convince you that you deserve to turn your big dreams into reality. Your work right now is to heal false beliefs that say that you can't focus or can't stick with it. Something needs to change! You need to realize that you are already on your path. You are further along than you think.
Want more wisdom? Book a reading with Sandra here or follow her on Instagram.
Cancer :: Cancer Rising
Horses waiting in a paddock. Horses represent stamina and endurance. The symbol of the horses waiting in a paddock shows that you have strength in your reserves. You just need to know where to apply this strength. You may be feeling mysteriously "pent up." You've got extra stores of energy so seek out creative outlets. It may feel as if you don't have time be creative. But it is crucial. You need to share your spark of life with the world. If you've been feeling creatively blocked, it's time to open up. Start by exploring other cultures to see how other people express themselves. You are ready to live life to it's fullest. To gallop and explore joyously. It's time to break free from whatever old philosophy has held you back.
Want more wisdom? Book a reading with Sandra here or follow her on Instagram.
Leo :: Leo Rising
Teeth chomping. You are "chomping at the bit," ready to go, ready to move forward. And yet, something is holding you back. Teeth represent your ambition. Your ambitions are becoming clear. To attain them, you need to be clear within yourself. You need to be strong, healthy and light. You can't drive forward if you are burdened by unexamined emotions and relationships that drain you. The time is ripe for you to face old feelings. Let go of old wounds from childhood so that you can free up energy. You can't move forward energetically if you are holding onto old baggage. Feel all of your feelings. Move through all of the stages of grief. And move toward acceptance. This week is a reminder that sometimes you need to go back before you can go forward.
Want more wisdom? Book a reading with Sandra here or follow her on Instagram.
Virgo :: Virgo Rising
Star-gazing. Symbolically, gazing at stars can represent gazing at people from afar. Where are you keeping yourself separate? Where are you afraid to interact? Question your hesitancy in all social situations this week. This week brings you massive healing around relationship, so show up for it. It's not going to happen if you are standing on the sidelines. You need to allow yourself to be vulnerable and trust that you are safe. Ask yourself lots of questions this week. Look at your life from many different angles and perspectives. Any query you make will lead you to new and important solutions. Connect the dots like constellations in the sky.
Want more wisdom? Book a reading with Sandra here or follow her on Instagram.
Libra :: Libra Rising
The playful otter. The otter is a strong swimmer. Mimic this fluidity within yourself. You are making small adjustments in your life, in your routine, in your approach. Make sure that these adjustments are integral, so that they last. You are making your schedule more sustainable so that it supports your ambitions, instead of working against them. The otter helps you learn that you have to take care of yourself before you can take care of others. It's wonderful to help others and be cooperative, but you have to make sure that you have a stable foundation. Keep checking in this week to make sure that you aren't over-extending yourself. If you are, you may decide to make certain adjustments to the way you choose your priorities. Now is the time.
Want more wisdom? Book a reading with

Sandra

 here or follow her on Instagram.