We're living through a time of intense political climate change, as reflected in the Cosmos. Five of our favorite mystics unpack the signs of the times…and weigh in on the way ahead. Artwork: Sammy Slabbinck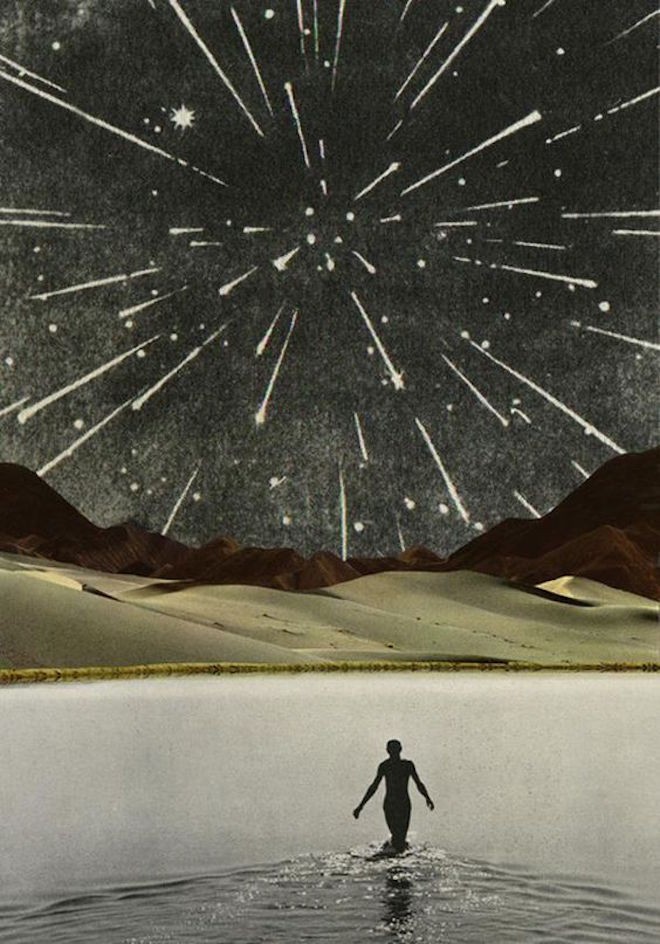 Here on The Numinous, astrology is not a tool for "predicting" future events, or explaining things away while abdicating our role in shaping how our lives play out—both individually, and as a society.
Rather, we see astrology as a language of symbols that speaks to our collective human experience on Earth, offering valuable perspective and allowing us to examine the bigger picture—especially useful at times when emotions are running high, clouding our judgement and making it difficult to choose the next right course of action.
As in the case of Britain's recent referendum to leave the EU, the shock results of which have seen a nation spiral into panic and chaos. Made all the more vertigo-inducing against a backdrop of unrelenting terrorist attacks, and an emotionally fraught US election campaign.
Last month, in an eerie foreshadowing of the central issues to Brexit, New York magazine described the Clinton-Trump race as: "kind of a civil war. It's a referendum on the country's feelings about inclusion, about women, people of color, and their increasing influence…how it edges out the white men who have long held an exclusive grip on power."
In short, it's safe to say we are living through a period of intense political climate change—as written in the current movements of the celestial bodies. Skeptical? Since the political polls leading up to the Brexit referendum were woefully misleading (echoing the last general election in the UK), the wisdom offered by our resident astrologers below—including commentary on what will be needed of us moving forward—feels as relevent as anything the political scientists have got to say…
PLUTO IN CAPRICORN by Ash Bonelli
We are in unstable times, and have been financially since 2008 when Pluto, the planet of wealth/power, moved into the structural sign of Capricorn—and the extent of financial corruption in the world began to come to light. We're currently half way through this cycle—during which we have seen a growing divide between rich and poor with the emergence of a super-elite, as well as major differences in values between the generations. (NB. "Even eerier? The last time Pluto was in Capricorn was 1762-1778, the exact time when the U.S. was fighting for its independence from England. It was also during this transit that Thomas Jefferson sounded the rallying cry for "life, liberty and the pursuit of happiness" and helped author the U.S. Constitution." – Ophira Edut)
SATURN SQUARE NEPTUNE by Ameila Quint
The Saturn-Neptune square, currently occurring November 2015 through September 2016, is shifting cultural philosophies on a global scale. To give you the big picture, this alignment has caused ideological clashes for centuries in a looping cycle that goes back as far as the Salem Witch Trials and the Crusades!
Saturn is in Sagittarius, the sign of foreign affairs, expatriates, and immigration—all issues at the heart of the Brexit referendum. Sagittarius also rules expansion, so we're being called to open our hearts and minds to new ways of relating and thinking. Unfortunately, this change won't come easy with tough Saturn in play.
On the other hand, Neptune is in Pisces, his home sign. This magnifies the energies of compassion, healing, and spirituality. It's a call from the Universe to ask, on a societal level, what you believe and why. The Brexit referendum did just that. It's also interesting that Saturn and Neptune are both associated with karma in their own way, because the reverberations of this vote have certainly been karmic in scope.
JUPITER TRINE PLUTO by Ophira Edut
The announcement of Brexit also coincided with the June 26 barrier-breaking Jupiter-Pluto trine, a rare meet-up between global connector Jupiter and powerhouse Pluto. Trines are generally positive and harmonious—but they can also cause things to move quickly, and this massive upheaval happened in the blink of an eye, or so it seemed.
Jupiter is an excitable, optimistic planet that can quickly overshoot its mark. The hopeful populists did not wake up the morning after Brexit economically or politically empowered, but rather, to a currency that plunged to its lowest value in 31 years overnight.
Jupiter is also the "armchair philosopher" of the cosmos, whose starry-eyed visions don't necessarily translate into reality. Stateside, we hear echoes of Trump's "Make America great again" slogan. Um, perspective please? If anything, Trump—with his Plutonian land grabs and abuses of power—is making America hate again. And that's the last thing this world needs now.
MARS DIRECT by Hannah Ariel
With warrior planet Mars about to go direct in controlling Scorpio (June 30th 2016) our urge to define, defend and protect boundaries is intensified to extremes. Mars in Scorpio demands that our actions reflect our integrity—and as it resumes direct motion, what we "yes" and "no" to becomes an act of personal empowerment.
This is a period of cutting ties, creating new bonds, and ultimately realizing from whence we draw our power—and what we must do with this power once we feel we have it. Scorpio rules creation and re-creation, so there is nothing being destroyed at this time that cannot be re-created.
THE UNIVERSAL 9 YEAR by Felicia Bender
In numerology, 2016 is a Universal 9 year—the number of completion, of letting go, transition, and transformation. It is a year of surrender, in it's truest sense—a positive, intuitive way of living, that grows we learn to develop trust.
Trust that's needed in a time where old paradigms are crumbling, dissolving, going up in flames or coming up for serious review. We can see this everywhere, from Trumpmania, mass violence, and displaced refugees, to the spotlight on rape culture, and the Brexit referendum—to name just a few boiling points. Numerologically, this is right on time.
This is the end of a cycle, and we can't move into the next phase without a sobering and stark look at what has been (since the cycle began in 2008—the last universal 1 year) and where we're at. The task at hand is to then let go of all that's no longer serving all of us. This isn't easy. It's terrifying. It incites anger and fear and every other possible emotion.
THE WAY AHEAD…
"We can use this Saturn/Neptune square for the overall good. We must work on building a solid foundation (Saturn) that is created from a place of justice for all (Neptune). A place where everyone has their needs met. A society where equality becomes commonplace. But it will take time, patience, respect and dedication to achieve these Neptunian dreams." – Ash Bonelli
"Saturn rules authorities while Neptune rules visionaries, and these groups were very much square to each other in the Brexit polling results. Still, the only way to make this transit work is to find a balance. In this case, this means steadying dogma with compassion, and laws meant to protect with laws that truly heal." – Amelia Quint
"If anything, Brexit and Donald Trump's shocking success is exposing an inconvenient truth: Despite the gains of social policies such as marriage equality, there's a hate-filled Orlando shooter, a Brock Turner getting a tiny slap on the wrist in the Stanford rape case, millions of scared and small-minded people who would rather tank their economy than allow a Muslim or a Mexican to cross "their" (in some cases stolen) borders. We can't sweep this under the rug or look the other way much longer…which, while also inconvenient, is a wakeup call we can't ignore." – Ophira Edut
"The key? Understand that what must fall away must do so without a net, leaving behind a liminal space—a gap. Understanding that we must make friends with this vortex of uncertainty while the old is cleared and the new is being created. And despite all of our impulses otherwise, we must enter into this space with optimism and a sense of excitement, because here is the opportunity of a lifetime to create something new on a massive scale. This process is not for wimps. It's easier to criticize and despair. Yet it's our challenge and our charge to visualize and create a now and a future that is more evolved and humanitarian across the board." – Felicia Bender
"Stay tuned for how this plays out, as the Sun in Cancer will come into its yearly opposition to Pluto in Capricorn July 1st, reminding us that what brings us comfort can also at times hinder out ability to grow. No matter how much is perceived to be at stake these days, the astrology of the times reminds us that it's all for the sake of transformation." – Hannah Ariel