Two high vibe and super healthy Sunday brunch recipes we're currently crushing on…DIY Faux-coa Puffs & Chia Chickpea Pancakes w/ Coconut-Cinnamon Whipped Cream. By Raquel Griffin. Photo: Ashley E. Davidson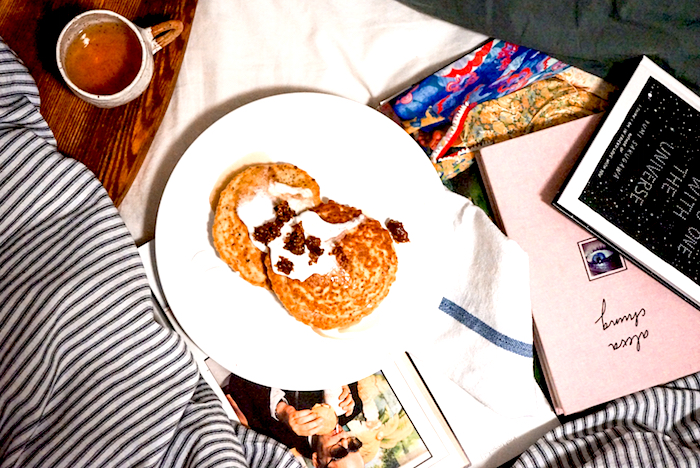 DIY Cocoa Faux Puffs (V,GF)
Filling, healthy, and party in your mouth!
WHAT YOU'LL NEED
1/4c raw amaranth
1c unsweetened fresh (or store bought) almond milk
2T maple syrup [or honey, brown rice syrup, etc..]
2-3t unsweetened cocoa powder
1t vanilla extract
1/4t cinnamon
2T dried unsweetened coconut
DIRECTIONS
Pop amaranth, 1-2T at a time. Popping instructions. In a bowl mix together amaranth, cocoa powder, cinnamon, dried fruit + coconut. Pour 1c milk in a bowl and whisk maple syrup + vanilla in until combined. Pour milk over your new favorite Saturday morning treat and dig in!
***Optional additions for the adventurous or… not so much ***
Add in chopped nuts to up the crunch factor (almonds, walnuts and pecans could all be major). Add in dried fruit like raisins, cherries or goji berries to give your faux puffs a little haute healthy flavor. Not a fan of dried fruit or coconut? Leave 'em out – it'll still be a party in your mouth.
Chia Chickpea Pancakes w/ Coconut-Cinnamon Whipped Cream (V,GF)
This recipe has been my go-to for the last month. I cannot seem to get enough pancakes, but then again can you really ever have enough pancakes when they're gluten-free, vegan, AND crazy high protein? I think not.
So before we jump right in let me give you the stats on these beauties. Two medium pancakes have about 20-22 grams of protein, 19 grams of fiber – plus you could easily hit 25+ grams of protein by adding a smattering of nuts into the mix. And did I mention they taste great and not like chickpeas at all? So buckle your seat belts because this recipe is about to become a mainstay in your Sunday morning repertoire.
WHAT YOU'LL NEED:
1T Chia (soaked for 10 min in 3T water)*
1T flax seed
1/2c chickpea flour
1/4t baking soda
1 capful of white vinegar
1/3c water
1 1/2t stevia
sprinkle of sea salt
Coconut oil (enough for frying pancakes)
For Coconut-cinnamon whipped cream
1 can full fat coconut milk *(stored in the fridge overnight)
1 1/2t ground cinnamon
1 capful vanilla extract
Sweetner to taste
DIRECTIONS
For the Pancakes
Combine all ingredients in large bowl and mix until lump free. Heat your lightly oiled pan over low-med heat. Next, pour or scoop the batter into the pan, using approximately 1/4 cup for each pancake. Cook on both sides till golden brown, serve hot and topped with coconut-cinnamon whipped cream.
For the coconut-cinnamon whipped cream (v,g)
Take your chilled coconut milk and empty the entire contents into a bowl and add your sweetener of choice, plus 1 1/2t of cinnamon and a capful of vanilla extract. Finally, whip on high using an electric mixer for 5-7 minutes until the whipped cream is soft, fluffy. Et voilà!
*Sealed in an airtight container the whipped cream will hold for approx. 4-5 days in the fridge.
***Optional additions for the adventurous or… not so much ***
Top with jam (I'm currently obsessed with fig, but orange marmalade, ginger, and of course any berry could all equally rock your world!) And of course, one can never go wrong with the classic pairing of nuts + fresh fruit + maple syrup.