The "special bond" we have with our moms can also feel like the most challenging relationship of our lives. Here six Moon Club members share what's been the most healing thing for them and their moms …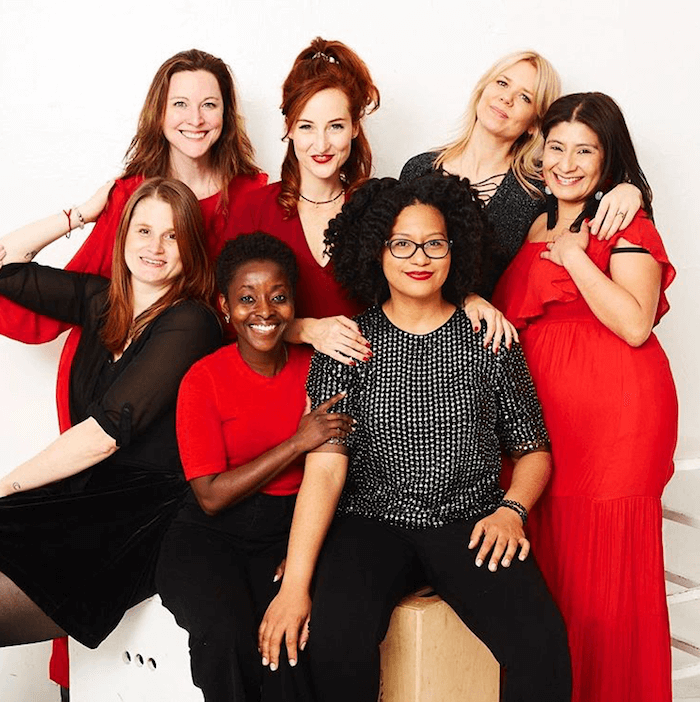 The last time I went home to England to visit my mom, things were tense. She was upset that work commitments meant I was unable to visit at the same time as my brother and his baby boy. With me in the US and him in Berlin, she loves nothing better than having us all together like a normal happy family.
But our family has never been "normal" (whatever that means). I'm not going to write all the details here, but tragic circumstances, as well as emotional and geographical distance, mean that and my mom, and my brother, and I are kind of it.
Now I have a little nephew, our unit has grown by one, and time together is even more precious. So, I get why she was upset. Upset which spilled over to me, and which found us, barefoot and in our bathrobes, engaged in a 2.5-hour deep-dive in her kitchen the second morning of my visit.
We hadn't even had our morning tea. But when she asked me, "are you okay?", I decided not to reply with the grumpy shrug or tight-lipped smile that I have used throughout my life to avoid getting into a fight. I decided to tell her the truth of exactly what I was feeling. Which was pretty pissed that I was getting all the blame for apparently messing up our family time.
This opening led us on a journey of tears and rage and resentment, and into the depths of our family history. I learned things about my mom, and her mom, and the lineage of women in my family that I had never known. Mental illness, lost children, abandonment. I was also able to see how different we are, my mom and me, and how we were playing out old, outworn family patterns without even realizing it.
I said my piece and she said hers. All for it. And it hurt so much. But, finally, it was the TRUTH. We stood facing each other afterwards, two human women, like we were seeing each other fully for the first time. Ragged and scooped-out, but also complete and whole. Healed.
In astrology, our mother is represented by the Moon. Also showing how we mother others, the Moon is a reminder that our feeling self is sort of like the mother of us—sometimes fierce and frightening, but always guiding us towards what's best for us. Not that it always feels that way.
In honor of Mother's Day, and the conflicted feelings we often have about this most intimate of relationships, six Moon Club members share what has been the most healing thing for their relationships with their moms. PLUS we're offering 50% off annual memberships through midnight May 13th 2018. Click HERE for more.
>>>
// Jerico Mandybur, Editorial Director, Girlboss.com and presenter,the Self Service podcast
I think Gloria Steinem said, "the truth will set you free, but first it will piss you off." For my mum and I, the truth first almost broke her. It was only when I was in my early twenties and suffering severe depression that one truth from my childhood emerged; one of sexual abuse, neglect and violence. It hit her hard—the complicity, guilt, my anger, all of it. Everything was instantly cast in a new light. But standing in the light of the truth intrinsically changed us. Our mistakes were laid bare and there was nothing left to do but forgive ourselves and start over. We've been walking a healing path ever since. The healing never really ends, but that's not the point. It's imperfect, like all of us.
>>>
// Chantelle Brown, councillor and meditation coach, Chantelleerica.com
The most healing thing for me and my mom has been our ability to reconcile past hurts. About a year ago, I was visiting her back home, sitting in the kitchen, and talking about the work we were doing with Moon Club. At the time, I was working to deconstruct all the systems I had put in place to tuck away my inner most feelings. Growing up, I always had the impression that I felt things too deeply. I would weep at Feed the Children commercials and ask my mom what we were going to do to solve the hunger crisis in Africa. She always seemed baffled! Eventually I learned how to suppress these intense emotions, but now I wanted to work on my ability to live comfortably within my own skin as a woman.
As I spoke about how empowering it felt to begin to accept myself fully, my mother told me that she never found anything wrong with the feelings I expressed as a child. She went on to open up about the sorrow in her own life. How, experiencing the loss of her grandmother meant she encountered tremendous grief at a young age, going on to conditioned herself to be emotionally closed off. Bearing witness to the story her early life was the biggest gift. It has transformed our ability to be vulnerable with each other. Now I'm happy knowing I'm not the only person in my family who feels things deeply. In fact, I can proudly say "I get it from my mama!"
>>>
// Ayesha Ophelia, Founder, The Girlfriend Manifesto
Laughter. Just like many mothers and daughters, we could annoy each other with our silence. But when we found something funny the roar of our laughter connected us so deeply. Although my mom passed away three years ago, I can still feel her presence the strongest when I cackle about something inappropriate. We healed through our laughter. We remain in each other's consciousness through laughter to this day. ***Ayesha's Symposium of Wild Hearts is launching June 1. Click HERE to learn more!
>>>
// Marine Sélénée, Family Constellations therapist
Writing my book The Movement. I had never found the strength and courage to tell my mom about the sexual abuse that happened in London when I was 13. I guess I wanted to protect her. My mother is a strong woman, but often doesn't know what to do with her emotions. Her way of dealing with difficult situations was either to lock herself in a room or to go silent. It drove me crazy! As a result, I've always held back from telling her the truth about my life.
I think this helped me to become strong, to learn to count on myself. But, that's another topic! Writing and self-publishing my book allowed me to get closure with this trauma. I knew she was going to read it but having worked on my own healing for ten years, I also knew that no matter how she reacted, I would be able to handle it. Finally, my mother knew what happened and I felt safe to share it with her. I was her daughter again.
>>>
// Gabriela Herstik, author, Craft: How to Be A Modern Witch
"Taking our own time and growing and finding space within ourselves has allowed us to communicate with honesty and compassion, out of a place of stillness and not reaction. Writing my book about witchcraft has also been really healing for us because she's been able to learn and understand my spiritual practice and how it's such an important part of my life. Not only have her misconceptions about the craft cleared up, but she's been more understanding of my journey, and adopted some of my practices into her own life. The internal work we've both been doing has let us get closer to one another and allowed our relationship to deepen. We've always been close and now it's at another level and I'm so thankful for it.
>>>
// Sabrina Crockett, Queen of Operations, Moon Club
My momma and I have grown together, held each other up when we both needed it, leaned on each other in light and dark times. Like any relationship though, it has not always been EASY—oh no! I did not grow up in the healthiest of households, and I felt myself becoming resentful and angry as I moved into early adulthood. I could have kept walking down that path, blaming my mother for everything. For my childhood circumstances, for passing on generations of trauma. I could have chosen to see what was lacking, instead of all the love that was also there.
But I didn't want to! So I picked up a copy of Louise Hay's You Can Heal Your Life and started on my own path of healing, forgiveness and love. It has been a journey! There have been tears, purging, hugs, laughter, happiness and more with my momma. Whenever I feel feelings of anything but pure love bubbling up, I now remind myself "she did the best she could with what she was given." And WOW what a game changer. Feel free to use this over and over as I do to remind yourself that we are ALL doing our best.
Check out our Moon Club community HERE and get 50% off all annual memberships through midnight May 13th 2018 HERE.