In her reading for the Leo New Moon, Sandra Sitron channels a symbol for each of the aspects at play—and provides simple prompts for each sign to create a personal New Moon ritual at home.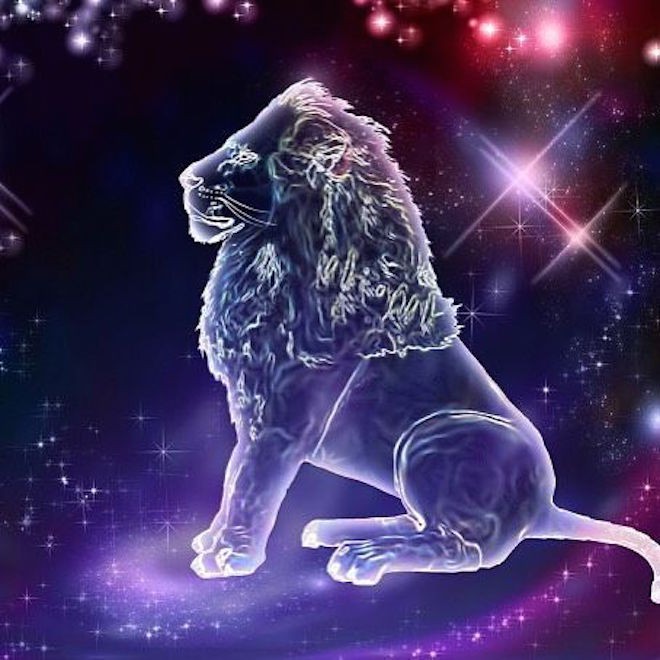 We experience a Leo New Moon on August 2nd at 4.44pm EDT.
THE MOON AND ITS MESSAGE
"The birth of a star."
Every New Moon offers us a chance to start fresh; and it is an invitation to use this energy to share our unique light with the world. This can happen most of all through sharing our creativity. Why is self expression so important to us humans? It is a communication of the soul. It is how we share a unique part of our spark, our flame, our light.
And so there is the giving. Our work at this time is to give and to shine bright like the sun. And yet, a communication is not complete if the transmission is not received. So there is also the receiving. Our work now is also to receive recognition for what we have shared. This recognition is important for the proud-to-bursting Leo heart. It completes the circle.
Leo New Moon energy asks us to shine. And it asks us to feel recognized. To hear someone say that we are special. To be worshipped, even if for a moment. And to worship, even if for a moment.
The coming two weeks are a time to give love. And to receive love. Do this however you do. And do it big, with a flourish. Be romantic. Fall in love with life. Play. Be like a child. If you don't know how, watch them and remember. Connect with your heart and connect with the full pleasure-seeking beam of the Sun.
***
SATURN TRINE THE MOON IN LEO
"Haystacks in the field."
This Leo New Moon is receiving supportive energy from the planet of structure—Saturn. This means any lessons will be easily learned now, if you apply yourself. So focus your intentions not just on being a whirlwind of unbridled joy, as this Leo New Moon might suggest…but on shining your light from a carefully constructed and beautifully rendered crucible of  creative energy.
Make a plan and set an intention to come out of this time having produced something to be proud of.
Build your haystack. Make a monument to your love. Funnel all of this super exuberance into a product of some kind. It could be a real product. Or a lesson learned. Either way, you can work with this energy by applying effort and achieving results.
***
NEPTUNE INCONJUNCT (QUINCUNX) THE MOON IN LEO
"A clown sitting on a bench and looking at the ground."
This Leo New Moon, a point of darkness in which to plant our seeds of hope, is wrapped in Neptune's fog. And this doesn't exactly feel comfortable. In the symbol, the clown has paused his work and is looking down. The clown wears a mask, he creates a mystique, he is an idealization. These are all traits of Neptune. Neptune is an enchanter. But in this configuration with the New Moon, Neptune is stuck. He doesn't know where or how to turn. He doesn't know who or how to enchant next.
What does this mean for you? Take control of your idealizations. Use your imagination to create a life you actually want to live. Don't let fantasies carry you away. Don't be tricked by the tricksters. Raise your vibration through meditation and appreciation. Activate your imagination on you own terms, don't let it take you over. If all else fails, take a nap.
***
JUPITER OPPOSITE CHIRON
"A cow chewing her cud."
So many times we come back to the same realizations. We re-work an old thing in our minds, forgetting that we have covered this territory before. Well, during this Leo New Moon phase, you are ready to expand through an old wound. You are ready for some massive healing. There is always a little pain when antiseptic gets poured in a wound. But this time the pain will be quickly replaced by a breakthrough. Let this moment heal your ancestral line.
Let the light blaze in so big and so bright that there is no more space for unawareness. Everything becomes clear. This is your chance to allow the healing to penetrate all the way through to the core. Do it with love. Use this Leo New Moon to create a bonfire in your heart. The vibration of Leo love heals all. Share your tender heart.
***
NEW MOON INTENTIONS BY SIGN
To create a personal Leo New Moon ritual, use the below mantras and areas of self-enquiry to craft a simple statement of release. Then, join us in burning away these used-up stories—using a sacred candle, or any flame lit with the intention of release.
ARIES :: ARIES RISING 
"I am a powerful creator. I am full of love." What is holding you back from realizing your grandest creative visions? What needs to be released for you to re-gain the confidence to create with love?
TAURUS :: TAURUS RISING 
"I nurture myself." Where in your life are you putting the needs of others first, where you need to mother yourself? What needs to be release to re-dress this imbalance?
GEMINI :: GEMINI RISING 
"I learn and communicate joyfully." Who am I having difficulty communicating my needs to? What needs to be released to allow me to express myself more freely in my relationships?
CANCER :: CANCER RISING 
"I feel secure." Where have I fallen into unhealthy habits, and how it this eroding my confidence in myself to be of service? What needs to be released for me to re-center with my values?
LEO :: LEO RISING 
"I share my unique identity with the world." How is my creativity being stunted? What needs to be released for me to re-gain the confidence to express myself with joy and conviction?
VIRGO :: VIRGO RISING
"I honor my intuition." Where have I been holding back in my family life? What needs to be released for me to show up for my tribe with empathy and compassion?
LIBRA :: LIBRA RISING
"I am optimistic about the future. I am supported by my community." How have I separated myself from my community? What needs to be released for me to re-connect to the future we are building together?
SCORPIO :: SCORPIO RISING
"I shine bright in my vocation. I am comfortable being seen." Why have I been keeping my talents under wraps? What needs to be released for me to feel more comfortable in the spotlight again?
SAGITTARIUS :: SAGITTARIUS RISING
"I broaden my horizons. I am without limits." Where have I put limits on my own potential? What needs to be released for me to expand into the role of both student and teacher?
CAPRICORN :: CAPRICORN RISING 
"I let go." What am I holding onto from the past that it stopping me moving forward? What needs to be released for me to dive fully into unravelling my next great mystery?
AQUARIUS :: AQUARIUS RISING
"I feel supported in relationship. I trust myself." Where could my relationships benefit from a radical new world view? What needs to be released for me to forge more progressive connections with others?
PISCES :: PISCES RISING
"Through improving myself, I improve the world." Where have I been dimming my light and playing small? What needs to be released for me to bring my whole self to the table, and truly be of service in the world?