Can meditation and visionary medicine break cycles of addiction, trauma, and poverty? Elyssa Jakim sits down with the makers of new documentary Cura to talk alternative healing as a tool for empowerment …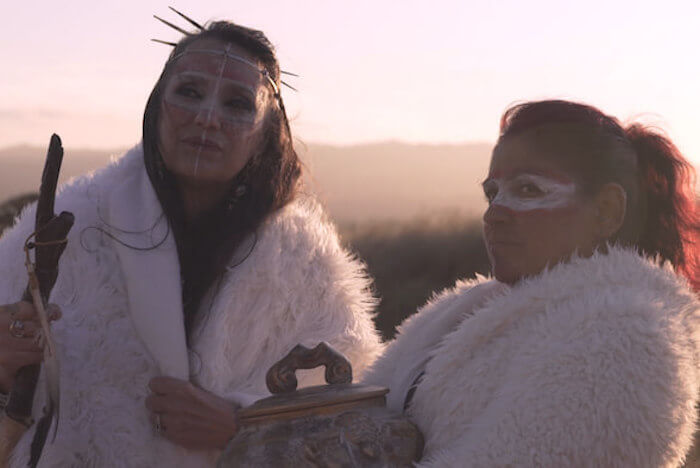 "When you find this disciplined practice, you discover that you can support yourself—you can be a sovereign being. That's the big takeaway from medicine work or any of these other modalities: they help you find a way to stand up for yourself and to know when to ask for help"—Yolanda Frausto 
Cura is a feature length documentary in progress that tells the story of Yolanda and Donny, a Mexican-American mother and son breaking cycles of addiction, trauma, and poverty using community, meditation, and visionary and alternative medicine. When Yolanda loses her younger son while in police custody, she strives to save her other son, Donny, from addiction and the possibility of suicide.
As the film preps for debut (the Kickstarter is live through December 17th), Elyssa Jakim sat down with producer Ismail Ali, who's also the Policy and Advocacy Counsel at the Multidisciplinary Association for Psychedelic Studies (MAPS), and Yolanda Frausto, the film's subject, to talk film as medicine, the war on drugs and, ultimately, the healing power of community.
**Watch the trailer HERE. 
>>>
ELYSSA JAKIM: You call Cura an "An evocative soul portrait of a mother and her son healing generations of family trauma with natural and alternative medicine." What is a soul portrait?
ISMAIL ALI: With this film, we want to show people that there are methods to healing that are beyond the body; that require a relationship between the body and the mind, and even the spirit. As a form of soul portraiture, the film is a snapshot of the lives of Yolanda and Donny. So, it's about their lives in a mundane way, but it is also about them as spiritual beings—a portrait of their spirits. We're saying this is a look at who they are at their core, framed by them living in Oakland and coming from poverty.
>>>
EJ: How did the title "Cura" come about? It seems like a word with multiple meanings. What does it mean to you?
YOLANDA FRAUSTO: To me "cura" means "here's how we heal together. Here's how you can find healing in yourself through my story." There's no one cure. It's like the grief process—it's a fact of life that we all go through it, but nobody can tell you exactly how it's going to happen, you have to figure it out. I come from a background where it's common for somebody to get stabbed or shot, overdose, or commit suicide and we don't talk about it. So to be able to talk about grief is where the name "cura" helps. It means "let's heal from what's too hard to deal with and let's do it together." It plants the seed for healing.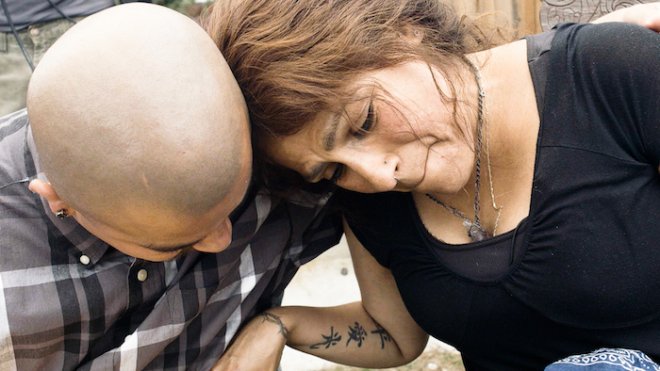 >>>
EJ: How did you discover natural medicine, Yolanda?
YF: I got sober from drugs in 2005. I needed to change my life because I was headed in a really bad direction and I just stopped using. Three years later, I was working in a hotel in San Francisco and I learned about yoga from a woman doing a teacher training there. I started practicing, eventually up to six days a week. Then I got really serious about meditation. About a year later, I found plant medicine and I was like "Oh, this is my jam!" I felt that my whole life happened the way that it did so that I could find this as a spiritual practice. All of these things fell into my path, I didn't seek any of it out, but inside of me I knew I was ready. 
>>>
EJ: How has plant medicine helped you work through a trauma?
YF: It allowed me to have that one-on-one communing time with spirit that people can also find in prayer or in a deep meditation practice. I found the medicine around the time my mom became sick with ALS, and when I lost my son, I was already in the medicine community. Both times that I lost family members, I found that I had this community of people praying for me, showing up for me, bringing me food. I'd never had that kind of support before and they really taught me what it is to be supported. Also when you find this disciplined practice, you discover that you can support yourself—you can be a sovereign being. That's the big takeaway from medicine work or any of these other modalities: they help you find a way to stand up for yourself and to know when to ask for help.
>>>
EJ: Do you believe that you have this kind of medicine work or curandera work in your ancestry?
YF: I hear the land where my great grandparents come from is peyote lands. So somehow I have a funny feeling that my great grandmother has been guiding me throughout my life and brought me home to the traditions by showing me a path. I believe strongly in the spirit world and how they lead us back to what's home for us. When I was a kid, my grandma would cure us with folk remedies. And now I'm that person. I know the recipes and natural remedies, I know what to do. I feel like it was something that was instilled in me, but that no one taught me. I'm always saying "There's a tea for that!" My sons would say "Oh, you're just a witch."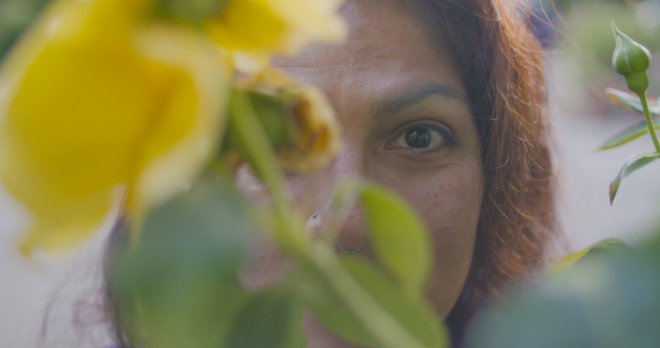 >>>
EJ: As plant medicine gets more popular, what kind of responsibility do people need to be taking when they take the medicine or administer it? Is it something you believe can find a place in a more Western medical mindset?
IA: Donny and Yolanda have experienced a tremendous amount of trauma as a result of simply being Mexican-American people who grew up in a place with huge amounts of drugs and violence, and which was not set up for them to have access to power or influence. I believe the strong pushes to decriminalize or medicalize or otherwise create access to pant medicines are in many ways responses to that harm.
So how can you leverage this harmful system to bring about some sort of benefit to the people who have suffered this exact kind of trauma? We need to take an honest look at what will be necessary to make this possible, and I think that during the next five or ten years we're going to really crystallize what those systems look like.
>>>
EJ: Does the film speak to the phenomenon of wellness practices and techniques being inaccessible to people who aren't of a particular ethnicity, or of a particular socioeconomic background?
IA: That's actually why I started working on the film. These beautiful practices often require you to have resources—at the very least to be able to afford to take time off to care for your own mind. So many people are limited in this way. So accessibility is real, colonialism is real, and being aware of all these concepts and then shifting our behavior in line with addressing them is really important. The film is really about two people who are deciding to do some really serious work to break the cycles of their lineage, despite the fact that they don't have the time and resources.
>>>
EJ: Did you find the process of filmmaking itself to be a kind of healing?
YF: I was able to process grief in a way that I did not know was possible. I reenacted the scene when I was driving and got the phone call from the coroner about my son. After we shot it, I cried for about an hour and then felt so much relief. I only got to process my grief in that visceral way because I was part of this film-making process. How else could you act out something in your life? Whenever things become challenging to film, I know it is creating space for me and my family to process. It's hard to have these conversations but we've also found a way to communicate differently while filming.
>>>
EJ: What would you most like to see for the film?
IA: We hope people will be inspired to involve their own communities in it. We want people to watch this and to talk to the people in their lives about what all of these themes mean to them. We really think that yes, all of these healing modalities themselves are great, but part of the reason that Yolanda and Donny are where they are now is because of the community in their lives.
YF: I believe it will speak to specific people, who find something in it to help them. Maybe it just means they'll find a way to say, "I can talk to my family, this isn't so hard." Quite a few friends have told me, "for you to come out and tell your story really gives me hope, trust, and faith in a future for myself and my family." The goal was for my story to help other people heal.