The waxing Pisces quarter moon is asking us to stay true to our most ideal future vision, says Jennifer Racioppi. Artwork: Bethany Harper-Walsh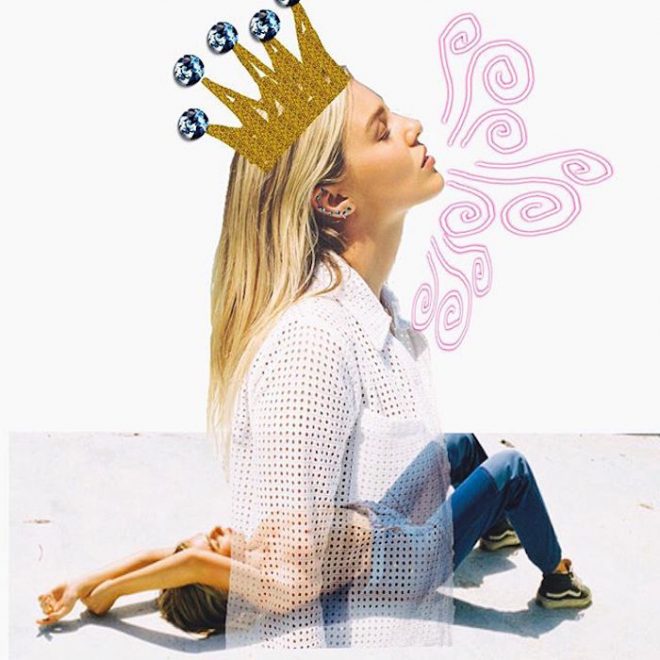 Pisces Quarter Moon :: December 7th 2016 :: 4:02 am ET
We set our intentions with the New Moon, bright eyed and excited for a fresh new beginning. Yet, like clockwork, one week after the new moon we experience the waxing quarter moon—creating a square (90 degree angle) between the Sun, which represents our identity, and the moon, our subconscious and emotional desire.
This monthly occurrence signals the need for an adjustment. In astrology, a square is like a stepping stone, providing us the opportunity to overcome an obstacle on our path to manifestation.
So what does this Pisces Quarter Moon mean for us?
***
:: THE SUN ::
The Sun is currently in hopeful, expansive, and indulgent Sagittarius, on his way to meet up with serious Saturn—while the moon is traveling through the spiritual and emotional sign of Pisces.
Sagittarius represents limitless expansion. Yet just three degrees from Saturn, the planet of discipline, also in Sagttarius, we can expect a sobering vibe, asking us to stay diligent with our bottom-line focus. Saturn wants us to decipher and consolidate our Sagittarian vision, and making an exact conjunction with the Sun on December 10th, Saturn's influence feels heightened right now.
:: THE MOON ::
Yet, the moon in Pisces is seeking spiritual expansion, perhaps even an escape. Any time the moon is in Pisces, we may feel the urge to retreat into movies, music, literature, even a joint and a glass of wine. But this is a time to confront the desire to abandon your truth. Instead of escaping, allow your spiritual practice elevate you.
:: THE SQUARE ::
The Sun in brazen Sag square the sensitive Pisces quarter moon creates a steamy combo (we are talking about fire and water after all!). Sagittarius, an outspoken sign, and Pisces, a sign that can sometime struggle to find its words, can work together to create a mood of expansion with undertones of spiritual freedom. Instead of escaping, let's put our attention on spiritual expansion as a way of elevating our life goals.
:: THE MESSAGE ::
As the moon waxes (grows), so does our focus on what we desire. So stay true to you. Manage your need for safety and security without abandoning yourself or your ideals! The Square between the Sun and the Pisces quarter moon asks us to look at our vision for our future, and then assess the work we must do to accomplish this. To be bold, be brazen, and be spiritually aware.
Here's to your manifestation!
For more Moon wisdom or to book a coaching session with from Jennifer visit Jenniferracioppi.com