How to fully embody the lessons of the Tarot? Play tarot fashion dress up of course, says Gabriela Herstik…Photography: Mary Decrescenzio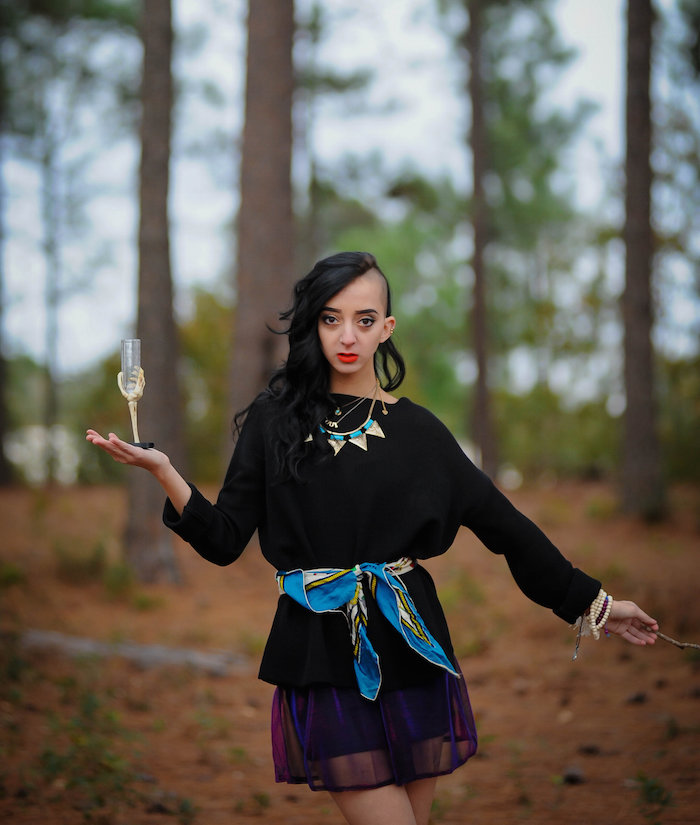 :: THE MAGICIAN ::
There's a certain power that arises when you tap your own intuition, your spirit, and declare to the Universe that YOU are the one in charge of your own manifestations and actions. The Magician sings of this. She is inner strength, manifestation and power. And she uses all the elements at her disposal to create.
I wanted to feel alive, regal, and (my version of) colorful in this outfit. I wanted to feel cloaked, and protected and magickal. I wore the dress I wore for my 20th birthday layered under a big, knit sweater, and I added layered necklaces and a scarf I cinched around my waist. I wore two different mala beads around my wrist, wrapped my pentacle necklace into a bracelet.
I grabbed my skeleton hand chalice and figured I would find a wand in the forest and use my eyes as daggers to round up all the suites of the Tarot. I wanted to feel strong and powerful. I wanted to feel like I was magick manifested.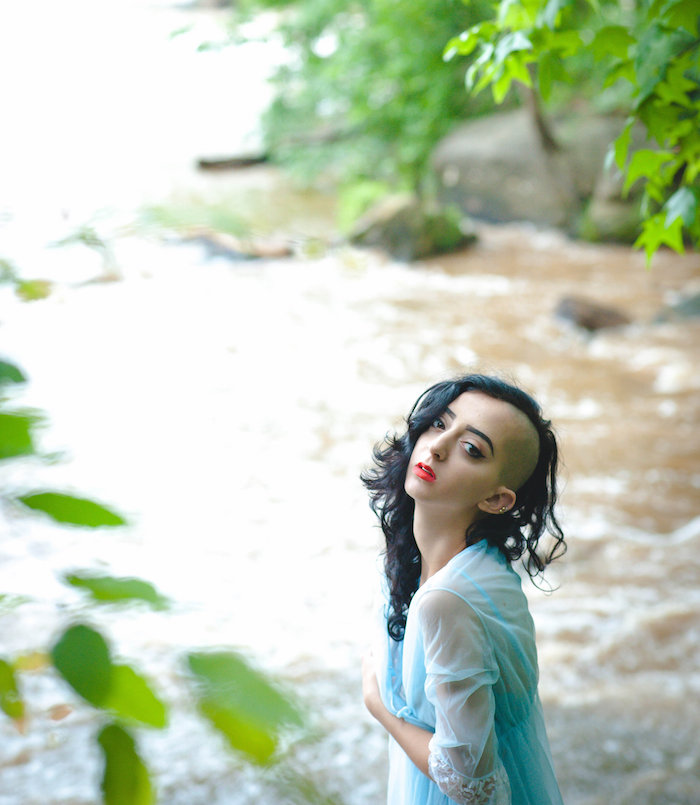 :: TEMPERANCE ::
Temperance speaks of working with opposing elements and using them to find balance. Battle water with fire, earth with air. Temperance is a card of healing, of renewal, a flowing stream promising something better, something easier.
I wanted to interpret this card surrounded by water, with pieces in sweet blue and just a touch of red (lipstick always counts). I picked up this wonderful vintage teddy from the place I work, Hip Wa Zee, and paired it with this sweet little robe I got from my friend Ivory who runs an incredibly curated vintage shop called Forgotten Feather Vintage.
I was feeling very "Secret Garden," and I believe Temperance reminds us to find our own secret garden, our own place of peace. A safe haven to remind us that once we find balance, everything else will fall into place.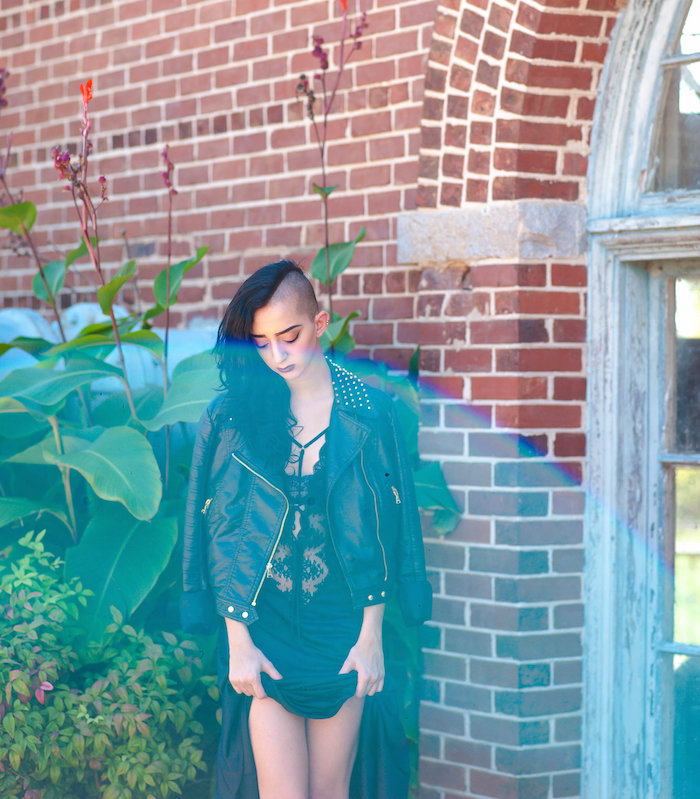 :: THE HERMIT ::
The Hermit speaks of vulnerability, of shedding your layers and moving inward. In the Wild Unknown Deck, the Hermit is represented by the turtle, and the symbolism is both obvious and profound – that underneath your shell, you are your own home.
My spiked leather jacket is like this shell, a barrier between me and the world. It gives me the confidence and strength to own my s***. Pieces like this are  my protection as I move through this life, especially as someone who can be passed over as vulnerable or weak because of my small frame.
I wore a vintage nightgown from Forgotten Feather, something really delicate, to represent the journey inward. Embracing The Hermit means dealing with your own issues face on – finding them, learning from them and hopefully growing from them. It also means picking up your shell, and continuing along your own path as you explore what it means to tune into yourself.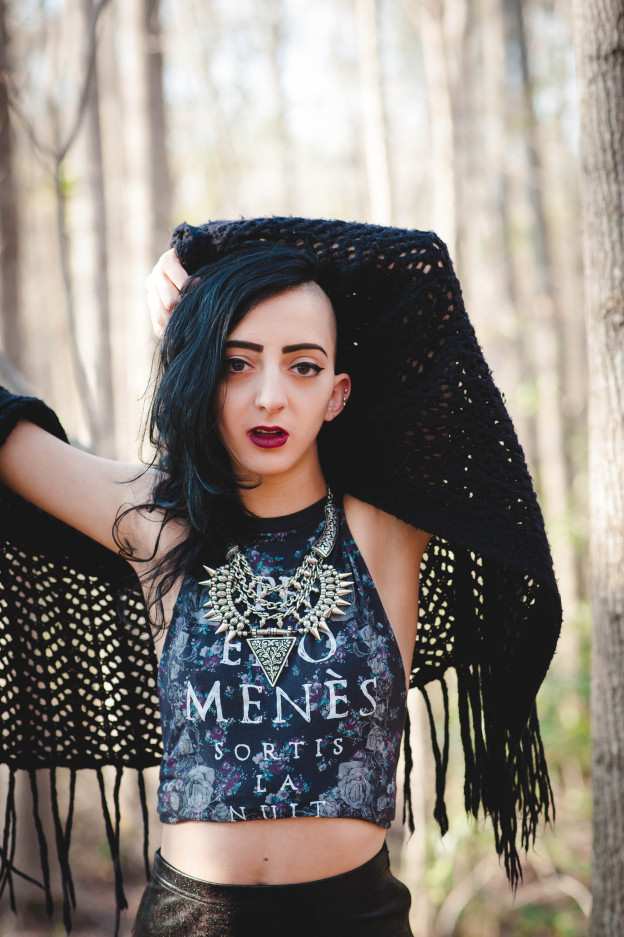 :: THE HANGED MAN ::
The Hanged Man. This card reminds us to change our perspective, let go of ego, and embrace the sense of rebirth that's available when we choose to see things in a new light. The Hanged Man is represented by a bat in the Wild Unknown deck, and just like the bat uses echolocation to see, we are reminded to use our intuition when our own sense of perspective is off.
I chose a floral shirt to represent growth and rebirth and a slick leather style skirt to represent how we must let judgments pass over us without resistance. The darker color pallet and oversize knit shawl were inspired by the aesthetic of the card, and the image of the bat itself. I was inspired by pieces that make me feel powerful, intuitive and strong.
You can check out Gariela's full fashion tarot series at the link.
What card do you channel most often in your fashion choices? Comment below or tag us in your tarot fashion images on Instagram or Facebook!