The 2019 Sagittarius Full Moon brings a moment of clarity in explosive times. Use it to tap into what's True for you, says Sandy Sitron …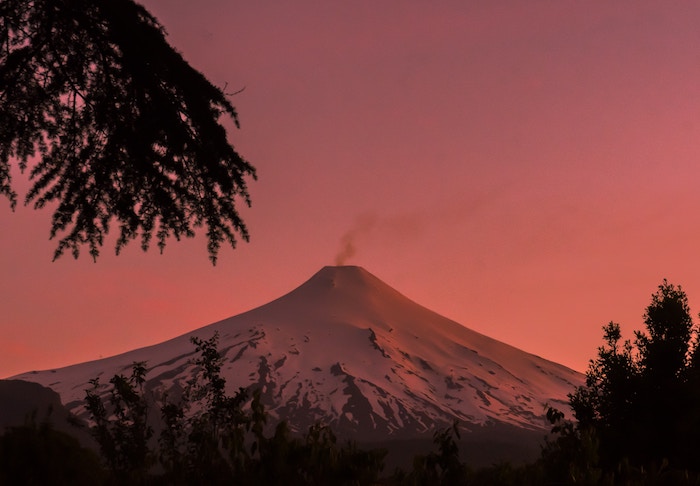 Full Moon // June 17 2019 // 4:31am ET // 25 degrees Sagittarius
Lava flows down a volcano. Each rivulet finds its own direction.
In this image, an eruption has already occurred. The 2019 Sagittarius Full Moon says you can find your own true direction, even in times of stress. Not only must you deal with the build-up of pressure, but you must use it to define your path.
On Monday June 17th at 4:31 am ET there is a Full Moon in Sagittarius. Sagittarius is the sign of Truth with a capital "T." The archer shoots an arrow toward a higher vision for humanity. And the 2019 Sagittarius Full Moon is sidled up next to Jupiter — the ruling planet of Sagittarius. This doubles down on the symbolism of "Truth." It asks: what is your philosophy? What does your humanity represent for you at this time? Where are you headed? Are you optimistic enough to believe that you can get there?
Before we examine the cosmic pressure that caused this volcano to erupt, notice the Truth that feels alive to you right now. There's probably something welling up that you feel is important to define. Some statement you need to make or some stand you need to take.
In the symbol, the lava finds its direction with the help of gravity. It flows down the volcano. The 2019 Sagittarius Full Moon is in a square to foggy, intuitive Neptune. Find your Truth by connecting with inner Yes and inner No. There is clarity somewhere in there, but you may need to do some self-reflection in order to connect with it. We respond naturally to the pull of gravity. Receive the pull of your higher self. Instead of forcing your way to your Truth, get quiet and notice what feels expansive. Go slowly towards your Yes.
At every Full Moon, two opposite signs are activated. This Moon in Sagittarius reflects the full light of the Sun in Gemini. Gemini energy is curious and lively. Gemini sends out scouts to find information, which Sagittarius then distills into the Truth. In the symbol, the lava explores the surface of the volcano. There are many directions to take. You are exploring. But which True pathway will you choose? How will you decipher between the many thoughts, opinions and facts that you are collecting?
In the end you will go your own way. You will need to. But for a moment you may flow in many directions at once. Let it be okay and gather information as you go.
So why did this volcano erupt in the first place? Where is all the pressure coming from? This Full Moon is intense because you are processing a build-up of pressure while at the same time trying to define your direction. The pressure comes from a slew of planets hovering along the Nodal axis. The Nodal axis represents your connection with your Future and Past selves. What have you learned and what will you learn? Where are you headed? What is the big stuff that you are here to do? All of these questions are highlighted by Mercury and Mars in Cancer conjunct the South Node while opposite Saturn and Pluto in Capricorn conjunct the North Node.
You're being asked to restructure your future while putting thought and energy into nurturing your inner child. Remember, this is the pressure that caused the eruption. Something has to change so that you can best align with your future self and your Truth.
The easiest way to orient yourself along the Cancer / Capricorn axis is to think about how you will be a better mother and father to yourself. If you were a little child, how would you parent yourself? Would you live your life differently? How would you structure your day and how would you love yourself better?
Use this question as the key that helps you deal with the pressure. Answer it so that you can set yourself up connect with your North Node purpose. Allow the volcano to erupt. Acknowledge the pressure and make appropriate changes that support you. Then you'll find it much easier to distill the multitude of information that's swirling into the Truth that guides you forward. You'll know exactly where you need to flow.
///
Full Moon square Neptune
The attic hides treasures.
Your intuition can lead you to gold. You need to follow it through the trapdoor and past the cobwebs. When you disappear into the shadows you'll meet with gossamer guidance. Not all is as it seems. That means that you might be confused about which door to open. Keep tuning in and eventually you'll be able to trust your inner guidance.
///
Full Moon conjunct Jupiter
Batting a beach ball high into the air.
Find the most positive thing you know and then push it higher. Optimism is a key. Gratitude is a key. Generosity is a key. You can play with these ideas and watch as your vibration gets higher and higher. There is fun to experience. Let you enthusiasm take you there.