A new booze-free club morning in London is all about creating a high-vibe start to your day. Louise Androlia dons her dancing shoes with her PJs…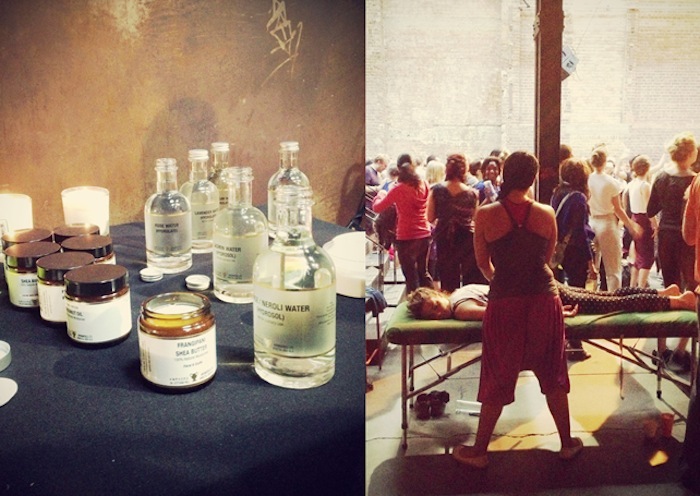 Was it coincidence that as my Tarot reader was suggesting I start my mornings off dancing, I received a text from my friend Nico inviting me to his new 'pre work' rave, Morning Glory? I don't think so. Fast-forward a couple of weeks to a 6.30am start to go raving.
Morning Glory is the new clubbing experience from events producer Samantha Moyo and bodywork therapist Nico Thoemmes. The event is held slap bang in the middle of Shoreditch, London, at The Village Underground and currently runs once a month on a Wednesday, from 6.30 until 10.30am. The idea is that you 'rave your way into the day' in a positive way, so that, fuelled by a good dance and maybe a pre-work massage you can head to work energised and uplifted.
The idea of going raving is usually my worst nightmare. I rarely drink and let's just I'm more of a kale than a ketamine kind of girl. So although I loved the premise of the event, as I walked into the Village Underground and heard music, loud loud music, I was a little nervous.
But within moments it was very obvious this would be different. The room was alive, but in totally the right way. There's a cloakroom so you can arrive in whatever clothing you like (pyjamas encouraged) and then get ready for the office before you leave. By 7.30am I was clearly a late comer, the club was completely full. I was immediately in my people-watching element, as all around me people danced in business suits, gym clothes and nightwear, as well as plenty of festival gear – fancy dress, wigs and sequins.
No alcohol is served, this is a Wednesday morning after all, and it's definitely not about staying up all night and ending up here. But there is a coffee cart, if you need your morning fix, as well as a detox enhancing smoothie bar and four massage therapists on hand to stretch you out before work. There's also a space at the back of the room with yoga mats for you to practise your own morning routine. I lay down for a perfect ten-minute back massage with Gulie Ismail…and then I went and danced.
The atmosphere on the dance floor was welcoming, with no chance of anyone describing this scene as pretentious. I can't help thinking that of course it's going to become a dating hot spot, and it's certainly a healthy place to meet someone. I came alone and so many people made conversation with me. Instead of a very often awkward sober social scene, people were chatting freely.
As I write this I still think…but I hate 'clubbing'. The thing is though, it was so, well, nice.  Everyone was smiling, EVERYONE was smiling. The club was fully lit, so as I looked around I could see all the familiar sights, the wallflowers dancing in the corner, the extroverts on the stage, the couples in their own world, the socialites skipping round the venue. But there was no one crying, no fights, no one puking in the bathroom. Speaking of the bathroom, there was even a 'Refresh Station' table with Tea Tree body wipes, rose water and shea butter samples. No stinky clubbing toilets at this rave.
It felt like being at a really great house party when someone puts on Dancing in the Dark and it's the best moment of your life, except with no hangover ahead. Pretty damn high vibe.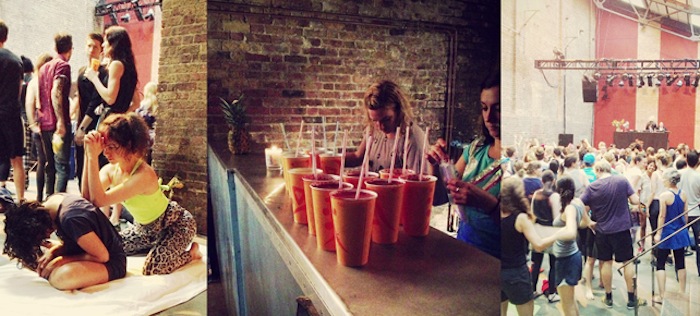 I caught up with Nico to hear more about his idea:
I have to dive in with this, because my first thought was WOW this is so a new dating scene. Have their been any 'Morning Glory' romances yet?
"Possibly! Probably! MG would be the perfect place to find a mate. One sober person resonating with another. Too often people meet in clubs when they are inebriated in one form or another. At morning glory you are 'you', not you + booze/drugs."
Currently this is a monthly event, what are your plans for the future?
"Well we're going to experiment with bi monthly events in London and then over the next six months expand into Brighton and Bristol, as well as taking Morning Glory into business conferences and seminars. Next year we want to fill Trafalgar Square or Battersea Power Station. We're thinking big!"
I really felt a positive energy at the event (I can say that as an Energy Healer right!) Tell me some of your favourite moments so far?
"Morning Glory's success is built on the unbelievable positive energy that manifests in the room. It's so electric and has to be experienced to be believed. Our best moment was listening to a guest who told she had jaw ache from grinning so much."
The next Morning Glory event will be held on September 25th. Tickets cost £10 and are available here. You can find out more about the event at their website, on twitter and on Facebook.

www.louiseandrolia.com
@louniverse