Our sense of smell is a basic bitch. This month, resident sex and spirituality columnist Ellie Burrows investigates a case of scent and sensuality. Image: The author shot by Mikal Marie Evans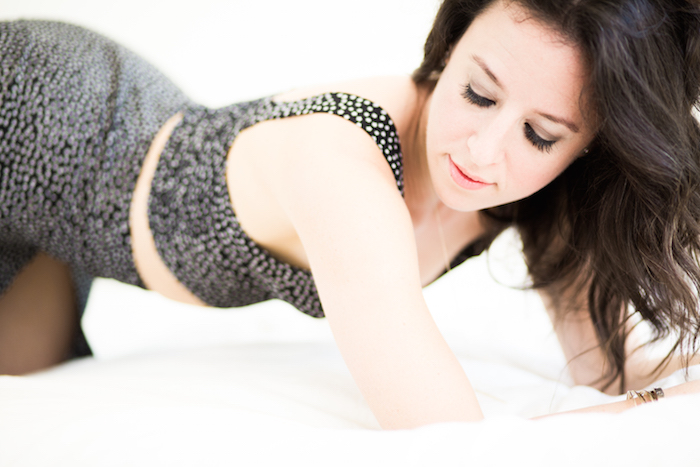 I am a human animal. I know this because I spend most of my time relatively upright asking important existential questions like 'why am I here?' or 'what is the meaning of life?'
But lately, I feel like a complete and total beast. I'm talking about the kind that walks on four legs, doesn't speak, and just sniffs its way around its habitat. Like those kind of animals, I've been at the mercy of my nose.
Recently, I smelled the best-smelling human I have ever smelled in my life. It came from the neck, right behind the ear. No, it wasn't cologne. Yes, it was just skin. The smell was so compelling, so intoxicating, so layered in deliciousness that I was completely and totally hooked from the first whiff. It was a case of scent and sensuality.
Even for a writer, describing the mute sense is challenging, but I think it smelled something like clean laundry, drenched in fresh water, wrapped in sandalwood, sprinkled with bergamot, dipped in Yerba Mate, and peppered with masculine musk. I realize these could be the notes in a ubiquitous fragrance called "Eau de New York City Man," but this scent was specific. It was his scent.
Smell. It's like the basic bitch of the senses. It's the sense associated with Muladhara chakra: the first and lowest, the base chakra. This energetic center has to do with basic needs and survival. No one wants to have first chakra problems: trouble making money, and feeding oneself. If we can't work these things out, it's pretty hard to function in the world. But the smell I smelled, I would happily get low for, like first chakra low. I would literally get on all fours for it.
Sadly, many people are grossly misinformed and rank smell as the sense they would be most likely to forfeit. But smell is associated with the first chakra because it is the origin sense, both in science (did you know our entire brain grew from what was once a primitive olfactory cortex?) and other schools of thought, too.
I'm not a particularly avid bible reader as that's not necessarily how I contextualize my spirituality, but so many of the spiritual parameters of the western world, are rooted in The Book. So it's worth noting that according to the Judeo-Christian piece of the spiritual pie, our nose is how we got our souls: "And the Lord God formed man of the dust of the ground, and breathed into his nostrils the breath of life; and man became a living soul." (Genesis 2:7). And so it goes; no nose, no breath, no soul, no life. The inability to smell is considered a spiritual impairment, as then the body would not be connected to the soul.
Beyond the bible, in all sorts of spiritual circles, smell is wildly important when it comes to creating scared space. Walk through any house of the divine and you might smell Frankincense or Himalayan herbs. When it comes to my own sacred space, I would never sit down to write without burning something like Spider Woman, a handmade incense to enhance creativity from The Sword and Rose in San Francisco.
But sadly in urban society, smell doesn't get a lot of attention unless we are avoiding bad aromas, or being lured into a restaurant by the part of our sense of smell that's connected to our taste buds. And FYI The estimated size of the global antiperspirant and deodorant market in 2015 is $18 billion. That's a lot of hush money when it comes to B.O.
If our sense of smell is the basic bitch, then in modern society sight is like top dog. Although perhaps touch should be alpha when it comes to love, just consider the fundamental M.O. of generation Tinder: we decide whether or not we're willing to even meet someone via Google image.
Now more than ever the Internet has forced us to determine attraction in the context of sight, and this is highly problematic. Your eyes can't tell you important things like if he smells like truffles* – or if he will like the taste between your legs.
I remember a period of time when looks mattered most to me, but that theory went out the window when I met a bald, portly guy who excelled in touch. And in college there was this guys who was totally HST (Hot, Smart & Talented), but something about him smelled like that acronym too – if you add an "I" and rearrange the letters. He smelled of mothballs, stale laundry, last night's beer, and whatever is growing underneath your nails. You could argue that most college guys smelled like that, but there was something in his skin that was repulsive to me. Easy on the eyes, but extremely hard on the nose.
For all the sight hype, looks can grow on you provided you enjoy someone's personality or feel they love you in the way you need to be loved. But I would be willing to bet big money that the same doesn't go for smell. It's too polarizing. It's too ancient and primitive, too deeply tied to good and bad and fight or flight. I couldn't hang around a person who smelled vile no matter how many boxes he or she ticked.
I knew I couldn't write this piece without reading Rachel Herz's The Scent of Desire and in it she writes this: "body chemistry plays a startlingly large role in who we are attracted to, and our nose speaks loudly to our souls even if it seems like only a barely audible whisper."
The smell I smelled on him, spoke unequivocally to my soul – but rather than a whisper, it was an ecstatic scream. It turns out it was actually the mating call of an immune system complimentary to mine, a seed's serenade to its ideal fertile soil. This scent, which scientifically can belong to one person and one person only, was designed for me. And so, my humanity must surrender and be humbled.
I'm an animal. I know this because lately I feel comfortable on all fours and my nose knows the answers to the questions like 'who should I have sex with' and 'how can I ensure my children will survive.'
Fun Facts:
*Some truffles contain a steroid, androstenol, which gives them the musky nutty taste. That same steroid is also synthesized by human males in the testes and secreted by their sweat glands. I love truffles. I love men. Makes so much sense! Makes me want to listen to this.
Also:
No, it's not pheromones.
Why using your nose isn't foolproof.
When Kate met Steven.
Further Reading:
The Scent of Desire: Discovering Our Enigmatic Sense of Smell

by Rachel Herz
A Natural History of the Senses

by Diane Ackerman