Dive into this month's medicine for your sign with our Numinous Tarotscopes January 2019, cast by Melinda Lee Holm. Artwork: Prince Láuder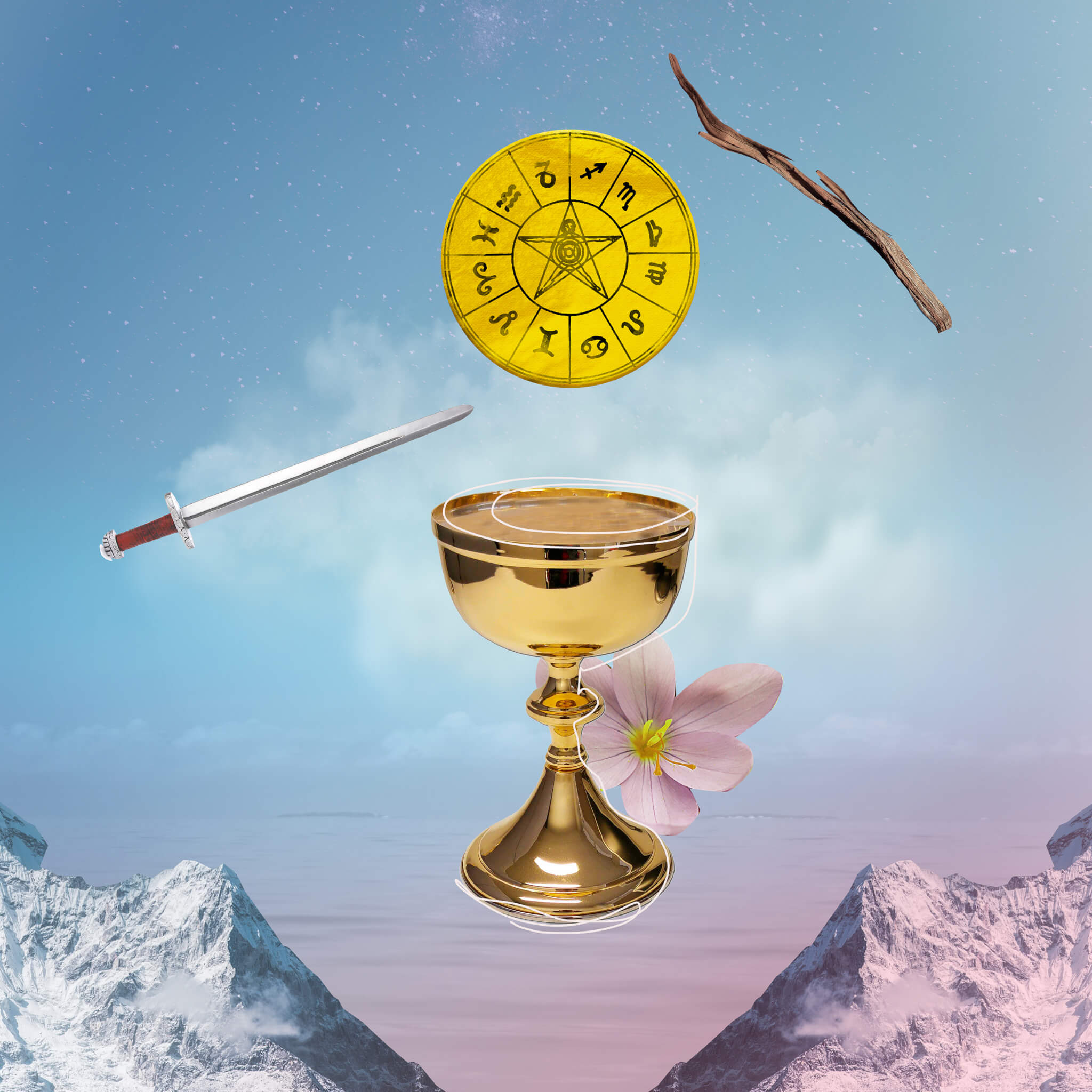 CAPRICORN // CAPRICORN RISING
Judgment
Happy Solar Return, Capricorn! You're starting your year with a major clearing. How major? The depth and breadth and even the volume (spatially and aurally) are all up to you. The beautiful thing about the Judgment card is that it is self-directed. You are the one called to do the digging, to clear the clutter, organize, and finally make some informed and clear decisions about what stays and what goes. This means that if there are some areas that are too sensitive or too fresh to go digging around in right now, you simply focus on another area. One where the soil is loose and easy to move, free of heavy boulders and buried wires. You can choose some light weeding over a major excavation.
However, I do want to challenge you to look for the places that are juuuuuuuust barely ready, that you can push along a little further to get there. This is a major opportunity to make some space for things you want to actively invite into your life this year, while letting go of some long overdue extra baggage. We all have our security blankets – physically, emotionally, and spiritually – and they all have a life cycle. Look around for the tattered remnants of fabric that have started to drag you down more than they lift you up. Launch an expedition to the back of your closet and the bottom of the pit of your stomach to dredge up any rusted treasure you've held onto for too long. Then release it back into the wild and step lightly into your future.
Capricorn stone for January: Fuchsite creates a nurturing atmosphere for the heart to open and release any baggage or past woundings. It helps us to accept the past and move forward with compassion.
///
AQUARIUS // AQUARIUS RISING
Temperance
My dear Aquarius, you are being called to bring a gentle start to the new year. Temperance is one of those cards that makes me instantly release stress. My Cancer Sun and Taurus Moon are attracted to the message of moderation, to not push too hard, to enjoy some quiet even in the midst of pressing deadlines and social calendars. I welcome the reminder to take a step back, pull my foot off the gas, and get a little better view of the horizon before deciding which way to steer the wheel. Are you with me? I am betting on it that you are. Your desire to stoke the flames of freedom in yourself and others makes you well primed to enjoy a chance to gain new perspective that can help feed that fire.
Throughout this month, keep an eye out for ways you can pull back to center. In work, home, love, and all the spaces in between, even out the energy through schedule modifications, dietary shifts, and a full accounting of habits, conscious and unconscious. I can feel you becoming skeptical of what could look like a month of restriction, but remember – this is all in the service of making sure that you have the best possible view on your current standing and situation so you can make informed decisions about how to move forward toward greater independence. Freedom from the constraints of tradition can only truly come when we take the time to examine where we are unthinkingly following a path out of habit, whether that habit comes from our culture, our family, or ourselves. Examine, reflect, and balance it out.
Aquarius stone for January: Amber bathes all that comes into its orbit with warm solar energy. It grounds us in the collective history of life on Earth so we may share in its strength and balance.
///
PISCES // PISCES RISING
The Star
Oh, Pisces, you luscious, compassionate dreamer. Your year begins with the promise of eternal hope, the ancient Divine feminine splendor of The Star. The 8-pointed star is an ancient symbol of the Great Mother, passed down through the ages to represent such notable goddesses as Lakshmi, Ishtar, and Venus. In the Tarot we receive the wisdom of all iterations of this yin energy through their shared glyph. What greater gift than the hope of creation, restoration, nourishment, reconciliation? It's a gorgeous outlook to have, particularly at this moment in time, and for your particular personality type. Your great big heart wants to see and to share the best in everyone and everything. You are being invited to indulge in that optimism and hope.
How can you put this into action? For starters, allow yourself to see the good all around you with a pure heart and without fear of being disappointed. Am I guaranteeing you wont be disappointed? Absolutely not. I'm a Tarot reader, not a psychic. I can't tell you what will or will not happen. What I can tell you is that hope and outcome detachment are not mutually exclusive. Re-read that sentence for me. Now go forth and hope for the very best in and for yourself, your loved ones, and the world! And when you do, every time you do, tack on this little sentiment to the end: "… I will do all I can to help this come to pass while accepting any outcome with a gracious heart." Practice makes perfect!
Pisces stone for January: Purpurite elevates consciousness into the ethereal realms, bringing heightened spiritual connection, and the freedom that comes with it, into daily life.
///
ARIES // ARIES RISING
Two of Swords
You're kicking off the year with a dose of intellectual wisdom, dear Aries. The classic Smith illustration is of a blindfolded woman, conveying what some see as a binding or restriction of her senses. I see her as more of a Jr. High Priestess, able to make a temple anywhere she goes using only the power of her own boundaries and mind. I have a trick I use for coping with traffic. When I see someone driving like a maniac, I say out loud "oh, I hope everythng is ok!", framing their behavior as a response to an emergency, in which case it would be appropriate. I know the chances of them having an actual emergency are slim to none. I also know that I will never know for sure and that this framework keeps me calm and I prefer to feel calm. Instant mobile temple.
How can you reinforce the boundaries of your mind this month, Aries? Do you need to revise any policies about what goes in and what comes out and when?  Your drive to express yourself is an enviable asset. This month gives you a moment to pause and consider whether your current mode of expression is accurately transmitting your message or if there are ways you could be refining the medium and method of delivery. This shouldn't be a heavy thing. If it feels that way, then take a step back and ask for any areas of improvement to be gently revealed to you. We want this to feel more like a fun puzzle than a final exam.
Aries stone for January: Azurite brings a clarity of mind so sharp and profound that it can crack open insights into the Self and the world that blur the line between observation and psychic knowing.
///
TAURUS // TAURUS RISING
Two of Cups
First, Taurus, let me say congratulations. This year it seems we are moving on from the lessons of Earth that fed you all through last year. And no sweeter way to make this transition than with the gift of pure true love. You know very well that true love exists in all areas of life, not just the romantic realm. True love can exist with and between between friends, family members, animals, and, particularly for you, the perfect meal and throw blanket. Love is the ultimate extension of comfort, the feeling that you are completely in the right place at the right time in the right company and that somehow you have been all along. It makes us feel that we are not alone in the world.
This month, spend as much time as you can with people you either know you love or suspect you could. Accept invitations to dinner parties and small gatherings, places where you can actually have a conversation with someone. Be the first to say hello. The more you offer the more you can receive. Think about how big a wave you can make with the force of your Watery push and see how it returns to you after bouncing off the shore of another heart. You could make real, deep connections now that benefit your life in untold ways. I'd even suggest taking the romance question out of it altogether and simply looking for that true heart connection in terms of general human relationship. After all, that's where anything worth pursuing romantically is going to come from anyway.
Taurus stone for January: Blue Tourmaline opens connection with the Divine realm in the service of bringing peace and heightened emotional awareness, and can help resolve emotional trauma.
///
GEMINI // GEMINI RISING
King of Pentacles
Plant those seeds and watch them grow, Gemini! You've got a serious green thumb this month. Exactly what type of seeds is completely up to you, though I highly suggest you keep it in the realm of Earth. This means thinking in terms of practicality, projects, and goals grounded in the material world that you can see and touch. Work is a great area to focus on, but so is anything related to your home. You have access to a certain kind of manifesting magick. The King of Pentacles won't bestow special powers upon you. It's more like it allows you to recognize the special powers inherent in other people and things, so you can organize your goals around the bounty of skills and supplies in your immediate sphere.
The really great news about this energy is that once you've channelled it to sort out your seeds and plant them, it kind of carries the progress forward for you from there. If you take advantage of it this month, you could be feasting on the fruits of your labor for the rest of the year. So, while you're dreaming and scheming big and long-term, keep your January to-do list focused on the preparation and launch of your pursuits rather than getting into the actual execution. Exercise trust and patience and emphasize quality over quickness. Sometimes it feels like we've been waiting forever to mold our dreams into reality (and sometimes that is accurate!) Instead of letting that wait get you down, try to focus that energy into a devotion to nurturing your goals like you never have before.
Gemini stone for January: Amazonite connects the heart and the throat, allowing communication of deeply held desires within and with the world, paving the way to true abundance.
///
CANCER // CANCER RISING
Seven of Pentacles
Time to throw those shoulders back and hold that head high, Cancer! You are spending January overcoming doubt in your own creative abilites. A great way to begin is by applying the old advice to "fake it til you make it" to your physical body, taking on the posture of confidence on the outside and allowing the receptors in your brain to pick up the cue and carry that feeling to the inside. The fear of failure or even worse, harsh criticism, can keep you safe in your shell, mitigating risk and stifling opportunity. This month is your chance to set a new normal for the year, to break through the glass ceiling you've built for yourself and climb on up to the next level.
First things first – eliminate the words "can't" and "should" from your internal dialogue this month. You don't need them. They color throughts with unnecessary limitations. Get creative and more specific with your self-communication. Something seem impossible? Get into exactly why (finances, times, etc) instead of blanket statements that send messages about inherent ability and worthiness. Get in the habit of talking about your goals in the present tense ("I am writing a book" instead of "I want to write a book") and see how quickly you start forming habits that make these statements true. You are an emotionally fueled being. If you follow your heart, Cancer, the productivity will follow and your self-doubt will melt away. This life is yours. Go out and build it!
Cancer stone for January: Cavansite illuminates inner truth, allowing greater understanding of oneself and one's abilities and true potential, and can help with gaining access to ancient wisdom.
///
LEO // LEO RISING
Five of Cups
Be kind to yourself this month, Leo, and allow plenty of time to sink into some watery realms that may be unpleasant or uncomfortable. You are now ready to mourn some old emotional wounds you've likely been avoiding for quite some time. Sometimes when we've been hurt deeply, it is necessary to pack away the emotions in order to get through our daily lives. It is simply a fact of life that we are not always in a position to process our emotions in real time. But at some point, in order to stay healthy and continue to grow as people, we need to go back and recover what we felt and do the work to integrate the lessons and wisdom offered by the experience. That point in time is now.
You can do this work at your own pace, take small bites and chew them thoroughly before digesting, but make sure you begin right at the top of the month so you have as much time and space as possible to do this work. If you don't know where to start, pay special attention to what comes up over new year's. There's something about the one-two punch of the holidays followed by the pressure of glitz and resolutions that tends to illuminate some areas ripe for emotional growth and renewal. How you process is up to you – therapy, journaling, magick, nature, spa therapy, talks with friends, etc. – you just have to do it! Put that Fiery nature to work to motivate and look forward to a fresh emotional start.
Leo stone for January: Jet purifies energetic environments, lightening a heavy emotional load and clearing the way for the development of and will to harness personal magickal talents.
///
VIRGO // VIRGO RISING
The Fool
Ooooo, I like this start to 2019 for you a LOT, Virgo! As a native Virgo Ascendant, I speak here from personal experience and love. Stepping off a cliff with perfect trust is not your strong point. You prefer planning. You're good at it. You can spot a potential wrench in the works from a mile away and almost instantly conjure a solution to avoid or soften it. This month, I want to invite you to set that skill aside and embrace the art of wandering. Opt for curiosity over cunning and allow the world to take you on an adventure. Avoid making advance plans where possible, and instead see what comes up last minute. Trust that the Universe will place you where and with the company you need to expand into the new year.
Keep this as light-hearted as you can. Make it easy. Instead of bringing your lunch to work, wander down the street and see what you find. Take the train instead of driving. Got to the movie theater and buy a ticket for whatever film plays next. Order the special. While these may seem like silly or inconsequential ways to embrace The Fool, they work to set new patterns in your thinking and physiology that will let this energy seep into more serious area of your life, leaving you more open to exploration in matters of career, home, and love. This is where the magic is. Sometimes all of us need a little nudge from the Universe. Too rigid a stance can prevent us from feeling it.
Virgo stone for January: Serpentine loosens attachment to markers of identity and patterns of behavior, allowing movement into a new realm of action and existence free from past boundaries.
///
LIBRA // LIBRA RISING
Seven of Cups
Libra, my beauty, to assist you in integrating your lesson for January, I'd like to impart on you some wisdom from one of my very favorite humans, RuPaul. At the end of each episode of his show, we are asked the rhetorical question "If you can't love yourself, how the hell you gonna love somebody else?" It's catchy, it's wise, and it's poignant, reminding us of all the times we thought we had loved and lost when really we were the ones we were searching for all along. I want you to keep this in mind as you head into a month of conquering doubts in your own heart. I find that of all the Sevens, the Cups can be the most challenging, mainly because emotion is so personal and intangible. It's impossible to measure, difficult to assess progress.
All through this month, be looking for ways to love yourself more completely, more truly. Find out what makes you feel adored, cherished, appreciated. Be a great lover to yourself. As you do, keep track of what makes you tick, what words make up the vocabulary of your heart. Then, armed with this information, you can begin to hold others to these standards, to notice immediately when someone isn't speaking your same language, and not spend too much time getting lost in translations. Know that any doubts you have around what your heart desires or is capable of can be easily overcome when you simply devote your pure, unconditional love to your own heart first.
Libra stone for January: Pistachio Opal promotes regeneration of mind, body, and spirit, particularly around the heart and emotions. It eases feelings of guilt and fear, bringing deep calm and inner peace.
///
SCORPIO // SCORPIO RISING
The Empress
You catch more flies with honey, Scorpio! January has you opening up that gorgeous heart and letting it shine down on everything you want to grow in the coming year. The Empress teaches us that true abundance comes when we feed the object of our desire – a creative project, new business, home improvements, wider circle of friends, anything – with love. It can be frightening and even stressful to open your heart this radically, especially for someone whose heart runs as deep and dark as yours, but with some practice and patience with yourself, this can be an extremely fruitful exercise. The main thing is figuring out exactly what is represented by those proverbial flies so you can beam that love with laser focus and not get burned or burned out.
Spend the first few days of the month figuring out what you want to grow this year. The custom of new year's resolutions usually has us thinking of things we can cut out (resolving not to eat sweets, drink alcohol, waste time, etc), but your focus will be only on what you want more of. Did that grab your attention? I am inviting you to be an absolute glutton for what makes you feel content, accomplished, loved. The trick is, you have to show and tell your appreciation for these things and people out loud, in the open, for all the world to hear. The Empress asks us to be as bold as we are discerning in our declarations of love.
Scorpio stone for January: Black Moonstone carries the energy and wisdom of the New Moon, asking us to open our hearts and our intuition to find what it is we are ready, willing, and able to manifest.
///
SAGITTARIUS // SAGITARRIUS RISING
King of Swords
You've got the gift of gab this month, Sagittarius, and the clarity of mind to back it up. Air of Air, the King of Swords is blowing into your sphere to sort out any tangled thoughts, clouds of confusion, or mixed messages that have been floating around. I spend a lot of time trying to get clients to stop trying to "figure things out," to bring that figuring down out of their head and into their heart and their gut. We humans like to solve puzzles with our big brains and it can be difficult to break the habit. Fortunately for you, you are being invited to lean HARD into that innate human desire and scheme and ruminate and solve as much as you can stand it – and to share your findings with anyone within ear shot.
The communication piece of the element of Air is key. All of those internal musings are really just communications with yourself, transmitting ideas back and forth between different intellectual frameworks and points of view. Communicating internally and externally with clarity and purpose is extremely satisfying both for the person sending and receiving the message. This month is an excellent opportunity for you to polish up and send out any messages that you've been wanting to get across. Be sure to take time to dig up any past misfires to get them cleared up and to make sure your words are not only clear and concise, but crafted to communicate with love. The last thing you want is to have an errant word cut into someone, causing them to hear only the pain and not the truth of your message.
Sagittarius stone for January: Muscovite stimulates mental activities and connects them to intuition and the spiritual realm, ensuring all problem solving and new ideas are grounded in Divine wisdom.