The planet of power, transformation, and absolute intensity can make us want to run and hide. Fear not, says Patricia Clark Hippolyte! Pluto Retrograde 2017 is a super potent moment to embrace our shadow side and let it out into the light…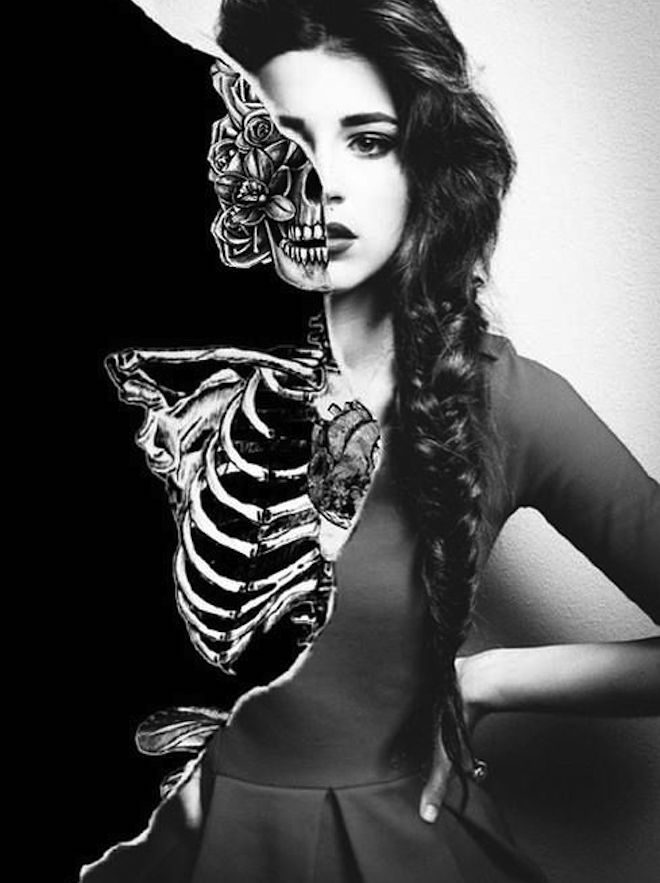 Thursday, April 20th :: Pluto Stations Retrograde :: 19 Degrees of Capricorn
Thursday, September 28th :: Pluto Goes Direct :: 16 Degrees of Capricorn 
All retrograde cycles allow us to return to the scene of the crime, so to speak. "Why am I dealing with this again?!" you may wonder. That's the point of a retrograde—any issue that comes up for you will have to be dealt with three times over before you can learn the lesson.
Picture it this way. You're driving along and go over a speed bump. Then, you put the car in reverse and go over it a second time. And then, you put the car in drive and go over the bump a third time. Simple enough! Except when it's a Pluto retrograde. This presents a considerably more challenging situation…
Pluto can have bad reputation in the cosmos. But this relates merely to the "lower octave" of the planet's energy. For example, we'd all like to think we take the higher ground, but we also all have stress, jobs, family, and partners that wear on us. And sometimes we make decisions from a place of insecurity, and end up living a life of deceit rather than face the shit storm. Life is not as pretty as we'd like it to be. We don't want to admit that it's complicated and messy so we lie: to ourselves, and to others. This is unrefined Pluto energy.
But Pluto doesn't lie, people do. You've heard the saying "the house always wins"? Well it's the same with Pluto. This planet's influence can lead us into shadiness OR it can invite us towards transformation by asking us to step into the darker version of ourselves, the shadow self.
With Pluto transits, it can feel as if the elephant in the room can no longer be avoided. And if you're willing to surrender to Pluto's challenges, you can harness his transformational edge. Pluto protects us, keeps us on our toes, and magnetizes us to objects of desire. And after Pluto has taken you down, down, down, there is an immense potential for personal growth.
Cause without the darkness…there is no light, right?!
>>>
To discover what lessons Pluto retrograde has for you, check out where Pluto retrograde is backing up in your birth chart right now. This means look to the house with 16—19 degrees of Capricorn. 
When Pluto transits a house, it makes for some interesting transformations relating to that particular area of life. Think change, regeneration, and perhaps a little bit of secrecy and subversion. Pluto digs up what we've buried. But don't worry—these changes are inevitable and necessary. Embrace whatever is surfacing!
>>>
:: Capricorn Rising—1st House :: Changing how you see yourself and reshaping your personality. Getting a grip on unconscious drives and urges to control people, situations and, well, … EVERYTHING!
>>>
:: Sagittarius Rising—2nd House :: A value system overhaul—both psychologically and materially. Don't buy the McMansion just yet. You may yet discover it's not what "luxury" truly means to you.
>>>
:: Scorpio Rising—3rd House :: Intensified thought processes and conversations. Be wary of black and white attitudes that bypass the gray, and rule out the opportunity for productive discourse.
>>>
:: Libra Rising—4th House :: Grappling internally with problems from childhood and family … it's always Mom, isn't it! On the outside, changes in your relationship to home—repairing your living space or moving entirely.
>>>
:: Virgo Rising—5th House :: Intensified relationship patterns—either the beginnings of a magnetic new relationship or the break down of old patterns in a current relationship. If you have children, there may be some power struggles!
>>>
:: Leo Rising—6th House :: Transformation of your health and daily routine—physical regeneration through good dietary choices or a possible breakdown of poor dietary habits.
>>>
:: Cancer Rising—7th House :: Embarking on an "amazing 'til it isn't" relationship or being challenged to change your present relationship. Seeing power plays in partnerships for what they really are.
>>>
:: Gemini Rising—8th House :: Be careful with any joint possessions or other people's resources—think your spouse's or employer's. Also a time to get familiar with any unmet desires.
>>>
:: Taurus Rising—9th House :: A great moment for absorbing and learning from experience, and gaining new knowledge. What beliefs have you been blindly holding onto, and where are you getting woke?
>>>
:: Aries Rising—10th House :: If you know where you're at with your career, there's a good chance of success at this time. If you're uncertain, there's a high chance of a total change of path.
>>>
:: Pisces Rising—11th House :: A perfect time to seek out more like-minded friends who will aid you in your transformations. It's also a good moment for prioritizing actions that truly give back.
>>>
:: Aquarius Rising—12th House :: A game of psychological chess with yourself! It's time to deal with old patterns and behaviors that worked in childhood but don't translate now (read: no more tantrums on the floor!)
>>>
Patricia Clark Hippolyte has been seeing stars for well over two decades. With international private readings and intensive three-day courses, she reveals astrological ciphers that help people work with their current and future planetary involvements. Though the stars often shine a painfully bright light on the realities of daily life, remember: starlight is better than no light at all.