Cast by Lindsay Mack using the Starchild Tarot …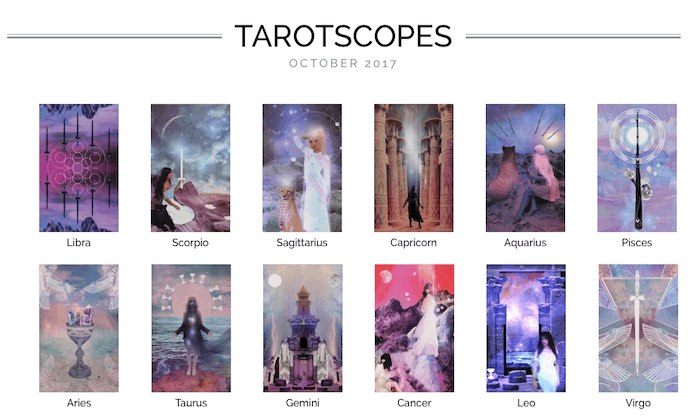 LIBRA :: LIBRA RISING
Ten of Swords, Rx
Happy turn around the sun, sweet Libra! This is a month of transformation and integration for your whole sign. It is a cosmic fresh start. Don't let this card scare you—it's bringing nothing but good tidings your way. There have been so many dark moments for you this year, Libra. Now, believe it or not, the sun is truly going to start shining on your life. Difficulties will begin to melt, old patterns will begin to shift and change. You've already done the work, loves. This month will be a beautiful new beginning, one that will prove to you how much you've transformed over the last year.
Ten of Swords Rx is much softer, much kinder, and much more positive than it's upright sister. The upright energy of Ten of Swords indicates a moment in our lives when we need to simply do, not think. This card leaves us zero room for victimhood, rumination and indecision. The old way is done and gone—there is only forward, into the new and unknown. The reversal, Libra, is a signal that you're about to reap the fruits of having gone through that intense journey. It is done; you made it, whether you knew it or not!
Each one of you, in a critical moment, chose what was necessary, instead of what was easy. You said yes to wherever your soul was calling for you to step up, despite the discomfort—and it is going to be paying off for you in spades. You've been warriors, and now it's time to move into transformation and integration, taking all that you've learned and channeling it into wisdom that you can share with others. Bow to yourself, loves. Honor your work, honor your courage, celebrate your soul growth. You deserve it, and then some.
Cast by Lindsay Mack using the Starchild Tarot. Want more wisdom? Book a reading with Lindsay here and follow her on Instagram.
>>>
SCORPIO :: SCORPIO RISING
Queen of Swords
Queen of Swords is here to help you ground, Scorpio. To help you root back down into your communication, your truth, and your trust in life. Queen of Swords is ruled by water and air—she is a fierce archetype. She shows up when life feels a little too ungrounded, when our mind and heart can turn in on us, flooding us with confusion. If even a sliver of us is out of alignment, she is there with her sword, ready to slice through any BS that doesn't serve us. She is the energy that arrives when both our thoughts and emotions are contractive and limiting.
We may feel that we don't know what's going on, that we can't quite find our footing. Over and over again, Queen of Swords will show up in those moments and help us expand and trust in ourselves again. You are ready for this deep clearing, Scorpio. Many of you have been working through some very old, calcified belief systems in this recent Pluto Retrograde (which began April 20th and ended September 28th). It is time to both release the lessons, and the old karmic patterns that you were made aware of again — and it's time to begin a new leaf around communication.
Confidence in speaking your vulnerable truth is really what Queen of Swords is here for this month. She is here to help you open your heart and your throat chakra so anything that blocks you from sharing in moments of contraction can be cleared. Even if you are a clear talker, Scorpio, that doesn't always imply truthful, emotionally rooted communication. Why is this so important? So you can begin to receive more guidance in the difficult moments of your life, rather than holding everything in. Do the deep work, let your truth shine, feel the support all around you.
Cast by Lindsay Mack using the Starchild Tarot. Want more wisdom? Book a reading with Lindsay here and follow her on Instagram.
>>>
SAGITTARIUS :: SAGITTARIUS RISING
Three of Crystals, Rx
If you don't like the way things are going in your life, Sagittarius, do something about it. I'm serious! This is the month to make a change. If you've been waiting, unsure, contracted and scared, this is the sign you've been waiting for to take a leap into something new. If you've been planning on that all along for this month, congratulations—you are right on! Now is a time to begin to embrace an exploration of self, to tune in with what doesn't work, and stretch a hand out to whatever might make your soul sing.
You may not receive the kind of clarity of purpose that you are longing for right away, but you will have started a new chapter. Just by leaving what doesn't serve you any longer, you'll be half way there. Three of Crystals, or Pentacles, is a beautiful energy, one that usually shows up in a reading when we are doing exactly what we are meant to be doing with our lives. It usually feels like that, too! There is a true sense that we are working in a way that is in alignment with our soul purpose.
The reversal isn't that things are out of alignment, necessarily, but they might feel funky. It might feel tough to pinpoint the source of the discomfort and unrest around our place in the world. It usually means that we are ready to expand to the next level, ready to upgrade—and with this reversal, it usually means that we must leave something behind in order to do so. So, my loves, don't complicate it this month. If you need to end something, end it. If you need to speak your peace, speak it. If it's time to quit, time to move, jump in and trust yourself. It'll pay off in spades.
Cast by Lindsay Mack using the Starchild Tarot. Want more wisdom? Book a reading with Lindsay here and follow her on Instagram.
>>>
CAPRICORN :: CAPRICORN RISING
Transformation
October is another profoundly transformative month in a series of many for you, Capricorn. You have definitely been riding out some major changes over the last year. I invite you to reflect for a moment: where were you last year at this time? Six months ago? One month ago? I guarantee that the evolutions that you have moved through are markedly profound, whether you were feeling them internally or externally.
How did this last year change your life? How did it change you? What did you have to do—or not do—to get where you are now? And, perhaps most importantly of all, what are you still being called to release, or surrender to? Where are you ready to bloom open in a whole new direction? It will be crucial for you to meditate on these inquiries in October, Capricorn—the Death card is here to help. Transformation, or the Death card, is nothing to fear, just like change and loss of control are nothing to fear. The ego hates the feeling of not being in the driver's seat, but the soul is right at home in the unknown.
You're beginning, slowly but surely, Capricorn, to value your intuition over your will. This is truly the crux of what The Universe has been guiding you through for the past year. It's certainly not to say that your amazing discipline and work ethic won't still be a foundational part of you. You're just building in new gifts, getting a deep lesson in pausing and surrender before stepping into anything new. You are continuing your process of being cracked open again and again, all to drop you into deeper alignment with your intuition. Keep reflecting on how much you've changed—the Death card will only be furthering that transformation this month.
Cast by Lindsay Mack using the Starchild Tarot. Want more wisdom? Book a reading with Lindsay here and follow her on Instagram.
>>>
AQUARIUS :: AQUARIUS RISING
Seven of Wands
Sevens in the Tarot are invitations to do inner work around what feels like an external situation. Seven of Wands is specific to identification with a role, position or title, usually one that has shifted from under us, or that we have outgrown. Where in your life is it time to redefine yourself, Aquarius? October will be the month to find out.
Where in your life is your ego most identified? Take a moment and feel that question resonate through your body. Is it a name, a title, a position, or a role you play out in your life? Is it your sexuality, your economic status, or your job title? It is the need to be coupled with another, or defined by a relationship? Is it the need to have specific commitments, or no commitments at all? Do these identities feel freeing to you, or limiting?
If you are defending a position, or aligning with an identity that you've already outgrown, bow to it and honor it — no shame or judgement in that whatsoever. Just understand that Seven of Wands is here to offer a potent liberation in that area, a gentle homecoming to the infinite nature of our being. It is a reminder that it's safe to let things go, to change our minds, to relax into something new. Identities are beautiful, but when they begin to limit us, we need to go down to the roots and investigate. October will be inviting you into just that kind of work, sweet Aquarius. Welcome it's presence—you are the kind of spirits who cannot be tied down when it doesn't feel right! It might be intense to let go of an old title, identity, or role that you cherished, loved, and found yourself in, but if it doesn't resonate any longer, it's time to shed it.
Cast by Lindsay Mack using the Starchild Tarot. Want more wisdom? Book a reading with Lindsay here and follow her on Instagram.
>>>
PISCES :: PISCES RISING
Ace of Wands
October is your month, Pisces! Ace of Wands is an incredibly expansive energy, one that feels like a rebirth of self. It is an artistic explosion, ripe with focus, clarity and inspiration around what we love, and most desire to create. You have been in some deep cocoons over the last few months. Now, you are fully out of your chrysalis, your beautiful new wings shimmering in the sunlight. Now is the time to make, to birth, to create and to spark the flow of your passions. Ace of Wands brings divine inspiration, huge new ideas and very exciting opportunities. You deserve them in spades, loves. Seize your flame and run with it.
The wild, raw, creative juices will be flowing—your job is to give them structure. If you are making music, block out time every day to play and record, whether you like what you're doing or not. It's the doing that matters, not necessarily how we feel about it. Over time, that discipline pays off! The same thing goes for anything that you are breathing creative life into. Don't think about it too much, just let yourself get your hands dirty. Play, experiment, and let it be joyous. Be sure to intensely protect and defend your sacred creative time—when the work knocks, answer.
Ace of Wands in your month of October will really feel like you're turning a new leaf. Your souls have been waiting for this moment, when your internal process can finally join hands with an external expansion. You are ready to birth something new and beautiful into the world, something that only you could bring. Celebrate the shit out of that, and enjoy every moment. If there was ever a time to feel the fear and do it anyway, this is it.
>>>
ARIES :: ARIES RISING
Ace of Cups
The entire month of October is a beautiful heart opener for you, Aries. Again and again, you will be flooded with opportunities to fall in love with your life—and yourself. Things have shifted for you since you moved through the Akashic Records card in September. Karmic patterns were totally shifted, new cycles were born, and the potential for expansion was, and still is, enormous. Those of you who said a courageous yes to those invitations have begun a transformation that will continue to unfold in the coming months. It begins here, in October, in the glorious energy of Ace of Cups.
Ace of Cups is a gentle and gorgeous invitation to open the heart to a new level of love and intimacy. It is a truly advanced level of emotional connectivity. Everything you touch this month will have the potential to be medicine for your heart chakra. You are changing, Aries—softening and blossoming, open to ease and grace in a way you've never been before. You moved through a mighty process this year, and things are truly beginning to shift in another direction for you. The old things that used to matter and control your life are largely processed. Now, what you're left with is pure potential, and pure open heartedness.
Say yes, as often as you can, to anything that brings you into oneness with another, or with yourself. Drink of the cup that is the wellspring of your innate lovability and worthiness. Ace of Cups has a beautiful ability to connect us with experiences that expand us. Be open to sudden, random acts of kindness. Be open to meeting new people—perhaps deep new friends, or a beloved. But most of all, be open to embracing the wisest, fiercest, gentlest teacher on the planet: your own sacred heart.
Cast by Lindsay Mack using the Starchild Tarot. Want more wisdom? Book a reading with Lindsay here and follow her on Instagram.
>>>
TAURUS :: TAURUS RISING
Nine of Cups
Nine of Cups is such a delicious energy for you to be flowing in this month, Taurus. It is the perfect card for you, beautifully aligning with your earthy nature. This month might feel like an interesting mix of busy and dreamy, which is just the way you like it! Busy with what life will be asking of you in the day to day—dreamy with your hopes and desires for the future. Indeed, nines in the Tarot are always about wrapping up, clearing an old pattern while simultaneously preparing for a new cycle to emerge. That's why October might feel like a funny blend of energies in moments, but I promise you'll most likely enjoy every moment of it.
Nine of Cups is the wishing card. There's an air of mystery and magic wrapped around the very essence of it. It's true—when we flow through this card, it's almost like moving through New Moon energy. The time becomes ripe to plant seeds of intention for the future. We are encouraged to dream big, to wish big, to let our hearts run wild with delight. Nine of Cups is rich in potential and possibility, so let this energy take you far! What will be asked of you this month, Taurus, is to seriously upgrade your wishes in this life.
You will be drawn strongly into upper limit issues, areas of sensitivity around money, love, and general ease and grace in your life, all to investigate where you're being called to upgrade. This card, and this energy, is where we want to step out of our comfort zones, to dream bigger than we ever have, to ask for more than we ever have. It might feel scary and vulnerable, but that's our work in the Nine of Cups: to identify discomfort, and let our wishes bloom accordingly.
Cast by Lindsay Mack using the Starchild Tarot. Want more wisdom? Book a reading with Lindsay here and follow her on Instagram.
>>>
GEMINI :: GEMINI RISING
The Tower, Rx
Here you are in the energy of the mighty Tower again, Gemini—the second time in the last few months. That's a lot of deep recentering and clearing! Fortunately for you, The Tower has shown up reversed for your monthly medicine, which is a much softer energy. Let's drop into why that is, and what it's bringing you. For starters, you are changing, Gemini, that much is clear. There are very, very big things at play, most of them happening in a very subterranean way right now. Think of tectonic plates shifting beneath the ocean, slow, powerful, and ultimately transformative.
It is absolutely time to ask some big questions. Is your life fulfilling you? Making you happy? Do you feel like you can release some of what holds you in places of overwork, exhaustion, or even burnout? In other words, Gemini, are there aspects of your life that you used to adore, and just don't anymore? If so, that's okay! Just admit it to yourself. That's part of why The Tower is here, working with you this month—to help guide you through the slow process of waking up to what you're truly, in your heart, ready to say goodbye to.
The Tower comes to free us from something we are no longer meant to walk with. The reversal is much softer, and lives firmly in the internal realm. In other words, Gemini, you will be experiencing the clearing of The Tower in a subconscious way this month. Pay attention to your dreams and feelings, look deeply at the structures of your life, and of your inner experience. Let the process flow on its own time; commit to being a quiet, curious observer of your internal landscape. There is much for you to see this month.
Cast by Lindsay Mack using the Starchild Tarot. Want more wisdom? Book a reading with Lindsay here and follow her on Instagram.
>>>
CANCER :: CANCER RISING
Six of Crystals
Where are you in your relationship to receiving right now, Cancer? October is presenting you with an important opportunity to pause for a moment and consider this. Are you burned out? Bored? Feeling overextended? Are you truly receiving as much as you give? Are you talking yourself out of being "ready" to be of highest service, feeling like you have nothing to give to others at this moment? To get clear on where the current energetic levels are in our lives, we have to ask these questions, and follow them down deeply.
We might not feel burned out, but we might be feeling anger. We might not be angry, but we might be feeling distracted in our work. No matter what, it shakes out to the same thing: there is an energetic balance in our lives with our giving and receiving. It may be profound or slight, but no matter what, it is important that we pay attention in order to correct it. Wherever you are in this moment is perfect, Cancer — even if it's a tough, or highly unbalanced place, energetically speaking. It's here to teach you something, and Six of Crystals, or Pentacles, is here to help facilitate a greater embracing of that balance, a sacred ebb and flow.
In Six of Pentacles, we receive by giving, and give by receiving. The healer gets a healing, and the person offering it gets filled up by serving another person. What this card truly offers us is the wisdom to know when to fill our well when we need it, and to only serve another when we are at an overflow. Begin this revolution with yourself, Cancer. How is your well? Whatever you need, giving or receiving, may you be overflowing and abundant this month and always.
Cast by Lindsay Mack using the Starchild Tarot. Want more wisdom? Book a reading with Lindsay here and follow her on Instagram.
>>>
LEO :: LEO RISING
Knight of Cups
Sacred balance is your medicine this month, sweet Leo. Everything you do in October will be in service of recalibrating your spirit, helping you to feel more deeply aligned with your life path, and your purpose. Part of this will be facilitated by leaning into the soul essence of the Knight of Cups, who invites us to live in as much ease and grace as possible, even through contraction.This archetype reminds us that even the toughest times can have a stroke of beauty in them. You have spent the last few years considering this idea, learning to trust goodness, letting yourself sink deeper and deeper into receiving.
It can feel scary to be willing to choose grace in difficult moments, to lean into our faith that things will recenter, even in darker times. And yet, slowly but surely, you have created a life where that is beginning to be the norm for you. Your nervous systems have really gone through a powerful upgrade; new neural pathways have been formed. Knights bring movement and messages, powerful invitations to embody their essence and infuse it into some part of our lives. Letting things be amazing without worrying about what's coming next, or without panicking that it will all fall apart—that is your task for this month and beyond.
This is what is getting cemented in you this month, Leo—a rebalancing of heart and head, of mind and soul. Choosing to align yourself with grace and beauty, even in challenging moments. Root down into yourself and feel the fullness of the support all around you. Doing so will open you up powerfully to the realms of imagination, the mind, and the dream space. Let it be beautiful, and inspiration, abundance and new opportunities will flow into your life.
Cast by Lindsay Mack using the Starchild Tarot. Want more wisdom? Book a reading with Lindsay here and follow her on Instagram.
>>>
VIRGO :: VIRGO RISING
Ace of Swords
Ace of Swords is a perfect energy for you to be flowing in this month, Virgo. It's got your name all over it: potential for inspiration, clear mindedness, powerful downloads, and massive opportunities to make great headway on any ideas that feel deeply exciting and aligned for you. It's a wonderful blend of your natural sensibilities, and the organic potency of this card. Embrace it with all you've got; it's bringing some wonderful things your way.
Put simply, loves, the presence of the Ace of Swords is a powerful indicator of new ideas and new projects on the horizon. It could present the opportunity to study, channeling new things, absorbing exciting knowledge from others. It is often an indicator of major ideas being ready to come through us. No matter what, it's nothing but eureka moments and strokes of genius with this card. Expect to be intellectually stimulated, and to have many different sources of inspiration flow through you as the month goes on.
As with any Ace, this energy is a gift from Divine that we have to reach out and receive, rather than assume it will just be placed in front of us. Empower yourself to work with this energy in a really intentional way. Take time to inquire deeply, Virgo: what kind of life scenarios best facilitate clear thinking and powerful study for you? Whatever they are, wherever they are, say yes to them, and take the first step. We want to be focusing on the mind and the heart being as open as they can to these downloads. We are also encouraged to say a gentle no thank you to anything that distracts or does not serve us at this time. Ace energy is powerful and magical, loves. Let yourself be fully available for it.
Cast by Lindsay Mack using the Starchild Tarot. Want more wisdom? Book a reading with Lindsay here and follow her on Instagram.