Cast and Channeled by Lindsay Mack, using The Starchild Tarot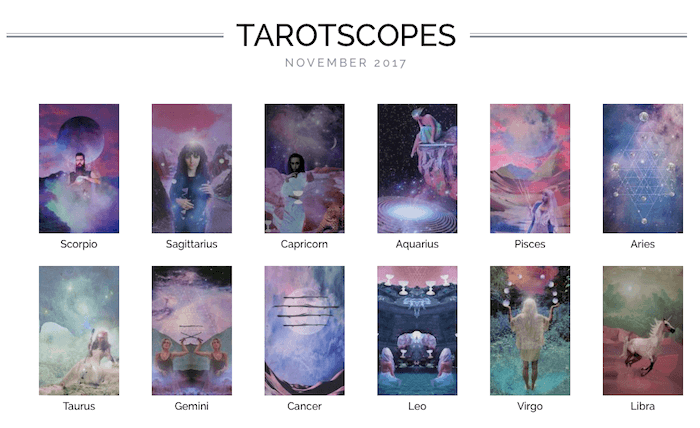 SCORPIO :: SCORPIO RISING
Knight of Crystals, Reversed
Trust the timing of your life, sweet Scorpio. This is the best birthday gift you could give to yourself. The pace at which you are moving and evolving is perfect, exactly correct for where you are in this moment. Trust it, with absolutely no judgements, no comparisons, no explanations and no apologies. If you are feeling uncomfortable with the way that things are flowing for you, it's time to look at what is underneath the present moment.
What are your expectations of your life, versus the reality? What does it mean to embody the belief that you are taking care of more spectacularly than you could ever imagine? Are you used to pushing things into fruition, hustling through your days? What if life could be easier than you believed it could be? These are all important inquiries to drop into during the month of November. Your whole sign has been going through a deep and powerful upgrade. There is no more room for lack of belief in yourself, no more room for pushing against the flow of your soul. Knight of Pentacles is here to help shift any old, outdated beliefs around trusting the timing of your life—the reversal, even more so. Any Knight in the Tarot represents movement and action.
Each Knight moves at a different pace, brings a different kind of medicine for our highest growth. Knight of Pentacles is slow, steady, aiming at the target and not letting go of the arrow until everything is fully lined up. When we receive this card reversed, we are fighting against the timing, whether overtly or subtly. If you want things to start moving, start trusting, and hang out in this moment. If you can surrender to what is, practicing trust and willingness, life will open up so much more for you.
Cast by Lindsay Mack using the Starchild Tarot. Want more wisdom? Book a reading with Lindsay here and follow her on Instagram.
SAGITTARIUS :: SAGITTARIUS RISING
Page of Crystals, Reversed
November is a time to slow down a little, Sagittarius. You might not want to, but that's perfectly fine—there's just some more beautiful work to do around surrendering. Page of Pentacles reversed can often arise when we feel like we don't know what the hell we are doing, or what direction we are pointed in our lives. It is a feeling, not necessarily a fact, so we have to take the time to inquire around that with this reversed Page.
This card can arise when we are running around without taking the time to drop in and become still—or, it may arise during very important time of transition, where those rudderless feelings are totally appropriate. Either way, slowing down, breathing, and taking space are all deeply nourishing acts of love this month. There is much to learn, understand and see, we just need to carve out a little time to sink into those deeper questions. If you can give yourself that gift in November, Sagittarius, you will feel like a totally different person on the other side of it.
Page of Pentacles is the deep thinker, a being that asks the kind of questions that get right to the heart of the matter, doing so with total innocence and curiosity. Why are we here? What's our purpose? What do we need to learn about ourselves? Receiving Page of Pentacles in a reading is a chance to go on a deep journey of the self, to discover who we *truly* are. You are on this journey as a whole sign, Sagittarius, but you might be getting a little sidelined on your way to ask those questions. There might be a little hesitation, a little resistance, or you might be too busy. Whatever it is, it's an easy fix. Start with gently slowing down, and the rest of what you need will follow.
Cast by Lindsay Mack using the Starchild Tarot. Want more wisdom? Book a reading with Lindsay here and follow her on Instagram.
CAPRICORN :: CAPRICORN RISING
Queen of Cups
How deeply can you let yourself flow, Capricorn? How subterranean can you allow yourself to be? Queen of Cups is calling, beckoning you to the garden of your heart, to the ocean of your being, to the center of your intuition. Queen of Cups is a double water energy. She is profoundly psychic, profoundly deep, and wholly receptive. She listens with every ounce of her being, living on a kind of island of her own making. This is the month to drop in deeply with your spiritual practices, to tune in with your higher self, to remember the deeper reasons for your incarnation here.
It might also be a beautiful time to go deeper with your guides, and your council, if that is a part of your life practice. When Queen of Cups shows up, she wants us to embody her. How can you step into a kind of life flow like this? If you can slow down enough to let yourself wade in the water, rather than doing Olympic laps around the pool, there will be beautiful messages from the unseen this month. It's a subtle shift. Gentle, instead of forceful, easy, as opposed to challenging. It might feel funky at first, but you'll get the hang of it.
There might be deep things to discover in this card, or it might just mean that you are being called to take a break, to shift into a more receptive flow of your life. Whatever the Queen of Cups presents to you, I encourage you to make room in your life for it. The first step is not over scheduling yourself. The second step is leaving a blank space for journeying where your plans and activities might be. Slow down—there is much to gain this month by doing so.
Cast by Lindsay Mack using the Starchild Tarot. Want more wisdom? Book a reading with Lindsay here and follow her on Instagram.
AQUARIUS :: AQUARIUS RISING
Knight of Swords
You are in the energy of Knight of Swords this month, Aquarius. Your mission with this powerful archetype is clear, potent and singular: do, don't think. Do. Don't think. So simple, right? If you can make it your mantra, this month will be profoundly fruitful for you. It will open your eyes as to what you are capable of achieving. Anytime we are in a Knight energy, we want to think about the way we move through the world. How are we walking through our life? Knight of Swords is a double air energy. This being is moving like the wind, on a powerful mission! You are being invited to embody this frequency in November, Aquarius.
When Knight of Swords shows up, he's bringing a kind of magic to our life. That magic is here to show us that we are capable of doing things we never imagined we could do—in a wonderful way. That we are able to move and accomplish things we never imagined we could do, all without becoming exhausted, all without burning out. It's a massive yes to whatever arises, and then we just do it, instead of bemoaning how hard and intense it's going to be.
We don't spend time thinking about it. The more we think, the more we may talk ourselves out of what life wants to drop it to us. Knight of Swords brings only amazing things, so consider being open to new opportunities, new assignments, and new learning experiences. Consider that you are able to go further, and to do more than you believe you can. The more you practice presence, just being with the flow and the pace of your life, the more you will astound yourself. It's a juicy month, so hop on your horse and fly with it!
Cast by Lindsay Mack using the Starchild Tarot. Want more wisdom? Book a reading with Lindsay here and follow her on Instagram.
PISECS :: PISCES RISING
Five of Wands
November is one of those months, Pisces, with a very important, and very subtle invitation for your highest good: don't commit to anything until you're ready. Seems easy enough, but that's not always the case when we are in a Five energy. Fives are the contraction cards of the Tarot. They represent potent, and often uncomfortable opportunities for our growth. We want to take care to not make decisions from contraction in this life.
When we contract, it is hard to see the big picture. We might be inundated by fear, anger, or desperation. Those energies do have carrying power, but not for long. Usually, after a giant burst of movement in a contraction, we can find ourselves more twisted than ever, with a side of regrets and an empty gas tank. You have this wonderful opportunity to allow November to be a time of deep restructuring, to allow yourself to process and release some big emotions. While you are in this month, loves, your ego may really want to be moving and grooving. The more you move, take action, make decisions from a Five place, the harder it will be down the road.
Five of Wands is like five different pieces of music all playing at full blast at the same time. It can feel very combustive, and is ultimately a powerful creation energy. It can charge us up to the point where we want to run with it, but how can we know which voice is the truth? If you can let the volume come down, and the dust settle, everything will be clear as to your next step. Really commit to a practice of pausing in November. Let this month pass, let it do it's work on you, and allow the new horizons you are seeking to unfold organically.
Cast by Lindsay Mack using the Starchild Tarot. Want more wisdom? Book a reading with Lindsay here and follow her on Instagram.
ARIES :: ARIES RISING
Ten of Pentacles
It doesn't get much better than Ten of Pentacles, Aries. Once again, this is your month. You've been on a beautiful streak of expansion as of late, and this energy is no exception. November is all about harvesting for you. You've planted some absolutely beautiful seeds, and you've worked your ass off tending to them, caring for them, nurturing and nourishing them. Now, they are ripe and ready to be shared with the world. When we share our gifts in Ten of Pentacles energy, it's like giving birth. The whole fabric of the Earth's frequency is changed and altered by the presence of this new, little being. It is the same idea with the creative fruits that we share in this card. It is truly a generous harvest.
November is the month to bring your baby out into the world. It is a time of creative expression, to share your gifts in a whole new way. It is a time of major abundance, major blessings, and beautiful exchange. Pentacles are about living spiritually in a material world, creating soul centered gifts with our hard work that can serve the whole planet. The Ten is the completion of a cycle, and the presence of good fortune that comes after a period of deep laboring.
Again—November is your month! Your job, Aries, will be to surround yourself with the team you need to make this happen. When we give birth, it is best to have support all around us, caring for us and holding space. What do you need to feel supported in bringing your gifts forward? Make sure you have your "doulas" at the ready. It is a shining, beautiful time for you, Aries—enjoy every single moment.
Cast by Lindsay Mack using the Starchild Tarot. Want more wisdom? Book a reading with Lindsay here and follow her on Instagram.
TAURUS :: TAURUS RISING
Page of Wands
November is really presenting some fresh and lovely energy to you this month, Taurus. Page of Wands is about movement, about the flow of growth and change, taking us from one cycle to the next. It represents a time when we are genuinely ready to walk forward into something new, leaving behind the old cycles of karma from the past. This is so wonderful and important for you, loves. There have many shifts and changes for your sign as of late, but none that have manifested themselves as being totally solid and complete. You'll take a step, encounter various detours or lessons along the way, then the same thing will happen at the next step. This has been annoying, perhaps, but totally in alignment.
Page of Wands is all about the callibration between our passionate desires and divine timing. It's a little marriage between surrender, patience, and the flow of our movement, how we are walking through the world. The good news is that the delays have been lifted, and it's all green lights from here. November is the month where this new path begin to fully gel. Watch as things begin to fall into place where they weren't before; how housing, money, press, opportunities, and desires begin to manifest themselves for you.
This is change and movement at the root level, and you are ready. In order to step forward with Page of Wands, we have to be completely finished with whatever we are learning in the here and now. It might be something so subtle and small, but if it's important enough to our growth, this card will delay us until the timing is perfect. Page of Wands learns how to pause, how to take a breath before they leap forward. You've paused beautifully, Taurus—now it's finally time to leap.
Cast by Lindsay Mack using the Starchild Tarot. Want more wisdom? Book a reading with Lindsay here and follow her on Instagram.
GEMINI :: GEMINI RISING
Three of Wands
November is a beautiful month for you, Gemini. You are out of the smoke and rubble of The Tower, finally moving into some expansion! Three of Wands is just about as good as it gets, and it promises to be especially sweet for your sign. This cycle is all about new ideas, new creative ventures, new connections, new expansions. Three of Wands is about the exchange of learning and teaching, gaining knowledge while sharing what we've learned with new, eager ears.
It is a time of new horizons, a time when our hunger for adventure might get a little keener, our desire for change might get a little brighter. It doesn't come from a sad, bored or low place—it's all beautiful. We love where we are, and we want to add something new in. For you, Gemini, this couldn't be a better energy for your spirit. What can you say yes to in November and beyond? Where are you ready to expand? What new things can you try? What do you feel excited about, excited to learn and to share? All beautiful reflections for the month ahead.
The fact that you have been in The Tower twice in the last six months is very important. It has been a time of deep clearing for you. Major life changes, major opportunities for recentering. Whatever hasn't been serving you has become abundantly clear, and for the most part, you've rolled with the invitations. Now, you have a clean slate to work with. The skies are parting, and the energy is beginning to shift. The world is really your oyster. What are you ready to call into your life that you weren't before? Whatever it is, take the first step toward it this month with open arms.
Cast by Lindsay Mack using the Starchild Tarot. Want more wisdom? Book a reading with Lindsay here and follow her on Instagram.
CANCER :: CANCER RISING
Four of Wands
Where can you play more, Cancer? This is the million dollar question, and a particularly important one for the month of November. Have you been "all work" lately? If so, you might be beginning to feel it—even if you aren't sharing that with anyone. Pay attention to those signs. Whether it's impatience, lack of attention span, anger and frustration, or even burn out, it's all information, all points on your compass, leading to play. You'll have to consider what play looks like for you. Is it time away with your friends? A solo venture? A tricked out vacation, or just a weekend away? Your heart will hold the answer. You job is to take action on what you hear.
Four of Wands is a signal from the Universe to take a joyful break from the grind of our lives. In the Wands suit, we work hard—we have to make sure we play as hard as we work. Rest and play are crucial elements in keeping up with the pace of our passions. Four of Wands can often arise during a very powerful moment in our lives. It has the potential to really change the tone of our life from an energetic perspective, making room for a lot more ease and grace to drop in.
It will also offer you the chance to reflect, to refill your cup. Whether it's lots of career related work, or even internal work, take some time this month to let your nervous system recenter. If you are working through something emotionally, there has to be breathing room, especially now. Create room for joy and play, loves, even if it makes you uncomfortable to do so. The discomfort will pass, leaving you brighter and fuller than you were before.
Cast by Lindsay Mack using the Starchild Tarot. Want more wisdom? Book a reading with Lindsay here and follow her on Instagram.
LEO :: LEO RISING
Eight of Cups
What is it time to walk away from, Leo? What have you known in your heart of hearts that you are finally ready to see? What hasn't been serving you as of late—perhaps for a long time? Eight of Cups heralds a deep departure from something we've held dear, whether it be a job, a relationship, a pattern, a business, a dream, a collaboration, or something in between. Whatever it is, it is something we put our heart and soul into.
It's something we worked for, we bled for, we ached for, and now, inexplicably, we are ready to walk away, ready to transition into the next adventure, the next journey. This is your time, sweet Leo. November is the month to take that first step. If you're in this card, you'll know where this applies in your life; there are few surprises with Eight of Cups. The deepest work to do around this card is to trust. Trust that you are incapable of making a mistake. Even if you stumble, there will surely be lessons to learn. Trust that whatever is waiting for you on the other side is so much better, brighter, sweeter and more in alignment for the person you are now. We can only taste the fruits of that particular tree if we are willing to boldly step beyond our comfort zone.
Trust that, regardless of what waits for you on the horizon, saying our "no" is worth the price of admission alone. Showing the Universe what we are ready to bow away with our actions and words is often one of the most powerfully transformative actions we can take in this life. Even if it's scary, trust it. Goodness and new beginnings are awaiting you on the other side.
Cast by Lindsay Mack using the Starchild Tarot. Want more wisdom? Book a reading with Lindsay here and follow her on Instagram.
VIRGO :: VIRGO RISING
Eight of Crystals
Have you had a special idea, project, or goal on your heart as of late, Virgo? If so, November is the month to sink your teeth into the creation of it, fully committing to the birth process. There is something that wants to come through you at this time. It might be a book, an artistic offering, or a project. Whatever it is, it has the potential to change your life—for real. All you need to do is say yes.
You might not have things fully mapped out, you might not feel fully ready, and you might not be sure of what you're doing, but it's cool! That's all totally fine to feel. If you're willing, you can fully learn that that you can not feel ready and do it anyway. If you are willing to commit to the invitation to drop into whatever it is that you are birthing (and I know you can do that, Virgo!), November will act as a powerful portal to your work and process. It might mean that you are not as available for social activities, or have less bandwidth for other things this month, but that is often what Eight of Crystals, or Pentacles asks of us.
Any eight in the Tarot is a kind of transformation, one that is sparked through our willingness to do things differently, to make a bolder choice. Eight of Pentacles is a focused energy, one that asks that we work hard and create from a place of repetition—showing up again and again, committed and willing. We move from apprentice to master in this energy, gaining experience and wisdom along the way. The potential is huge. You can stall for the elusive perfect time, or you can leap in and create. The choice is yours—choose wisely.
Cast by Lindsay Mack using the Starchild Tarot. Want more wisdom? Book a reading with Lindsay here and follow her on Instagram.
LIBRA :: LIBRA RISING
The Chariot
November is your month, sweet Libra. The Chariot is here, heralding the blessings and opportunities to come for your entire sign. The Chariot is considered to be the only true omen of goodness in the Tarot. It is a strong sign that the tides of life are changing, and that fortune is beginning to move in our favor. The energy of The Chariot is the payoff for tremendously hard work, bringing us into oneness with some kind of destined victory.
You can absolutely expect some amazing expansions in November, internal and external. The work that The Chariot will ask of you this month, Libra, will be to cultivate a stronger sense of inner equilibrium, and to say yes to any opportunity that brings you up and out of your comfort zone. With your commitment to these two concepts, you will create the strongest possible container for all of this Chariot-level goodness to bloom in. Your "yes" around these areas will hold the key to touching in with all that The Chariot has to offer.
The equilibrium is an important ingredient in the recipe for this upcoming expansion. November is the time to take a strong inventory around your inner and outer balance. Where can you ask for more help? What, if anything, needs to be gently adjusted before you're able to move forward? If we have a flat tire, we will not be able to drive two miles, much less support a long drive. Stepping out of our comfort zone is also key with this energy—it is ruled by Cancer, after all. We have to leave our shells, foregoing protective outer layers, to step into what we desire, what we long to cultivate for ourselves. It is truly your month, loves. Embrace it fully.
Cast by Lindsay Mack using the Starchild Tarot. Want more wisdom? Book a reading with Lindsay here and follow her on Instagram.