The Gemini waxing quarter Moon is an invitation to integrate our emotional life with our communication in the world, says Jennifer Racioppi…Collage: Seana Gavin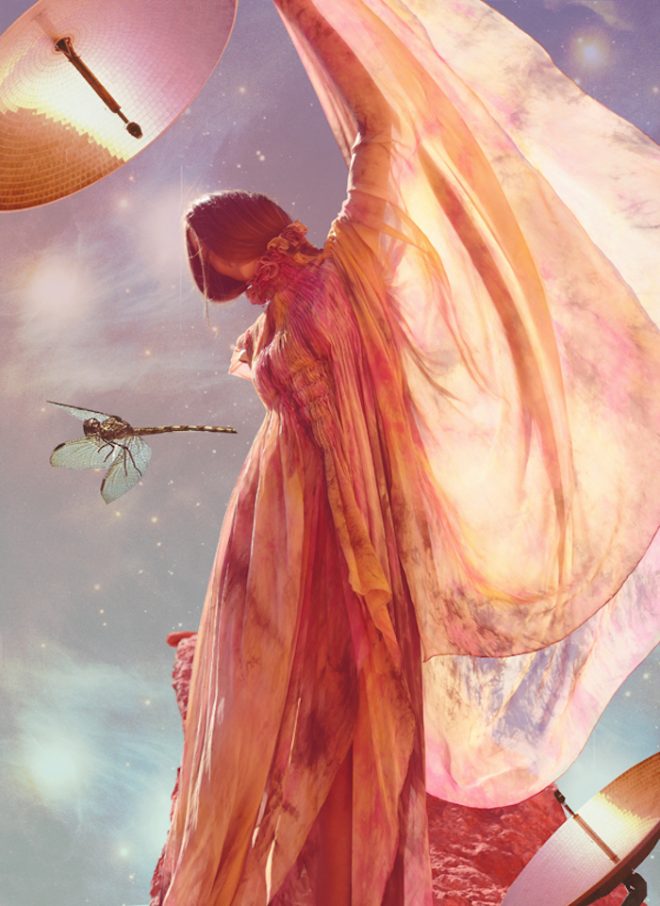 Gemini Waxing Quarter Moon :: March 5, 2017 :: 6:32 am ET
As the moon waxes, incrementally gaining light each night, she travels through the sign of Gemini while squaring the sun in Pisces. This combination of water (Pisces) and air (Gemini) asks us to honor our emotions, discern our intuition and apply it to our thinking. In the days, weeks, and even months following the recent eclipses, potent harbingers of change, it's up us to discern the direction we want to take based on the information they revealed to us.
Further, with Venus having just stationed retrograde, commencing her journey to the underworld, our connection to our values (and sense of self) may feel even more obscured. (Venus rules our feminine principles and will be retrograde from March 4-April 15 in the signs of Aries and Pisces.)
So, now that we are at the waxing quarter moon let's begin the digestion and integration process of Eclipse season, while simultaneously leaning into our emerging Venus retrograde experience. The dance between water (our emotions) and air (our intellect), elicits poignant directives, should we allow! Doing so will help us capitalize on the waxing gains of the Moon, as we move toward the manifestation of our heart's deepest desires.
>>>
:: THE SUN ::
As the Sun moves through water sign Pisces at 15 degrees, he travels extremely close to Neptune and Mercury. This stellium (three or more planets in the same sign) produces an extremely sensitive and psychic influence. Meaning more than usual our supernatural talents may feel alive and extremely active. Awesome. At the same time, things may become VERY emotional. If so, give yourself permission to experience your feelings without becoming them. Let them pass through you with acknowledgment, passion, and grace without letting them take you over.
:: THE MOON ::
Excited to communicate, socialize and cross-pollinate the Gemini waxing quarter Moon asks us to stay focused on our deepest most heartfelt desires and verbalize our wisdom. Nimble and ready for the next big thing, the influence of the Moon in Gemini enables our versatility and capacity to move quickly. The Moon at 15 degrees of Gemini, may feel a bit impatient with the watery influence of Pisces. At the time of this square, the Moon also finds herself in a luscious applying trine to Jupiter, the planet of good luck, happiness and abundance, calling forth our evolving consciousness to manifest in new and exciting ways. The need to communicate and articulate feels paramount right now, so please express you!
:: THE SQUARE ::
The Sun in emotional, spiritual and empathetic Pisces making a square to the Moon in the social sign of Gemini asks our emotional body to give in to to our intellectual capacities for a couple of days, so we can makes sense of the changes that are upon us. The boundary-less depths of the Sun in Pisces may feel massive and confusing, especially given the emotional influence of Venus retrograde coupled with the recent eclipses. With the lighter vibe of the Gemini waxing quarter Moon making an auspicious connection to Jupiter, we are asked to articulate how we feel, and forge integrations in our inner world on behalf of our burgeoning manifestations.
:: THE MESSAGE ::
Let the Gemini influence support you to articulate your feelings, draw conclusions from your experience, and verbally express yourself. Connect with your friends and tell them what's going on in your world. If needed, seek counsel from your therapist. Bust out your journal and write it all out. Embrace the therapeutic powers of music, film, poetry, journaling, collaging and/or any other form of artistic expression. Pay attention to your dreams and if possible spend some time by the sea! Trust your sixth sense. Doing so honors the impact of Pisces while engaging the powers of Gemini.
For more Moon wisdom or to book a coaching session with from Jennifer visit Jenniferracioppi.com. To learn more about how to work with each Moon phase, join our community of likeminded spiritual activists at Moon Club!