In her latest Temple of Venus column, Elyssa Jakim discovers that even among spiritual circles, body image issues persist…Images: Karis Wakeling-Farren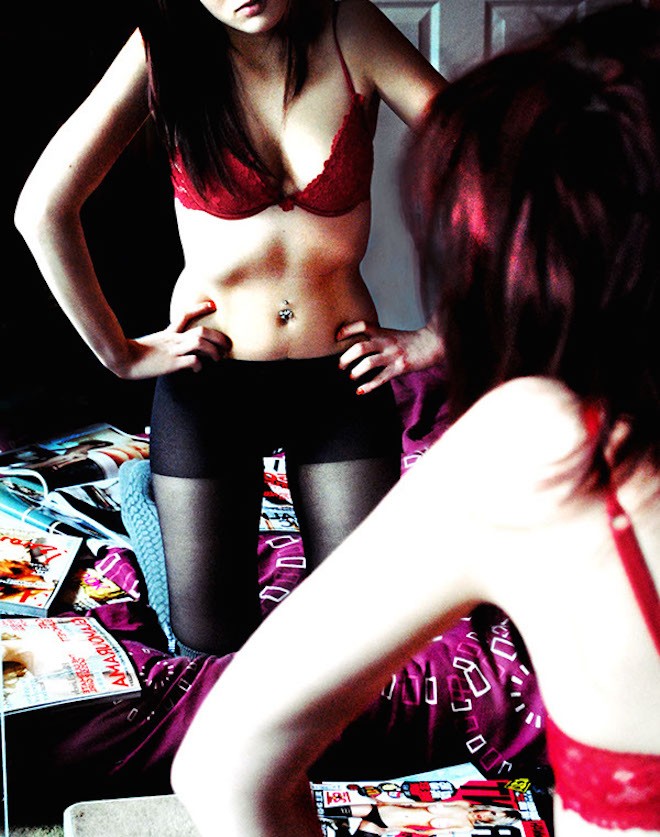 Beauty. Isn't that a gorgeous word? Look at how it sits on the page: regal with all those vowels. I've always adored words with lots of vowels: elegant, exquisite, gorgeous, pleasing. Beauty is such an angel word.
Recently in a meditation, I heard the message: "You are more beautiful than you think you are." This message struck me—it brought a sad little pang to my heart. When I thought more about it, I realized I've been experiencing one of those periods where I look in the mirror and think I look weird. Where I'm breaking out more than usual, where I don't feel particularly connected to my sensual side, where, I don't know, I just don't "feel beautiful," you know?
And I know what it's about, really, this denial of beauty. I've been dancing with body image issues since I was thirteen. There was something wrong with my belly! Why did it stick out from my body like that? Why was I the only one with a strange belly like this? At 17, when other stresses kicked in, I acted on these thoughts and began dieting. I struggled from compulsive dieting for the next eight years.
I had grown up wanting to be an actress, famously a profession of body image perfectionism. When I was 19, I spent my summer as an apprentice at a theatre festival. I recall hanging out in a circle of about 10 women, and the conversation turned to food and dieting. It became clear to me that all these young women who wanted to be actresses had struggled with or were struggling with eating disorder.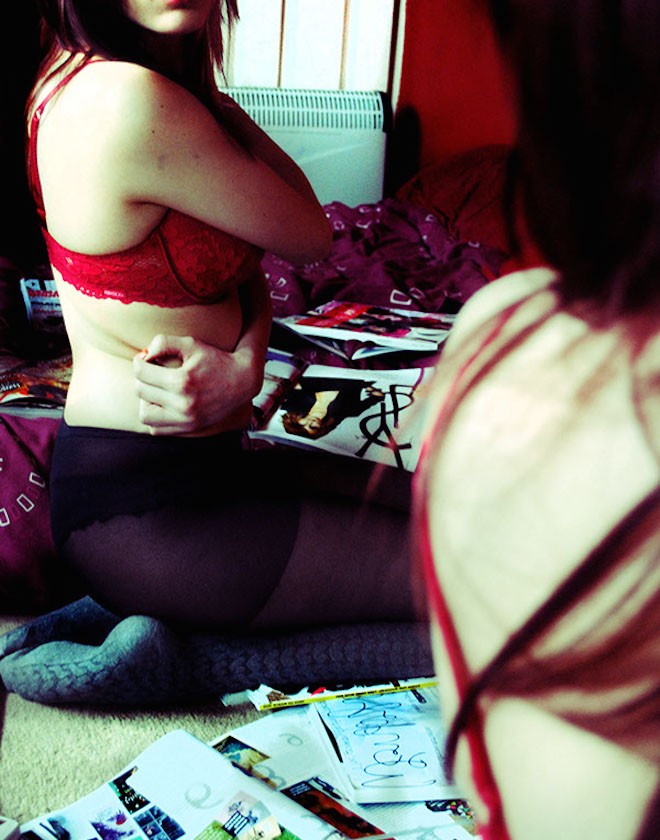 All these gorgeous women who I knew as gorgeous because of their insides, their passionate outlook and fearlessness on stage, were folding themselves in one way or another in order to feel included in an exclusive industry: in order to feel included in their own dreams. It was the first time I realized how much I wasn't alone in this "bad body image" compulsion. And, of course, it's not just actresses who go through this. It's all of us.
As years have passed, I feel better about me. A lot. I'm no longer dieting, and I feel I can accept whatever it is I have chosen to eat. However, I now find myself in many other women's circles that mirror the above one. Healing circle. Meditation Circle. Brunch table. And to tell you the truth, even though these are circles of loving, empowered people, I'm often still worrying about the size of my belly.
The tendency toward self-blame is always there lingering in the background—and I'd like to posit that it is for many of us. It's an elephant in our yoga studios and sound baths. We've had so much programming about how we're supposed to look for our whole lives, that body anxiety just feels like a channel many of us have been set to. Especially if you live in a trendy city, and the street suggests fashion putting your body on show.
In groups and even just among friends, I've started paying attention to when my body image insecurity comes up. I get in touch with my inner knowing and I ask, "Is this mine?" Often, I hear "no." It belongs to a peer. It belongs to a friend. Doing this has helped me understand, once again, that I am truly not alone in my insecurity. That it is SO MANY OF US who feel not right in ourselves.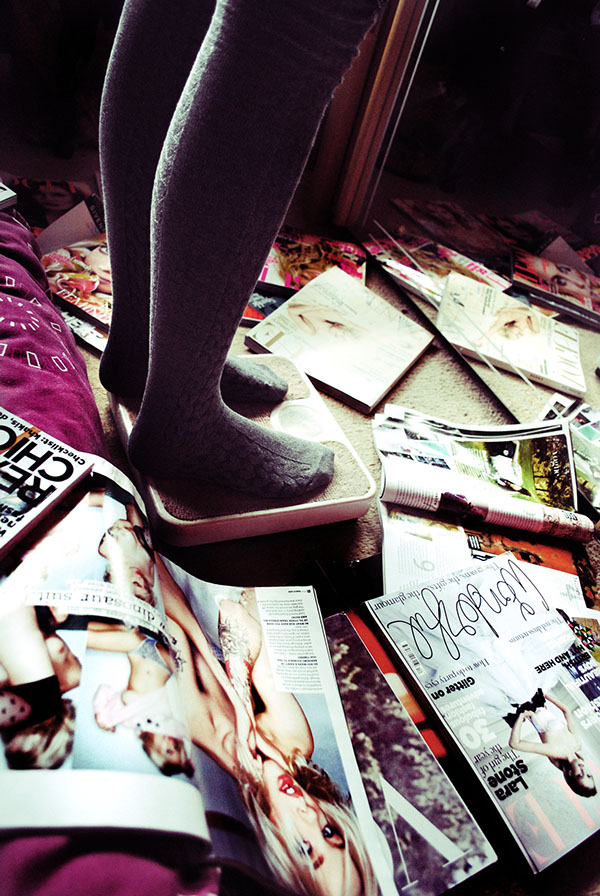 Everyone, everyone has that something: "I've got a great body, but my skin sucks." "I love my hips but my eyes kind of cross sometimes and I think I look messed up." "My face is weird." "I should look more masculine." "I should look more feminine." We compartmentalize ourselves and obsess over our "wrong" thing. So of course, even if the thought is usually not mine, it IS mine too. It's all of ours. And we "empath" it back and forth to one another.
At this point, I'd like to bring up that this is the ego's favorite myth, that: "There is something wrong with me." Psychologist Tara Brach brilliantly describes this concept in her book Radical Acceptance:
[T]he universal sense that "something is wrong" easily solidifies into "something is wrong with me." When I look into my own feelings of unworthiness, sometimes I can't point to any significant way I'm actually falling short. Yet just this feeling of being a self, separate from others, brings up a fundamental assumption that I am not okay…Believing that we are separate, incomplete, and therefore at risk, is not some malfunction of nature. Rather, this perception is an intrinsic part of our human experience—indeed of all life.
Brach makes it clear: it's our sense of alone-ness that makes us feel wrong. The great irony of course is that we're all together in feeling separate. And there is nothing wrong with you or me or us. There may, however, be something wrong with the society we live in ("The universal sense that something is wrong…"). There may be something wrong with the messages that we ingest and unknowingly propagate.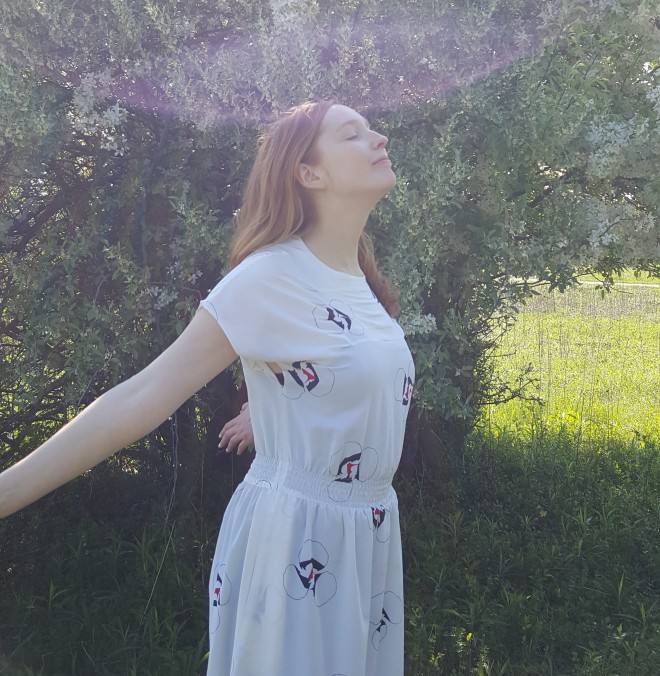 But what is the gift of these insane societal standards? What is the gift of the insecurity?
Disagreeing with the ego's unloving ideas strengthens the mind and soul. When you choose to say "no" to this habit of self-attack, when you choose love in favor of compulsion, you are growing. You are claiming your worth. You are getting stronger each time. Whenever we actively proclaim the Truth to the unloving self, we are paving the way for freedom.
Choose an affirmation today for your unloving habit and resolve to challenge it in order to gain freedom. Mine is: "I know that these fears about my body are untrue. I know I am so much more than this body. I surrender these fears to love." This can, of course, be applied to any flavor of compulsion, not just body perfectionism. And of course, whenever we free ourselves, we free our sisters and brothers, too. The grip of group insecurity relaxes, we're all getting spiritually lighter together. Which, in my humble opinion, is way more important than physical lightness. This is a spiritual workout!
These hurts also build empathy and compassion. How could I, Elyssa, help others love their bodies if I hadn't run the whole gamut of fear and love in my own thinking? Thus our misfortunes become our miracles.
I told a friend about my meditation, the one in which I heard, "You are more beautiful than you think you are."
"What do you mean by that?" He asked. "Physically?"
"Yes, physically."
"Go to your heart," he said. "Go to your heart. That's where beauty lives. Focus on the feelings inside your heart and you will know you're beautiful. Then your whole self responds."
I love this. And, it is true. And when I talked to Venus, Venus told me: "You are all beautiful. You are all divine. You are all so much more radiant than you know." Go to your heart. Find the beauty and resilience there. "Heart." That's got a nice vowel assortment too.
PS: This post marks my one-year anniversary of writing for the Numinous! From Spring to Spring, I am grateful for all of the gifts.
Need more Venus inspiration? Check out Elyssa's last Temple of Venus column on the practice of receiving.