What does "successful" look like to you? Redefining success on your own terms can only be done by going within, says Ruby Warrington.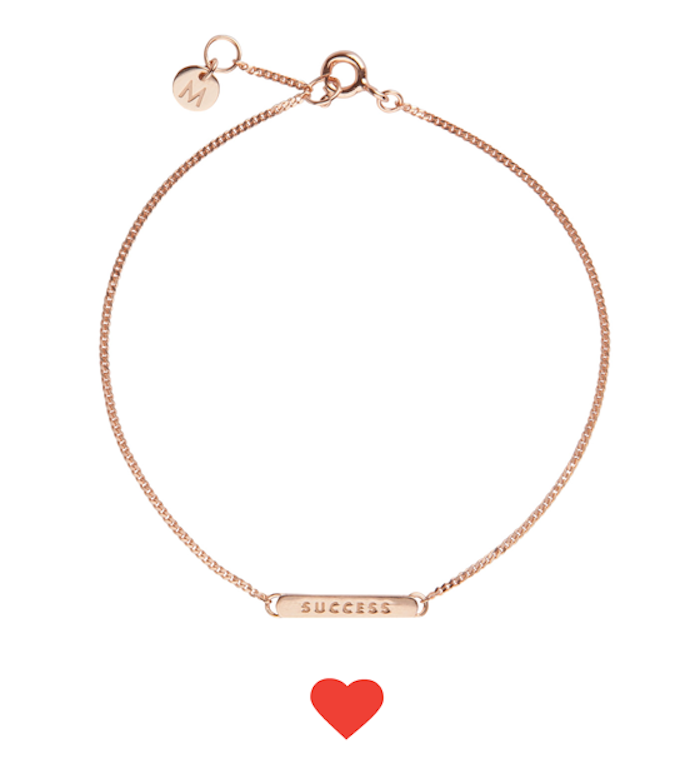 What does "success" mean for me? It's a question that's been circling my very being since last summer when I interviewed Arianna Huffington about The Third Metric – her campaign to encourage us all to consider "success" beyond the relentless pursuit of money, accolades and power. And this week, I met a woman who has helped put into words the journey I've found myself on.
Melissa Curry is an Irish jewellery designer whose SUCCESS collection features a motivational amulet, designed to be gifted to the woman in your life you want to encourage to be the best she can be. A delicate rose-gold bracelet or necklace features an 18 carat gold bar inscribed with the word "Success." And if, "the bar represents our inner strength, success can mean…everything," she told me.
For Curry, whose personal journey has taken her from glittering career in Paris to destitute, single-mother of one, meaning some radical shifts in her own perception of success over the past decade; "it's not about external power, and, for a woman, it's certainly not about competing with men. It's about being you, knowing what makes you tick, what makes your heart work, what makes your mind work, and embodying that."
YES. Success for me is simply about being true to being me. At work, in my relationships and in my physical body. And this is when I realized that so much of what we cover on The Numinous is about tapping into exactly that.
From learning how to read and work with what the Astro Twins call your "factory settings" in your own astrological chart, to developing your intuition or "psychic powers" or embarking on a transcendental juice fast, isn't so much of modern new age (what I like to call "now age") thinking, about seeking to develop a more intimate and comfortable understanding of who we really are on the inside – and, therefore, what we really want?
For me, stepping off the media merry-go-round and leaving a high-profile magazine job to launch my own Internet project last year was the beginning of this journey. Creating something from my heart, working in my own environment, to my own hours and with the people of my own choosing has made me feel successful in ways that far eclipse the glamour, status and influence of my old life.
Of course, the fact that I can also structure my day to include a guided meditation to meet my spirit power animal is by no means going to tick the success box for everybody – but that's the whole point. There is no one-size-fits-all definition of success.
And the fact I get emails every week thanking me for creating The Numinous is the icing on the cake. It's also an illustration of how stepping into a definition of success that means something to me personally, I find myself giving something back and having a positive impact on the world around me almost by default.
My friend Jennifer Kass, a happiness coach and self-described "love pioneer" put a brilliant post up on Facebook the other day. In it, she described "The 3 Stages of Human Evolution (from my perspective, of course)," with step one, "Sleeping," defined as; "Being stuck in a job and/or relationship that is toxic, causing physical mental and emotional ailments, denial, addiction, living in fear, anxiety, suffering, doubt, lack and limitation."
Step two, "Waking up," involves using all the Numinous tools – "meditation, self-love, healing, a return to wholeness, freedom, self-knowledge, joy" – to engender step three – "Action." And here's where the rubber really meets the road; "We take full responsibility for choices that will change our lives, and we let go of what is no longer serving us by taking courageous action."
Further, she argues, "Now that we know who we are and what we're here for, we go out into the world, sharing the gifts and passions we came here to, which in turn perfectly align with ending suffering on the planet in various forms." A lofty ambition, maybe, but why not? Human suffering – and what alleviates it – comes in many forms too.
I'm not a big one for a motivational quote (quality over quantity, people), but I saw this, from Howard Thurman, at a Lululemon event recently; "Don't ask what the world needs. Ask what makes you come alive, and go do it. Because what the world needs is people who have come alive." And knowing your SELF – that is, being in direct conversation with the spirit being piloting your human form on a daily basis – is the only way to answer that question too.
Each piece in Melissa Curry's collection comes with a little card, where you can write your definition of success. So what does it mean to you?