Cast by Lindsay Mack using the Starchild Tarot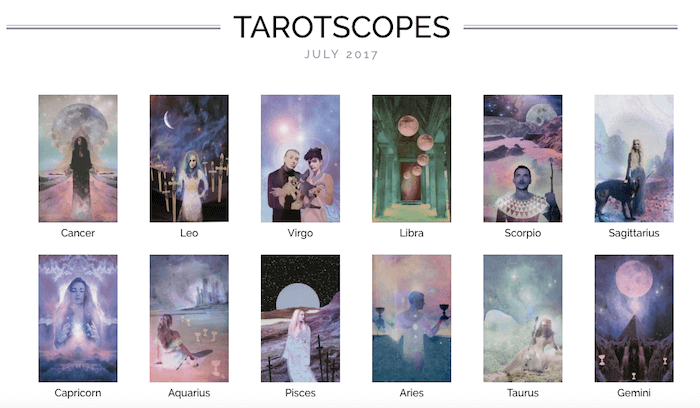 CANCER :: CANCER RISING
The Moon Rx
The emotional waves run deep for you this month, Cancer. Between this card, and the already powerful frequencies of the upcoming eclipses in August, you are going to be diving into some very potent places during this particular cycle of your life. Trust every moment of it. It's here to help you release what no longer serves your highest expansion. It's also here to help you trust yourself more intimately, and to know that there's nothing to fear from the dark, the power of our inner waves. There are some beautiful treasures under these waves for you, Cancer.
The key will be to bravely explore them without fearing that you will drown or lose yourself. In fact, the more you surrender to the waves, the more you'll heal, expand and discover. The Moon card, even without the reversal, is one of the most advanced and profoundly immersive cards in the whole Tarot. Ruled by Pisces, it is the card that beckons us to travel out to the deep sea of our being, far past the shores of our comfort zones. It calls for us to swim below the waves of our ego, into the shadow of our subconscious. This card is aiming to teach you how to traverse the darkness with ease and grace, Cancer, floating with whatever arises.
The reversal of The Moon card contains an even more powerful medicine, because you may very well be moving through some big brain chemistry on top of the already intense frequencies. If that's the case, it's all good. There is no thing to fear; you were literally born for these experiences. Embrace the void this month and hang out with whatever arises for you. Move from the mind to the third eye, focus on dreaming, floating, surfing, rather than resisting. Jump right in and explore.
Cast by Lindsay Mack using the Starchild Tarot. Want more wisdom? Book a reading with Lindsay here and follow her on Instagram.
LEO :: LEO RISING
Nine of Swords
Imagine for a moment, Leo, a child waking up from a nightmare, or seeing a shadowy figure in their bedroom at night, believing it to be a monster. What is the only way to definitively prove that it's a pile of laundry, instead of a monster? Light. We have to see to know. We can flick on a lamp, shine a flashlight over it, any source will do.
This is the empowering invitation of Nine of Swords for you, Leo—if you find yourself deep in any kind of fear fantasy, anxiety or waking nightmare this month, flick the proverbial light on. Don't ignore it, or push it away. Don't stay frozen in terror, your hands over your eyes. Practice inquiry, take deep breaths, and look deeply at the root of the fear. The only way to absolutely know the truth when the brain is inviting us into anxiety is to look directly at whatever the core fear is. If it's a monster, we can deal with it. If it's not a monster, we are relieved of the panic. Same goes for how we shake ourselves out of the webs of a nightmare.
A glass of water, a cup of tea and some deep breaths can be genuinely transformative to our nervous systems in moments like that, helping us to relax into truth again. We need to turn the light on to do this. Looking at facts, moving our bodies, asking questions, and emphasizing self care are all deeply potent ways to shift our inner landscape, making fear our ally, rather than something that paralyzes us. This is going to be a deeply important practice for you this month, Leo, because you get to clear away any big fears that have been holding you back from expanding. Be brave, turn on the light and look at the truth.
Cast by Lindsay Mack using the Starchild Tarot. Want more wisdom? Book a reading with Lindsay here and follow her on Instagram.
VIRGO :: VIRGO RISING
The Lovers
This is a juicy month for you, Virgo! Things are flowing and grooving in a really lovely way, and I recommend embracing the energy wholeheartedly. You are starting to receive what you've wished for in a very tangible way, all because you've done such deep work on receiving over the last several months. The Lovers card has everything to do with this idea of receptivity and gifts. It's invitation to you will be to trust the beauty and loveliness that surrounds you—it is, after all, a mirror for you.
What this means, Virgo, is that anything in your external world is a match for your internal world. Anything magnificent that you see, from the face of your lover to a beautiful sunset, is an aspect of yourself, one that you've forgotten belongs to you. The work for you this month will be to remember and reclaim the power of that truth. The Lovers is ruled by Gemini, and when it arises in a reading, it's an invitation to love ourselves, and to see everything that surrounds us externally as a mirror for our internal life.
This card can be quite powerful, especially when something magnificent comes into our field, and we are forced to consider that the kind of light and beauty we are gazing upon exists somewhere in us. The Lovers is a great teacher, helping us to receive a level of love and truth that might even feel a bit uncomfortable in moments. If you are willing to embrace this idea, Virgo, it will be wildly transformative to your ideas of who you are, how beautiful you are, and how much you deserve love. If you are believing something that's not a true reflection of your being, this card will come in and change that. Open your heart, open your eyes, and see what you can learn about yourself this month.
Cast by Lindsay Mack using the Starchild Tarot. Want more wisdom? Book a reading with Lindsay here and follow her on Instagram.
LIBRA :: LIBRA RISING
Five of Crystals, Rx
The skies are parting, sweet Libra. Once stormy and gray, they are making room for the sun to shine through. Whatever cycle of victimhood, heartbreak, or pain you've been moving through as of late is coming to a gentle close this month, liberating you to live your life from a place of trust, joy and abundance. In other words, things are going to start moving—finally! July is going to be a deeply powerful month for your inner life, and may very well shower you with tangible blessings. In other words, life is starting to unfold in the best possible ways, so prepare yourself for some really lovely expansions this month.
Five of Pentacles is a deep contraction card, one that can arise around money, abundance, forward momentum and victimhood. It can really bring us into a dark place of lack, believing that what we desire and have wished for will never happen or find it's way to us. The reversal, which you have this month, Libra, is the exact opposite. It is the shift from dark to dawn, the loosening of the intensity of mental discomfort, and the softening of the brain chemistry that can keep us so locked in fear.
The door that was keeping you from leaping forward is now unlocked, so what will you do with it? This is a month to get real with yourself on your dreams. Do you still want what you wished for? Has the dream changed? If your heart now wants something different, or if something unexpected comes into your world, think deeply about it and really get clear on what you want. There's lots of room for play and movement now, so you might as well refresh yourself on your desires. The path ahead is clear, Libra, just make sure you still want what's at the end of it.
Cast by Lindsay Mack using the Starchild Tarot. Want more wisdom? Book a reading with Lindsay here and follow her on Instagram.
SCORPIO :: SCORPIO RISING
King of Wands
July is your month, Scorpio. There is so much power and forward momentum possible for you during this cycle of time, especially in the areas of career, public image, and creativity. King of Wands is a trailblazer, a powerful leader and a passionate being, one who shares his gifts with the world his way—not the expected, typical way. This card is a dharma card in many interesting aspects. King of Wands is an invitation to finally give up the proclivity to do things the way we think they "should" be done, or the way it's always been done, and do them in the way only we can.
It's time to take leaps and risks, to show the world what you do—if you are willing to be courageous, it'll pay off a hundred fold. Ask yourself where this idea resonates for you most. Is it time to quit your job and work for yourself? Is it time to own and honor a truth you've been swimming around, afraid to look too deeply at it? Perhaps it's time to share your art and work with the world in a more public way. Whatever it is, you are ready. All you need is to believe in yourself, which is the deep teaching of this month's medicine for you.
You have everything you need, Scorpio, your heart guiding the way. Trust that that's enough. No one is going to tell you when and where; no one will give you permission. You must reach for what you want and know you are worthy, knowing there will be no tangible guarantees. It doesn't matter. You must take the risks anyway. You have a deep offering for this world, something only you can bring. We need your gifts, so cultivate your courage and start sharing them boldly.
Cast by Lindsay Mack using the Starchild Tarot. Want more wisdom? Book a reading with Lindsay here and follow her on Instagram.
SAGITTARIUS :: SAGITTARIUS RISING
Queen of Wands
You are going to be invited to get better acquainted with your inner witch this month, Sagittarius. You are going to be invited to step more boldly into the fire, passion and sexuality of the Wands, and simultaneously, to swim deeper into the intuitive knowing and sensitivity of the Queens, which are ruled by water. Indeed, the Queen of Wands is considered to be the alchemist of the Court Cards, and the witch of the Tarot. She is ruled by your sign (Sagittarius), and by the elements of Fire and Water.
This is significant, because unless you are making steam, there is no practical or organic way to hold water and flames in your hand at the same time. Queen of Wands can do it, though, because she is a living embodiment of both the passion and the depths, the carnal and the gentle. These two things exist in you, too, Sagittarius, and July will offer you the beautiful opportunity to rebalance those two things within yourself. If you've been a bit too hard and hot lately, it would be wise to reach for what cools and softens you. If you've felt way too wavy and in the depths, it'll be wonderful to come back to the flames a bit more.
The Queens in the Tarot are all about the inner landscape, and embodiment, so this month is less about what you are saying and doing and more about how you are living, what you believe yourself to be. It's time to know you are a Queen, Sagittarius. It's time to dance in the fire and swim in the waves, as witches do. It is important to reiterate that the thing within you that blends and binds these two elements together is alchemy. If you allow your inner magic to be expanded this month, it will be deeply transformative for you.
Cast by Lindsay Mack using the Starchild Tarot. Want more wisdom? Book a reading with Lindsay here and follow her on Instagram.
CAPRICORN :: CAPRICORN RISING
Starseed
It is time to take a sacred leap into the unknown, Capricorn. You are ready and there is no better time to take a chance. The old ways you have been living and moving through the world are no longer serving you—you have outgrown them. Expansion is your next frontier now, so know that this month is a perfect time to come fully into your light and fully into the next phase of your life.
In truth, I don't think this card and it's medicine will come as much of a shock to most of you. You have been ready, waiting, and preparing for this moment for months—doing your work and moving through big cycles of evolution and growth to prepare for this moment. Now it's here. Everything in the Universe is fully supporting you, so what will you do with this golden moment? The choice is fully yours: ease and grace, or resistance and fear? Being at the edge of the cliff doesn't mean the work is done for you — you will have to commit and take the leap.
Starseed is The Fool card, and The Fool is where it all begins. It is a leap of faith, one that births us onto a new path, one that is in deeper alignment for us than ever before. This card is both a beginning and an end—a new cycle beginning just as another ends. For this month, it's all about showing your true self now, Capricorn, not hiding under the shadow of anyone else. It's been deeply hard won over the last year or so, so let your colors and gifts shine. Show up as only you can. Take the leap and share your gifts with the world.
Cast by Lindsay Mack using the Starchild Tarot. Want more wisdom? Book a reading with Lindsay here and follow her on Instagram.
AQUARIUS :: AQUARIUS RISING
Six of Cups
This month will contain a powerful mix of emotional experiences for you, Aquarius, which is to be expected from a card like Six of Cups. This card has many colors to it, but mainly speaks of opening the heart to more intimate expression and greater receiving. There is often something to give away in this card, usually of an emotional nature. If you have something to say to someone in your life, it's incredibly important to share it—even if it feels intense or vulnerable to do so.
If you love someone or feel passionately about someone, let them know it. Drop into the tender openness of a little child, and offer them what's in your heart. If they receive it, great. If not, it has nothing to do with you. You will have acted from a place of deep vulnerability and courage, and that's more important than any kind of validation could be. Another way this card is going to be showing up in your world this month is through a sense of nostalgia, partially because there are some big changes on the horizon coming up for you.
Whenever we leave something behind, or undergo a huge shift—internally or externally—the mind scrambles for feelings of safety and familiarity. If you find yourself dreaming of a particular person, of your childhood home, or of a place you've walked away from, trust that it's absolutely appropriate to feel those feelings, letting them move through your whole body. Important to feel them, but to not take it as a sign to go back to whatever you're longing for. It is only forward from here, sweet Aquarius. The biggest invitation for you this month is to stay close to your heart, to feel the big feelings and say anything that needs to be said, awake and alive in your body.
Cast by Lindsay Mack using the Starchild Tarot. Want more wisdom? Book a reading with Lindsay here and follow her on Instagram.
PISCES :: PISCES RISING
Four of Swords, Rx
You are coming out of some deep waters this month, Pisces—expect some true joy and lightness during the course of July. Any four in the Tarot is kind of a mini break in whatever suit it arises in—in the Swords, it represents a mental sabbatical. It's a time when we might be called to step back into ourselves a bit, honoring solitude over socializing. The point of such a break is to clear the mind, releasing mental attachments, and coming back to ourselves whole and rested.
The reversal of the Four of Swords indicates that our time in this seclusion is over. The door is open, the mind is clear, and we are ready to go out into the world again, refreshed and renewed. This may show up for you in a few different ways, Pisces, all relating to wherever you've been called to keep an energetic distance as of late. If you've had a knowing to get off social media, or to drop back from a more public image, you might truly feel ready to be seen again, and to engage more deeply with others.
Four of Swords Rx may show up in your dating life, or in deep friendships, bringing in new people after a long period of being solitary. However it shows up for you will be beautiful. The only invitation being presented to you is to trust that it's safe to come out of the little cave. It's very much akin to taking the cast off of a broken bone that's just healed. It is wise to move gently and slowly with a freshly healed bone. This is the same as when we come out of any four, especially the Four of Swords. Go gently and slowly, trusting that you are ready for the next step.
Cast by Lindsay Mack using the Starchild Tarot. Want more wisdom? Book a reading with Lindsay here and follow her on Instagram.
ARIES :: ARIES RISING
King of Cups
You are being invited to up-level this month, Aries, specifically around the areas of emotional wellness, sacred leadership, and holding space for others. You will be called upon to step forward in these areas this month and beyond, expanding the way in which you show up in the world and how you care for others around you. King of Cups is a wise man with an all-knowing soul. He represents a leader and master, as all Kings in the Tarot do, but specifically in the psychic and emotional realms. He is the holder of space, and the teacher of healers everywhere.
The King of Cups is able to do this because he has learned to hold two experiences at once: his own, and another's. It is the space we are in when we are truly in alignment with our guides, receiving what is in highest and best for ourselves or another without our own human perceptions bleeding through. King of Cups is a zen master, and has arrived in your cards to invite you to embody his way of moving through life this month, Aries. To be available to learn deeply from this card's medicine will help you expand through those energetic teachings. Bringing them fully into the world into your own way is what July is all about for you.
Everyone holds space for another person in this life. Some do it for hundreds of thousands, some do it for one. Whether you're deeply caring for a parent, a child, a patient, or you're speaking at a conference of 900 people, King of Cups will be by your side, assisting in your channel opening more deeply, and up-leveling you in the way you care for and offer wisdom to others. Trust it, and go on the journey.
Cast by Lindsay Mack using the Starchild Tarot. Want more wisdom? Book a reading with Lindsay here and follow her on Instagram.
TAURUS :: TAURUS RISING
Page of Wands
The pages in the book of your life are turning, sweet Taurus. Change is on the horizon, and a new chapter is beginning. It is time for a whole new phase of your life to begin, birthed out of your courage, willingness, and worthiness. Page of Wands carries a dual elementation of Earth and Fire, a perfect match for you this month. When we receive this card, it represents an omen of change, but in a way we've never experienced before. The grounding of the fire in Page of Wands creates a beautiful blend, enabling us to be rocketed forward by our passion and desire for something new while being simultaneously rooted by the Earth element.
In other words, Taurus, you are fully completing the karmic lessons of the past and moving forward, renewed and ready for the next steps. Page of Wands is the medicine that will take you there. The kind of change that this card brings is deeply personal, as it represents the readiness to move forward energetically without being tied to the past any longer. It will be important to look deeply at any areas where you need to close a circle or a gap in your life. It could be with a relationship, or another person.
In that case, it will be important to express yourself, write a letter, do a cord cutting, anything that helps you release that person with love. If it's a way in which you've been living your life that no longer resonates for you—poor communication or boundaries, playing small, charging less than what you deserve—do a deep dive on the beliefs underneath those choices, and gently start to rewire them. You are finished with these old patterns, Taurus. As soon as you've released them, you'll be off like a shot.
Cast by Lindsay Mack using the Starchild Tarot. Want more wisdom? Book a reading with Lindsay here and follow her on Instagram.
GEMINI :: GEMINI RISING
Three of Cups
You are in your flow this month, Gemini! Three of Cups is the perfect card for your sign, and brings a simple but sweet invitation for the month ahead: enjoy the company of the people around you. Step out of your comfort zone. Collaborate, share, commune and dance with the people you love. It is not the time to be in Hermit mode. Even if you're feeling solitary or broken-hearted, I promise you will feel nourished by group energy whenever you allow yourself to be a part of it. If you're short on friends, this is the month to take actionable steps to change that. Join a Moon group, a book club or an improv group—whatever feels good to you.
Also, you are in your zone of genius when you are connecting people together, so instead of joining someone else's club, why not start your own? These are all things to consider this month as you flow through this beautiful energy. The ideal situation for you would be to create something special with the people around you, something aligned, fun, lovely and nourishing to all. Three of Cups has this kind of collaborative spirit behind it—if you can let yourself have fun and enjoy, it will be an incredibly healing month for you.
The fun of this is what it's all about, Gemini. Although you have the reputation of being social butterflies, it's not always the easiest thing for you to loosen up and enjoy your own party. Practice letting go, being a little too vulnerable, laughing a little too loudly, leaping out of your comfort zone a bit. Those who get the honor and privilege of your company will only love you more for it, will only encourage you to laugh even louder and loosen up even more. Play this month, Gemini—it'll bring lots of love your way.
Cast by Lindsay Mack using the Starchild Tarot. Want more wisdom? Book a reading with Lindsay here and follow her on Instagram.