Think you have to endlessly study your crystal bible to tap into your stones' powers? Leave the bible behind, take your rocks out on a date, and find your own crystal meanings says Wolf Sister.  Main Image: Beth Hoeckel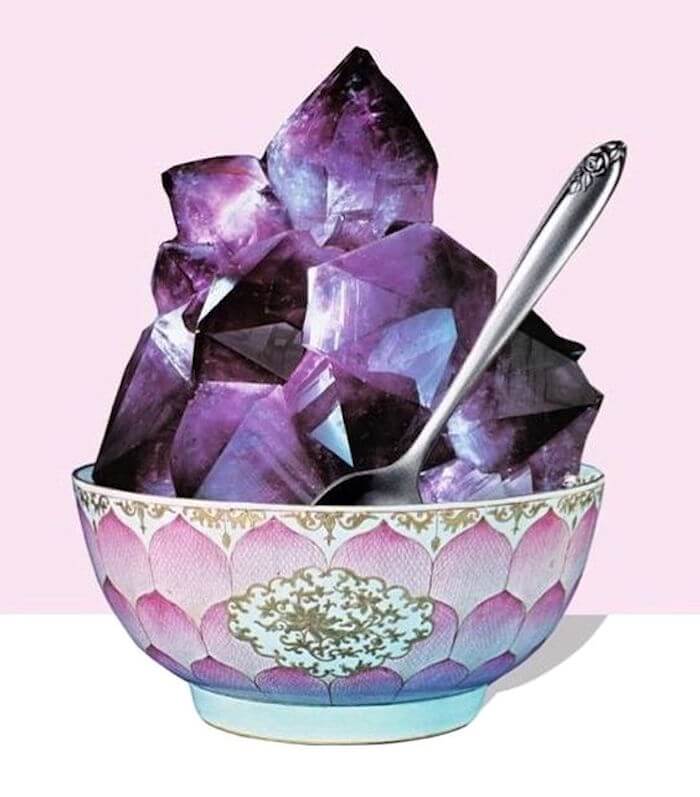 The meanings of crystals aren't literally set in stone. Despite what the dusty description from your local crystal dealer says, the medicine doesn't end there …
Crystals are formed from of the deepest parts of Mother Earth, so of course there's so much more meaning to them than just inviting love into your life, warding off anxiety, protection from some less than desirable energies, or waking up your third eye.
Here's how to start finding your own crystal meanings …
>>>
1/Discover Your Crystal's Personality (Yes, Your Crystal Has a Theme Song!)
Just like Tinder dates, crystals are individuals with their own personalities that go WAY beyond the profile pic. Instead of playing out the relationship in your mind before you've even met them, go out on a few dates with your crystal.
Keep the crystal's bio info in mind and the reason you initially choose it, but then take the time to listen …. Even holding a crystal in your hand for a few moments in silence with your eyes closed can reveal its personality. So how does it make you feel? Stay open to any ideas and epiphanies that download in your mind at that moment.
The first time that I initiated myself with Rose Quartz, Florence + The Machine's version of "You've Got the Love" drifted into my consciousness. This had nothing to do with the crystal bible's traditional meanings of romantic love or fertility. Instead, through the lyrics, Rose Quartz was showing me that I had all the support that I needed to get through a project when I'd lost my confidence.
Now every time I hear that song, it's as if Rose Quartz is talking to me.
>>>
2/Open Your Full Body to the Magic
When you're getting to know your crystal, actions speak louder than words. Your crystal won't do all the work—you need to play your part in this deal and put some muscle in! 
For example, if you buy Citrine because you wanna get on with your dharma, then you need to start taking physical action towards it. Instead of endlessly researching courses and workshops about your chosen field while secretly hoping that the Citrine in your pocket is listening, it's time to actually book the course and do the homework!
>>>
3/See Life Through a "Crystallized Lens"
Seeing your day through your crystal's eyes can help guide you towards innovation when you're feeling stuck.
This kind of experience comes from actively imagining, "If I was this crystal, what would I do?" Rather than just keeping it by your bed or at the bottom of your make-up bag, imagine, for example, that you've teamed up with Smokey Quartz and can fully step into your power and take up all the space that you deserve!
If you were the actual embodiment of your crystal, how could your perspective radically change?
>>>
4/ Supercharge your Meditation with Crystals
During your meditation practice (if you're new to meditation, just find a quiet space and focus on your breath!), you can choose to place your crystal on your third eye, somewhere in the space, or in your left (receiving) hand.
Imagine the energy and colors of your crystal infusing and permeating throughout your body. Invite the crystal to recalibrate any distracting energies so that you're recharged and nourished. Take as long as you like in this crystalline space that you've created to integrate these new frequencies. When you're ready, ground yourself back into the here and now. Again, ask how the crystal you're using has made you feel, and what new perspective it's granted you.
>>>
5/Spark a Conversation With Your Crystals  
The best way to find out what your crystals really mean is to start asking questions!
Why did you ask for this crystal to come into your life? What does it mean to you? How does it make you feel? Why did you choose this one instead of the others? What action can you take to bring it to life? 
Keep your crystal with you and free-write the answers to these questions in a journal. If you have Tarot or oracle cards, ask the crystal to communicate with you through the cards. Think of what you'd like guidance with, or use the questions from above as you pull the cards.
>>>
We're here to create our own experience. Guides are a wonderful starting point, but the only way to find out what your crystal means is to get to know them personally. Be curious so you can work with them, and you'll soon realize what it wants to guide you towards!
Starting this Friday, June 9th, join Wolf Sister for Get Your Rocks Out—a free online crystal healing workshop where you'll learn to listen to what your crystals want to say!