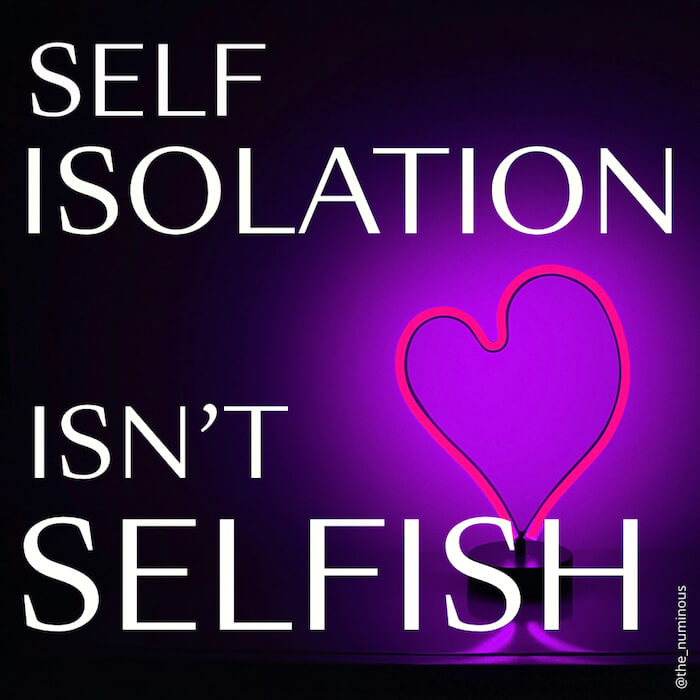 As long-time followers of The Numinous will know, this platform has been in a period of profound transition since summer 2019. If you're new, you can find a series of posts HERE that explain the reasons for this. Now, as our global community moves through its own period of retreat in response to the coronavirus pandemic, I will be taking this time to focus even more deeply on laying the foundations for what comes next. Much continues to shift, and service will resume in due course. The following writing is an invitation to use this period of enforced exile from everyday life to become equally present to what is unfolding for you at the deepest level. It is also a reminder that self-isolation isn't selfish—and that learning to be fully with yourself is perhaps the greatest gift that you can bring to the collective in these times.
///
"Present."
Whenever somebody has asked me how I'm feeling lately (like they really mean it, as is our new normal) this has been the word that most sums up my current state of mind.
I am present with my anxiety. I am present with my not knowing. I am present with my wellbeing in this moment. I am present with my gratitude for all the little things, and I am present with my privileged, survivor's guilt for all the big things I am able to take for granted. I am present with the reality that should either of my elderly parents in the UK contract Covid-19, I may never see them again. I am present with it all. Because there is nowhere else to be.
There's a saying in yoga circles: "hold the pose." And this has been the mantra flashing in neon in my mind as our world has contracted, feeling simultaneously more connected and more isolating with each passing day. A directive levied at students struggling with the discomfort of maintaining a posture, the challenge is to remain still, balanced, and focused, even as muscles burn, everything shakes, and the mind screams for release.
What we are cultivating when we hold the pose, is patience, resilience, and steadfastness. A core of inner durability that becomes impervious to the shocks and triggers of the external world. Not that we don't feel them, and not that our material safety is not compromised. But through it all, we are able to depend on ourselves to remain resourceful and intact. In turn, our energetic frequency becomes an unspoken signal to others that they can depend on us. In the words of my friend Worthy, this is how we let others know: I safe you.
///
In the days of coronavirus, holding the pose for me has meant resisting the urge to play out worst case scenarios on a loop. It has meant steering clear of the noise and clamor and opinions of social media and instead committing to one carefully timed dose of "real news" per day. It has meant noticing my addiction to busyness creep in as a trauma response and disrupting this with pockets of time to just be still and to feel.
It has also meant being okay with thinking I'm not doing enough to "help."
Because the instinct, in times of crisis, is to ask: what can I do? Especially as a healthy, relatively wealthy, low-risk individual currently residing in the city (NYC) with the highest infection "attack rate" in the United States. This question has tormented me for the past two weeks, listening to the subway trains rumble past on the Williamsburg bridge, carrying already overworked and underpaid service workers and medical staff to their jobs on the front lines of the outbreak.
It has stalked me as I have intuitively closed off from my social media "community," even as I have watched friends and colleagues issue forth endless online offerings and missives of support. It has weighed heavy on me, as I have succumbed to my instinct to retreat even deeper into my already introverted shell, to a space inside where I now realize I have found comfort in self-isolation my whole life.
The irony being that to stop the spread the virus, the first and most "helpful" course of action—in order to prevent more deaths, and to help the economy recover as quickly as possible (although it is likely that the ways we work, live, and support one another will be forever changed)—is doing nothing, being nowhere, and retreating within.
///
Yes, we need to pressure our governments to step in with unprecedented aid. Yes, we can also donate whatever financial resources we have to spare. No, it is not our individual responsibility to fret over the wellbeing of each and every person being affected. And, yes, while we need each other more than ever, we also need time and space and peace and quiet, to process and assimilate our individual feelings about what my mother (a psychotherapist) reminded me is: "a sudden and extreme demolition of life as we have known it."
One which we have had no psychological preparation for, leaving us "stunned," she went on in an email to me last night. "Withdrawal in an attempt to assimilate an understanding of circumstances beyond our control and which up until now have been unthinkable," being another necessary next "action." The same way that animals, in times of distress, retreat from the world as a form of self-protection, "we must conserve our own energy to make sense of and process what has come about."
Processing our emotions is a silent, felt, bodily, and highly individual thing. No listicle with "tips for successful self-isolation" can tell you how to do it. No online seminar with this or that thought leader will give you the playbook on what you, and you alone, need right now. If anything, over-consumption of external "advice" (no matter how well meaning) can become a distraction from this process and course of anxiety. What's needed is the space to conduct an internal process of self-soothing, of grieving, and, ultimately, of acceptance.
The message? Please give yourself permission to be feeling whatever you are feeling, and to need whatever you need. Please do not feel pressured to "join in" with online activities and gatherings if you feel it may be a drain on your inner resources. Please do reach out to the people in your life who feel safe, and stay in regular contact with them, ideally with voice calls. Please let others know you are here for them if needed. And please wait to be asked for help, before rushing in to offer assistance before you have steadied yourself.
///
Which brings me back to the practice of presence.
Learning to be present, with ourselves and with all that makes up our inner and outer worlds, is a foundational principal of the spiritual human experience. It's why "holding the pose." It's why meditation. It's why ritual and sacrifice. It's why vipassana. It's why the Buddhist "dark retreat," a 30-day period of total self-isolation in a space completely absent of light, is considered the ultimate preparation for navigating the "bardo"—the liminal space between life, death, and rebirth, and a space we are moving through as a collective right now.
It's also why Sober Curious. So much of my own ability to be present has come from the process of removing alcohol from my life. From opting out of a substance and a drinking culture that offers a seductive and highly-glamorized escape from reality, to learning to stay with each and every one of the uncomfortable feelings I used booze to numb out from. What I have learned, more than anything, is that time will always take its own time. And that all we can do when we are in it is breathe and hold the pose.
I've also learned that, in times of discomfort, asking questions and listening deeply to our own inner knowing, is often more helpful than looking for answers on the outside. Some questions to ask of ourselves in these days, and to discuss among those we hold dear, might be:
-What is this enforced putting down of "stuff" making space for in our lives?
-Who and what is truly important to us?
-What gifts do we now have the opportunity to give oxygen to and allow to flourish?
-What does it mean to mourn and how can we support each other in our grief?
-What kind of a world do we want to be part of when we emerge from this into the What Now Age?
The truth, in a sea of experts, is that only nature has the answers to how this crisis will unfold. That only history will show us the deeper meaning of this pandemic, and its role in our collective evolution. In the meantime, it is our job to practice being present with what is. And to trust that without "doing" anything at all, we are already playing our part.
///
Meditation: Get an accountability buddy (game-changer) and text each other each time you complete your daily sit.
Book: Tribe by Sebastian Junger. A reminder that not only are humans built to thrive in times of adversity, but that throughout history global catastrophes have brought us closer together.
People: Find your "pod." Think of the 3-5 people you feel you can trust the most, and maintain regular, offline, contact with them through text and voice calls. Prioritize these connections over wider social media communities.
Therapy: Open Path Collective is a non-profit offering affordable ($30-$80 per session) online therapy for people of all races, religions, sexual orientations, genders and gender expressions, countries of origin, ethnicities, and abilities.
Food: Soup. Meditative to make, easy to digest, and a great way to use up random refrigerator leftovers.
Watch: The sky, the birds, the trees. Nature documentaries. Anything that makes you laugh.
Listen: My Sober Curious podcast with Toko-pa Turner on Practicing Belonging—a timely conversation for how to be with and come home to our whole selves.
When in shock or panic: Put your hands on your body and sit quietly until you feel yourself come back. Practice deep, even breaths, by imagining you are blowing bubbles.
If you want to support those who are being immediately affected by the coronavirus pandemic you can donate to the Global Giving Coronavirus Relief Fund HERE. As well as sending doctors, nurses, and other frontline responders to communities in need, your donation will help the most vulnerable members of society, including those with pre-existing medical conditions, older adults, individuals experiencing homelessness, refugees and migrants, wage workers, and those with inflexible jobs.