It's 6.45pm at Betsy and Bryan's place, and Bryan is "taking care of the space" ahead of tonight's Weekly Williamsburg Spirit Séance. The altar is set with a few crystals and a candle, and thick coils of smoke from some heady Copal incense mingle with the savoury scent of the sage "smudge stick" he is using to clear and prepare the space.
The event, which Betsy, a.k.a. Psychic Betsy, has been hosting on regular Thursdays since Fall 2011, begins at seven sharp. "On the email it says not to ring the bell before 6.50pm," says Betsy, "and we pretty much keep to schedule."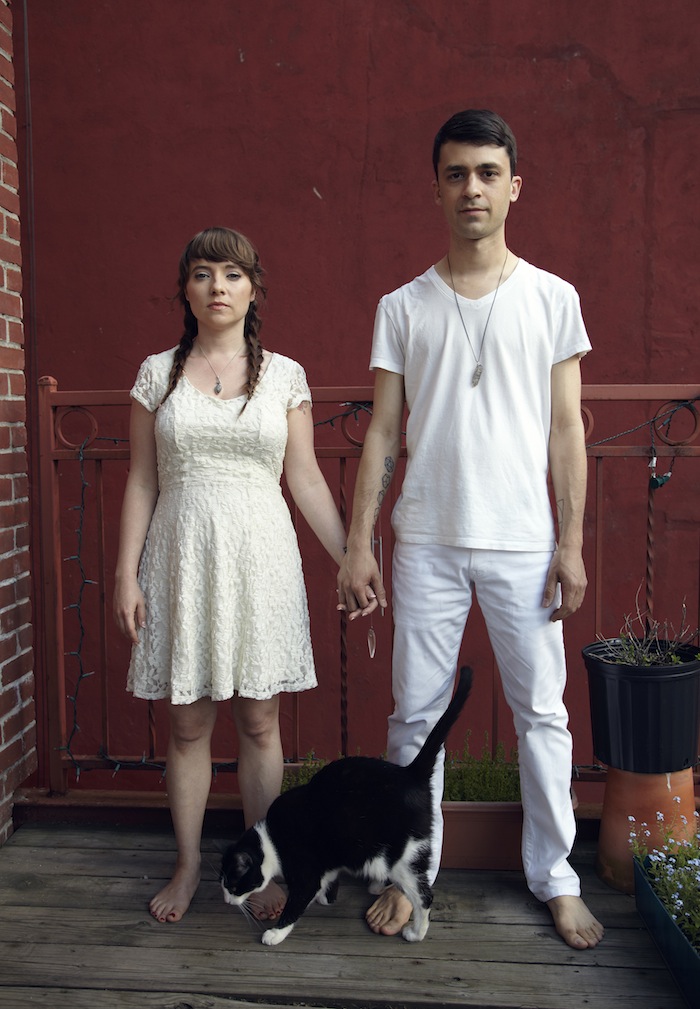 When you read the word "séance" the first image that springs to mind probably isn't a cute hipster couple dressed head-to-toe in white. In fact, most people I told I'd be attending tonight replied that they'd be "petrified" to be in my shoes. "Well most people have seen The Exorcist," jokes Betsy, "but think about it. If you believe that Spirit is actually a benevolent force that connects us all as human beings, what is there to be afraid of?"
Even better, what might I discover about my own "magnetic and psychic powers" (as it says on the flyer) tonight? Describing the weekly séance as "like my pro bono work" (a $10 "suggested donation" sure beats her regular $270 hourly rate) Betsy says she established the event because she wants to encourage this kind of exploration in people. "I always wanted to teach psychic development, and the idea is for everybody in the circle to see what messages come through for them too."
It's safe to say that despite the butterflies gathering for a flutter flash-mob in my stomach, I'm now "psyched" for the event to begin.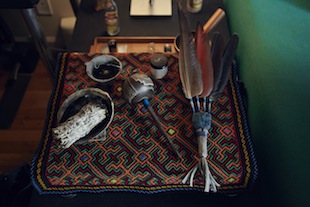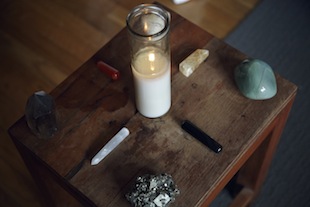 We all have the power
The séance is open to nine bodies each week, and once this evening's group has arrived we are swiftly seated, ready to begin. Betsy kicks things off with a talk about the nature of Spirit and the different ways we as humans can all receive messages from the "other side."
How we receive messages
Betsy tells us she is mainly "clairaudient" – "meaning I hear things, literally like a voice in my head" – and "clairvoyant", meaning she also receives messages as images. But they can also come through as smells (clairscent), a taste in the mouth (clairgustance) or even just a feeling or sensation (clairsentience). "So how do you think you connect?" is her question to the group.
And how to interpret what they mean
So once you receive a psychic impression, the trick is to get into the feeling you associate with it. The image, sound, smell or whatever is just a symbol for the actual message that wants to come through, explains Betsy; "and then you have to share it, to see if it resonates." In other words, don't be shy, "or get embarrassed that you might be wrong. Because there is no wrong answer, you might just need to do some more interpretation."
You can't judge "success" on how a person reacts #1
Audience prepped Betsy begins with a short prayer calling in the spirits, followed by a guided meditation to welcome a more receptive energy. She then goes from person to person to deliver a short reading from whoever has come through for them. First up is David – likely, I've got "a feeling," the least receptive person in the group. "I didn't want to start with you, but Sprit had other plans," laughs Betsy. As she explained before the session, "how the first person reacts tends to be how the group then reacts." As she goes on to describe a distant dead relative, David, predictably, plays dumb.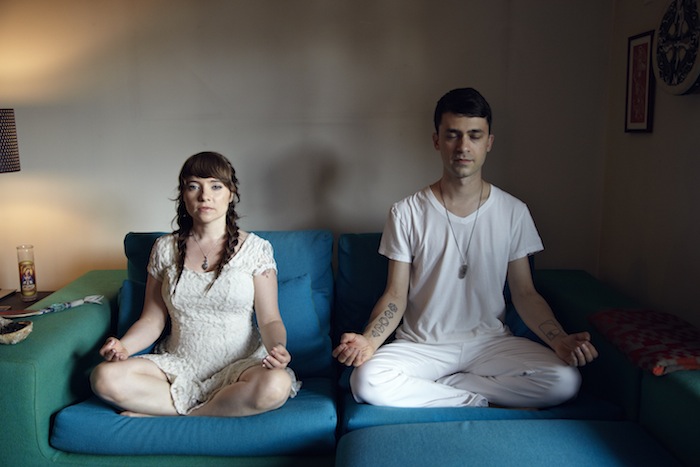 I'm getting…the color purple?
As she goes around the circle, Betsy encourages us to share any messages we might also be getting – "learning to trust what you're seeing is the hard part, but it's all about practise," she reminds us. And so, when a vivid curtain of purple unfurls in front of my mind's eye as Sarah (who seems way more into it than David) is getting her reading, I dig into the associations that come up.
Firstly, it's undoubtedly "Silk Cut purple" – a very specific shade of magenta used to advertise the brand of cigarettes I smoked when I was trying to be cool in middle school. And as for my feelings about Silk Cut…well I always thought cigarettes looked chic, but were kind of gross at the same time. The sensation in my body is a conflict between wanting to smoke, and feeling disgusted by it. "Are you…trying to stop smoking Sarah?" I pipe up timidly. Is this how it works?
You can't judge "success" on how a person reacts #2
Sarah shrugs her shoulders and shakes her head. Oh well, I tried! But it's only after the event that another person in the group comes over to tell me that just this week they decided to give up smoking weed…interesting as Silk Cut was the brand of tobacco I first learned to roll a joint with. OMeffingG…I'm psychic!!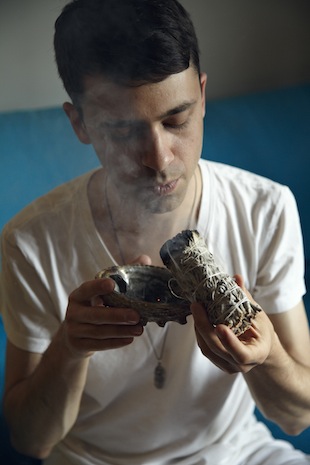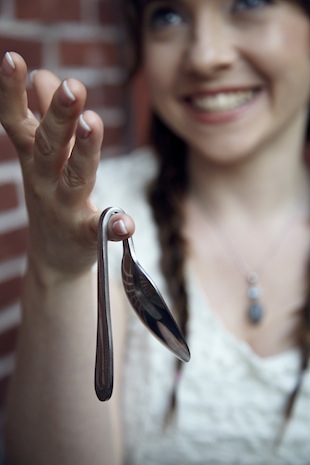 Manifesting fireworks!
Finally it's my turn, and Betsy wants to tell me; "I'm seeing flowers turning into fireworks…" And as she says the word, what d'you know – a kick-ass firework display starts up outside the window. And it doesn't stop. For my entire reading (in which my Grandfather, a renowned workaholic, comes through to tell me not to neglect the fun-and-family loving part of me – thanks Gramps).
We're all kind of bowled over by the…coincidence? "You know it's you doing that…" Betsy laughs at one point, as the swhooshes and whoops outside get almost too loud for us to hear her speak.
Who knows, but I'm sold. If there is something out there, the fireworks incident is enough for me to believe that I've connected with the Universal oneness in some way tonight. On the way home, I check my Instagram feed – and sure enough, people are all like "what the hell, random fireworks over the East River…" I want to comment to them all; "you're welcome. Just another reminder that life's a celebration, right?"
The Weekly Williamsburg Spirit Séance is every Thursday from 7-9pm. For more information and to reserve your space click here.