Know your dosha…know how to balance your body your mind and your LIFE. But don't go thinking you've only got one to work with, says Wolf Medicine. Image: Geonah Lee via Behance.net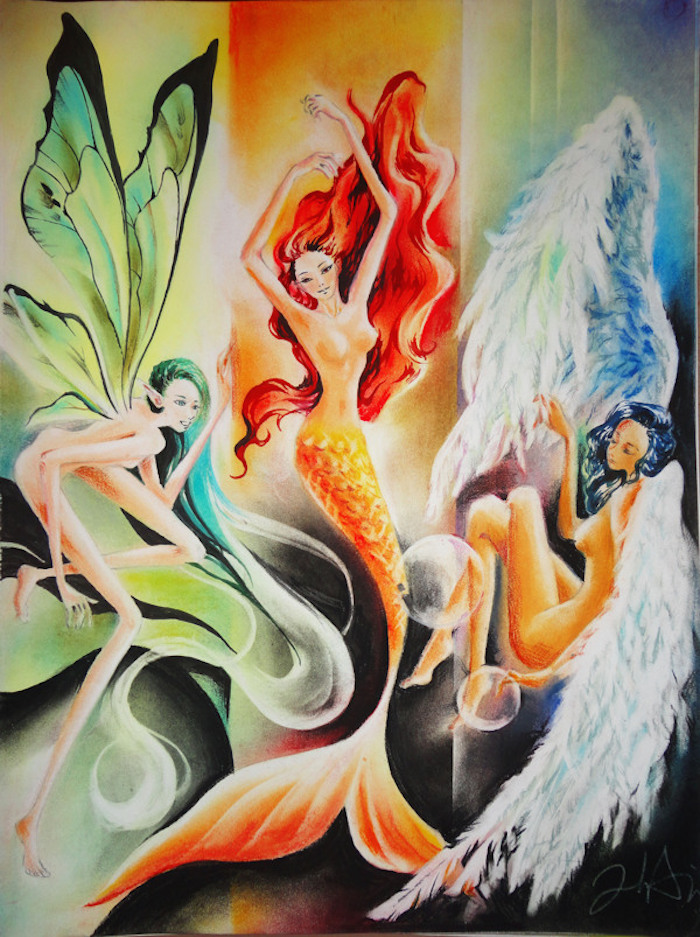 *note, I am not a licensed physician and cannot diagnose or treat dis-ease. Please consult your GP before proceeding with any of the comments or suggestions presented in this blog post.
So it's 2015 and everybody is all about getting away from categorization and labelling (or maybe it's just the people I hang out with). You're post- human? Post-label? You don't want to be called anything? Cool. Those are all labels too, but whatever. And well I'm the opposite. I'm a label fiend. Gay – check. Queer – check. Black, cancer, scorpio rising, feminist, killjoy, Ayurvedic teacher and yogini. Check, check, check and check.
Listen, I get it – we all want to be seen as individuals with our own unique qualities and attributes that set us apart, but we humans also want to belong, which is why we often seek out community/tribe. There's a constant push-pull of wanting to belong, but also be seen as standing out from the crowd.
Which brings me to a HUGE misconception about Ayurveda I've been wanting to address for some time: the doshas. More specifically, the idea that each of us is just one. Hint: we aren't!
I've lost count of the number of times a client has come to me for a consultation, and begins the session by telling me what dosha they are. This is usually based on a quiz they took, a book they read, or maybe what some random person told them eight years ago at a meditation retreat in Maui.
Not that I'm here to patronize and act as some elevated expert guru. I was taught, in depth, a great deal about the sacred science of Ayurveda, and simply act as a conduit for that info. I have deep respect for this ancient philosophy and its lineage, and am into learning just as much as I am into sharing. This is why I want to clear up some myths surrounding not only doshas but the practice of Ayurveda itself.
So, why label the doshas Vata, Pitta and Kapha in the first place? To begin, Ayurveda, the science of life, or living in harmony with the rhythms of nature as I like to think of it, has its origins in India dating back at least 5,000 years.
According to Ayurvedic philosophy everything on earth is made up of five qualities: ether (space), air, fire, water and earth. These qualities are then separated into three categories: Vata (ether + air), Pitta (water + fire) and Kapha (earth + water). These are the doshas.
So as you can see, these elements are all everywhere – in you, in me, in our pets, our plants etc. There is no perfect translation from Sanskrit to English, but know that the word "dosha" refers to that which vitiates. Meaning, the doshas are always moving, shifting and getting out of balance within each of us, often wreaking havoc within the body as they do.
So when you take Deepak's quiz online and declare yourself a "Vata", what you are labelling is your true essence. It means that those qualities of Vata (ether and air) are dominant in you – but by no means are they the only qualities in you.
Borrowing from the Aries Pitta pop art weirdo Lady Gaga, it is Ayurveda's way of saying you were born this way. And your dominant dosha will also be what lies beneath any diseases/maladies you are experiencing.
But actually, two doshas usually proliferate in people – your body type is one dosha while your personality is another. Once you know what these two are, you can use that knowledge to eat for your body type, address any dis-ease you are experiencing and, hopefully, feel empowered to maintain a balance in mind, body and spirit.
During my time studying Ayurveda I began to understand the intricacies of the doshas, and on a personal level this has helped me to better understand how I am behaving (i.e. several days of boiling rage means I need to cool that fiery Pitta) and to also work with and meet others where they're at.
Here's my take on the doshas and how they might all manifest in you:
:: Vata (ether + air) ::
Physically, these people are usually very short or very tall. Basically think super model, Lurch from the Addams Family or Tinkerbell. They have trouble putting on weight and often don't achieve bulky muscle mass. These are the people who eat and eat and eat and never put on weight.
The downside? Well there's a reason one of my favorite teachers refers to them as "crunchy, munchy, itty, bitty, teeny, tiny Vata." They tend toward brittle hair and nails, dry skin, cracking joints and brittle bones. Of all the doshas, they are the most susceptible to disease and illness and don't have strong immunity.
What is awesome about vata people is that they tend to be really optimistic and positive. They are creative and playful and like to think outside of the box. Vata is that person who shows up at a community meeting with a TON of ideas and enthusiasm and gets everyone motivated and hyped up…and then never shows up again or quits after three days.
:: Pitta (water + fire) ::
Whoa there Pitta people. CTFO. Seriously. Pittas – my personal favs but don't tell – have more muscular bodies or can build muscle quickly. Their weight fluctuates and they are sometimes more susceptible to thinning hair or balding and skin issues such as acne. Gingers are usually considered Pitta, with their red hair, fair skin, freckles and alleged quick tempers.
Pittas are usually courageous, determined, goal-oriented, follow through on projects and can tend toward being bossy, controlling and critical of others. I like to think of Pitta's tendency towards being judgy and critical as misunderstood passion. Pittas get turnt up when people are being lazy and don't care. My best advice if you want to avoid that feisty Pitta in your life (being one myself), is to show up and be ready to give 100% – or leave and quit wasting folks' time.
Pittas like to accomplish goals and get ahead and don't like to do things half-assed. I advise all Pitta people prone to anger/rage to stay the hell away from hot yoga and try some twists and grounding yoga poses in a cool place instead. Also, drink lots of coconut water and aloe juice. Seva, or selfless service, is also a great way to constructively channel that Pitta fire.
:: Kapha (earth + water) ::
Big, beautiful, abundant Kapha. The dosha with the strongest immunity. It is said that Kapha is only susceptible to 40 or so diseases while Vata is vulnerable to 80+. Kaphas are a sturdy bunch. They tend to put on weight easily and have trouble loosing it (if they so desire). Their joints and ligaments are strong and limber. Their hair is think and wavy and their skin has just the right amount of oil and suppleness.
Chronic sinus, congestion and lung issues pop up when Kapha is out of balance. I don't want to say that kaphas are pushover doormats prone to hoarding but…let's just say that these people just aren't frantic, anxious or bossy. Don't expect them to purge possessions or relationships easily either. I actually make it a point to cultivate relationships with Kapha people. When you are as fiery, feisty and flaky as me, you need some of that calm, earthy vibe around you. My boo and many of my friends are Kaphas and it's a good balance for me.
They take their time when making big changes. They are never in a rush and don't really like to get angry or upset folks. What I love about Kaphas and try to access within my Vata-Pitta self is their sense of groundedness, kindness and empathy. They aren't quick to react and aren't easily angered. When Kapha is too abundant in the body, people can become depressed, lethargic, clingy and possessive. Vigorous yoga and pranayama as well as spicy food are great for busting up too much Kapha.
So there you have it – Vata, Pitta and Kapha all working together harmoniously (hopefully) within every body.