Illustrator Kim Krans has gained a cult following as creator of The Wild Unknown Tarot deck. Launched in 2008, her mystical vision has since expanded to include zodiac prints, jewelry and even a kids' alphabet book. As she launches her latest project, a collection of one-off paintings based on the cards, she explains her connection to the Tarot an invites us to take a trip into the wilderness within. Words: Ruby Warrington. Portraits: Daniel Arnold.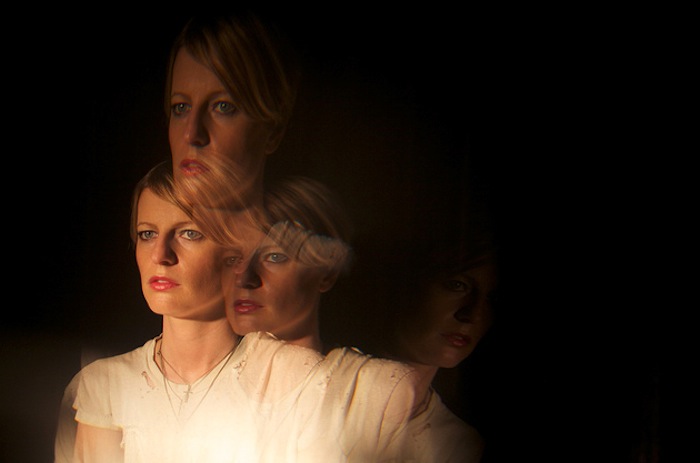 What was your first introduction to the Tarot and why did it resonate with you?
One night when my band was on tour we crashed at our friend's house in Boston and I slept in a bed that had a beautiful woodcut print of the Magician hanging over it. I remember starting at it before I fell asleep and saying to myself; "someday I will draw the Tarot deck." I was introduced to the Tarot well before then but I swear something happened that night…The Magician crept right into my bones.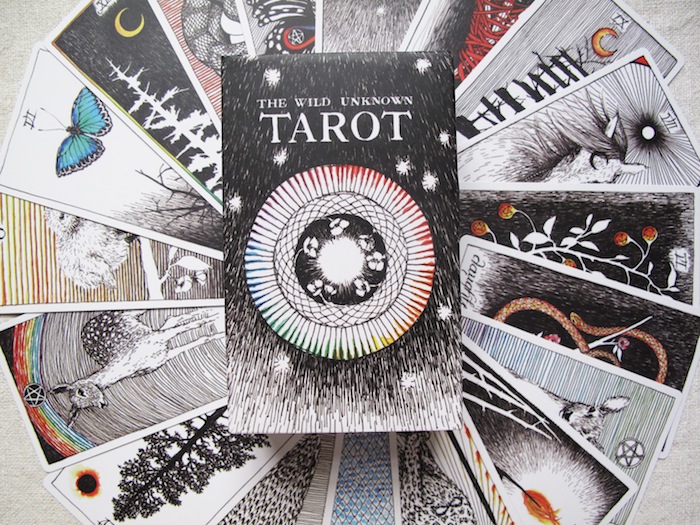 The Magician: When the Magician appears in a spread, it points to the talents, capabilities and resources at the querent's disposal. Depending on the card's placement in relation to other cards, the message is to tap into one's full potential rather than holding back, especially when there is a need to transform something. There are choices and directions to take. Guidance can arrive through one's own intuition or in the form of someone who brings about change or transformation.
What makes the Tarot so relevant in post 2012 life on planet Earth?
We all want a little guidance, right? We have lots of voices within us – some come from places of fear, doubt, low self-esteem, bummer things that happened in the past, etc. These voices get all tangled up and lead us to believe we are less amazing then we are. But underneath all that, waiting for us to hear it, is one super clear, resonant, calm voice that knows exactly what to do. It's tough to hear it if we don't consciously listen for it, but Tarot helps us get there… in that it helps us see ourselves and our patterns. If you wonder why after a good reading you feel "relieved" or "more yourself" (even if it's a dark-ish reading) it's because you made contact with that inner voice. Keep finding ways to connect with it, listen to it, and soon your path becomes golden.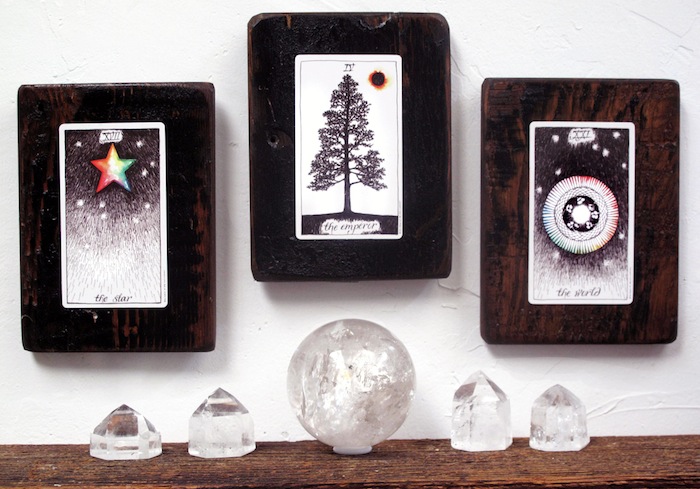 What's your favorite card in the Wild Unknown deck, and why?
The Moon card, for sure. The most important reading of my life had The Moon as the central card…that reading was a real turning point. It was just months before the deck came out. So I am ever-loyal to that card. The Hermit is a close runner-up fave.
The Moon: The Moon is the card of intuition, dreams and the unconscious. The Moon provides light as a reflection of the Sun, yet this light is dim, uncertain, and only vaguely illuminates our path as we journey toward higher consciousness. When a path leads between two towers into the distance, it is showing the way to the unconsciousness. The astrological sign associated with this card is Pisces – psychic, receptive and mysterious.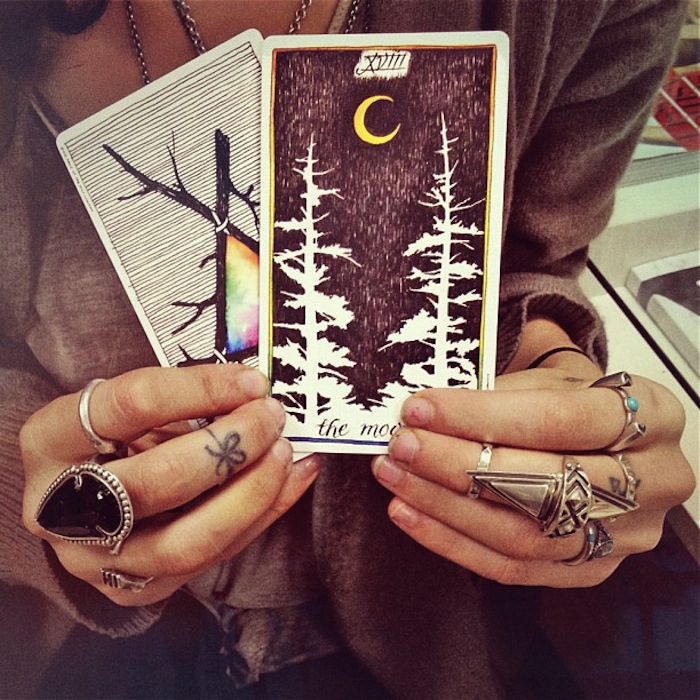 We discovered your Zodiac project on Pinterest. Will we see more of this? (Obsessed!)
Yes! The Zodiac series I drew just came out as a blank notecard set. All twelve drawings in one box…no more stressing to find your far-out friend a birthday card!
How do you connect to the Wild Unknown inside you in your daily life?
The best access point for me is meditation, yoga, and mantra. I also take walks on Zuma beach a lot. Singing also helps me.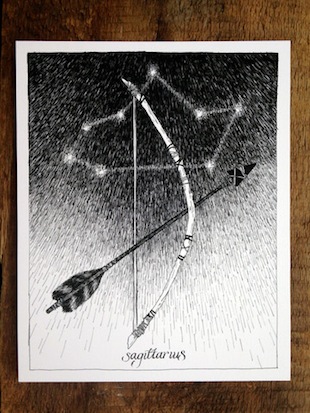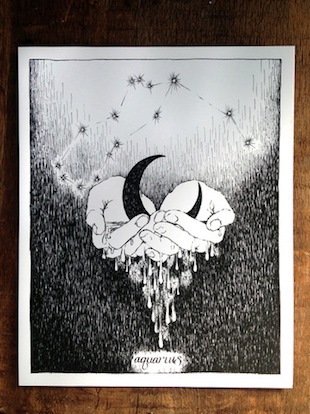 Is that "Wilderness" the same thing as the guru they say lives inside us all?
I'm going to take a bold stab at this big question and say – the "wilderness" is not the guru but instead it is the place within where the guru can be found. It is the realm of the guru. But the wilderness is fluid, changing, wild, magical, creative and mysterious…while so far…the moments I have glimpsed the guru it is perfectly still. Perfectly, perfectly still.
And if it were an actual place on Earth, what's the closest you've come to finding it?
In a small shrine in the Poconos.
"So I cut off my hair and I rode straight away, to the wild unknown country,
where I could not go wrong…" – Bob Dylan
www.thewildunknown.com
@thewildunknown