What's in the cards for your sign this month? Check out our Numinous tarotscopes by Lindsay Mack, cast using The Starchild Tarot…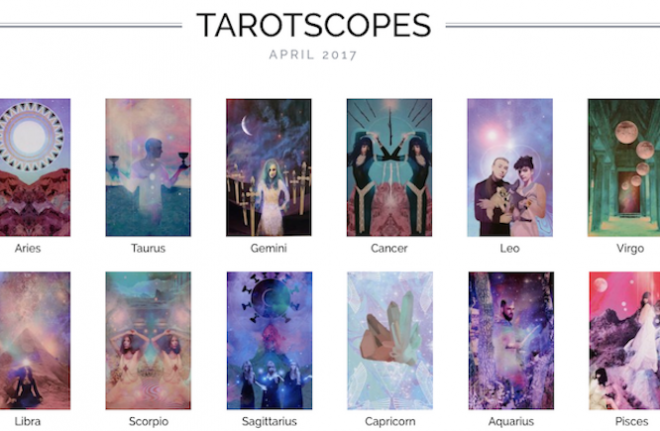 ARIES :: ARIES RISING
The Sun
Many happy returns, sweet Aries! The Sun is a transformational card, a golden dawn after a dark night. April is a big time of potential for your whole sign, offering you the chance to clear the past and set intentions for a renewed future. Your job will be to look to the light in all ways this month. The light of this card will be illuminating the gifts of your shadow, enabling you to walk forward in your life without duality. It is time to forgive yourself, to release old cycles of ego, pain, trauma, separation, and fear.
You are liberated, truly rebirthing into this new year from the ground up. Your deepest invitation this month will be to work on trusting that light and embracing all the clarity it will be bringing you — it is truly making room for some beautiful new shifts in your life. To experience the fullness of all it has to offer, be willing to go wherever the light touches this month. Something really important to understand about The Sun card, Aries: it does not necessarily equal joy and happiness. What it does offer is the potential for answers.
Life changing, soul renewing answers; answers with a capital A. All of a sudden, things make sense and we are never the same again. A lot can be released in The Sun to make room for what is truly aligned, but we can't let go of the old until we see and understand what we didn't before. This is why we let the light in: so we can make shifts with the deepest possible clarity. This is the beginning of a whole year of this kind of liberation through wise understanding, Aries, and it starts with you. Bless yourself, honor yourself, clear the past and step forward anew. You're ready, and this is your year.
Cast by Lindsay Mack using the Starchild Tarot. Want more wisdom? Book a reading with Lindsay here and follow her on Instagram.
TAURUS :: TAURUS RISING
King of Cups
You are in King of Cups for the second month in a row, Taurus babes! It still has some sweet medicine to offer you. Last month, the invitation in this card was to level up, to embrace your gifts of service and step out into the light with them shining. That is still flowing through the energy of your April cycle, and you are still highly encouraged to focus on those aspects of your life. However, the expanded invitation of the month is to not only allow your gifts to come more deeply forward, but for you to fold in more sacred self care time while you do it. To be of service to others requires that we ourselves match that in our own life to have a consistently full inner well.
Without it, there is an imbalance one way or another. With this in mind, consider that the King of Cups has requested an extended masters residency with you, all focused around the delicate balance of service to others and ourselves. If you got a little too burned out or overrun in March, King of Cups will be here to help you do it differently this month. This card's energy will gently guide you to take more breaks, enact better boundaries, and sink into more hot, epsom salt baths.
If you're on the opposite end of things and wish there was a lot more happening in your schedule, trust that it is coming. You may have to look at the bare bones: are you charging enough for your services? Do you have an updated website? Are you prioritizing your own expansion with regular body work, coaching, or soul work? If not, add it in. Welcome any assistance to help you rebalance the energies in your life. You're on a path of deep mastery, Taurus—keep evolving into it.
Cast by Lindsay Mack using the Starchild Tarot. Want more wisdom? Book a reading with Lindsay here and follow her on Instagram.
GEMINI :: GEMINI RISING
Nine of Swords
You have a magnificently powerful month ahead of you, Gemini, one rich in opportunities to grow and expand as a person. Your sacred word for the month is "choice." Everything is a choice. How we react, how we speak, how we breathe, what we put in our bodies and how we choose to respond to the internal and external situations that life sometimes hands us—all deeply rooted in our choices. Even this moment as you read this Tarotscope, you have a choice: to freak out at the sight of Nine of Swords, or to get curious about both it, and whatever inner experience might be arising within you.
If resistance and fear arise upon seeing this card as your monthly medicine, you know the great work of this card has begun. Nine of Swords is a deeply important energy, albeit one that's not always a particularly welcome sight in a reading. Nine of Swords can invite us into fear fantasies. Sometimes there are nightmares associated with this card; sometimes anxiety, racing thoughts, or potential paranoia can play a role. The question, Gemini, isn't whether you're going to have a totally dark and anxious month—you're not. That much is certain.
The question is, are you ready and willing to transform your relationship to fear, or that fear could have something to teach you? Are you willing to consider that an anxious moment can provide the perfect opportunity for a moment of deeper intimacy with yourself? Nine of Swords is enabling you to receive the gift that can come when we, if even for a brief moment, choose to honor our fears, rather than let them swallow us up. Remember: feelings aren't always facts, sweet Gemini. Practice empowered choice around your brain chemistry this month. You stand to gain everything and more from doing so.
Cast by Lindsay Mack using the Starchild Tarot. Want more wisdom? Book a reading with Lindsay here and follow her on Instagram.
CANCER :: CANCER RISING
Ten of Wands, Rx
It's a whole new world out there for you, Cancer—if you're willing to upgrade the way in which you walk around in it. Ten of Wands is typically a "point of no return" card, representing a time in which we must make foundational changes to the way we are currently moving through our lives. This card indicates that something has become unsustainable, and we must transform from the ground up in order to allow for an easier way. This card is all about energy, and very often it has to do with our adrenals and nervous system—it can show up as burnout, overwhelm, exhaustion, anger, or pushing rather than flowing.
It's not a bad card, but it does flash some powerful signs in front of our eyes that are difficult to ignore. Because you have this card reversed, Cancer, it is unfolding through your month in a much lighter way than it would be right side up. Overwhelm and burnout are less likely this month, although if that's the case, take care to restore as best as you can. What DOES need to come into play on the wings of Ten of Wands Rx is a little more creativity and transparency around asking for help and assistance when you need it.
It's not so much that you need to drop any of the wands you're holding, it's that you cannot hold them alone anymore. It's about leveling up, which is excellent news. April might be the month to get a personal assistant if you're drowning in emails. It might be the time to outsource, to get a babysitter, to say yes to any form of help. Ten of Wands bodes big changes, all for the better. No more pushing, and no playing small, Cancer—you've come too far for that. Ask for the help and it will appear.
Cast by Lindsay Mack using the Starchild Tarot. Want more wisdom? Book a reading with Lindsay here and follow her on Instagram.
LEO :: LEO RISING
The Lovers
The Lovers is bringing some powerful medicine your way this month, Leo. April will truly be a journey of deep inner work for you, inviting you to deepen your relationship to your self love and intimacy. You might do some work with a partner in this energy—you might even meet someone this month, but that will only come if you are saying yes to your soul work, diving deeply into yourself. Don't necessarily expect to find love in an other this month, but if it floats in, that's great. Either way, it's your show in this particular cycle, external love or not.
The Lovers, like Two of Cups, unifies dualities within the self, thereby aligning our life and relationships to the highest frequency. When we are aligned, love can flow in. You are being asked to look openly and honestly at any areas of your life that are not in alignment with your heart. As I mentioned above, this doesn't need to be limited to your romantic relationships, or perhaps lack thereof. This is about you, about all aspects of your life. Where in your life might you be trying to fit a square peg into a round hole? Are there any aspects of your day to day that are draining the life out of you?
Inquire about this honestly, and endeavor to change it. Look very closely at the underlying beliefs that might be fueling this pattern of misalignment, then set an intention to invite alignment into your life, to drop into a sense of peace and acceptance with what is—no matter how it might look to other people. Trust yourself and your heart. It will unlock many, many doors for you this coming month if you do so.
Cast by Lindsay Mack using the Starchild Tarot. Want more wisdom? Book a reading with Lindsay here and follow her on Instagram.
VIRGO :: VIRGO RISING
Five of Pentacles
Five of Pentacles can be a tough card to move through, Sweet Virgo, but it is bringing a profoundly important medicine to you this month. Let's get one thing out of the way, first thing: you are not going to have a month full of pain and lack, but that doesn't mean that there won't be bumpy moments within the upcoming weeks. Your job will be to welcome the bumps, honor the contractions, bow over to any experience of grief and fear—you're in a mastery of contraction this month. Remember: anytime we contract, we are being prepared to expand. It's something that, as Michelle Sinnette says, we can even get excited about.
We're being prepared for birth, in some capacity. It is only when we fight the contractions that we stall out in our lives, inadvertently perpetuating the cycle of pain. You have the chance to liberate yourself from a pattern of beliefs around lack, fear, and trust in the Universe this month, all in the energetic invitation of Five of Crystals, or Pentacles. It will require you to choose presence around whatever arises, knowing nothing that can come can be bigger than you.
There might be some anxiety this month around money, family or love. It doesn't mean that it's true, but it may come up. There might be moments of fear, of doubt, and of feeling squeezed by grief or pain. Whatever arises, choose to stay mindfully occupied, and know that you can trust that just as the contraction flowed in, it will flow out when it's time. You're in a spiritual labor this month, Virgo. Something big and beautiful is on its way to you; you just need to clear out some old beliefs before there can be space to receive it. Trust the medicine of Five of Pentacles; embrace it like the deep warriors you are.
Cast by Lindsay Mack using the Starchild Tarot. Want more wisdom? Book a reading with Lindsay here and follow her on Instagram.
<a name="libra"></a>
LIBRA :: LIBRA RISING
The Universe
Are you ready to level up, sweet Libra? Are you ready to drop victimhood and old patterning that kept you safe and small? Are you ready to claim your truth, your gifts and your passions unapologetically? I know in my heart of hearts that the answer is yes, because you are moving through the transformative medicine of The Universe this month. The Universe, or The World, is the last card of the Major Arcana. To get this card indicates that we are ready to evolve into the next chapter of our soul's journey, that we have moved through a karmic cycle of our lives in its entirety.
We have learned all we can from this cycle—we will never go backward in the same way again. We are free. It is only forward from here, birthed into a brand new level of commitment, of lessons, of service, and of self care, beginning anew in the light of The Fool. What does this mean for you, Libra? It means that you are ready to step into your light. It means that you are liberated from years of deep clearing and hard work. It means that you have much to share, and you have no business playing small anymore. You are moving up and it's going to be incredible.
The final piece of work this month in The Universe will be to honor any fears that may arise around this amazing expansion. Remember: the good stuff is truly where we can feel the most afraid. If any sabotaging behaviors arise during the month, know that you have the chance to gently rewire them, to get clear on your patterning in those areas—it is the last piece of this puzzle. You are ready, and it is time. Trust yourself, and step into your truth.
Cast by Lindsay Mack using the Starchild Tarot. Want more wisdom? Book a reading with Lindsay here and follow her on Instagram.
SCORPIO :: SCORPIO RISING
Perspective
You're in the potent frequency of The Hanged Man this month, sweet Scorpio. There is a tremendous amount of medicine to be gained from this energy, all centering around the idea of surrender. There is a reason that this card was so brilliantly renamed Perspective in The Starchild Tarot: in it, we are literally flipped upside down, getting birthed into a new world view.The Hanged Man helps us to look at ourselves and our lives in a different way. Expect to let go of a lot of old patterns, habits and beliefs this month. In this card, we are literally "hanging out" in something uncomfortable, allowing the ego to die back in order for a more soul centered way of living to emerge from within us.
This perspective shift will require you to really deepen into your self care practices, staying in truth the whole way. It might be an uncomfortable month in moments, Scorpio, but it's bringing you nothing but goodness. The benefit of this process is that it is sweeping you into a new way of seeing things so that you can change them. And it is only when we can see things in the light of awareness that we become free to change them.
This requires us to move through the life/death/life cycle, which runs hand in hand with discomfort and contraction. Trust the more uncomfortable, intense moments of life — it is from there that we stand to truly birth something new. Gently inquire: what's ready to be released from your life? What's ready to blossom in its wake? Are you willing to allow the shift to take place? If you are willing to completely let go in this suspended state, Scorpio, major breakthroughs and expansions will begin to unfold in your life. Just hang out and let it flow.
Cast by Lindsay Mack using the Starchild Tarot. Want more wisdom? Book a reading with Lindsay here and follow her on Instagram.
SAGITTARIUS :: SAGITTARIUS RISING
Ten of Cups
How long has it been since you did absolutely nothing, Sagittarius? Doing nothing is deeply active, and requires us to drop into extreme presence in order to really be there for it. When was the last time you got lost staring out a window, or at the sight of beauty in nature? When did you last drink in the face of your lover, your child, your parent or yourself? This moment is all we have, and life moves by so quickly. To really be here for it, we must practice doing nothing but being with what is.
Ten of Cups is truly the moment when life becomes ceremony. Our wishes are granted and life is beautiful; it's a golden energy. It is only when we live ceremonially, in absolute service to presence, that the secret of this card can be broken open to us right here and now. You're learning a new way to live, Sagittarius, one that will show you that you already have everything you want. Do nothing, and you will see it. You don't have to wish for anything, you don't have to strive, and you don't have to manifest.
Your life can become a living meditation, a breathing manifestation practice, and a true co-creation with Divine. While we are busy living in gratitude and presence, we make room for so many more gifts. This is your rather zen invitation this month, Sagittarius—to be fully immersed in the beauty, magic and abundance of this moment, rather than swimming into the past or the future. Let joy and gratitude at the mundane flood your very being. If fear, anger or grief arise, they are meant to be part of the rich fabric of the present, too. Allow it all. The more you can come home to the simplicity and wonder of this moment, the more you will receive.
Cast by Lindsay Mack using the Starchild Tarot. Want more wisdom? Book a reading with Lindsay here and follow her on Instagram.
CAPRICORN :: CAPRICORN
Ace of Crystals, Rx
What are you afraid of, Capricorn? Take a gentle pause in this moment and consider the question. Drop into your heart for the truth. Had you been barreling through your day up until this second? Has fear been a recent motivator for your choices, as of late? If so, you have the opportunity to change that completely; as of this moment, life begins again. Lately, life has been nudging you in certain directions, dropping golden clues and sacred seeds into your lap.
Had you noticed? Ace of Crystals, or Pentacles reversed is a powerful heads up: something is trying to drop in to you, and you're not receiving it. Your job this month will be to land on why that might be, how you can change it, and how you can shift to a more present moment focus, aiding you in delineating more clearly those gentle taps on the shoulder from Spirit, so you can act on them. There is a universe of potential in every Ace card, but the Ace of Pentacles in particular rules our physical body, our financial situation, and our soul centered abundance. This card is here to bring a big upgrade into your life, but fear may be subconsciously stemming the flow.
The whole point of any reversed card is that we must do the work to find out why it is reversed in order to undo it; the work itself is the reward, in this case. Something is trying to get your attention, Capricorn, and it's up to you to unravel the knots of fear, contraction and brain chemistry that may be gently humming in the background, subtly taking you out of the present moment, so that you can plant the seeds that are dropping into your open heart and hands. No judgement, no story—just be present and pay close attention.
Cast by Lindsay Mack using the Starchild Tarot. Want more wisdom? Book a reading with Lindsay here and follow her on Instagram.
AQUARIUS :: AQUARIUS RISING
Knight of Wands
April is a juicy month for you, Aquarius! This next cycle is going to get you feeling yourself, and that's a great thing. After several months of really tough cards, your sign has landed in the potent energy of the Knight of Wands. This month (and this card) doesn't necessarily let up too much in intensity for you, but it will be more enjoyable. The big theme for you this month is sexuality—exploring it, enjoying it, having more of it, connecting to it in yourself. Of course, sexuality is so much more than the act of having sex.
It's a profoundly potent energetic frequency, one that pools and centers in our sacral chakras. When we feel safe in the world, when we are connected to our creativity, our sensuality, our play and our freedom, we have a balanced Sacral Chakra. This will be a month to heal any tender places in that energy center, Aquarius, as you will be invited into situations and opportunities that replace trauma with trust, and rigidity with flow and play. Be willing to be brave, to be open, to let someone in—even if it's yourself. Especially if it's yourself.
Knight of Wands is a powerful fire energy. This archetype loves to perform (in a good way!). He likes to delight, likes to be looked at, and moves through the world desiring to bring joy and warmth with his every step. He wants to be seen, and wants others to feel things by seeing him. He is an organic gateway into sexual flow and creative expression. You can tap into those places within yourself through dance, art, sexuality, or any area of self expression that you want to share with the world, Aquarius. Whatever you do and however you get there, let it be delicious and enjoyable.
Cast by Lindsay Mack using the Starchild Tarot. Want more wisdom? Book a reading with Lindsay here and follow her on Instagram.
PISCES :: PISCES RISING
Six of Crystals
You're in a beautiful mastery of give and take this month, Pisces, a theme that will be extraordinarily important for you to return to again and again this April. Six of Crystals, or Pentacles, will be helping you to balance the sacred exchange between giving and receiving in your life. The work around this area will be deeply transformative for you, if you're willing to dive deeply into it. Either way, you are being asked to uplevel, to honor a practice of moving through your life with an overflowing well of energy, rather than a deficit.
If you are willing to say yes to this upgrade, it will help to clear the space for more opportunities, more abundance, more receiving, and more joy. Why? Because a full well equals balance and wholeness in a holistic sense—spiritually, physically, psychically and mentally. Releasing any old burnout patterns clears the space for new and welcome energy to flow in. When we give from a personal overflow (rather than a deficit, when we are burned out, exhausted, etc.), both we and the person we are serving will be receiving. The same thing happens when we receive from someone who is giving from an overflow.
It really is a beautiful loop of energetic exchange, one that is hinged on truthful communication, sacred boundaries, and respect, both for ourselves and for another. If this pattern of giving from less than an overflow is a regular one for you, sweet Pisces, it might be a good time to look at your beliefs around receiving, or your self care practices. If one or more things have been in excess, April will be the perfect time to gently shift them. Monitor and honor your personal energetic well this month, and you will make some amazing changes to your life.
Cast by Lindsay Mack using the Starchild Tarot. Want more wisdom? Book a reading with Lindsay here and follow her on Instagram.