Over six years of teaching yoga, Erica Jago has developed her own practical yet deeply intuitive methodology for designing a sequence that will heal the body, open the mind and touch the soul. She shares her process here – which can be used to design a group class, or a solo sequence just for you.
sankalpa – Begin by writing three to five sentences in the form of a sankalpa that can be used at the opening of your sequence to set to the mood.
anatomical focus – Next, define the anatomical focus in a short bulleted list. For example, if I want my class to land in the heart, I would instruct this: "Lengthen the sides of your waist upward," "Fearlessly move the heads of your arm bones back," "Bring the tips of your shoulder blades to the back of your heart," "Expand your collarbones." This becomes the alignment you will cue in every pose.
sequence – Next comes the sequence. By drawing out the sequence using Asanaglyphs you can record the progression of poses you want to flow through over the course of the class.
three wave grid – That progression of poses is mapped out over a three-way grid that 1) warms you up, 2) takes you to the peak pose and 3) winds you down for shavasana.
peak pose – consider what you want to be the point of highest activity.
talking points – Lastly, I further develop the theme by writing down bite-sized talking points that can be used sporadically to help deepen the meaning of the poses.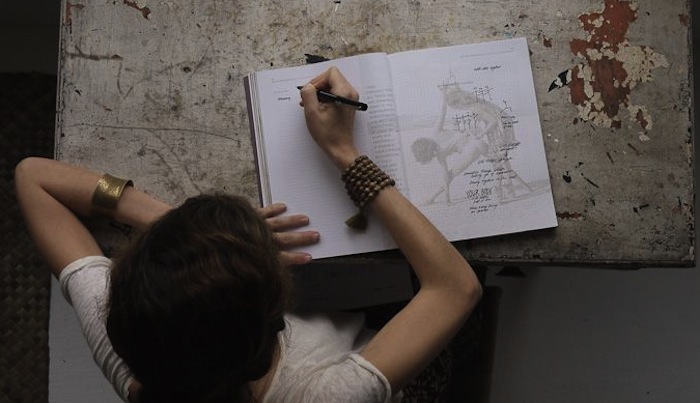 DO YOU USE THE SAME PROCESS WHEN YOU'RE DESIGNING A SEQUENCE FOR YOUR PERSONAL 'USE'?
Yes. I don't teach a sequence unless I've fully embodied the language of those truths within myself. This has taught me how to listen to the tone of my voice, remix inspirations and to choose themes based on what has momentum in my current situation. The themes I choose come from a deep desire to master a concept more fully.
DO YOU SPEAK THE ORAL CUES TO YOURSELF WHILE PRACTISING THE SEQUENCE?
Hilariously, yes. And I've even filmed myself, which was horrifying! But this methodology ensures a sense of clarity for me, even before I step into the classroom, because I've contemplated it, practiced it, and experienced it first hand.
WHAT IS A 'SANKALPA' AND WHY IS IT IMPORTANT TO BEGIN WITH THIS?
A Sankalpa is the  mood you want the experience to be infused with. This feeling and intention is what you return to again and again as you design your own yoga sequence, to reiterate the teachings at the cellular level.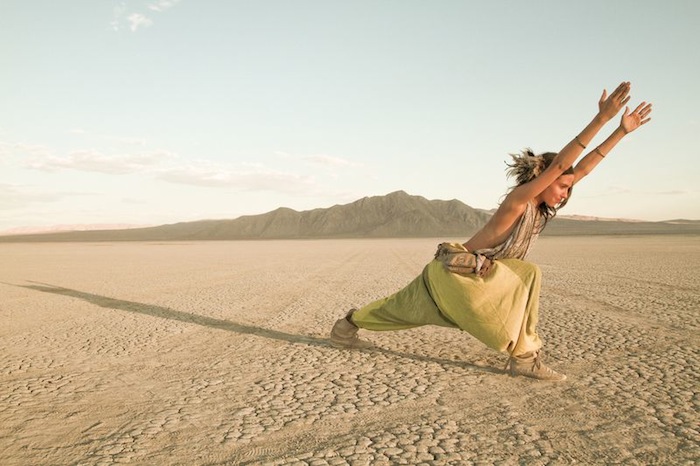 WHAT'S A GOOD WAY TO GUAGE WHAT KIND OF THEME IS GOING TO BE MOST USEFUL FOR YOU AT ANY GIVEN TIME? 
The chakras. Feeling for what's happening at these energy centers in our bodies that will bring about magic every time. Concentrate on one of these channels at the start of your sequence and continue to tune into that frequency, pose after pose, and you'll find that you are opened up to deep seated memories and even spiritual experiences.
WHAT IS THE BEST WAY TO GO ABOUT DEFINING THE ANATOMICAL FOCUS YOU WANT TO WORK WITH?
I believe setting an anatomical focus is a methodical and logical way to learn how to serve and nourish our own hearts. Using a series of arm balances or backbends, for example, with simple, relevant cues, grants us access to those areas of the body that can otherwise be merely esoteric. The clichéd concept of "love yourself" is more easily grasped when you align the architecture of your body and attention of your mind with the latitude of the body that's known for generating and broadcasting love.
DO YOU HAVE TO BE AN EXPERT ARTIST TO DRAW THE ASANAGLYPHS?
Absolutely not. If you can draw a straight line you can draw them, while grid paper will help with the scaling. The Asanaglyphs are scaled three squares wide by four squares high. Most yoga poses are set at 90°angles, and I've learned over time that the figures look better when you keep the heads small (no pun intended!)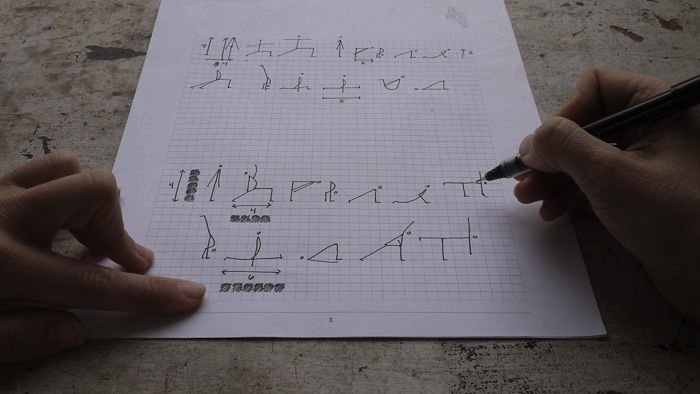 HOW MANY POSES SHOULD YOU AIM FOR IN A 30-MINUTE SEQUENCE?
That depends on the style of yoga you're practising. Vinyasa will include more poses, with cues to "pulsate" between them, while Restorative or Yin will feature less. I've begun to study and value a slower, more cooling practice. A 30-minute flow that I do before bed includes forward and backbends that stimulate and nourish the kidneys and adrenal glands. Sphinx pose, Saddle pose, Seal, Butterfly, Half Butterfly, Caterpillar, Reclining Twist.
IS IT A GOOD IDEA TO DECIDE YOUR 'PEAK POSE' BEFORE YOU BEGIN? 
Occasionally, if this is what inspired you to design the sequence. The peak pose traditionally happens in Wave Two and gives you a starting point to work backwards from to create Wave One. Think; what needs to be open in order for you to come into the full expression of the peak pose? And with Wave Three; how can I counter the peak pose and gradually bring myself back down? After some thought and contemplation, notice if these series of expansions and contractions change your perception of the pose and how you practise it.
IS THE PEAK POSE THE MOST DIFFICULT OR CHALLENGING POSE, OR THE POSE THAT GETS DEEPEST INTO YOUR THEME? 
Traditionally, Peak Pose means the most challenging, but I would love to think that by using this creative process, it would allow for both options to be true.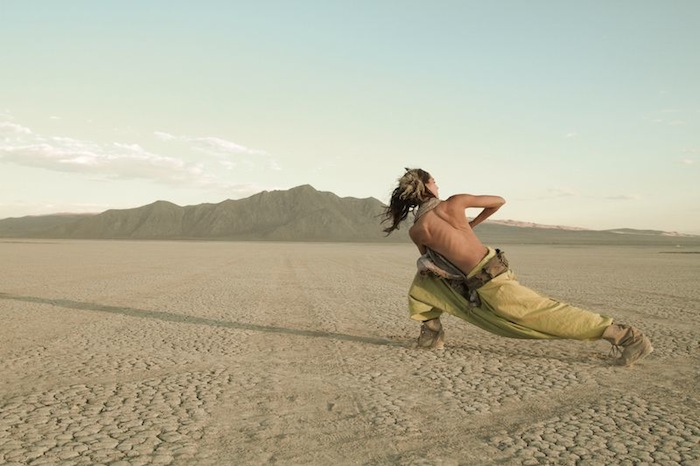 IS IT A GOOD IDEA TO PRACTISE THE SEQUENCE AS IT DEVELOPS TO HELP IT EVOLVE MORE NATURALLY?
That is the only way to do it! Spread your mat on the floor, grab a cup of water, your Jambox, your timer, your source of inspiration, a pen and two sheets of 8.5 x 11 grid paper. On one sheet sketch out the three wave grid and keep the other sheet for writing out your talking points. Begin by moving your body and breath, stopping to take notes as you go, and recording the poses with Asanaglyphs. Give yourself one hour of uninterrupted time, meaning no getting up to check your mail or do dishes, but staying close to the earth, candle lit, and letting the design of your sequence be an intertwined act of creativity and spirituality.
The best part is that by recording it this way, your sequence becomes a work of art. I can come back to the sequences I've designed again and again, and so eventually each one becomes part of my DNA. You can find some of these drawings on my Pinterest and Instagram accounts: @Jagoyoga.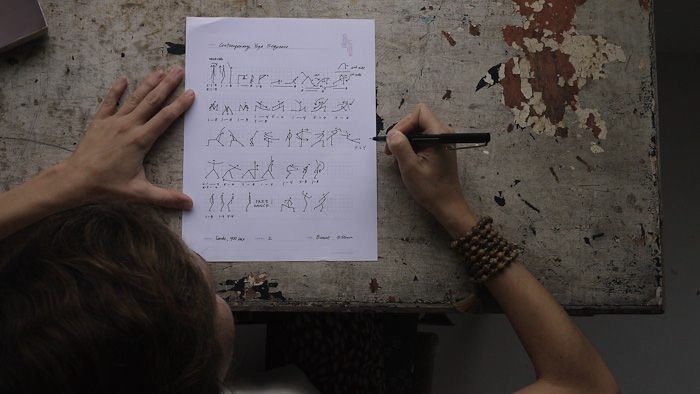 Contemporary Yoga Sequencing will be held at Noelani's Studio in Haleiwa, Oahu on January 31. Erica Jago will be speaking at Wanderlust Oahu on Feb 27th.