The 2019 Gemini New brings an opportunity to get really clear about where you're at. Sandy Sitron explains how …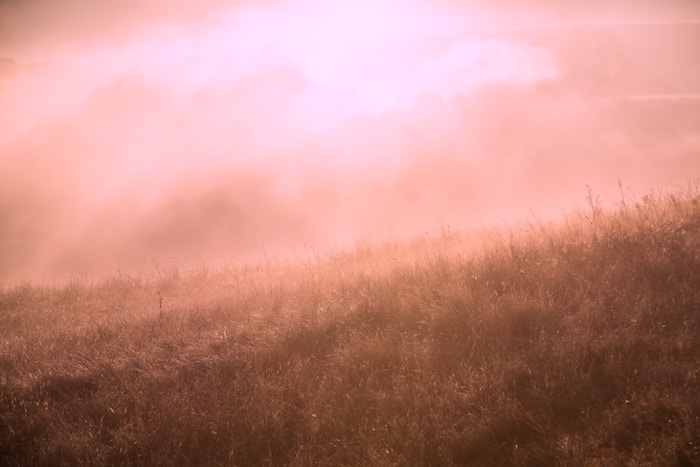 Moon New Moon // June 3 2019 // 6:02am ET // 12 degrees Gemini
You flounder through a hazy field in early morning. Dewy grass folds under your bare feet. Your visibility is low. The smell of soil and flora overpowers. There isn't anywhere you need to be. But you feel lost because there are no landmarks, just the sweet scent of the cloud that surrounds you.
This story symbolizes what it's like to try to think clearly during the 2019 Gemini New Moon. In this image there's no logical pathway that will save you from the mental fog. No breadcrumb trail of thoughts will lead you to a definite conclusion.
Your brain is very active. You may have many thoughts streaming, but they aren't linear and logical. There is a sense that you need to figure something out, but you are surrounded by fog and indecision. The answers are just out of reach. There are no landmarks or decisions in your sightline.
But what you do have is a chance to change how you talk to yourself. This is a ripe opportunity to be with yourself and hear yourself. Instead of trying to get somewhere in the fog, ask some questions:
– What might help this overactive mind?
– What repeating thought is holding me back from finding a path forward?
– What am I ready to stop worrying about?
At it's very best, Gemini represents clarity. But the 2019 Gemini New Moon is in a tricky t-square with foggy Neptune and a potentially overzealous Jupiter. So you might think you have a clear idea, only to find that you got carried away in the moment. Instead of rushing forward, slow down and set careful intentions instead. You might choose to set intentions around these Gemini themes:
– Self-awareness
– Curiosity + learning
– How you communicate with yourself
– How you communicate with others
If you are experiencing mental discomfort (aka too many thoughts swirling, lack of clarity), try to remember your values. What is the big picture purpose that can help guide you through the fog? If you are in a mental haze, try to connect with your intuition. Stop trying to "know" and just be. Meditate. It might be an active meditation with lots of ideas clamoring for your attention, but that's okay.
The way to thrive is to listen to the cacophony of your thoughts without attachment. Enjoy the sensations of your present moment and accept where you are. Give yourself a new breadcrumb trail to follow. Set intentions that will help you think about yourself in a new way. When the fog lifts, you'll find that you are more clear than you ever were before.
///
New Moon square Neptune
A gatekeeper who speaks in riddles.
Do you feel stumped by an unanswerable riddle? If so, take your time. If you wait long enough, you'll find another way to achieve your goal. The riddle is a decoy. Soon, you'll understand that it wasn't that complicated. So just wait for the gatekeeper to take a bathroom beak, and then you can walk right past your confusion.
///
New Moon opposition Jupiter
A sundial.
A sundial can tell the time, but it doesn't work in the fog. You are being asked to find your own inner guidance that will help you no matter what the external conditions are. To achieve this goal, you have to know your own truth and be motivated by your own values. If you find yourself relying on others for direction, you'll feel like a sundial in the fog. But if you light up your own path, you'll always find your way and know where you stand.