Yoga being taught in schools has become a controversial topic. But as more and more kids gravitate towards the mat – embracing Kundalini yoga in particular – what will this mean for future generations, asks Emma Patterson? Little Guru Yoga images: Dan Collopy.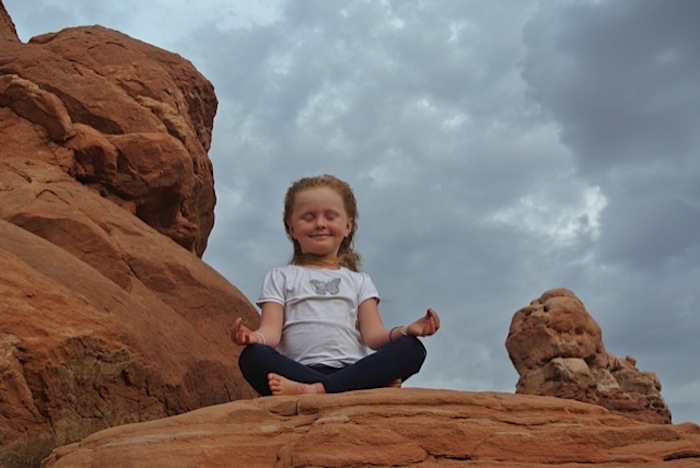 LIVING in L.A. you quickly learn not to get too fazed by trends and fads. Sure, I know a handful of dogs that do yoga, and change the world they will not. But kids? Kids doing yoga – and Kundalini in particular – is another trick. I've met children as young as two who are already deeply into their practise, and change the world they might.
Leslie Nuesca runs Little Guru Yoga, a thriving children's yoga studio in Venice Beach, where she teaches yoga, meditation and brain gym exercises to children from Kindergarten up. As she puts it, "It's so touching to me that these little souls are learning to find their breath, and understand there are tools they can use to calm themselves down and feel happy. It's said that Kundalini is here for you when you're ready to find it, and certain kids turn up here and keep coming back."
11-year old Myles asked if he could start attending a Kundalini class with his mother, simply because he was intrigued. "Mom always seemed to have a better day when she went to yoga compared to the days she didn't, so I tried it and felt a lot calmer and happier afterwards."
And I'm fascinated. This cool Beverly Hills kid, on the brink of his teens, is regularly taking Kundalini classes before school – and he still has friends? "My friends are pretty curious and some want to try it too. I find it helps me concentrate on my school work better, and I can even tolerate my eight-year-old brother more!"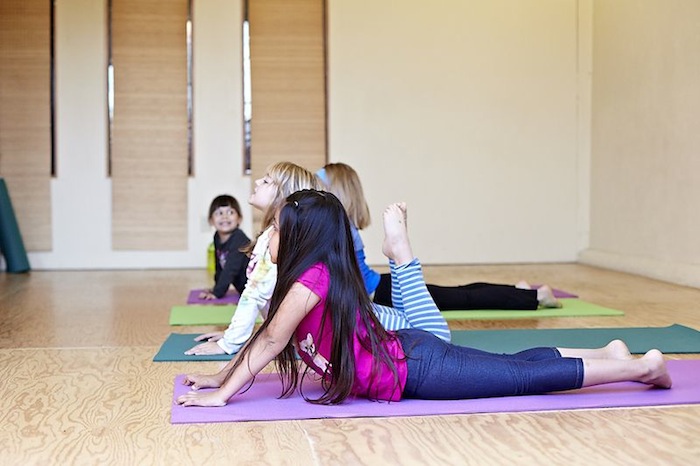 Guru Tej Kaur Khalsa, the founder of Nine Treasures Yoga in Los Angeles, believes today's children are seeking out Kundalini for their own inner growth because their souls are coming in from a much higher realm. "We're living in a special time and space right now, and seeing more elevated souls come in through our children," she explains.
A longtime teacher of Kundalini, Tej studied under Yogi Bhajan for over three decades. Her classes attract A-list stars including Demi Moore, all hooked on her teachings, and she thinks young yogis have a head start. She told me: "We're educating children using values already within them. It's about helping them find their own inner depth and grow into their egos, all while keeping a clear perspective of who they are and what they are supposed to do on the earth to make the world a better place."
Yogi Bhajan brought Kundalini to L.A. in 1968 to create "Teachers of Consciousness" who would help higher souls thrive – now arriving in our children. Guru Tej sees a bright future in our young: "A lot of kids now are overly wise and angelic by nature, and a lot of them have made a commitment on another realm to come here and help."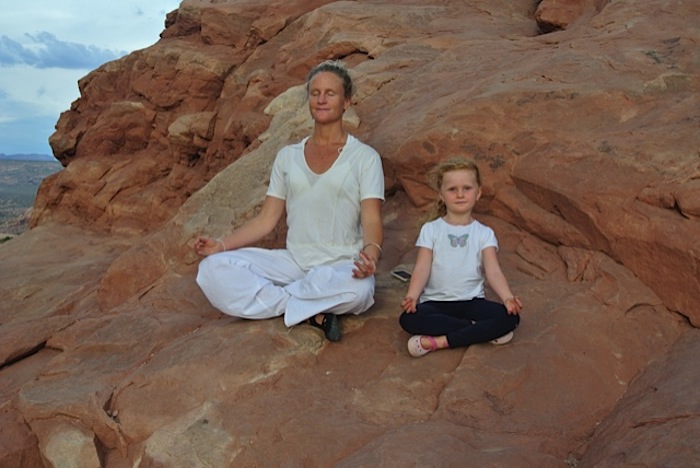 Chatting to five-year-old Amalee, who I met when she was aged just two, I know instinctively that she is one of the kundalini kids Tej is referring to. Even her mother, Lisa, has told me; "She has this sort of all-knowingness about her. We've been told this by a number of people and friends are often amazed at how engaging she is."
When Lisa first brought her to my house, she blew my mind with her ability to take herself into a room and sit alone, in silence, peacefully meditating. It was astonishing to see such a vibrant, excitable child sit cross-legged, close her eyes and center herself for five long minutes. When she finally emerged from her spot, she seemed to almost float back into the room, and when I asked her whether she felt better, she shot me a surprised look and chirped: "Oh yes! I feel very happy now."
Amalee attended her first yoga class when she was just five weeks old. "She was a yoga baby from the start," says Lisa. "You could take her to any class and she'd just merge in with everything – she even took her first steps during a class." And already her daughter's visions for the future are clear – she would like to be a yoga teacher.
When I ask her why, she explains: "Because that's how I grew up and I would be healing people by helping them stretch their bodies and stay strong." And, asked how Kundalini in particular makes her feel, she tells me: "It helps my mind stay healthy and I have happier thoughts."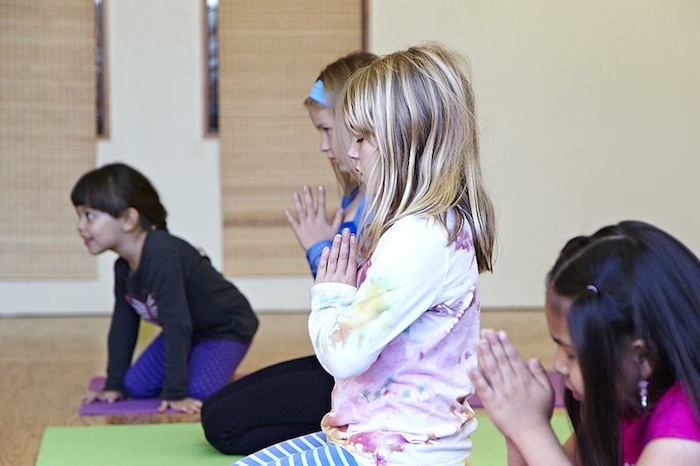 On paying a visit to one of Leslie's Little Guru classes, it is moving to watch the children practise. "Let's all do downward wolf!" chirped one eight year old girl, who proudly tells me she's been attending Leslie's class since she was three. They become a line of balancing trees, with their branches spread out wide, breathing intently as they do so. Little Guru picture cards dictate what pose will follow; A castle, a fox, a unicorn, a mountain – because it's 'tall and sturdy'.
But, "it's not about them finding the perfect pose," says Leslie, "it's about getting them to focus on their breath through a series of movements." They finish with "Sat Nam Wahe Guru", a meditation known for it's deep healing powers. Then, yawning, they collapse onto their mats to become "calm and peaceful logs, filling their hearts with love and peace."
And watching these otherwise regular kids, it seems so clear that it's never too young to bring your individual difficulties, life challenges and personal goals to the mat. Because here they all are, just trying to make sense of the world we live in through simple breath and movement.
As Leslie's soothing voice brings them back into the room, they sit cross-legged to sing "The Long Time Sun" – a beautiful hymn that traditionally closes a Kundalini class, and I start to well-up. Maybe with the future in their hands, these little souls could one day save us all.